Newsletter | #054 | What's On this Week

Welcome to this week's Melbourne events, exhibitions, sports and community guide for January 14 - January 20, 2008.
This week, Midsumma Melbourne Festival kicks off carnivale style! There's fun at the beach with Franskston's Sea Festival and Sand Sculpting Australia, while Federation Square sets a new record with the Australian Open Live Site. Herring Island offers its festival of Summer Arts and the Port Fairy Moyneyana Festival continues! The School Holidays also hold plenty of action for the kids and new events in the School Holiday Guide!
There are sport details, special dining offers and info on upcoming events and highlights in beautiful Melbourne, so read on and enjoy!
Not receiving our newsletter?
Get your copy
of What's On this Week!
Major Events Guide
Midsumma Festival
, Melbourne's premier gay and lesbian arts and cultural festival, begins this week, marking 20 years of gay and lesbian arts, culture and community. The 2008 Festival will be an enormous showcase of queer culture with over 180 unique events programmed including the 1st Asia Pacific Outgames! Opening celebrations begin this Saturday with
Carnival Day
and
T-Dance
.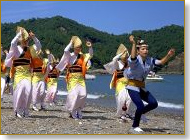 Frankston Sea Festival
- See the waterfront like never before at the Frankston Sea Festival on Saturday, 19 January (noon to 10:00pm) and Sunday, 20 January (noon to 5:00pm), at the Frankston Waterfront. Enjoy the wonderful community spirit and see the ever changing face of Frankston! This major summer event offers sporting competitions, as well as an eclectic mix of free entertainment and activities!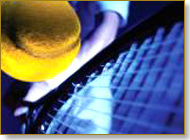 Australian Open Live Site
- Watch the live Australian Open tennis action on the big screen down at Fed Square! Running from January 17 to 20, there will be giveaways throughout the day and you can try your tennis skills on the free totem poles! If you're really game, you can attempt the World Record for the longest time an individual can continuously play totem tennis! The official attempt takes place 20th January.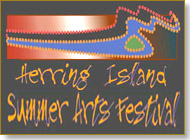 The Herring Island Summer Arts Festival
begins January 12, with special events taking place every Saturday and Sunday until February 20. Held at the Herring Island Environmental Sculpture Park in Toorak, there will be five groups exhibiting throughout the festival and special events on Australia Day weekend. The work on show includes painting, sculpture, ceramics, printmaking, drawing and more.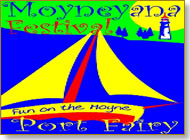 Port Fairy's Moyneyana Festival
celebrates 60 years this year with a huge range of events and activities. Beginning on December 24, 2007, the Moyneyana Festival runs till January, 31, 2008. During the festival the Village Green comes alive with an Emergency Services Day, plus Art on the Green. There will also be a Giant 60th Birthday Party on the Village Green on Australia Day, with cake, games, and fun for all!
WIN a Double-Pass!!!
Competition Now Closed!!
King Marong & Afro Mandinko
will be performing a special CD Launch on February 8, delivering a breath of fresh air into the Australian African/World music scene with their debut self-titled album. The big night takes place at Northcote Social Club, and ticket entry includes a copy of their new CD!
For Booking Details - Visit Here
Competition Now Closed!!
School Holiday Guide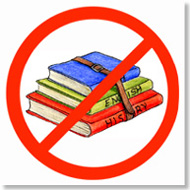 Check out our
School Holiday Guide
for a head start on things to do with the kids during the school holidays in January, 2008.
Updated Weekly with all the Latest Events!!
The guide is updated weekly to highlight the best things to do over the holiday period for the young and young at heart, to help you find perfect ways to enjoy the holidays with events, tours and holiday care programs.. all in marvellous Melbourne!
For More Great Activities
Visit School Holiday Guide
Exhibitions - Art | Festival | Show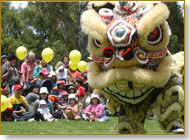 The Tianjin Dancing Kite Festival
is a celebration of Melbourne's Sister City relationship with Tianjin, with activities and entertainment for the whole family. Kids will be able to make Chinese kites and lanterns, join the dragon parade, and there'll also be face painting, martial arts, traditional Chinese music, and the Chinese Lion will make his grand appearance! It takes place on Sunday, January 20, at Royal Park.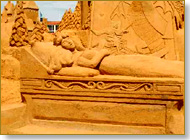 Sand Sculpting Australia
- In 2008, after seven years on the Rye foreshore, Sand Sculpting Australia will be relocating to an exciting new venue - the 'Frankston Waterfront'! The area will be transformed as 3,500 tonnes of sand are meticulously carved into scenes from your favourite childhood 'Fairytales and Fables'. Integrated with the sand sculptures will be regular activities to keep the whole family entertained!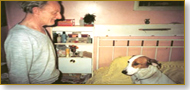 People, Places, Animals
is a major survey of work by acclaimed British artist
, whose real-life photos of his family became a notorious part of the 1997 Saatchi exhibition Sensation. The exhibition is currently at the Australian Centre for Contemporary Art.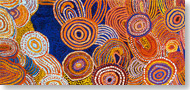 Power and Beauty - Indigenous Art Now, is showing at the Heide Museum of Modern Art. With works from contemporary Aboriginal and Torres Strait Islander artists in all areas of Australia, the exhibits attest to the artists' resilience in holding on to their culture.




Arts & Theatre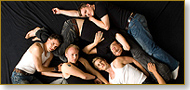 Thieving Boy is one of two one-act plays written by the late Tim Conigrave, writer of one of the most successful gay love stories in Australian publishing history. Along with Like Stars In My Hands, the plays examine mortality, love, sex and belonging.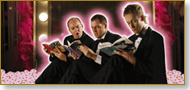 Vaudeville X, performed by Michael Dalley and High Performance Company is a musical comedy that satirises the middle class with mischievous wit. Winner of the Victorian Green Room Award for 'Best Original Songs in Cabaret', it begins Thursday at the Arts Centre.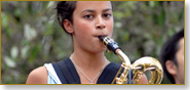 Jazz in the Gardens returns this summer with Stonnington's parks and gardens hosting a series of sensational free outdoor concerts. This Sunday, at Prahran's Princes Gardens, performances begin 6pm, with Melbourne Singers of Gospel Choir.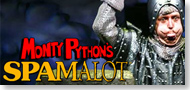 Monty Python's SPAMALOT, the smash hit Broadway and West End musical, has finally hit Melbourne, playing at Her Majesty's Theatre. Directed by Mike Nichols, the play is based on one of the Pythons' best-loved films, Monty Python and the Holy Grail.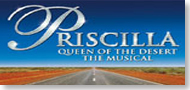 Priscilla, Queen of the Desert, based on the popular Oscar-winning film, the play is fun, daring, over-the-top and unforgettable! Experience the beauty of the outback on stage with over 20 full-scale production numbers that will take your breath away!




Entertainment & Nightlife
Docklands Ice Skating Rink | Disco on Ice
This summer you can Chill Out at Waterfront City and get funky on the ice! The Docklands Ice Skating Rink is fully supervised by experienced attendants and suitable for people of all ages. On Friday and Saturday nights, between 8pm and 9:30pm, the ice rink is transformed into the coolest disco in town complete with disco lights and the funkiest tunes to skate to!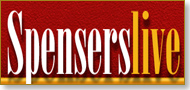 Spensers Live presents superb entertainment and quality food in a relaxed and comfortable environment.

Every Tuesday night you'll find Jazz with the Michael Jordan Trio, featuring Steve Magnussen.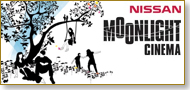 Nissan Moonlight Cinema is Australia's favourite summer outdoor cinema screening recent, classic and contemporary films in the Royal Botanic Gardens' stunning parklands! This Tuesday my leetle friend, Scarface is screening.


For Moonlight Cinema's Full Program Visit Here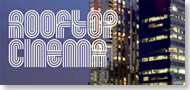 The Rooftop Cinema at Curtin House flickers into action during Summer, with films screening Tuesday to Sunday. Enjoy the night lights, classic cinema and the rooftop bar! This week's program includes cult hit, Faster Pussycat, Kill! Kill!, on Saturday.


For Rooftop Cinema's Full Program Visit Here



Live Music Guide Melbourne Venues and Gig guide.





Competitions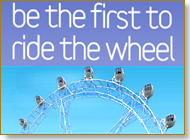 Be the first to ride the Wheel - a ride to remember!
Win a ride to remember on Waterfront City's stunning 120m high Southern Star Observation Wheel.

Scheduled for completion in late 2008, the winners will also recieve two guided tours throughout 2008 to see the construction progress, a commemorative gift and invitations to the official VIP launch!


Competition Ends 12th of February 2008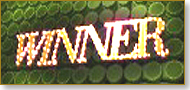 $12,000 Cash Bonanza! Here's your chance to share in a $12,000 CASH BONANZA, courtesy of Financial Services Online! Apply free online for any comparative quote & you automatically qualify for free entry into their monthly prize draw of $1,000!


For More Competitions Visit Here





Dining & Drink
Wining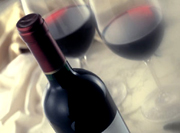 Cleanskins.com sell premium Australian wines direct to the public at up to 50% off retail prices, offering Free Home Delivery and a 100% Money Back Guarantee.

Perfect for all lovers of wine, their impressive range of wines and service were recommended on Channel 7's Today Tonight and Channel 9's A Current Affair.




Dining
Saganaki Greek Cuisine & Grill offer sensational cuisine, and a perfect atmosphere set amidst quality design with floor to ceiling windows displaying the Docklands' water views. The Modern Greek cuisine is prepared using only the very best local produce.


Special Dining Offer

Melbourne offers a splendid range of food styles to enjoy. Here are just a few classic food styles to choose from..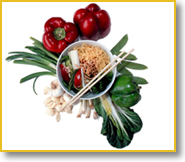 For more restaurants...
Check out onlyMelbourne's Restaurant Directory
Or you can View & Book a Table @ MenuLog
Dining In

Menulog Home Delivery is a great chance to eat fine cuisine at home! With over 300 of the best restaurants on offer, you're sure to find something to suit any taste or occasion. To find fast and easy delivery in your area, Visit Here.



Sporting Events
Tennis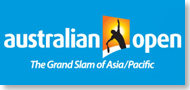 Australian Open - Australia's premier tennis event of the year begins this week, running from January 14th to 27th. Held over 2 weeks, the tournament sees many of the world's greatest tennis players hitting Melbourne's courts for an action-packed Summer!



Golf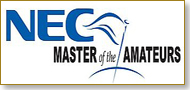 The NEC Master of the Amateurs Championship will see the golfing world's hottest unsigned property battle it out over 72 holes to see who will wear the coveted 'Green Jacket'. It runs from January 14th to 17th at Yarra Yarra Golf Club.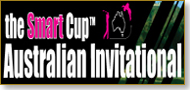 The SmartCup Australian Invitational takes place on Saturday at Mornington Peninsula's Flinders Golf Course. In a world first back-to-back event, Australia's best golfers hit the green as the world's best skaters hit the southern hemisphere's Biggest Vert Ramp!



National Basketball League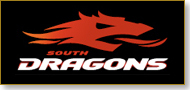 South Dragons Home Game
Dragons vs Razorbacks
Wed 16 January - 7:30pm
Melbourne Sports and Aquatic Centre
Markets, Fetes and Fairs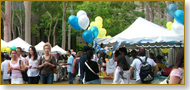 The Bulla Hill Country Market, held this Sunday, has everything for the whole family! For the Mums, Dads and Grandparents there are craft stalls, homemade foods and more, while there's plenty for the kids including the Miniature Railway, Pony Rides, and more!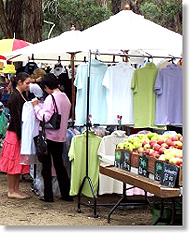 Melbourne Market Guide - 3rd Week of this Month
Make the most of the sunny days and hop along to one of Melbourne's many excellent markets, fetes and fairs this weekend for a bargain! An increasing number of food and produce markets including wine are always popping up around the suburbs. And don't forget garage sales!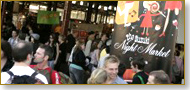 The Suzuki Night Market has returned for summer at Queen Victoria Market, running Wednesday nights weekly through to February. Now a summer tradition, the Suzuki Night Market offers a great mix of unusual products, great food and atmosphere!

Queen Victoria Market this week:

Mattopancetta
Adam 'Matto' Mattaliano and Brendan 'Pancetta' Bacon, form the Commedia dell'Arte duo known as mattopancetta. Mattopancetta uses the traditional Commedia form and brings it to the post-modern audience.. 'It's the same but different!'
This Sunday - 10am to 12 noon



Black and Blue
Black and Blue perform a dirty blues groove, blending Aussie blues tracks from artists like Chain and the Bondi Cigars with classics from Stevie Ray Vaughan, ZZ Top and BB King.
This Sunday - 12 noon to 2pm
Melbourne For Kids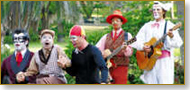 The Wind in the Willows - Pack a picnic, pack the kids... and enjoy a day out in Melbourne's beautiful Royal Botanic Gardens with Rat, Mole, Badger, and, of course, Mr Toad! A must for the holidays, there will be performances running until January 26.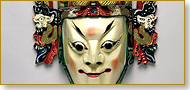 Masks of China at the Immigration Museum features handmade masks from China, some which are over 200 years old. With free entry for children the exhibition includes fun kids activity trail with the chance to sketch and colour-in their own mask!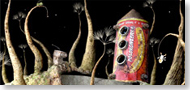 The Independent Games Festival Exhibition is an interactive showcase of selected winners and nominees of the Independent Games Festival. The exhibition features a stunning selection of work such as Samarost 2 (pictured).





Circus Shows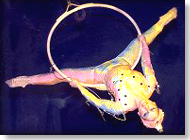 Circus Royale is a totally professional traditional circus staged in a luxury tent featuring International circus stars, high wire walkers, swing trapeze, clowns, acrobats, drummers, jugglers and more!


Performances will be running until January 28th in Geelong at Barwon Activity Centre Grounds - located at Belmont Common.




Family Tours
Puffing Billy Tour - take a tour the whole family can enjoy with a ride on Puffing Billy, Australia's best-loved steam train! Winding its way through lush ferns and towering timbers, this fantastic tour offers may treats, including wine tasting for the adults and also a trip to Healesville Sanctuary that kids will love!

What's On for December




Community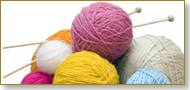 Learn to Knit at Prahran Library - Every Wednesday at Prahran Library there is a free one-hour knitting class for people of all ages and experience. A great way to make friends and be creative, the classes begin at 1:30pm - needles and wool can be provided.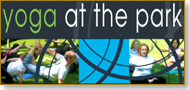 Yoga at the Park is an initiative of The Health and Yoga Council of Australia, presenting Yoga classes in some of Victoria's most beautiful parks and gardens. Set in a relaxed environment, classes are designed to suit many age groups and levels of experience.



You Can Help

There are many social causes that are relevant to people from all walks of life, many of which rely on public support to better the community or assist those who are less fortunate. This week we ask you to consider the following..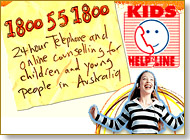 Kids Help Line is Australia's only free, confidential and anonymous, 24-hour telephone and online counselling service for young people aged between 5 and 25. Dealing with issues ranging from bullying to sexual abuse, homelessness, suicidal thoughts, and drug and alcohol usage. Counsellors respond to more than 10,000 calls each week. However, due to lack of funding, thousands more continue to go unanswered..


To learn how you can help support Kids Help Line - Visit Here




OnlyMelbourne Welcomes..

Advertising your Business or Event at OnlyMelbourne is not only easy, but best of all it's FREE!! - Get Listed.. - don't forget to tell your friends!

Each week we highlight five of the latest additions to OnlyMelbourne's ever growing guide to services, businesses and information sites for your community.

This week we suggest the following:
View More of the Latest Listings at OnlyMelbourne!

To find out how you can join Melbourne's largest online community Visit Here!


Puzzles
Anagram-orama!

We've rearranged the letters of three of the attractions featured in this week's newsletter.. See if you can figure them out!
A Fast Mum Lives Dim


A Lad Plugs Satin Curtains


As Opulent A Rain
Answers in Next Week's Newsletter...


Spot The Difference
There are 5 Differences between these two pictures of Melbourne's Prahran Mechanics' Institute... See if you can spot them!

More about Prahran Mechanics' Institute | Learn More about Melbourne!

Answers in Next Week's Newsletter


Last Week's Answers
Anagram-orama!
Thin Zen Jars Gazed - Jazz in the Gardens
Rue Goat - Outrage
Fran Curb Turbo Uncle - Cranbourne Turf Club

Spot The Difference
Here are the 5 Differences in last week's picture of Captain Cook's Cottage, located in Fitzroy Gardens...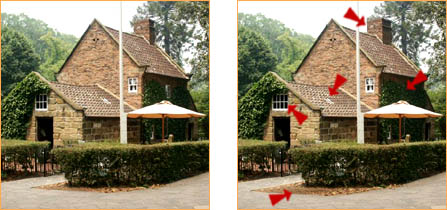 Newsletter | #053 | What's On this Week [Last Week]
Melbourne Trivia
We're Happy Little.. Parwills?

Vegemite was not only invented in Melbourne by Fred Walker but every jar of Vegemite 'ever made' has come from the Melbourne factory at Fisherman Bend.

The name "Vegemite"was selected out of a hat by Fred Walker's daughter, Sheilah. However, in 1928 its name was changed to "Parwill", using the advertising slogan, "Marmite but Parwill"- a play on words for an ad campaign aimed at the rival product Marmite.

The cheeky, but convoluted, advertising had little effect and the name was returned to Vegemite.

More about Vegemite's History.. | Read Melbourne Trivia...


❊ Address & Contact ❊

⊜ Newsletter | #054 | What's On this Week Melbourne | Map


❊ Web Links ❊

→ Newsletter | #054 | What's On this Week

→ Subscribe to OnlyMelbourne - Get your copy of What's On this Week!

→ List Your Business or Event - It's FREE!

→ What's On In Melbourne in January

→ Melbourne for Children | Kids

→ Summer School Holiday Guide

→ Competitions | Fun & Games

→ onlyMelbourne Newsletters Archive

→ Newsletter | #053 | What's On this Week





❊ COVID-19 Notice ❊
Many locations have gone into lockdown as the state takes action to stop the spread of the deadly coronavirus (COVID-19).

→ Disclaimer: Check with the operator before making plans...





Trending HOT

Drive-In Movie Club
Drive-In Immersive Cinema Nights Are Coming to Melbourne Put together by our friends at Hot Tub Cinema, a string of family-friendly, social distancing-safe, drive-in ..

Things to see, hear & do this weekend
Make the most of your weekend in Melbourne with these fabulous events. No city does it better than Melbourne, so get out and discover the very best shows, festivals, ..
---
Update Page