Newsletter | #025 | What's On this Week

Welcome to the
OnlyMelbourne
Newsletter & Guide to Melbourne Events, Exhibitions, Sports and Community - June 25 - July 1, 2007.
This Week.. Melbourne plays host to the Bledisloe Cup again after 10 long years, the Guggenheim Collection opens at NGV, and don't miss out on our Finding Nemo - Disney on Ice competition with a Family Pass up for grabs!
We also have a School Holiday Guide, AFL match details and much more info on many upcoming events and highlights in beautiful Melbourne, so read on and enjoy!
School Holiday Guide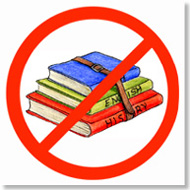 School Holidays
begin this week when the school term ends on Friday, so it's time to put the books away and start having fun!
Highlighting the best events and exhibitions on offer for the young and young at heart, our guide will help you find perfect ways to enjoy the holidays with events, tours and holiday care programs.. all in marvellous Melbourne!
Visit here for School Holidays Guide
Finding Nemo Competition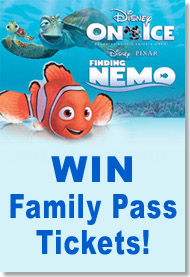 Finding Nemo dives down under!
You all loved the movie, and now's your chance to see Nemo and friends live on ice, when Disney On Ice presents Disney/Pixar's
Finding Nemo!
We have a family pass of four tickets to give-away for the Melbourne show on Friday 6th July at 7pm courtesy of Optus.
How to win
-
Winner (see bottom of page)
Click on the Finding Nemo picture (right > ) and tell us in 20 words your favourite character in the film Finding Nemo? Last entry 30th June 2007. Winner announced on this page on 2nd July 2007.
Visit Here for More Details & Tour Dates
Major Events Guide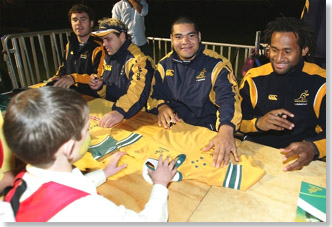 Bledisloe Cup Welcome Reception
- Celebrate with the Qantas Wallabies at Federation Square this Wednesday, when Lord Mayor John So officially welcomes them to Melbourne.
Throughout the week, Fed Square also has daily activities, signing sessions, giveaways and plenty of entertainment for all!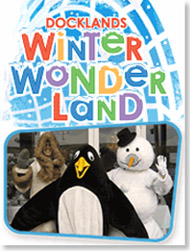 Docklands Winter Wonderland
is back in 2007 to bring ice skating, snow and family fun to the city throughout the winter school holidays!
Beginning Saturday 30 June, this winter extravaganza will run until Sunday 15 July. The Winter Wonderland will be brought to life within the specially themed white marquee, The Snow Dome at Waterfront City.
Winter Wonderland will feature a large ice-skating rink and a host of wintry themed activities.
With entertainment, surprises and fun for all the family, the Docklands Winter Wonderland is the perfect winter school holidays outing!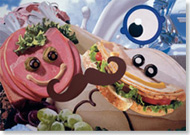 The Guggenheim Collection: 1940s to Now
is the long-awaited exhibition in the NGV's Melbourne Winter Masterpieces series, beginning June 30.
This remarkable exhibition features iconic artworks from renowned artists such as Willem de Kooning, Roy Lichtenstein, Gilbert & George, and Jeff Koons with his work,
Sandwiches
(pictured).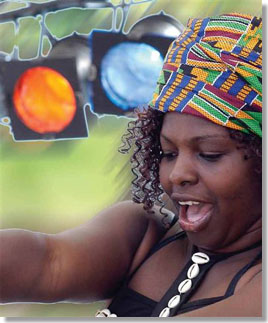 Emerge Festival
continues this week, celebrating Victoria's many diverse refugee and emerging cultures in a series of exciting events around Melbourne.
With shows running up until July 22, this dynamic arts festival commemorates the United Nations World Refugee Day and this year will officially launch Refugee Week in Victoria this Sunday.
Showcasing cultures from Africa to the Far East, the traditional to the contemporary, music, dance, theatre, visual arts, cultural foods, crafts and ceremonies - the Emerge Festival has something for everyone!
Giant Sky Wheel Competition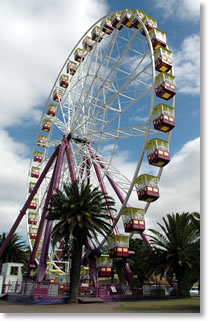 The Giant Sky Wheel
at Birrarung Marr offers stunning panoramic views of Melbourne's city that are simply breathtaking! It's a view that just shouldn't be missed. And here's your chance to see it!
WIN 2 Ride Tickets
-
COMPETITION CLOSED!
We have 20 tickets to give-away for rides on Giant Sky Wheel courtesy of City of Melbourne.
How to win
Click on the Giant Sky Wheel picture (right > ) and tell us how many Federation Bells there are in Birrarung Marr ?
They are located right next to the Giant Sky Wheel.
First 10 correct entries wins 2 tickets.
Accommodation
Melbourne has a splendid range of hotels on offer, perfect for those visiting Melbourne for Special Events, or even just for that special luxurious weekend away from the home!
OnlyMelbourne recommends the following:
Hotel Sophia is a very stylish new 49 room boutique hotel conveniently located in the heart of Melbourne.

It is the ideal choice for the price conscious traveller who desires modern and comfortable surrounds. Hotel Sofia is set in a central city location, close to all the latest events!
Also on this Week..
The Feared - See creepy creatures at the Aquarium!


Pixar - 20 Years Exhibition - Celebrate 20 years of animation at ACMI!

More Details in FOR MELBOURNE KIDS..


Meeting Environmental Shocks in Melbourne - Forum addressing Melbourne's place in the future..
More Details in COMMUNITY..
Exhibitions - Art | Festival | Show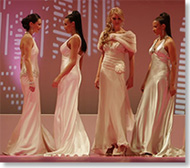 Melbourne Bride Wedding Expo
takes place this weekend at the Melbourne Exhibition Centre, reflecting the magazines fashions, styles and innovations.
Bringing
Melbourne Bride
magazine to life, the expo showcases couture bridal fashion and will features scores of wedding supplies all under one roof.
There will also be a fabulous wedding package to give away to one very lucky bride!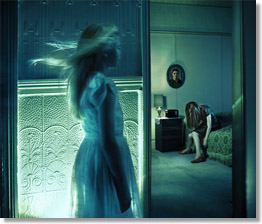 Childhood Fears
is the latest photographic series by
Samantha Everton
, expressing the universalities that span cultural and social divides and connect us all in a common thread of humanity.
In reawakening our perception of these fears, Samantha Everton offers all children a sense of validation with these images that are both hauntingly beautiful and deeply compelling.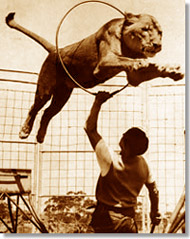 The Circus Diaries
is a photographic exhibition that celebrates the living tradition of Australian family circuses.
Telling the history with a series of portraits - old and new - the exhibition also features family movies, oral histories and tales of life on the circus road.
The exhibition is an intimate portrait of the many people and families who have contributed to circus tradition in Australia over the past 170 years.
Now showing at The George Adams Gallery, Arts Centre, until July 15.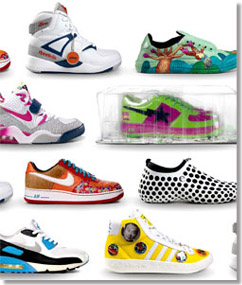 Sneakers - Classics to Customs
explores a number of themes which reflect the evolution of sneakers from functional sportswear to cult fashion.
The exhibition displays over 300 pairs of the most style worthy sneakers, featuring works that have been sourced from private loans, mostly Melbourne and Sydney collectors.
Featuring music and animation, the exhibition also highlights some of the music, dance and sports subcultures that are linked have inspired particular sneaker fads over recent decades.
Arts & Theatre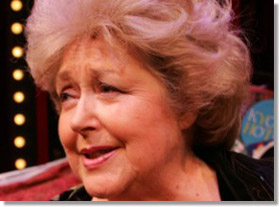 Times of My Life
is the amazingly candid and inspirational autobiographical story of Toni Lamond's stellar career in vaudeville, music theatre, television and cabaret over more than half a century.
Playing at the Whitehorse Centre in Nunawading, Toni Lamond's show relates first-hand the highs, and lows, of her remarkable career.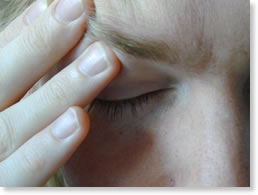 A Slight Ache
- Beginning 28th June, If Theatre presents one of Harold Pinter's earliest works,
A Slight Ache
at Chapel Off Chapel.
Set in a suburban garden, on another everyday morning, chaos pops in for a visit. By all means look behind you but if you can, try and focus your eyes dead ahead.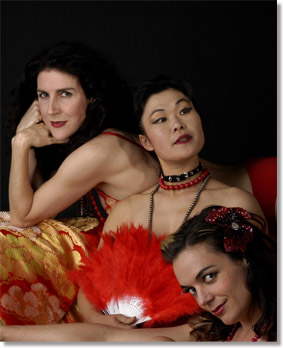 Burlesque Hour MORE!!
is the smash hit sell-out success of festivals everywhere, returning to Melbourne at last! The shows, held at
fortyfivedownstairs
, will continue until July 15.
The multi award winning show is a mind-cracking mixture of shock cabaret, brand new acts, and luminous guest stars!
Internationally acclaimed Queen of Cabaret Bizarre,
Moira Finucane
is joined by burlesque star,
Azaria Universe
and Japanese butoh dancer,
Yumi Umiumare
to shake, stir and shock your sensibilities in a whole new way!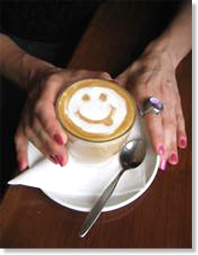 Miss (you) Melbourne
is a comedic tribute to our fine city, from the backyard joys of the outer suburbs to the funky inner-city vibe.
With shows running from June 19 to June 30, Miss (you) Melbourne is an evening of comedy from some of Australia's best known and hottest new female comics.
Comics included in the Miss (you) Melbourne shows include Judith Lucy, Denise Scott, Rachel Berger, Sue-Ann Post, Corrine Grant and many more guests!
If you Love Melbourne and love having a good laugh, this is an evening not to be missed!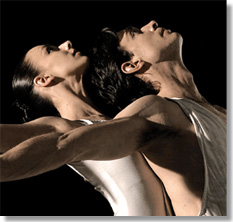 New Romantics
is a lyrical triple bill with all the beauty of classical ballet yet holding a contemporary edge.
The Melbourne season of New Romantics will run at the Arts Centre from June 22 to July 3.
A treat for dance and music lovers alike, New Romantics features wonderful and diverse musical scores by
Stravinsky, Tchaikovsky
and
Pärt
, performed by Orchestra Victoria.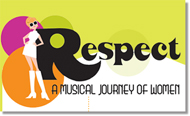 Respect
is an exuberant and funny look at the lives of women, as told through your favourite Top-40 songs.
Starring
Rhonda Burchmore
, Respect is playing at
The Palms
, Crown Casino. Running until July 15, this entertaining show features a stunning array of much loved songs!
The Archibald Prize
, Australia's oldest, most popular and prestigious art prize, will be on show until July 1st 2007 to the grand art deco
Mural Hall at Myer
on Bourke Street. The exhibition is FREE and open to the public daily during trading hours and visitors have the opportunity to vote for their favourite painting as part of the
Myer People's Choice Award
.
Restaurants, Clubs & Bars
Sapore Ristorante
is situated at the beach end of Fitzroy Street in St.Kilda.
St.Kilda has long been recognised as Melbourne's hot spot for locals and tourists alike whilst being one of the country's most cosmopolitan suburbs with a strong sense of local community.
Striking interiors designed by one of Melbourne's leading architects with awe-inspiring panoramic views across Catani Gardens and St.Kilda beach. Sapore is a fantastic restaurant for your next dining experience.
Special Dining Offer
Melbourne offers a splendid range of food styles to enjoy. Here are just a few classic food styles to choose from..
For more restaurants...
Check out
onlyMelbourne's Restaurant Directory
Or you can
View & Book a Table @ MenuLog
Sporting Events
AFL - Round 13
Melbourne's treated to 4 games this weekend when Round 13 kicks off..
Friday at Telstra Dome
Essendon v Melbourne at 7:40 PM

Saturday at Telstra Dome
St Kilda v Richmond at 7:10 PM

Sunday at The MCG
Kangaroos v Western Bulldogs at 2:10 PM
Sunday at Telstra Dome
Collingwood v Hawthorn at 5:10 PM


www.afl.com.au - AFL League


AFL Tour
Aussie Rules Football - Live with a Local Host!
Experience the unique Australian game of football with a local host to explain the rules, bumps and brawls. Your package includes meeting your host near the ground before the match, for a welcome drink.
Your host will explain the rules and involve you in the game using competitions and awarding prizes. You will also receive a show bag of Aussie Rules goodies!
Tour Includes:
Reserved Undercover Seating


Souvenir Program


Footy Record & Club Song Sheets


Aussie Footy Food - Meat Pie and Sauce (with beer or soft drink) at Quarter Time!
Bledisloe Cup
The Bledisloe Cup
returns to Melbourne on Saturday June 30 at the MCG after 10 long years! This year's Bledisloe Cup will be a two match affair with the Qantas Wallabies taking on the All Blacks here, before battling again in Auckland.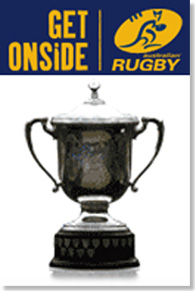 This is your
last
chance to get behind the Qantas Wallabies before they head to the Rugby World Cup. You don't want to miss it!
Countdown to the Cup
Leading up to the Bledisloe Cup, the Wallabies invite you to Federation Square to count down to the big match! Through June 25 to 29 there will be daily events held from 11am to 2pm.
Bledisloe Cup Welcome Reception
Don't miss the celebrations at Federation Square this Wednesday, when Lord Mayor John So officially welcomes the Wallabies!
The reception begins at midday, featuring horizontal bungee, live music and more!
Entertainment & Nightlife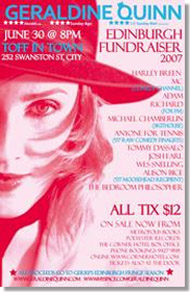 Geraldine Quinn Edinburgh Fundraiser
- Come down to The Toff In Town on Saturday June 30th to support The Toff's favourite comedian, the amazing
Geraldine Quinn
as she prepares to head off to Edinburgh.
A rising comedy/cabaret/rock performer, Geraldine Quinn is a rare blend of songwriter, guitarist, singer, comedian, actor and destined to be
"catapulted to international superstardom"
(The Age, 2006)
The shows of Geraldine Quinn are a repeat sell-out in Australia, and during Edinburgh Fringe she was chosen to be part of the David Letterman Showcase.
The Fundraiser also features
Harley Breen
, Fox FM's
Adam Richard
, skitHOUSE's
Michael Chamberlin
,
Alison Bice
and other great comedians!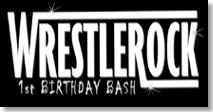 WrestleRock 6
celebrates one year of bodyslams and high-octane wrestling entertainment this Friday.
WrestleRock
presents its 1st Birthday Bash at Richmond's Corner Hotel with live music, DVD giveaways and a chance to see Australia's top wrestling superstars in action!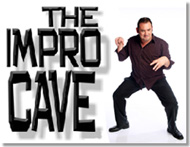 The Impro Cave
is back to light up your Sunday nights with its monstrously funny collection of formats and shows-different every week!
With shows running until August 26, you can eliminate your winter blues every Sunday as Impro Melbourne's indomitable league of improvisers materialise from the shadows to light up the stage!
Live Music Guide Melbourne Venues and Gig guide.
Art & Craft Markets Fetes and Fairs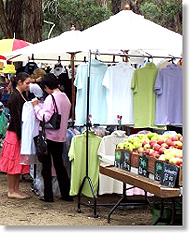 With winter already here and that 'much-needed rain' on the way, be sure to get out to grab a bargain in the sun while you can at one of Melbourne's excellent markets, fetes and fairs.
An increasing number of food and produce markets including wine are always popping up around the suburbs. And don't forget garage sales!
Queen Victoria Market this week:
Meliki
Fusing roots music with pop, rock and country, Meliki performs traditional music from cultures around the world on classical guitar. This Sunday 12 - 2 pm.
For Melbourne Kids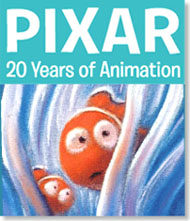 Pixar - 20 Years of Animation
is the international exhibition that takes you behind the scenes of the studio that created
Finding Nemo, Monsters, Inc., Toy Story, Cars
and
The Incredibles
.
Through hundreds of concept sketches, drawings, and sculptures, the fascinating processes behind Pixar's animation art are revealed.
Opening Thursday 28 June at ACMI, this magnificent collection includes iconic artefacts from Pixar's award-winning masterpieces including the upcoming release,
Ratatouille
!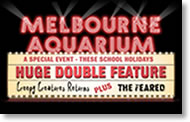 The Feared at Melbourne Aquarium
begins June 30, exposing the most feared creatures of the sea and uncovers which fears are real and which are merely imagined.. With free activities, special presentations, arts & crafts and more, be BRAVE and visit The Feared at Melbourne Aquarium these school holidays!
Family Tours
Puffing Billy Tour
- take a tour the whole family can enjoy with a ride on Puffing Billy, Australia's best-loved steam train!
Winding its way through lush ferns and towering timbers, this fantastic tour includes wine tasting for the adults and also a trip to Healesville Sanctuary!
Circus Shows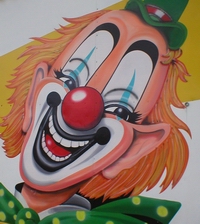 Circus Oz
returns to Melbourne, with performances from June 20 to July 15. They will be performing Under the Big Top at Birrarung Marr, situated near Federation square.
Circus Royale
is an unforgettable 2 hour show featuring high wire walkers, swing trapeze, comedy, acrobats and more!
Circus Royale will be performing from June 27 to July 15 in Airport West at Westfield Shopping Centre, located on Westfield Drive.
For more ideas about what to do this week check out the
What's On for June
.
Community
Here's a look at what's happening in Melbourne's community this week...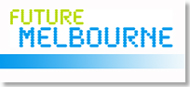 Meeting Environmental Shocks in Melbourne
is part of a series of forums held by Future Melbourne. Melbourne faces severe environmental shocks: lack of water, environmental pollution, risings sea levels, climate change.
Taking place on Wednesday, June 27 at Bio 21 Theatre in Parkville, the forum will look at the uncertain impact on Melbourne of current global trends, including peak oil, climate change and global warming.
OnlyMelbourne Welcomes..
Each week we'll be highlighting five of the latest additions to OnlyMelbourne's ever growing guide to services, businesses and more in your community.
This week we suggest the following:
View More of the Latest Listings at OnlyMelbourne!
Puzzles
Anagram-orama!
We've rearranged the letters of three of the attractions featured in this week's newsletter.. See if you can figure them out!
Cold Blue Pies


A High Castle


I Slim My Toffee
Answers in
Next Week's Newsletter...
Melbourne Shuffle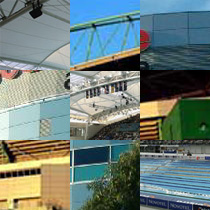 There are 3 overlaying pictures of well-known Melbourne Venues here, but parts of each picture have been removed.
Match the pieces and see if you can guess what the 3 Venues are...
If you're having trouble guessing them, do as Eddie suggests and try
phoning
a friend or two!
Answers in
Next Week's Newsletter
Last Week's Answers
Anagram-orama!
Seen In Gin - eigenSinn
Heard Of His Cold - Childhood Fears
Face Pa Last - Alpaca Fest
Melbourne Shuffle
The three Melbourne Clocks within the picture were:

Gaunt's Clock - Royal Arcade


Giant Clock at Melbourne Central


Melbourne's Floral Clock
Newsletter | #024 | What's On this Week [Last Week]
Finding Nemo Winner
Thank you for all the marvellous entries...
Without doubt, the most loved character was Dory...
:: My favourite is Dory, I loved her, I laughed so much how she always forgot who she met and things. She was a nice character.
:: My favourite character in 'Finding Nemo' is Dory because like chocolate, she's sweet, a bit nutty and everybody loves her!
:: I absolutely adore, er, what's her name? That frightfully forgetful fish, um, in the story, oh dear, yes...it's Dory!
We received nominations for Nemo, Marlin (Dad) and even Bruce (shark)..
A late run of entries showed Crush (turtle) was also very popular..
Congratulations, the winning entry goes to... Ally Falconer
Starfish is my favourite character. He saved the day by telling Nemo how to get out of the bad place.
❊ Address & Contact ❊
⊜ Newsletter | #025 | What's On this Week Melbourne |
Map
❊ Web Links ❊
→
Newsletter | #025 | What's On this Week
→
What's On In Melbourne in June
→
onlyMelbourne School Holiday Guide
→
Melbourne for Children | Kids
→
Buy Tickets for Concerts and Shows at Ticketmaster
→
onlyMelbourne Newsletters
→
Newsletter | #024 | What's On this Week [Last Week]
❊ COVID-19 Notice ❊
Many locations have gone into lockdown as the state takes action to stop the spread of the deadly coronavirus (COVID-19).
→
Disclaimer
: Check with the operator before making plans
...
Trending HOT

Drive-In Movie Club
Drive-In Immersive Cinema Nights Are Coming to Melbourne Put together by our friends at Hot Tub Cinema, a string of family-friendly, social distancing-safe, drive-in ..

Things to see, hear & do this weekend
Make the most of your weekend in Melbourne with these fabulous events. No city does it better than Melbourne, so get out and discover the very best shows, festivals, ..
---
Update Page