Newsletter | #021 | What's On this Week

Welcome to the
OnlyMelbourne
Newsletter & Guide to Melbourne Events, Exhibitions, Sports and Community - May 28 - June 3, 2007.
This Week.. The MS Walk & Fun Run takes place, theatre attractions include Othello and Carmen, and don't miss Sunny Day in Winter, a charity event that's great for the whole family!
We also have AFL match details and much more info on many upcoming events and highlights in beautiful Melbourne, so read on and enjoy!
Major Events Guide
MS Walk & Fun Run
takes place this Sunday, 3rd June. Team up with your friends, family, workmates or sporting group and help make this year's MS Walk & Fun Run the biggest yet.
The charity walk is a great chance to help a good cause, enjoy breathtaking views and live entertainment, and be part of something special!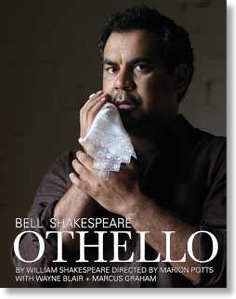 Othello by Bell Shakespeare
is a groundbreaking production, beginning May 30, which is a powerful and unnerving examination of power, politics and personal tragedy.
Shakespeare's classic tale is a politically poignant story that strikes to our own culture's dark heart of racism and righteous entitlement.
Telling the story of Othello's downfall into suspicion and self-doubt, this well known play is more riveting and relevant than ever in today's climate of racial fear and cultural division.
Sunny Day in Winter
, taking place on June 1 this week, sees Federation Square come alive for this annual event which is held to raise awareness of the needs of young people with a disability.
Presented by
Interchange
, the Square will play host to many attractions with bands performing all day, roving performers and jumping castles, all adding to the Summer carnival in Winter.
Joining the Sunny Day celebrations will be sporting identities and Interchange ambassadors, including Carlton's Nick Stevens, Western Bulldogs' Daniel Giansiracusa and Bryce Alman, Australian Wheelchair Rugby Olympian and captain of the Wheelchair Rugby Victorian team.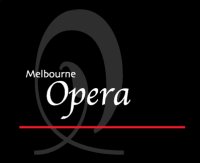 Carmen
, presented by
Melbourne Opera
, opens on June 2 this week, featuring a great cast mixing younger and established Victorian singers.
Following the sell-out success of The Barber of Seville last year, Melbourne Opera has assembled the same team of international director Hugh Halliday and young Melbourne designer Anna Cordingly for the most popular and dramatic opera of all time,
Carmen
.
Varekai - Cirque du Soleil
will be performing in Melbourne until June 17 at The Oval at Melbourne Park.
This production pays tribute to the nomadic soul, to the spirit and art of the circus tradition, and to the infinite passion of those whose quest takes them along the path that leads to Varekai, meaning
Wherever
in the Romany language of the gypsies.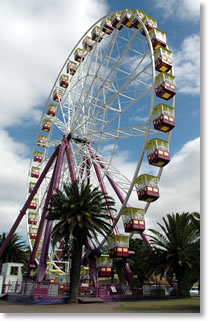 The Giant Sky Wheel
is still open at Birrarung Marr with panoramic views of the city that are simply breathtaking!
With the lights illuminating the skyline at night there is no better way to spend your day or evening than on top of the Giant Sky Wheel.
Situated on the edge of the Yarra River in the gardens of Birrarung Marr, come along and check out the fantastic views of Melbourne Skyline or stroll down during the evening to see the spectacular light show.
With so many fantastic events taking place in Melbourne, the Sky Wheel is the perfect way to end the night!
Accommodation
Melbourne has a splendid range of hotels on offer, perfect for those visiting Melbourne for Special Events, or even just for that special luxurious weekend away from the home!
OnlyMelbourne recommends the following:
Hotel Sophia is a very stylish new 49 room boutique hotel conveniently located in the heart of Melbourne.

It is the ideal choice for the price conscious traveller who desires modern and comfortable surrounds. Hotel Sofia is set in a central city location, close to all the latest events!
Also on this Week..
Melbourne Storm Home Game


AFL Footy Tour

More Details in SPORTS..


Showerhead Exchange


Community Planting Day at Royal Park

More Details in COMMUNITY..
Exhibitions - Art | Festival | Show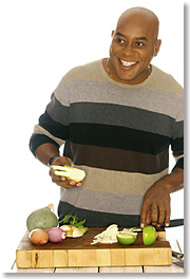 The Good Food & Wine Show
has something for everyone this year with celebrity chefs, renowned wine and cocktail experts, and over 300 exhibitors with the latest food, wine and kitchen products.
Join celebrity chefs as they share their kitchen secrets at the LifeStyle FOOD Channel Celebrity Theatre. Chefs featured include Donna Hay, Curtis Stone, Tobie Puttock, Matt Moran and international guest, Ainsley Harriott (pictured) - host of the UK's
What's Cooking?
Running from Friday June 1 to Sunday June 3 at the Melbourne Exhibition Centre, the Good Food & Wine Show is the ultimate opportunity to learn about the latest menu trends and much more!
The Building & Home Improvement Expo
, also held at the Melbourne Exhibition Centre this weekend, begins Friday June 1. This is the event that the building trade and all keen renovators have been waiting for!
This Expo gives the serious home builder & renovator, and the building trade the opportunity to see and buy the latest products, learn the latest industry developments, and see exhibitions & demonstrations of a full range of products.
Jim Woodring
, the critically acclaimed US cartoonist, has created a site-specific exhibition for Federation Square. Woodring is pleased to come to Australia for his first visit and see one of his works featured on the Fed Square Fracture Gallery.
Known for his fascinating artwork, this exhibition by Jim Woodring is not to be missed!
The Melbourne Italian Festival
is continuing until 10 June, and sees a wide range of attractions taking place throughout Melbourne.
The Festival includes everything from music and films to poetry, arts and theatre, celebrating Italian culture with many events for people of all ages.
The Artists of Steel
exhibition celebrates the skills of Australia's stamp engravers who, for many decades, skilfully engraved the original steel dies of stamps by hand. The exhibition runs until June 2, at the Post Mast Gallery in Exhibition Street.
Featuring steel plates and tools from the Note Printing Branch, this remarkable exhibition details the craftsmanship that was needed with some intricate engravings that are as shallow as 0.002 (one five hundredth) of a millimetre!
This remarkable exhibition is an impressive insight into part of Australia's history, showcasing the engraving heritage left by the "artists of steel"through Australia's stamps.
Arts & Theatre
The Pirates of Penzance
is now playing at The State Theatre, The Arts Centre. The show runs until Jun 2, 2007, starring Anthony Warlow, Reg Livermore, David Hobson and Suzanne Johnston.
The Pirates of Penzance
is Gilbert and Sullivan's most popular operetta, and with good reason - Gilbert's sharp patter hits its hilarious mark with unerring skill and no-one pulls a melody out of the air like Arthur Sullivan, in what is widely considered to be his greatest score.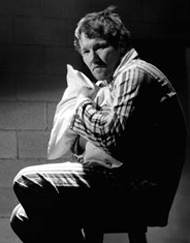 The Pillowman
is the viciously funny and seriously disturbing tale of a writer in an unnamed totalitarian state who is interrogated about the gruesome content of his short stories and their similarities to a number of child-murders occurring in his town.
The play's writer,
Martin McDonagh
has filled theatres around the world, been showered with accolades, and electrified audiences with his cunningly crafted and outrageous tragicomedies.
The Pillowman stars Richard Bligh, Joel Edgerton, Kim Gyngell, Rima Hadchiti, Natasha Herbert, Greg Stone, Dan Wyllie, and is directed By Simon Phillips.
Snow Queen
, playing a the National Theatre for 3 nights only from June 1st, is a delightful production that will be a great introduction to opera for young audiences.
Performed by the
Victorian Youth Opera Chorus and Orchestra
, Snow Queen is an interpretation of Hans Christian Andersen's immortal story.
Rules of Engagement
features as part of the
Making Space
series of exhibitions, and is a provocative visual art exhibition examining relationships, power and exchange within the art system.
The exhibition includes the infamous work by Australian artist Danius Kesminas,
Post-traumatic Origami
, 2002 (pictured) which involves the compressed car wreckage of esteemed art critic Robert Hughes' accident in 1999.
The Archibald Prize
, Australia's oldest, most popular and prestigious art prize, will be on show until July 1st 2007 to the grand art deco
Mural Hall at Myer
on Bourke Street. The exhibition is FREE and open to the public daily during trading hours and visitors have the opportunity to vote for their favourite painting as part of the
Myer People's Choice Award
.
Restaurants, Clubs & Bars
Sapore Ristorante
is situated at the beach end of Fitzroy Street in St.Kilda.
St.Kilda has long been recognised as Melbourne's hot spot for locals and tourists alike whilst being one of the country's most cosmopolitan suburbs with a strong sense of local community.
Striking interiors designed by one of Melbourne's leading architects with awe-inspiring panoramic views across Catani Gardens and St.Kilda beach. Sapore is a fantastic restaurant for your next dining experience.
Special Dining Offer
Melbourne offers a splendid range of food styles to enjoy. Here are just a few classic food styles to choose from..
For more restaurants...
Check out
Only Melbourne's Restaurant Directory
Or you can
View & Book a Table @ MenuLog
.
Sporting Events
AFL - Round 10
Melbourne will be treated this week to
FIVE
games playing in our own lovely backyard.. At least
one
of the droughts has broken!
Friday at the MCG
Collingwood v Fremantle at 7:40 PM

Saturday at the MCG
Melbourne v Adelaide at 2:10 PM
Saturday at Telstra Dome
Richmond v Brisbane Lions at 7:10 PM

Sunday at the MCG
Carlton v Western Bulldogs at 2:10 PM
Sunday at Telstra Dome
St Kilda v Geelong at 5:10 PM


www.afl.com.au - AFL League


AFL Tour
Aussie Rules Football - Live with a Local Host!
Experience the unique Australian game of football with a local host to explain the rules, bumps and brawls. Your package includes meeting your host near the ground before the match, for a welcome drink.
Your host will explain the rules and involve you in the game using competitions and awarding prizes. You will also receive a show bag of Aussie Rules goodies!
Tour Includes:
Reserved Undercover Seating


Souvenir Program


Footy Record & Club Song Sheets


Aussie Footy Food - Meat Pie and Sauce (with beer or soft drink) at Quarter Time!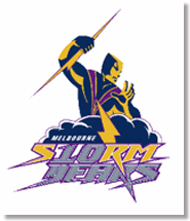 Melbourne Storm Home Game
Melbourne Storm
welcomes your support as they commence their 2007 Premiership campaign! With Minor Premiers honours and a Grand Final appearance behind them, the Storm are looking to take it one step further this season!
Saturday June 2 at Olympic Park
Melbourne Storm vs Rabbitohs - 7:30pm
Entertainment & Nightlife
Intolerance: Silent Film with Live Score
-
The Sonar Radars
perform a live and improvised accompaniment to D.W. Griffith's 1915 silent masterpiece
Intolerance
.
The dynamic live score accentuates the essentially abstract nature of Griffith's spectacular enterprise, gaining momentum and power as it moves towards a stunning climax. June 2nd & 3rd at ACMI.
Laneway 3000: Winter Party!
This Friday, come to Niagara Lane, nestled near the heart of Hardware Lane, and discover an unknown cobblestone avenue that beats to the tune of your favourite DJ, gives you a preview of the big events to expect in the city this season, and enthrals you with circus artists, contortionists, a dazzling Burlesque act and more!
The John Montesante Quintet
performs every Thursday at
The Commune cafe-bar
.
Paying tribute to the Be-Bop era, the band offers timeless Jazz Standards, incorporating improvisations by some of Melbourne's finest Jazz players. Sporadically the Band brings in a guest Entertainer, Musician or Singer for our special fans.
Dine or just relax and listen to the music. Everyone is welcome and The Commune cafe-bar is just a few steps away from Parliament Station.
Art & Craft Markets Fetes and Fairs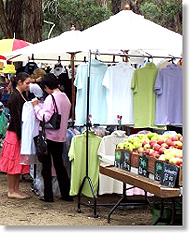 With winter already here and that 'much-needed rain' on the way, be sure to get out to grab a bargain in the sun while you can at one of Melbourne's excellent markets, fetes and fairs.
An increasing number of food and produce markets including wine are always popping up around the suburbs. And don't forget garage sales!
The Esplanade Market - St Kilda
- Every Sunday since 1970, The Esplanade Market St Kilda has been the destination for those searching for something special, somewhere special.
Established as an outlet for local artists, there are now nearly 200 of Victoria's best artists and craftspeople displaying and selling their work direct to the public.
The Esplanade Market is open 10:00am to 5:00pm every Sunday.
Queen Victoria Market this week:
The Moonee Valley Drifters
This quartet mesh honky tonk, with swing, Cajun and even Latin rhythms...No one does hard-hitting, steel stringed, hardcore country and roots better! This Sunday 12 - 2 pm.
For Melbourne Kids
How to Make a Monster
is an exhibition at Scienceworks Museum that showcases the Art and Technology of Animatronics - mechanical puppetry used in films and theatre.
With remarkable creatures on display from creators such as the
John Cox Creature Workshop
(pictured) the exhibition is a delight for children and people of all ages.
The exhibition takes the audience on a journey of monster creation from the original concept, storyboarding process and how the maquettes are made, through to how the full size pieces are sculpted, moulded and finished.
Puffing Billy Tour
- take a tour the whole family can enjoy with a ride on Puffing Billy, Australia's best-loved steam train!
Stroll amongst koalas, kangaroos, platypus, kookaburras, dingoes and more!
Winding its way through lush ferns and towering timbers, this fantastic tour includes wine tasting for the adults and also a trip to Healesville Sanctuary.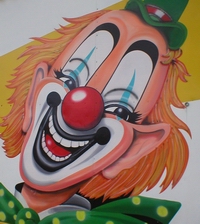 Silvers Grand Magic Circus
- As seen on Channel 9 in Celebrity Circus, Silvers Grand Magic Circus is a Melbourne tradition, it's located in Sunshine this week at 80 Harvester Road.
Established in 1976, Silvers Circus has grown from strength to strength. In 1987 a new concept was developed and Silvers Grand Magic Circus was born. A procenium arch stage larger than many theatres was placed behind the sawdust ring and the inside of the bigtop was transformed into something the world had never seen before.
For more events this week check out the What's On Guides for
May
&
June
.
Community
Here's a look at what's happening in Melbourne's community this week...
Showerhead Exchange
- Save water and money by swapping your old showerhead for a new water-efficient showerhead at a free exchange day at North Melbourne Library this Sunday.
By reducing your hot water consumption, you will also be reducing your greenhouse emissions.
Simply take your old showerhead and a copy of your recent water bill to the exchange event and swap your old showerhead for a free water-efficient showerhead.
Community Planting Day at Royal Park
- Plant some lungs for the environment! Come and join the community planting session in Royal Park on World Environment Day.
Council will be planting 2000 plants including a variety of grasses, shrubs and trees, and there will also be a talk on native birds so bring your binoculars All equipment and plants are supplied.
OnlyMelbourne Welcomes..
Each week we'll be highlighting five of the latest additions to OnlyMelbourne's ever growing guide to services, businesses and more in your community.
This week we suggest the following:
View More of the Latest Listings at OnlyMelbourne!
Puzzles
Anagram-orama!
We've rearranged the letters of three of the attractions featured in this week's newsletter.. See if you can figure them out!
Hamlet Won Lip


Net Rail Once


Mow In Jig Rod
Answers in
Next Week's Newsletter...
Melbourne Shuffle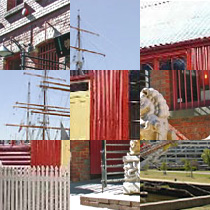 There are 3 overlaying pictures of Melbourne Attractions here, but parts of each picture have been removed.
Match the pieces and see if you can guess what the 3 Attractions are... Each one has its own share of history behind it.
You should be able to
iron
out one of the answers.
Answers in
Next Week's Newsletter
Last Week's Answers
Anagram-orama!
Meat Shake Town Room - How to Make a Monster
I Good Over Gin - Groove Indigo
His Arched Look At The Taken - Kookas in the Cathedral
Melbourne Shuffle
The three Melbourne Landmarks within the picture were:

Captain Cook's Cottage


Rippon Lea


Labassa
Newsletter | #020 | What's On this Week [Last Week]
❊ Address & Contact ❊
⊜ Newsletter | #021 | What's On this Week Melbourne |
Map
❊ Web Links ❊
→
Newsletter | #021 | What's On this Week
→
What's On In Melbourne in May
→
What's On In Melbourne in June
→
Melbourne for Children / Kids
→
OnlyMelbourne Newsletters
→
Newsletter | #020 | What's On this Week [Last Week]
Trending HOT

Things to see, hear & do this weekend
Make the most of your weekend in Melbourne with these fabulous events. No city does it better than Melbourne, so get out and discover the very best shows, festivals, ..
---
Update Page Request