Newsletter | #020 | What's On this Week

Welcome to the
OnlyMelbourne
Newsletter & Guide to Melbourne Events, Exhibitions, Sports and Community - May 21 - May 27, 2007.
This Week.. The Melbourne Italian Festival begins, The Melbourne Writers' Festival Trivia Night takes place, and don't miss Kookas in the Cathedral - a rare exhibition for this week only!
We also have AFL match details and much more info on many upcoming events and highlights in beautiful Melbourne, so read on and enjoy!
Major Events Guide
The Melbourne Italian Festival
begins this Thursday, May 24th, starting an event that's unique in concept and spirit, embracing all aspects of the performing and figurative arts.
Running from 24 May till 10 June, the 2007 festival will see a wide range of attractions taking place throughout Melbourne, including everything from music and films to poetry, arts and theatre, celebrating Italian culture.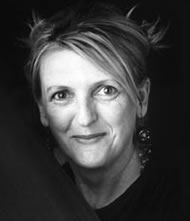 The Melbourne Writers' Festival Trivia Night
returns this Friday, May 25 for a night of fun and friendly rivalry!
Join in the excitement as teams battle it out for supremacy. Jane Clifton (pictured) is the hilarious MC, and she'll be joined by notable names within the Melbourne literary community.
Held annually, the Trivia Night is just a taste of the
Melbourne Writers Festival
, which begins in August. Don't miss out, as tickets are selling fast!
The Pirates of Penzance
is now playing at The State Theatre, The Arts Centre. The show runs until Jun 2, 2007, starring Anthony Warlow, Reg Livermore, David Hobson and Suzanne Johnston.
The Pirates of Penzance
is Gilbert and Sullivan's most popular operetta, and with good reason - Gilbert's sharp patter hits its hilarious mark with unerring skill and no-one pulls a melody out of the air like Arthur Sullivan, in what is widely considered to be his greatest score.
Varekai - Cirque du Soleil
will be performing in Melbourne until June 17 at The Oval at Melbourne Park.
This production pays tribute to the nomadic soul, to the spirit and art of the circus tradition, and to the infinite passion of those whose quest takes them along the path that leads to Varekai, meaning
Wherever
in the Romany language of the gypsies.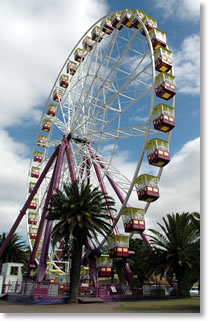 The Giant Sky Wheel
is open at Birrarung Marr with panoramic views of the city that are breathtaking and with the lights illuminating the skyline at night there is no better way to spend your day or evening than on top of the Giant Sky Wheel.
Situated on the edge of the Yarra River in the gardens of Birrarung Marr, come along and check out the fantastic views of Melbourne Skyline or stroll down during the evening to see the spectacular light show.
Also on this Week..
Netball's Commonwealth Bank Trophy


International Apparatus Challenge - Gymnastics Competition

More Details in SPORTS..


Mind, Body, Spirit - pre-school fundraiser with a difference!


De Bortoli Cycling Tour

More Details in COMMUNITY..
Exhibitions - Art | Festival | Show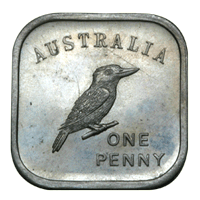 Kookas in the Cathedral
is an exhibition that brings to life a tumultuous period in Australia's history that centres around thirteen square pennies and halfpennies.
Following World War 1, when the young nation's leaders first considered introducing a uniquely Australian range of coins, these novel square coins - featuring a laughing kookaburra - never went into production
This collection (the only set in existence) is now valued over $1.4million and the coins have assumed an iconic prominence in the industry and Australia's history!
Beginning May 21st, the exhibition is for
five days only
- so don't miss out!
The 15/15 Film Festival
will be launched this year with the international premiere screenings at RMIT Capitol Theatre on Saturday, May 26. The Festival features finalists from the 15/15 Film Festival competition, held earlier this year.
Only a limited amount of tickets are available at each venue. To guarantee yourself a seat at 15/15, please make sure you purchase tickets before the night.
Representatives from the Australian Film Commission and Film Victoria will attend the Melbourne screening sessions to select films for inclusion in their 2007/2008 short film collections.
The Emerging Writers' Festival
, now in its 4th year, will be held on Friday, 25 May to Sunday, 27 May 2007, at the Melbourne Town Hall, State Library Victoria and Federation Square.
The Festival presents a weekend of panels, performances, readings and workshops featuring the best Australian writers you haven't heard of...
yet!
The Artists of Steel
exhibition celebrates the skills of Australia's stamp engravers who, for many decades, skilfully engraved the original steel dies of stamps by hand. The exhibition runs until June 2, at the Post Mast Gallery in Exhibition Street.
Featuring steel plates and tools from the Note Printing Branch, this remarkable exhibition details the craftsmanship that was needed with some intricate engravings that are as shallow as 0.002 (one five hundredth) of a millimetre!
This remarkable exhibition is an impressive insight into part of Australia's history, showcasing the engraving heritage left by the "artists of steel"through Australia's stamps.
Through Normal Eyes
is a multi-sensory exhibition running until May 25 at the Union House, University of Melbourne. The exhibition represents the culmination of a series of volunteer-run creative workshops which took place at a disadvantaged children's shelter in Kolkata, India in January 2007.
The Spanish Film Festival
continues until May 27, with many fine films screening at the Palace Cinema Como & the Palace Westgarth. In 2007 the Spanish Film Festival celebrates its 10th anniversary by presenting the largest programme of Spanish cinema ever screened in Melbourne.
Arts & Theatre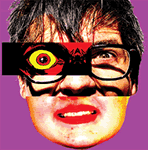 Motor-mouth & Suck-face
is a brand new comedy from award winning dramatist Anthony Crowley, running until May 26.
Set in a drought-stricken swimming pool in a Brighton backyard, Motor mouth & Suck-face features Zombies, Bollywood, Teenage Virgins & Planetary Annihilation coming together for a hilarious night of theatre.
Combining satire, pathos and horror, the play stages an outrageously wicked attack on the power of 'spin' and political disinformation to confuse and conceal. St. Martins Theatre of Youth stage a production hell-bent on saving the planet and having as much fun as possible on the way!
The Southern Cross Soloists Tour
includes an impressive performance this Monday, May 21 at the Melba Hall, University of Melbourne.
Marshall McGuire (pictured) and the Southern Cross Soloists will celebrate one of the most exquisite instruments at its finest in a world premiere composition where art and music collide in Australian composer Stuart Greenbaum's
Mondrian Interiors
- a musical response to one of the 20th century's greatest artists.
The Archibald Prize
, Australia's oldest, most popular and prestigious art prize, will be on show until July 1st 2007 to the grand art deco
Mural Hall at Myer
on Bourke Street.
The exhibition is FREE and open to the public daily during trading hours and visitors have the opportunity to vote for their favourite painting as part of the Myer People's Choice Award.
Miss Saigon
continues its extended season until July 1st at Her Majesty's Theatre - one of the most successful musicals in the world - seen by over 30 million people in 25 countries in 12 languages.
Book Now
Restaurants, Clubs & Bars
The Prahran Hotel
originally opened in the 1850's and is one of the oldest in Prahran. The hotel is situated on High St, tram stop at the front, and a short walk from Chapel St.
The Prahran Hotel is proud to offer a great selection of food on our Bar and ŕ la carte menu's. An extensive wine list is on offer as is a large selection of beers with 10 on tap. All you have to do is come in and enjoy.
Melbourne offers a splendid range of food styles to enjoy. Here are just a few classic food styles to choose from..
For more restaurants...
Check out
Only Melbourne's Restaurant Directory
Or you can
View & Book a Table @ MenuLog
.
Sporting Events
AFL - Round 9
Netball
Netball's Commonwealth Bank Trophy
sees a Double Header game this Sunday May 27th as two matches take place at the State Netball & Hockey Centre in Parkville.
Allied Pickfords Melbourne Kestrels versus McDonalds Hunter Jaegers at 1pm.


Melbourne First National Phoenix v Sydney TAB Swifts at 3pm.
This is a Double Header Game, meaning there will be 2 games on the day. Ticket Holders will be entitled to attend
both
games on the day. For Bookings visit
Ticketmaster
Gymnastics
The International Apparatus Challenge
sees some of the world's best gymnasts in action at Vodafone Arena, when Australia takes on world champions China on May 27.
The Challenge is the ideal preparation for both our national men's and women's teams to compete against some of the world's best prior to the Olympic-qualifying World Championships to be held in Stuttgart, Germany in September.
Entertainment & Nightlife
Groove Indigo
will be playing as an acoustic duo on 27th May at Cafe Zest, in Port Melbourne. They will be performing between 2.30pm & 4.30pm and entry is FREE.
Enjoy a coffee and cake or a red wine, enjoy the view, and experience the up close and personal music as they perform their unique reinterpretation of jazz and blues standards and original material.
The John Montesante Quintet
performs every Thursday at
The Commune cafe-bar
.
Paying tribute to the Be-Bop era, the band offers timeless Jazz Standards, incorporating improvisations by some of Melbourne's finest Jazz players. Sporadically the Band brings in a guest Entertainer, Musician or Singer for our special fans.
Dine or just relax and listen to the music. Everyone is welcome and The Commune cafe-bar is just a few steps away from Parliament Station, if you don't want to bring the car.
Art & Craft Markets Fetes and Fairs
The Esplanade Market - St Kilda
- Every Sunday since 1970, The Esplanade Market St Kilda has been the destination for those searching for something special, somewhere special.
Established as an outlet for local artists, there are now nearly 200 of Victoria's best artists and craftspeople displaying and selling their work direct to the public.
The Esplanade Market is open 10:00am to 5:00pm every Sunday.
With winter already here and that 'much-needed rain' on the way, be sure to get out to grab a bargain in the sun while you can at one of Melbourne's excellent markets, fetes and fairs.
An increasing number of food and produce markets including wine are always popping up around the suburbs. And don't forget garage sales!
Queen Victoria Market this week:
The Wishing Well

With influences such as David Gray, The Dave Matthew's Band, Bernard Fanning and Bob Dylan, 'The Wishing Well's' music is a vibrant and contemporary mix of rock, folk and pop. This Sunday 12 - 2 pm.
For Melbourne Kids
How to Make a Monster
is an exhibition at Scienceworks Museum that showcases the Art and Technology of Animatronics - mechanical puppetry used in films and theatre.
With remarkable creatures on display from creators such as the
John Cox Creature Workshop
(pictured) the exhibition is a delight for children and people of all ages.
The exhibition takes the audience on a journey of monster creation from the original concept, storyboarding process and how the maquettes are made, through to how the full size pieces are sculpted, moulded and finished.

The Circus Royale
is an unforgettable 2 hour show staged in a luxury tent featuring International circus stars. They will be performing in Taylors Lakes, with shows running through to May 27th.
This impressive Circus show features high wire walkers, swing trapeze, comedy, acrobats, sabateco dancers, drummers, jugglers, contortion and 6 humane animal acts featuring camels, llamas, technicolour birds, horses and geese.
Silvers Grand Magic Circus
As seen on Channel 9 in Celebrity Circus, Silvers Grand Magic Circus is a Melbourne tradition, it's located in Epping this week at 551 High Street.
Established in 1976, Silvers Circus has grown from strength to strength. In 1987 a new concept was developed and Silvers Grand Magic Circus was born. A procenium arch stage larger than many theatres was placed behind the sawdust ring and the inside of the bigtop was transformed into something the world had never seen before.
Puffing Billy Tour
- take a tour the whole family can enjoy as Puffing Billy, Australia's best-loved steam train, winds its way through lush ferns and towering timbers.
This fantastic tour includes wine tasting for the adults and also a trip to Healesville Sanctuary. Stroll amongst koalas, kangaroos, platypus, kookaburras, dingoes and more!
For more ideas about what to do this week check out the
What's On for May
.
Community
Here's a look at what's happening in Melbourne's community this week...
Mind, Body, Spirit - A Night of Indulgence
- This week,
Sarah Court Pre-School
in Montrose are holding a fundraising evening at Montrose Primary School on May 25th at 7:30pm.
Far from your usual Kinder Fundraiser, this event is a bit different with Tarot, Numerology, Astrology, Spirit Guide Drawings, and more..
Featuring Australia's Celebrity Psychic, Lizzy Rose (pictured), the event also features other clairvoyant/psychic readers there at the fundraiser to provide an informative and entertaining evening.
Entry tickets are $5.00, which includes tea/coffee, supper and entry into the chance to win door prizes.
The De Bortoli Cycling Tour
, presented by
The Blackburn Cycling Club
and
De Bortoli Wines
, consists of 2 road races and a time trial held over this weekend on the 26th and 27th of May.
The De Bortoli Tour race is run through the picturesque Yarra Valley and draws the countries top cycling talent. Spend the weekend in this beautiful region of Victoria taking in the best food, wine and cycling Australia has to offer!
Puzzles
Anagram-orama!
We've rearranged the letters of three of the attractions featured in this week's newsletter.. See if you can figure them out!
Meat Shake Town Room


I Good Over Gin


His Arched Look At The Taken
Answers in
Next Week's Newsletter...
Melbourne Shuffle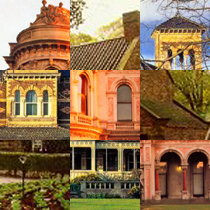 There are 3 overlaying pictures of Melbourne Landmarks here, but parts of each picture have been removed.
Match the pieces and see if you can guess what the 3 Heritage Buildings are.
You should be able to cook up an answer to at least one of them! And if not, just
rip in
to the others.
Answers in
Next Week's Newsletter
Last Week's Answers
Anagram-orama!
Siam Is Song - Miss Saigon
Yeti Nags Whelk - Giant Sky Wheel
Haul Grey Rose Month - Through Normal Eyes
Melbourne Shuffle
The three Melbourne Landmarks within the picture were:

Flinders Street Station


Shrine of Remembrance


Exhibition Building
Newsletter | #019 | What's On this Week [Last Week]
❊ Address & Contact ❊
⊜ Newsletter | #020 | What's On this Week Melbourne |
Map
❊ Web Links ❊
→
Newsletter | #020 | What's On this Week
→
What's On In Melbourne in May
→
Buy Tickets for Concerts and Shows at Ticketmaster
→
Melbourne for Children / Kids
→
OnlyMelbourne Newsletters
→
Newsletter | #019 | What's On this Week [Last Week]
Trending HOT

Things to see, hear & do this weekend
Make the most of your weekend in Melbourne with these fabulous events. No city does it better than Melbourne, so get out and discover the very best shows, festivals, ..
---
Update Page