Newsletter | #019 | What's On this Week

Welcome to the
Only Melbourne
Newsletter & Guide to Melbourne Events, Exhibitions, Sports and Community - May 14 - May 20, 2007.
This Week.. Buddha's Day begins, The Pirates of Penzance starts its season, and Sunday sees the Million Paws Walk taking place, raising funds for the RSPCA.
We also have AFL match details and much more info on many upcoming events and highlights in beautiful Melbourne, so read on and enjoy!
Major Events Guide
The Pirates of Penzance
begins its season on 17 May at The State Theatre, The Arts Centre. The show runs until Jun 2, 2007, starring Anthony Warlow, Reg Livermore, David Hobson (watch my mum swoon!) and Suzanne Johnston.
When a boatload of pirates ties up in a sleepy English seaside town the police are alarmed but the ladies are intrigued. And when one of the pirates, a na´ve young apprentice named Frederic, meets a daughter of one of the local pillars of society, things get more than interesting!
The Pirates of Penzance
is Gilbert and Sullivan's most popular operetta, and with good reason - Gilbert's sharp patter hits its hilarious mark with unerring skill and no-one pulls a melody out of the air like Arthur Sullivan, in what is widely considered to be his greatest score.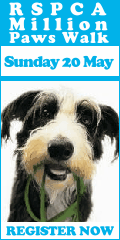 The Million Paws Walk
takes place at Albert Park Lake on Sunday 20 May, this year, raising funds for the RSPCA.
An event for dogs and their owners, the Million Paws Walk is a fun day with loads of entertainment including doggie demonstrations and competitions, celebrity guests and MC's, dog washes and Tyrrell's Wine tastings.
The Casterton Kelpies will be on show, rounding up ducks and sheep. There will be lots of food and drinks and of course fun for the entire family. Register your family, team or company, the more the merrier!
Buddha's Day and Multicultural Festival
is a unique annual event which celebrates Melbourne's diverse multicultural society.
One of the most significant days of the Buddhist calendar, the festival The Festival commemorates the birth of the Buddha and promotes cooperation, community understanding and harmony.
Running over two days, Saturday 19th & Sunday 20th of May 2007, the Festival begins in the heart of Melbourne, at Federation Square.
Special events include:
The "Birth of the Sakyumuni Buddha"garden display.


Baby Blessing Ceremony for children under the age of five.


Inaugural Buddhist Wedding Vow Renewal Ceremony.


Annual World Peace Blessing Ceremony.
Varekai - Cirque du Soleil
will be performing in Melbourne until June 17 at The Oval at Melbourne Park.
This production pays tribute to the nomadic soul, to the spirit and art of the circus tradition, and to the infinite passion of those whose quest takes them along the path that leads to Varekai, meaning
Wherever
in the Romany language of the gypsies.
The Giant Sky Wheel
will be open at Federation Square. The panoramic views of the city are breathtaking and with the lights illuminating the skyline at night there is no better way to spend your day or evening than on top of the Giant Sky Wheel.
Situated along the edge of the Yarra River come along and check out the fantastic views of Melbourne Skyline or stroll down during the evening to see the spectacular light show.
Also on this Week..
Life Through the Lens - Horse Racing images by Bruce Postle
More Details in SPORTS..



Victoria Police Showband


Japan Festival

More Details in COMMUNITY..
Exhibitions - Art | Festival | Show
The Archibald Prize
, Australia's oldest, most popular and prestigious art prize, returns on Saturday 19 May 2007 to the grand art deco
Mural Hall at Myer
on Bourke Street.
2007's winner is artist John Beard with his portrait of
Janet Laurence
(pictured)
The exhibition is FREE and open to the public daily during trading hours and visitors have the opportunity to vote for their favourite painting as part of the Myer People's Choice Award.
Through Normal Eyes
is a multi-sensory exhibition running from May 15 - May 25 at the Union House, University of Melbourne. The exhibition represents the culmination of a series of volunteer-run creative workshops which took place at a disadvantaged children's shelter in Kolkata, India in January 2007.
The Official Opening takes place on 16 May, 5 - 7pm and will feature Guest Speaker Tim Costello - CEO, World Vision Australia, and give patrons the chance to meet Friends of Kolkata volunteers, and enjoy the food, chai and atmosphere!
Through photography, mosaics, creative writing and drawing, the children created many rich, startling images and stories, reflecting their distinctive cultural and physical environment.
The Spanish Film Festival
runs from May 16 till May 27, with many fine films screening at the Palace Cinema Como & the Palace Westgarth. In 2007 the Spanish Film Festival celebrates its 10th anniversary by presenting the largest programme of Spanish cinema ever screened in Melbourne.
Opening Night Spanish Fiesta!
Join us at 7.00pm on Wednesday May 16th at Palace Cinema Como, for the Australian Premiere of Crossing Borders (Un Franco Catorce Pesetas).

All attendees will also receive a DVD of Dot The I, starring Gael Garcia Bernal. Tickets include Tapas, Live Entertainment, Drinks and Film.
Still Life
is an exhibition of stunning fine wood design that brings together some of Australia's best wood craftsmen. The exhibition will run from 12 April - 31 May at
Sofitel Melbourne, The Lobby
.
Still Life is a breathtaking display of beautiful hand crafted wood that includes finely worked lamps to intricate bowls and boxes to beautiful hand-made furniture and sculpture.
With twenty-two works on display, the exhibition will feature many one one-off sculpture pieces. Each artist displays an absolute passion for wood's innate and beautiful qualities and a shared commitment to craftsmanship.
Arts & Theatre
Grumpy Old Women Live
is a humorous look at womanhood, inspired by the TV series which screened on the ABC.
Grumpy Old Women Live features comedienne actors Jenny Ecclair, Dillie Keane and Linda Robson of the hit UK series
Birds of a Feather
, which screened on the ABC.
The stars of ABCs Grumpy Old Women TV series have hauled their knackered old butts all the way from the UK over to Australia, the least you can do is buy a ticket! Season runs until May 20.
Organ-ic Lunch & Melbourne Town Hall
- The Melbourne Town Hall welcomes a special international guest for May's Organ-ic Lunch on May 15th - 1 to 2pm.
Sophie-Veronique Cauchefer-Choplin (pictured) is one of France's leading organists, and is a prize-winner at the esteemed Chartres International Organ Competition.
Widely regarded as one of the best improvisers of her generation, Sophie-Veronique will improvise on a given theme and will also play repertoire of Mendelssohn, Vierne, Mulet and others.
A
free masterclass
in improvisation will follow the concert at 2.45pm.
Miss Saigon
continues until May 27th - one of the most successful musicals in the world - seen by over 30 million people in 25 countries in 12 languages.
As a special offer for My Ticketek members, purchase Grand Circle tickets online for Miss Saigon Tuesday and Wednesday performances in May for the great price of $74.90* - save $25* per ticket!
Offer ends Monday 14 May
, 2007.
Book Now
Restaurants, Clubs & Bars
Bistro 1
is one of Melbourne's most desirable dining destinations. Conveniently located in the heart of the city's financial and theatre district. The warm lamp lighting and attentive service create a special feeling for couples in the mood for romance.
Bistro 1 offers superb French and Italian cuisine, a national award winning wine list, beautiful surroundings and attentive service, making it so popular with the locals.
Special Dining Offer
Melbourne offers a splendid range of food styles to enjoy. Here are just a few classic food styles to choose from..
For more restaurants, check out
Only Melbourne's Restaurant Directory
Or you can
View & Book a Table @ MenuLog
.
Sports
Australian Rules Football
Saturday at Telstra Dome - Essendon v Brisbane Lions at 2:10 PM

Saturday at the MCG - Hawthorn v St Kilda at 7:10 PM

Sunday at Telstra Dome - Western Bulldogs v Collingwood at 2:10 PM



www.afl.com.au - AFL League
Life Through the Lens
features some of the most iconic Horse Racing images, which will be showcased in this special exhibition at Champions - the Australian Racing Museum and Hall of Fame.
Photojournalist Bruce Postle is one of Australia's living treasures and his talent takes centre stage in a special exhibition held at
Champions - the Australian Racing Museum and Hall of Fame
.
His amazing images have adorned the front pages of newspapers, magazines, theatre programs and book covers across the world. This exhibition pays homage to a brilliant photographer who has managed to capture the spirit of the wonderful sport of Horse Racing.
Entertainment & Nightlife
Wine Tasting @ Curve Bar
- Curve Bar and Hanging Rock Winery present an evening of wine tasting on Wednesday 16 May 2007 from 6pm.
Curve Bar, located at The Arts Centre, invites you to enjoy a selection of wines with winemaker John Ellis of Hanging Rock Winery and Michael Burke of Curve Bar, who has matched a special selection of food to compliment the tastings.
The John Montesante Quintet
performs every Thursday at
The Commune cafe-bar
.
Paying tribute to the Be-Bop era, the band offers timeless Jazz Standards, incorporating improvisations by some of Melbourne's finest Jazz players. Sporadically the Band brings in a guest Entertainer, Musician or Singer for our special fans.
Dine or just relax and listen to the music. Everyone is welcome and The Commune cafe-bar is just a few steps away from Parliament Station, if you don't want to bring the car.
Art & Craft Markets Fetes and Fairs
Books @ Fed Square
Immerse yourself in the wonderful world of literature at Melbourne's only dedicated book market - Books @ Fed Square. With over 5,000 books to browse through, you're sure to find something of interest and fascination.
Grab a bargain at one of Melbourne's excellent markets, fetes and fairs. An increasing number of food and produce markets including wine are popping up around the suburbs. And don't forget garage sales.
Queen Victoria Market this week:
Code One - Victoria Police Band

This six piece band plays every popular style of music from early 50's rock-'n'-roll through to jazz, soul, disco, Motown and current top 40. 'Code One' really knows how to rock! This Sunday 12 - 2 pm.
For Melbourne Kids
Share Tea with Me
is a three-hour workshop for kids, held at ArtPlay as part of the
Buddha's Day and Multicultural Festival
.
Taking place this Saturday & Sunday, the workshops introduce the rituals and symbolism of the Ch'an Tea Ceremony and the significance of reflection and sharing.
In the first session children will paint their own teacups. In the second part of the workshop, children from the Buddha's Light Youth Group will share the art of the Ch'an tea Cermony using their personalised tea cups. Children can then perform their own tea ceremony inviting others to share tea.

The Circus Royale
is an unforgettable 2 hour show staged in a luxury tent featuring International circus stars. Beginning May 9th they will be performing in Taylors Lakes, with shows through to May 27th.
This impressive Circus show features high wire walkers, swing trapeze, comedy, acrobats, sabateco dancers, drummers, jugglers, contortion and 6 humane animal acts featuring camels, llamas, technicolour birds, horses and geese.
Silvers Grand Magic Circus
As seen on Channel 9 in Celebrity Circus, Silvers Grand Magic Circus is a Melbourne tradition, it's located in Epping this week at 551 High Street.
Established in 1976, Silvers Circus has grown from strength to strength. In 1987 a new concept was developed and Silvers Grand Magic Circus was born. A procenium arch stage larger than many theatres was placed behind the sawdust ring and the inside of the bigtop was transformed into something the world had never seen before.
Puffing Billy Tour
- take a tour the whole family can enjoy on Puffing Billy, Australia's best-loved steam train, winds its way through lush ferns and towering timbers.
This fantastic tour includes wine tasting for the adults and also a trip to Healesville Sanctuary. Stroll amongst koalas, kangaroos, platypus, kookaburras, dingoes and more!
For more ideas about what to do this week check out the
What's On for May
.
Community
Here's a look at what's happening in Melbourne's community this week...
The Victoria Police Showband
will be performing at Federation Square on Tuesday May 15, delivering the Force's message of goodwill to those it serves, the people of Victoria.
The Showband is an energetic twenty-five piece group fronted by a dynamic team of vocalists. In uniform, police members deliver powerful performances of songs from the 1940's Big Band Era, to current Top 40 popular hits.
The Japan Festival
, 20 May at Box Hill Town Hall & TAFE, celebrates the Japanese culture, sharing their customs through this vibrant festival.
Throughout the day traditional performances as well as contests will be played out on the main stage.
Exhibitions of origami, tea ceremonies, traditional Japanese Games and more will be held, as well as a variety of food and craft stalls, throughout the venue. There will also be the opportunity to win a trip for two to Tokyo!
Puzzles
Anagram-orama!
We've rearranged the letters of three of the attractions featured in this week's newsletter.. See if you can figure them out!
Siam Is Song


Yeti Nags Whelk


Haul Grey Rose Month
Answers in
Next Week's Newsletter...
Melbourne Shuffle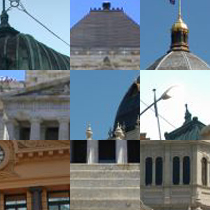 There are 3 overlaying pictures of Melbourne Landmarks here, but parts of each picture have been removed.
Match the pieces and see if you can guess what the 3 landmarks are.
You should be able to guess one of them if you
remember
it well, as you should!
Answers in
Next Week's Newsletter
Last Week's Answers
Anagram-orama!
Pur My Gold Woven Lime - Grumpy Old Women Live
Len Can Kiss - Cleanskins
Fully Up For Biting - Puffing Billy Tour
Melbourne Shuffle
The three Melbourne Landmarks within the picture were:

Old Melbourne Gaol


Grand Hyatt Melbourne


The Arts Centre
Newsletter | #018 | What's On this Week [Last Week]
❊ Address & Contact ❊
⊜ Newsletter | #019 | What's On this Week Melbourne |
Map
❊ Web Links ❊
→
Newsletter | #019 | What's On this Week
→
What's On In Melbourne in May
→
Buy Tickets for Concerts and Shows at Ticketmaster
→
Melbourne for Children / Kids
→
OnlyMelbourne Newsletters
→
Newsletter | #018 | What's On this Week [Last Week]
❊ COVID-19 Notice ❊
Many locations have gone into lockdown as the state takes action to stop the spread of the deadly coronavirus (COVID-19).
→
Disclaimer
: Check with the operator before making plans
...
Trending HOT

Drive-In Movie Club
Drive-In Immersive Cinema Nights Are Coming to Melbourne Put together by our friends at Hot Tub Cinema, a string of family-friendly, social distancing-safe, drive-in ..

Things to see, hear & do this weekend
Make the most of your weekend in Melbourne with these fabulous events. No city does it better than Melbourne, so get out and discover the very best shows, festivals, ..
---
Update Page