History of Australian Television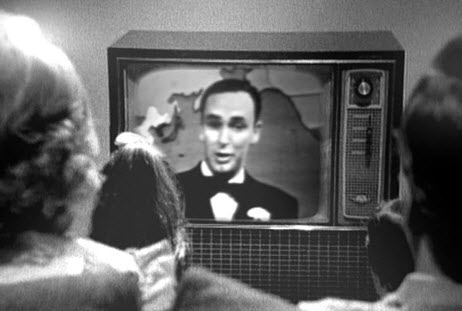 Black-and-white television officially started in Australia in 1956.
It was much later than most people had expected, given that the first regular experimental television transmissions began in Brisbane in 1934 and the first major public demonstration of television occurred in most capital cities in 1949.
At the 1949 demonstration in Melbourne, a variety show at the Melbourne Town Hall, which included tap-dancing, singing, comedy and even 'a professional golfing demonstration', was televised live on eight television sets inside the hall so that those in attendance could compare the television pictures of the show with the real thing.
The Melbourne Sun reported: 'The show exploded two television myths: That women can't wear red because it's transparent, and that faces must be made-up like clowns to televise agreeably'.
In 1956 Sydney and Melbourne were the only Australian cities to get television.
In Melbourne the first television station on air was HSV-7, with studios at South Melbourne. Originally owned by the Herald and Weekly Times Ltd, publishers of the Sun and the Melbourne Herald, it started on 4 November 1956, only 18 days before the Melbourne Olympic Games.
The opening was marked with speeches by Australian Prime Minister Robert Menzies, federal Minister for Labour Harold Holt, Premier of Victoria Henry Bolte and Victorian Leader of the Opposition John Cain senior.
The event's MC, newsreader Eric Pearce (who later moved to rival Melbourne television station GTV-9), declared: 'We dedicate this station to the full service of the community. To Australian life - the happy families in the homes - we promise to serve you faithfully and well'.
Channel Seven's opening ceremony was followed by a live telecast of Olympic follies at the Tivoli Theatre, which featured local satirical actor Barry Humphries giving one of his first performances as Mrs Edna Everage.
The second Melbourne television station was ABV-2, with studios at Ripponlea. Operated by the Australian Broadcasting Commission (later Corporation) or ABC, and funded by the federal government, Channel Two opened on 19 November 1956.
In accordance with its charter, the ABC took an overtly educational approach, venturing into areas that the commercial stations, dependent on ratings, were reluctant to enter.
As a new 17-inch (43 cm) television set cost over £200, which in today's terms would almost buy a new small car, only 5% of Melbourne households had a set in 1956, but many people watched television sets displayed in shop windows.
Large Melbourne department store Myer advertised: 'TV begins tomorrow! TV in our windows, Sunday night, 7 p.m.!
For the inauguration of TV in Melbourne, see our Bourke Street, Post Office Place and Lonsdale Street windows! Every night till Christmas, too!'
To celebrate the start of HSV-7 and ABV-2 in 1956, local television manufacturer AWA placed an advertisement in the Melbourne Age that reflected many people's early expectations of television.
The ad showed identical male twins, who were also dressed identically in suits and hats, greeting a family gathered around a television set. The ad declared: 'Welcome the wanted guests - ABV and HSV! A warm welcome to the guests who will be waiting at your door, and who never enter until invited.
Who bring entertainment, culture, humour and education. Who never outstay their welcome but always leave on the turn of a switch'.
On 19 January 1957 Melbourne's second commercial television station, GTV-9, opened, broadcasting from studios in a converted Heinz soup factory in Richmond. Channel Nine was owned by a group of diverse media and entertainment interests that were in direct competition with television, including Age publisher David Syme & Co. Ltd, cinema chains Hoyts and Greater Union, Nilsens Broadcasting Service Pty Ltd and the newsreel producer Cinesound Production. Nine has consistently been Melbourne's most popular television station.
The introduction of television had an impact on many facets of Melburnians' lives. Taste-makers - such as architects, cooking experts, fashion designers, interior designers and journalists writing for magazines such as Australian Home Beautiful - advocated homes that were designed and organised around the demands of watching television. Furniture stores featured the TV divan, the TV lounge, the TV suite, the TeleVue arm lounge suite, the TV chair, the Tele-chair and the Viewmaster, sofas and chairs specially designed for 'televiewing'.
Set low so that viewers' eyes were more-or-less level with the television screen, their comfort allowed users to sit for long periods, while their lightness allowed them to be moved nearer to the set. Offering to solve the problem posed by friends and neighbours dropping by to view the still scarce sets, one local manufacturer boasted: 'No more worrying about how all your guests or all the family can enjoy direct TV viewing, for the Nashline lounge adds longer length to its beautiful new square-line design so that not three but four people may be accommodated in super soft rubber foam all-over comfort'.
With family shows scheduled around dinnertime, people started to eat in the living room, creating a market for stain-resistant vinyl upholstery and unbreakable plastic crockery. Casseroles could be prepared ahead, freeing the housewife to share in the family viewing and reducing the number of dishes to be cleared away in prime viewing time. Fashion designers created clothes that assisted the TV hostess with her duties. TV jackets, waist-length fur coats in either mole with fox trim or suede with mole trim with 'sleeves to the elbow to simplify the hostess' duties of serving food during TV shows', were 'specially designed for television viewing' by Furs Renee of Collins Street, Melbourne. Gradually television began to interfere with religious observance as well, with many Protestant churches forced to reconsider their traditional evening services when congregations chose to stay home to watch the British Forsyte saga, televised by the ABC in 1968.
With commercial stations deriving most of their material from the USA, and the ABC similarly dependent on Great Britain, television brought the world into suburban living rooms, but there was also some attempt to reflect the local. The earliest Australian programs owed much in both content and personalities to television's predecessor, radio. HSV-7's afternoon children's variety show, The happy show, was presented in front of a live audience by Happy (Harry) Hammond with his trademark tartan hat and coat. The show, which had a regular cast of adult performers including Princess Panda (Lisner), Cousin Roy (Lyons) and Funny Face (Vic) Gordon, included comedy, dancing, games, magic, singing and animated cartoons, along with on-screen product promotion. Many of its young viewers would have stayed on to watch Walt Disney's Mickey Mouse Club, which was hosted locally by Uncle Doug (Elliot) (better known for his live commercials on World of sport) and, at the weekends, enjoyed the Peters fun fair, with clowns Zig (Jack Perry) and Zag (Doug McKenzie), who regularly led the Moomba procession, and the long-running Swallows juniors (later Brian and the juniors). Presented by newsreader Brian Naylor, this musical show started the careers of such Melbourne performers as Patti McGrath (later Newton), Jamie Redfern, Jane Scali and Debbie Byrne.
Adult variety was another television staple, drawing on vaudeville traditions that had earlier found a place on radio. Channel Seven's weekly Sunnyside up, hosted by 3DB race caller Bill Collins, was adapted from 3DB's Happy gang and blended comedy - presented by Syd Heylen (later Cookie in A country practice on HSV-7) and Honest John Gilbert, with back-up from Syd Hollister, Maurie Fields and Val Jellay - and fine singing with regulars Shirlene Clancy, Ron Lees, Val Ruff and Neil Williams. International stars Helen Reddy and Olivia Newton-John performed on this show long before they achieved success overseas. However, it was GTV-9's nightly variety program In Melbourne tonight (or IMT) that produced Melbourne's first television star, the witty and sometimes smutty Graham Kennedy, who had already established a 'naughty-boy' image on 3UZ. With its regular comedy team, including Phillip Brady, Joff Ellen, Johnny Ladd, Panda Lisner, Bert Newton (Kennedy's straight man) and Rosie Sturgess, and the Channel 9 ballet, IMT began in 1957 and ran for 13 years, its most popular feature being the live commercials, which showcased Kennedy's humour.
Channel Nine moved into live daytime variety with It could be You or ICBY (1961-69), hosted by Tommy Hanlon Junior, an American stand-up comedian who came to Australia for a three-week season and stayed. With its combination of games, hidden-camera segments and human-interest stories, performed daily in front of a live audience, ICBY received so many letters from its viewers (18 592 on one day in 1961) that a new Richmond Post Office had to be built to cope with the volume of mail.
Sport provided another staple for the new medium. Beginning in 1957, the final quarters of different Australian Rules football matches were telecast live by the three Melbourne stations, but Channel Seven quickly made football its own, with entertaining calls of matches by ex-footballer Butch Gale and sports compere Michael Williamson ('Oooh, Jesaulenko, you beauty!' Williamson yelled after Carlton footballer Alex Jesaulenko took a particularly high mark in the 1970 Grand Final) and the innovative television direction of Alf Potter. Apart from a brief break in 1987, Seven had a monopoly over football broadcasts from the mid-1970s through to 2002, when the rights moved to a consortium headed by Channel Nine. It developed many shows around Australian Rules football, such as Football inquest, hosted by Williamson, League teams, with ex-footballers Jack Dyer, Bob Davis and Lou Richards, and World of sport, hosted by Ron Casey (later general manager of Channel Seven and also chairman of the North Melbourne Football Club), which started in 1959 and ran for 28 years. Although football dominated in winter, the show also televised lawn bowls, cricket, cycling, golf, horseracing, tennis and even wood-chopping. There were handballing competitions, interviews with coaches and players, and kicking contests. The most popular segment on the show was the football panel, with colourful ex-footballers including Richards, Dyer and Davis boisterously discussing the latest round of matches. Dyer would often say things like 'I won't say anything in case I say something' and 'He is a good ordinary player'. World of sport laid the groundwork for later programs including Live and kicking, also on Seven, and The footy show on GTV-9.
Working with local production company Crawfords, headed by Hector Crawford, his sister Dorothy and her son Ian, HSV-7 was also a pioneer in local drama. Homicide, a weekly police drama set in Melbourne, was the first locally made program to rate in the national top 10. It began in 1964 and for 13 years transmitted images of Melbourne into suburban homes, establishing a market for later shows such as Cop shop on Channel Seven, Division 4 on GTV-9, Matlock Police on ATV-10 and Channel Nine's much more ambitious family drama, set in wartime Melbourne, The Sullivans.
ABV-2 also presented television adaptations of Melbourne stories, the most successful of which were the 1965 serialisation of the George Johnston novel My brother Jack and the 1976 production of the controversial Frank Hardy novel Power without glory. Other drama series on ABV-2 have included Australian playhouse, a series of half-hour plays by local television writers including Michael Boddy, Pat Flower, Colin Free and Tony Morphett, and Rush, which introduced John Waters to a mass audience as Sergeant McKellar, a brooding bushranger-hunter during the Australian gold rush.
Although each of the Melbourne-based channels had its own nightly news service, it was ABV-2 that took the lead in developing current affairs programs. While its flagship, Four corners, which started in 1961, was always broadcast out of Sydney, local magazine programs, such as People, presented by Gerald Lyons, and This day tonight, hosted by Bill Peach, established a genre that would later be copied by commercial stations.
Sydney hosted the most successful of another television staple, Americans Bob and Dolly Dyer's Pick-a-box, a straightforward question-and-answer quiz show that started on radio in 1948 and moved to GTV-9 in 1957, running for a total of 23 years. Among the most popular, and successful, of its contestants was Melbourne schoolteacher (later politician) Barry Jones, whose regular appearances on the show made it a Melbourne hit. Pick-a-box established a genre, embraced in various forms by all the channels, but its natural successor was the Melbourne-based Sale of the century, which started in 1980 with quizmaster Tony Barber and was succeeded in 1999 by Eddie McGuire's Who wants to be a millionaire.
Australian pop music shows followed a similar trajectory. Hosted by bespectacled newsreader Brian Henderson and based on an American model, the Sydney-based Bandstand began in 1958 and ran for 15 years. However, Countdown, the show that made the greatest contribution to the promotion of local rock music, was produced at the ABC studios in Ripponlea from 1978 to 1987 and was hosted by Melbourne identity Ian 'Molly' Meldrum. On Channel Nine, Hey, hey it's Saturday (1971-94), a children's program that made a very successful transition to prime time, also provided exposure for local talent.
Melbourne also became a centre for Australian soap opera. The ABC's Bellbird, a soap opera about life in a small country town screened for 15 minutes four nights a week from 1967 to 1977, was the first, but it was Melbourne's third commercial television station, the Nunawading-based ATV-0 (which became ATV-10 in 1981), that made the genre its own. Ten, originally owned by Reg Ansett, founder of Ansett Airlines, started broadcasting on 1 August 1964 but took some years to get established. Most viewers had developed strong loyalties to the other television stations, but in 1972 the Sydney soap Number 96, with its cast of acid-heads, divorcees, fugitives, homosexuals, nymphomaniacs and perverts, drew them to the new station. Others followed, several of which were made in Melbourne, including Prisoner, a shock-horror look at life behind bars inside a women's prison, and Neighbours, about living and loving in suburban Ramsay Street, which launched the career of international pop idol Kylie Minogue. Channel 10 also produced the long-running Young talent time, which was hosted by former pop singer and writer Johnny Young and featured some children who had first appeared on Brian and the juniors.
Colour television, introduced in Australia in 1975, was in 64% of Melbourne homes by 1978, one of the fastest changeovers from black-and-white to colour in the world. It was followed by the video cassette recorder and the neighbourhood video library. Two additional stations now operate in the city. SBS 0-28, operated by the Special Broadcasting Service, opened in 1980. Aimed at the city's large immigrant population, it broadcasts foreign-language programs and films, subtitled in English, as well as some locally generated programs and documentaries. Channel 31 Melbourne is a community-access television station that began in 1994. Although local production has decreased with the rise in national networking, Melbourne continues to be transmitted onto television screens nationally and internationally through such locally produced drama series as Neighbours (Vermont South), Stingers (Collingwood), Blue heelers (Werribee), MDA (Central Melbourne) and the archetypal suburban comedy Kath and Kim.
Cable or pay television came to Melbourne in 1995, and digital television followed in 2001. The installation of cables in many Melbourne suburbs was met with strong protests on aesthetic grounds. However, for sheer excitement, none of these developments really compare with the introduction of humble black-and-white television in Melbourne in 1956, when people regarded a television aerial on the chimney as a badge of pride.
Author: DERHAM GROVES
Source:
emelbourne.net.au
Timeline
As could be expected, television was warmly received in Australia.
While a lot of the faces on our screens were still predominantly imported, the Australian identity was slowly but surely making itself known in the new medium. Hit shows like Bandstand, IMT, Homicide and The Mavis Bramston Show were making their mark in Australian popular culture.
1960 Graham Kennedy's In Melbourne Tonight screens nationally as the Graham Kennedy Channel Nine Show
New TV stations: ABS2 Adelaide, ABW2 Perth, ABT2 Hobart, TVT6 Hobart
1961 August 19: ABC's acclaimed weekly current affairs program Four Corners premieres.
December: Regional television commences with the launch of commercial stations GLV10 Traralgon, GMV6 Shepparton and BCV8 Bendigo.
1962 New TV stations: BTV6 Ballarat, NBN3 Newcastle, TNT9 Launceston, WIN4 Wollongong, TNQ7 Townsville, DDQ10 Toowoomba, ABC3 Canberra, CTC7 Canberra, RTN8 Lismore, and CBN8 Orange.
1963 New TV station: RTQ7 Rockhampton. ABC launches its first regional stations
Station affiliations change. GTV9 and TCN9 align to form the National Television Network (now the Nine Network) along with QTQ9 and NWS9; HSV7 and ATN7 align to form the Australian Television Network (now the Seven Network) along with BTQ7 and ADS7. TVW7, being the sole commercial TV station in Perth, remains independent of network affiliation.
The Government invites applications for new commercial TV licences in Melbourne, Sydney, Adelaide, Brisbane and Perth.
1964 New TV stations: AMV4 Albury, RVN2 Wagga Wagga.
August 1: Melbourne's third commercial TV station, ATV0, is opened by Ansett Transport Industries.
October 20: HSV7 screens the first episode of a new Melbourne-produced police drama Homicide. It becomes a huge success and runs on the Seven Network for 500 episodes over 12 years.
1965 New TV stations: TEN10 Sydney, TVQ0 Brisbane, SAS10 Adelaide, STW9 Perth, SEQ8 Maryborough, NEN9 Tamworth, NRN11 Coffs Harbour, CWN6 Dubbo, MTN9 Griffith, STV8 Mildura.
TV Spells Magic, a lavish variety production with over 150 performers and extras, is the highlight of opening night for TEN10 and is relayed to ATV0 and regional stations.
The 0-10 Network, Australia's third commercial television network is formed between TEN10, ATV0, TVQ0 and SAS10.
1966 New TV stations: FNQ10 Cairns, ECN8 Taree, SDQ4 Southern Downs, SES8 Mt Gambier
Australia starts to receive daily news reports via satellite.
An Australian version of Play School, based on the BBC production of the same name, begins on ABC. Here's Humphrey begins its long run on Nine.
1967 New TV stations: BTW3 Bunbury, GSW9 Albany.
April 10: ABC's controversial nightly current affairs program This Day Tonight begins.
July 15: ATV0 broadcasts the first colour TV program on Australian TV when it televises the Pakenham racing in colour.
ABC's popular evening series, Bellbird, premieres. A huge hit in the country, but only a moderate success in the cities, it ran until 1977.
Australia takes part in two global satellite telecasts. Our World, a two-hour telecast screened simultaneously in 30 countries and included segments produced in 18 countries including Australia, and Expo 67 a live telecast highlighting Australia's contribution at Expo 67 in Montreal.
1968 New TV stations: BKN7 Broken Hill, GTS4 Port Pirie, MVQ6 Mackay.
The Government announces that Australia will adopt the European PAL colour TV standard, instead of the American NTSC system.
1969 Crawford Productions and GTV9 launch Division 4, a new police drama.
Fredd Bear's Breakfast-A-Go-Go with Judy Banks and Fredd Bear starts a successful run on ATV0.
Australian television broadcasts live coverage of the Apollo II moon landing. GTV9's coverage enters the record books as the longest continous live broadcast on television.
❊ Web Links ❊
→
History of Australian Television
→
www.emelbourne.net.au
→
wikipedia.org/wiki/Television_in_Australia
❊ COVID-19 Notice ❊
Many locations have gone into lockdown as the state takes action to stop the spread of the deadly coronavirus (COVID-19).
→
Disclaimer
: Check with the operator before making plans
...
Trending HOT

Things to see, hear & do this weekend
Make the most of your weekend in Melbourne with these fabulous events. No city does it better than Melbourne, so get out and discover the very best shows, festivals, ..
---
Update Page