Dame Nellie Melba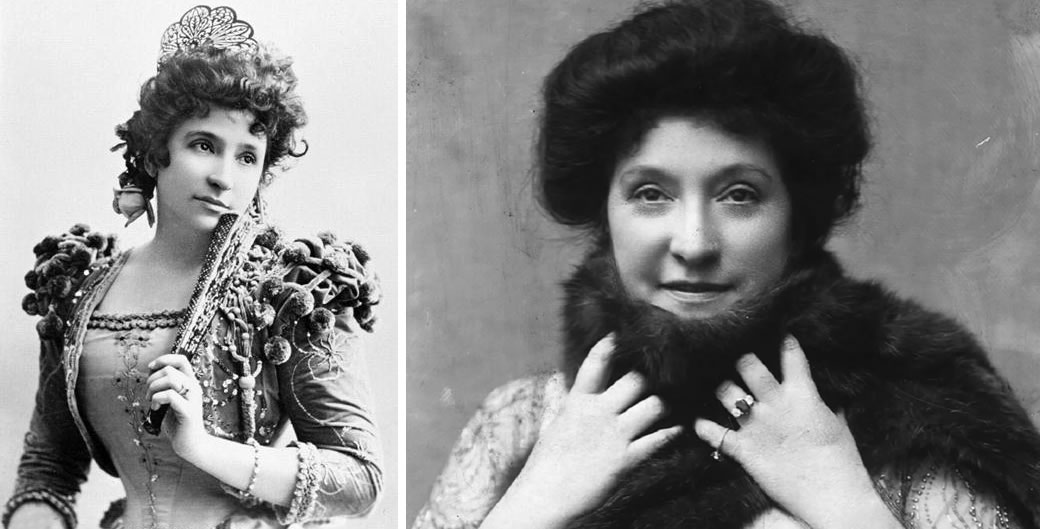 In her lifetime, Dame Nellie Melba achieved international recognition as a soprano and enjoyed an unrivalled 'super-star' status within Australia.
Dame Nellie Melba was born Helen Porter Mitchell on May 19, 1861 at "Doonside"in Richmond and changed her name to Melba as she loved her country Australia.
The
Nellie Melba Museum
is an online guide to Dame Nellie Melba.
The name Melba was a condensed version of Melbourne. As a child, she grew up with her parents Isabella and David Mitchell, and her seven younger brothers and sisters at their country home in Lilydale. She belonged to a very musical family but it was Nellie who continued her musical training making her the most famous Diva in the operatic world.
If anyone was a legend in her time it was Dame Nellie Melba. As a teenager, Nellie attended Presbyterian Ladies College in Melbourne and her potential as a singer was recognised by Pietro Cecchi in 1880. She then moved away to Queensland with her father where she married, and had her only son George. She was not happy there as her love was to become a professional operatic singer, so she left Queensland.
In 1886 she left for London with her father, and her son and husband having no success with influential persons in the music field. Then it was a trip to Paris which was her last stop where Madame Marchesi recognised the great angelic purity in her voice. Marchesi took her on as her student, and thus she made her great debut in Brussels in 1887 and gradually established herself as the prima donna of Covent Garden until the mid 1920's.
She visited Australia a few times during her long standing career and came home in 1902, which was an unforgettable event for her and all who loved her.
Melba then invested in Coombe Cottage in Coldstream and made it her home enjoying the company of family and friends between 1909 and 1911. During that time she opened the Melba Conservatorium of Music in Richmond, for potential operatic singers of the future in which she took part in teaching students. The Melba Conservatorium still exists today but in a different location in Richmond as a music school.
In 1928, it was time to say goodbye and so she performed her last emotional concerts in Australia. On February 23, 1931 Melba died of a blood infection and her last wish was to be buried in Lilydale. The funeral was a National event with royal representatives, politicians, and people of high society that lined the streets of Melbourne with a procession from Scots church to Lilydale.
She is still remembered today by her beloved family by a monument that was erected at the Lilydale Cemetery where she always wanted to rest. On her monument there stands her final words "Addio!, Senza Rancor"- translated as "Farewell, without bitterness".
DAME Nellie Melba
DAME Nellie Melba will be pleased. For years her portrait has hung in the famous La Scala opera house in Italy's city of Milan.
Melbourne-born, she was our first true internationally-celebrated diva and she sang the famous role of Lucia at La Scala in 1893.
Now Melbourne City Council is moving to adopt Milan as a sister city.
Lord Mayor John So rightly declared that it's a perfect match. Milan, he said, mirrors Melbourne's obsessions with design, fashion, sport and food.
Without quibbling, on reflection there may be some Milanese who would say the mirror is the other way round.
But no matter: Melbourne's strong Italian heritage and our shared cultural interests make this a welcome sisterhood.
Source: www.heraldsun.news.com.au
Melba toast
Melba toast is a very dry, crisp, thinly sliced toast often served with soups and salads or topped with either melted cheese or pate named after Dame Nellie Melba.
Melba toast was created for her by chef Auguste Escoffier in 1897, when she was very ill and this kind of toast became a staple of her diet
Peach Melba
The Peach Melba is a classic dessert invented in 1892 or 1893 by Auguste Escoffier at the Savoy Hotel, London to honour Dame Nellie Melba. It combines two favourite summer fruits: peaches and raspberry sauce accompanying vanilla ice cream.
He had heard Nellie Melba perform at Covent Garden one night and was inspired to create a dessert just for her. Rumour had it she loved ice cream, but did not dare eat it often, believing it would affect her vocal cords. Escoffier created a sauce of raspberries, redcurrant jelly, sugar and cornstarch. In Peach Melba, the ice cream, being only one element in a whole, would not be as cold and thus not harm her vocal cords. He served it at a dinner she was hosting, presented in an ice sculpture of a swan inspired by the performance of Lohengrin he had seen.
Royal Victorian Liedertafel Male Choir
It is my understanding that Melba made her Melbourne debut as a soloist with the Royal Victorian Liedertafel Male Choir in the Melbourne Town Hall. The male choir of German origins received Royal Patronage from Queen Victoria.
The choir had 2 concerts each year in the Melbourne Town Hall. Prior to interval, the choir of over 100 voices sang from tables near to the organ and the packed audience sat at tables which filled the remainder of the hall.
Following interval, members of the choir joined with audience members at their tables.
German ale was served throughout the evening and one historical report I read said that by late in the night it was hard to distinguish between choristers and singing members of the audience.
The Liedertafel Choir had a scholarship scheme to help promote up and coming singers and Nellie was a recipient of that scholarship.
Whilst membership dropped after two world wars with Germany, the Choir held its Centenary at the St Kilda Palais in the 1960's. It was then under the baton of Keith Pivot Watts and its members were Australian men.
Ed. Dickinson. FAITD.
Legacy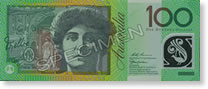 DAME Nellie Melba appears on the Australian $100 note.
Melba was closely associated with the Melbourne Conservatorium, and this institution was renamed to the Melba Memorial Conservatorium of Music in her honour in 1956.
The music hall at the University of Melbourne is known as Melba hall.
The suburb Melba in Australian Capital Territory and the Melba Highway in Victoria's Central Highlands were named after her.
Melba restaurant at The Langham Melbourne is named after Melbourne's world famous Opera performer, Dame Nellie Melba.
Listen to her sing..
Listen to a recording
made in July 1906 of her singing AUBADE (Le Roi D'Ys) (Lalo). Requires the QuickTime Plugin.
❊ Web Links ❊
→
Dame Nellie Melba
→
Nellie Melba Museum
→
Nellie Melba - Wikipedia
→
www.nelliemelbamuseum.com.au
→
Melba toast From Wikipedia
→
Dame Nellie Melba Opera Trust
→
Dame Nellie Melba (1861-1931)
→
www.lilydalehistorical.com.au
→
Peach Melba From Wikipedia
→
Melba restaurant at The Langham
→
LISTEN to her sing.. AUBADE (Le Roi DYs) (Lalo)
❊ Also See... ❊
→
Coombe | Melba Estate
→
High Tea at Coombe
→
Nellie Melba Museum
❊ COVID-19 Notice ❊
Many locations have gone into lockdown as the state takes action to stop the spread of the deadly coronavirus (COVID-19).
→
Disclaimer
: Check with the operator before making plans
...
Trending HOT

Drive-In Movie Club
Drive-In Immersive Cinema Nights Are Coming to Melbourne Put together by our friends at Hot Tub Cinema, a string of family-friendly, social distancing-safe, drive-in ..

Things to see, hear & do this weekend
Make the most of your weekend in Melbourne with these fabulous events. No city does it better than Melbourne, so get out and discover the very best shows, festivals, ..
---
Update Page