Collins Street, 5 pm | John Brack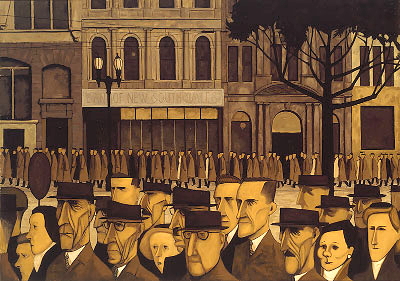 Although John Brack painted thousands of paintings, he is best known for two paintings.. the iconic Collins Street, 5 pm (above) and The Bar.
One of Australia's most outstanding artists,
John Brack
was born in Melbourne in 1920.
His style evolved into one of simplified, almost stark, shapes and areas of deliberately drab colour, often featuring large areas of brown. He made an initial mark in the 1950's with works on then contemporary Australian culture, such as the iconic Collins Street, 5 pm (1955), a view of rush hour in post-war Melbourne.
Set in a bleak palette of browns and greys, it was a comment on the conformity of everyday life, with all figures looking almost identical.

This painting was named
Melbourne's Favourite Painting
in the 150 NGV Anniversary painting competition.
Collins Street, 5 pm has long been my favourite Melbourne painting making John my favourite artist, beside my brother Deej.
Today, the painting 'Collins Street, 5 pm' by John Brack can be viewed in the Australian Gallery at
The Ian Potter Centre: NGV Australia
in Federation Square, Corner Flinders Street and Swanston Street, Melbourne. Well worth the trip if you ask me.
Our Melbourne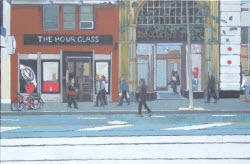 Not long before we created this page, we asked was there a modern interpretation of this painting.
Not 5 minutes later, this painting by David Mellows, exhibited at
Without Pier Gallery
in an exhibition named Our Melbourne appeared.
❊ Web Links ❊
→
Collins Street, 5 pm | John Brack
❊ Also See... ❊
→
John Brack
→
Collins Street | collinsstreet.com.au
Trending HOT..
---
→
Page Editor