UFO | Westall | April 6, 1966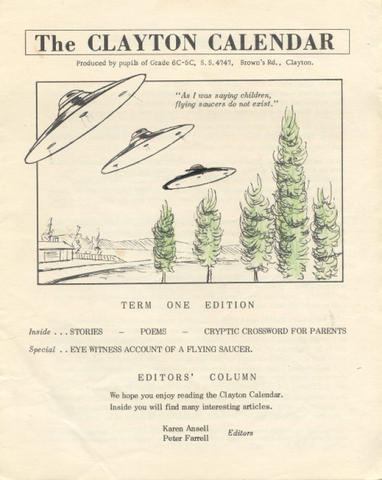 On Wednesday 6th April 1966 at around 11 am around 200 students and teachers witnessed an unexplained flying object above Westall High School.
They reported the object descended into a nearby open wild grass field adjacent to a grove of pine trees in an area known as The Grange. The object then ascended in a north-westerly direction over the suburb of Clayton South.
Shane Ryan Research & Documentary
Shane Ryan is a researcher looking for eyewitnesses and anything else that might explain what everyone clearly saw on that Wednesday before Easter in April 1966.
Around 200 people, most of them young students at what was then Westall High School, were out for morning recess", says Shane. "Many saw the strange object descend behind pine trees in The Grange Reserve, and then later ascend and fly away at great speed.
The people who ran over to the reserve found a huge ring in the paddock where the object had been seen.
Some people reported five light aircraft following or chasing the object.
Documentry: Westall 1966: a Suburban UFO Mystery
On Friday 4th June 2010 a TV documentary by Shane Ryan screened on SciFi channel (Pay TV) titled Westall 1966: a Suburban UFO Mystery.
A number of callers to Melbourne talk back radio stations have recounted stories of people there that day. Terri (woman) told Steve Vizard on MTR1377 that she was 11 at the time and had a clear memory of the day. She recounted her story of being one of the first on the scene but had not spoken of the incident in years because she didnt want people to think she was crazy. She also said that their headmaster had told all the students not to talk about the incident or they would get detention.
Radio Interview ABC
: 'Westall '66 - A suburban UFO mystery"Pt 1 / June 3, 2010
'Westall '66 - A suburban UFO mystery"


DVD: Westall 1966: a Suburban UFO Mystery
Forty-four years on, amateur sleuth Shane Ryan is stirring up the past. Motivated by a deep sense of injustice at how the students were treated, he's tracking down former students and staff and searching for the authorities that presided over the day.
Westall 1966: a Suburban UFO Mystery is a documentary style film detailing Shane Ryan's investigation into the mystery. The film takes viewers on a journey into the collective memory of this extraordinary event that swept into the everyday lives of witnesses like a 'bolt out of the blue'. Students, teachers and nearby workers all share, in startling detail, their recollections of the day's events. Many of their stories are revealed here for the first time.
Unfolding like a classic detective story, the film is driven by the search of tireless investigator Shane Ryan, who has his own, very personal reasons for wanting to uncover the truth. It is both a riveting investigation into Australia's own 'Roswell' and a powerful examination of belief, truth, imagination and memory.
DVD Spoiler Alert
If you wish to learn more about the events of the day plus some very good research then go ahead, buy the DVD and you will enjoy it. If you are seeking a definitive answer, a UFO answer then don't, because you will be disappointed.
While the DVD explains much of what happened on that fateful day, like most mysteries there is not a definitive answer but many theories and opinions.
UFO Park
Kingston Council will install a UFO-themed playground in Grange Reserve, featuring a 3.3 metre high spaceship big enough to hold seven children at a time. The silver spaceship, loosely inspired by the descriptions of witnesses back in 1966, will be trimmed with blue LED lighting.
Read more UFO returns to park |
theage.com.au
UPDATES
This
Yahoo Group
is dedicated to those people who were involved in, or have an interest in, the April 6, 1966 UFO incident at Westall High School, in the Melbourne suburb of Clayton South, in Victoria, Australia.
Update October 2018
US investigator says Westall UFO case could be part of a global phenomenon that has 'existed for millennia'
Aaron Langmaid,
Herald Sun
| October 14, 2018 11:29am
Documentary film maker and UFO expert James Fox said witness reports at Westall remained one of the most compelling mass sightings of its kind on the planet despite claims from authorities that it was explainable.
But Mr Fox, who visited Melbourne last year to report for an upcoming documentary, said the incident mirrored a similar sighting in the US state of Michigan around the same time.
Cover Up
Colin Kelly, had been playing football on the school oval is adamant there has been a cover-up.
'The air force and the army had the area cordoned off and at one stage they mowed the grass down so there was nothing left (at the landing site),' Mr Kelly said.
He said all records of the incident appear to have been destroyed.
'Police records, army records ... there is nothing to say this ever happened.
'That information has to be somewhere.'
An archived article in The Dandenong Journal is the only surviving documentation.
Footage shot by a Channel 9 camera crew on the day went missing.
❊ Notice ❊
Many locations have gone into lockdown as the state takes action to stop the spread of the deadly coronavirus (COVID-19).
→
Disclaimer
: Check with the venue before making plans
...
❊ Address & Contact ❊
⊜ Rosebank Avenue Clayton South |
Map
❊ Web Links ❊
→
UFO | Westall | April 6, 1966
→
www.westall66ufo.com.au
→
en.wikipedia.org
→
www.theage.com.au
→
Westall Secondary College
→
www.scifitv.com.au
→
Westall 66: A Suburban UFO Mystery
→
www.yahoo.com
→
Buy DVD : Westall 66: A Suburban UFO Mystery
Trending HOT

Drive-In Movie Club
Drive-In Immersive Cinema Nights Are Coming to Melbourne Put together by our friends at Hot Tub Cinema, a string of family-friendly, social distancing-safe, drive-in ..

Things to see, hear & do this weekend
Make the most of your weekend in Melbourne with these fabulous events. No city does it better than Melbourne, so get out and discover the very best shows, festivals, ..
---
Update Page