myki | Transport Tickets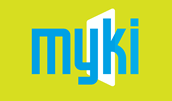 myki is Melbourne's ticket to travel on the city's trains, trams and buses.
It is a re-usable smart card that stores value to pay your public transport fare and can be used over and over again on all services.
myki is valid on trains, tram & bus networks + some
v/Line
services.
myki
myki is a reusable plastic smart card used to travel on public transport. myki stores two types of value on the one card - myki pass (travel days) and/or myki money (a dollar amount).
myki pass
myki pass is stored travel days for specified zones, valid for a certain period. You specify the zone/s of travel and the exact duration of your pass - either 7 consecutive days or between 28 and 365 consecutive days.
You need to pay for a myki pass upfront. The price is calculated based on the zone and number of days requested.
Once purchased, your myki pass is activated from the first time you touch on in the zone/s which it's valid. You can then travel with your myki for the duration of the pass within the specified zone/s (which includes weekends).
myki pass is great if you are a regular traveller and will give you access to current weekly, monthly or yearly discounts.
Also see
myki | Melbourne Visitor Pack
|
Cruise Ship Visitors
myki money
myki money is a dollar value stored on your myki to pay for your fare whenever you travel.
With myki money, you do not have to think about times or zones, because the correct fare for your trip is calculated after you have touched on and touched off. Fares are calculated according to where and when you travel, and the correct fare is automatically deducted from the myki money balance.
myki money will initially charge a 2hr fare. If further travel is conducted outside of the 2hr period, it is upgraded and capped to a daily fare.
myki money gives you access to discounted daily fares, early bird discounts and $3 daily travel on weekends and public holidays. Further discounts apply to concession customers and Victorian seniors.
myki money is great if you're an irregular traveller or your travel patterns vary and are subject to change.
Where is myki valid?
myki cards are valid for travel on all metropolitan train, tram and bus services including V/Line services in Zone 1 + 2 to Melton and Sunbury.
myki is also valid for travel on a number of regional town bus services and V/Line rail services operating wholly within the Geelong Transit System, Ballarat Transit System and Bendigo Transit System.
You can buy a myki from:
- close to 800 retailers where you see the myki sign, including all 7-Eleven stores
- the ticket window at Premium train stations
- myki machines (full fare myki only) at all metropolitan train stations and some accessible tram stops and bus interchanges
- online or by calling 1800 800 007 (delivered to an Australian address only).
You need to top up your myki before you travel, so that you can pay your fare.
Make sure you top up with enough value to cover your day's travel.
You can top up your myki:
- instantly at close to 800 retailers, including all 7-Eleven stores
- instantly at the ticket window at premium train stations
- instantly at myki machines at all railway stations and selected accessible tram stops and bus interchanges
- instantly onboard buses (to a maximum of $20)
- online or by calling 1800 800 007 when planning ahead (please allow at least 24 hours for top up to be processed).
For more information
For more information contact: myki
Tel:
1800 800 007
Daily 6am - 12 midnight
Visit
www.myki.com.au
Public Transport Victoria
Tel:
1800 800 007
Daily 7am - 9pm
Plan your trip -
www.ptv.vic.gov.au
Park & Ride
For futher details on Park and Ride - all-day city parking and tram travel for $8.50 - visit the Yarra Trams website:
www.yarratrams.com.au
Passengers with special needs
Information on services for people with disabilities contact:
Public Transport Victoria
1800 800 007
V/Line
Tel: 136 196
Flinders Street Station
For personal assistance when travelling by train contact Tel: 9610 7428
Southern Cross Station
| (was Spencer Street Station)
Tel: 9619 2300
Visitors, Tourists & Travellers
Myki has a fabulous
Visitor Pack
|
Cruise Ship Visitors
❊ Web Links ❊
→
myki | Transport Tickets
→
www.ptv.vic.gov.au
→
www.myki.com.au
→
www.metrotrains.com.au
→
www.yarratrams.com.au
→
Public Transport Ombudsman
→
www.wikipedia.org/myki
→
Timetables
❊ Also See... ❊
→
myki Explorer | Melbourne Visitor Pack
→
Public Transport Victoria | PTV
→
Tags
>
myki
,
metcard
,
Reader Interest
---
→
Page Editor