Return of Tram Conductors
"Fares Please"might be heard again with much talk about the possibility of conductors returning to work on Melbourne's trams.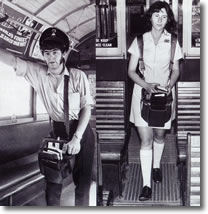 Tram conductors were custodians of Melbourne's soul, replaced by ticket machines which have proved both unpopular and inefficient says Kevin Murray writing 'I prefer a tram conductor'.

Although many believe it is only gunzels* who are dreaming the dream, a poll on Channel 7 news in April 2008 had 79% saying YES to bring back tram conductors.

This is not the first time it has been touted that Connies might return. Tram conductors to return by ABC Reporter: Nick Johnston on Tuesday, 10 October , 2000 went as follows: Finally a familiar sight is set to return to Melbourne's trams. The Bracks' Government announced today it would reinstate tram conductors axed by the former premier, Jeff Kennett.

The Bracks' Government says the 100 roving conductors will provide the friendly face of tram travel. As Nick Johnson reports, it's hoped they'll also provide extra security and crack down on fare evasion.


TERMINOLOGY
* GUNZEL | GUNZLE | GUNSEL
Gunzel ( noun, slang Australia especially Victoria): A person who pursues useless and pointless railway/light rail enthusiast activities. Verb to gunzel, to go gunzelling.

UK equivalents: train spotter, gricer, anorak.
USA equivalents: foamer, foamite.

The word gunzel originated from the Sydney Tramway Museum in the 1960s as a term for foolish or reckless railfans who shot at things with cameras. Usage was originally confined to south eastern states, it has since spread to the whole of Australia and parts of New Zealand.

CONNIE
Tram conductor. Clippies not used in Melbourne.

MARMALADE
Slang for tram driver / conductor.

Bus/Tram Conductor
Bus or tram conductors work in the passenger section of a bus or tram. They collect fares, issue tickets and answer queries about routes, fares and timetables. They are also responsible for the care and safety of their passengers.

All aboard!
Connies call for a free-ride revival
March 2014

For Melbourne's ghostly army of former tram conductors, May 23, 1998, is the equivalent of midnight on the Doomsday Clock.

'' That was when the state government got rid of us,'' says exclippie Roberto D'Andrea , who, with his colleagues, protested at the time by sleeping in their immobilised vehicles during what he calls the Great Tram Dispute.

However, Mr D'Andrea and a handful of others have never stopped pushing for a return.

'' We're listed as critically endangered, not extinct,'' he declares, while conceding an '' urgent need for a captive breeding program.''

Mr D'Andrea and a few former workmates defiantly founded a small 'performance troupe' called the Connies, who, complete with leather ticket bags, still appear in their well-worn uniforms at local shows and functions. '' We bring along a yarning, poetic and singing trammie tradition,'' their website - connies.com.au says.

Last week's promise of 'free city trams' by Premier Denis Napthine has convinced the Connies their time has come. '' We propose, say, 10 conductors aboard the City Circle trams, entertaining the passengers and helping tourists,'' says Mr D'Andrea , a land-care crusader who says trams are environmentally friendly.

'' We could solve a lot of problems on the City Circle ... [we] could explain the awkward myki system for a start.''

The Connies comprise eight members, and Mr D'Andrea , who spent 10 years '' on the bag'' , says last weekend was one of their busiest. '' We were at farm field days and community festivals in Whittlesea, Heidelberg, Lake Bolac - all over the shop.''

The Connies have printed collector cards giving information on, among other things, fellow endangered species, such as the orange-bellied parrot. Other cards salute tram icons of the past, such as Eric Risstrom, the tramways boss from 1949 to 1970, and '' Frenchy'' , a European-born connie out of the Malvern depot in the 1960s who told jokes, juggled and performed tricks.

There's also a card for that salutes Joyce Barry, Melbourne's first female tram driver in 1975, who was famous for declaring: 'You don't need a penis to drive a tram'.

❊ Web Links ❊
→
Return of Tram Conductors
→
Melbourne Light Rail - Trams Guide
→
I prefer a tram conductor by Kevin Murray
→
Preston Tram Workshop - Atlantis Found in Preston
→
G U N Z E L or G U N Z L E [spelling] railpage.com.au
→
Re: gunzel? [meaning] railpage.com.au
→
gunzel - wiktionary.org
→
Darren's Gunzel Gallery
→
Random Gunzel Insanity
→
A Streetcar Called Perspire By Keith Butler
→
Myth: Smartcards will encourage public transport use and reduce fare evasion
→
Tram conductors to return - abc.net.au (2000)
→
www.connies.com.au
❊ COVID-19 Notice ❊
Many locations have gone into lockdown as the state takes action to stop the spread of the deadly coronavirus (COVID-19).
→
Disclaimer
: Check with the operator before making plans
...
Trending HOT

Things to see, hear & do this weekend
Make the most of your weekend in Melbourne with these fabulous events. No city does it better than Melbourne, so get out and discover the very best shows, festivals, ..
---
Update Page