Good Food Guide 2015 | The Age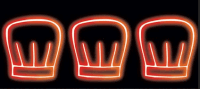 The annual Age Good Food Guide rates the top Melbourne dining establishments with 1 2 and 3 hats, Restaurant of the Year, New Country and Chef of the Year.
The Age Good Food Guide 2015: the award winners
CITI CHEF OF THE YEAR
Acknowledging a chef with the craft to deliver exceptional dining.
Andrew McConnell
Does Andrew McConnell have a crystal ball? He can certainly predict how Melburnians want to eat - perhaps before we know. Supernormal, the seventh in his stable of zeitgeist-capturing restaurants (Cumulus Inc and Up, the Builders Arms, Moon Under Water, Cutler & Co and Luxembourg), proves him versatile as well as talented. He jumps from luxe Eurocentric food at Cutler & Co to pan-Asian street food at Supernormal.
CITI SERVICE EXCELLENCE AWARD
For top-level professionalism and hospitality.
Angie Giannakodakis
Many Melburnians will have been welcomed to table by Angie Giannakodakis, at the first Press Club where she delivered warmth and good wine to diners, and now at her own restaurant, Epocha, in Carlton.
She's long been an advocate for the quality wines of Greece, bringing a refreshed enthusiasm for them from 12 years working in Athens' fine diners to the Press Club.
At Epocha regulars almost swoon in anticipation of slipping into the restaurant's hospitable embrace after a day at the office, and letting Giannakodakis recommend a glass (or often, half a glass) of this or that from the enticing wine list.
She is opening a second restaurant, Elyros, in Camberwell, with a menu of produce-based Cretan cuisine from a Michelin-trained chef, and booze-friendly mezze in the wine bar.
The opening of Elyros should enable Giannakodakis to continue to prove her mettle not only front of house and with fine drinking recommendations, but also as a restaurateur.
VITTORIA COFFEE RESTAURANT OF THE YEAR
For a restaurant that sets a benchmark in everything it does.
Brae, Birregurra
It's one of Australia's most extraordinary (and, yes, expensive) restaurants, drawing guests from afar to the tiny town of Birregurra, and a chic, yet unstuffy dining room set in bountiful vegetable gardens with a backdrop of the oft-clouded Otways.
There's a Field of Dreams quality to Brae, at the end of a winding rural driveway. Chef Dan Hunter and partners built it, and diners have come. It's not easy to get to, especially if you want to partake in the stunning wine list, so driving is out of the question, but that's part of the adventure. As for the food, it's thrilling stuff, but there's blessedly little pomp, with cutlery-free starters such as beef tendon crisps dusted with pepperberry. Indigenous ingredients star, perhaps finger lime cells popping over braised wagyu short rib with shiitakes, lime and rock samphire.
So much about Brae is right: comfy leather chairs, a luxe room, smooth upbeat service, the perfectly paced parade of peerless dishes. All that's needed are a few more taxis and somewhere on-site to stay (coming summer 2015-2016). When the Guide dropped by, one local accommodation operator had just taken a booking from New Yorkers. Brae seems destined to find a spot on the global culinary tourist trail. Janne Apelgren and Larissa Dubecki
INNOVATION AWARD
Acknowledging forward-thinkers who bring a new dimension to the way we eat.
Rooftop Honey
If Federation Square were a flavour, it would be lemon. That's according to the swarms of pampered bees producing a citrusy honey in little landscaped bee villages in the city.
These are just several of more than 70 hives built and maintained around Melbourne by pioneer urban beekeepers Vanessa Kwiatkowski and Mat Lumalasi, founders of Melbourne City Rooftop Honey.
''We see honey as a byproduct of having happy, healthy bees,'' says Lumalasi.
The results are sweet: honey for home and restaurant use, beekeeping classes and a raised awareness of the plight of the honeybee. Globally, bees are falling victim to disease and threatening the natural food supply. ''Vanessa wanted to connect people with their food as well as educate the general public,'' says Lumalasi.
The pair's honey is in demand from restaurants like Attica and Cumulus Inc due to its unblended purity. Honey is reflective only of what is near the individual hives (in the case of Federation Square, lemon-scented gums by the Yarra). ''It's almost a terroir of honey,'' says Lumalasi. Janelle Carrigan
NEW RESTAURANT OF THE YEAR
For the best addition to Melbourne dining in the past 12 months.
Supernormal, Melbourne
There's karaoke in the basement, greatest-hit dishes such as New England lobster roll and peanut butter parfait on the menu, some of the best bar perches in town, and no bookings at dinner unless you're bringing six of your best friends. Welcome to Andrew McConnell's modern-Asian metropolis. You can eat cheap or banquet hard, but it's fun, flexible and totally tasty. Inspired by McConnell's time working in Shanghai and Hong Kong, Supernormal's informal and a bit of a hoot. Booths are the go-to spots, while spontaneous dining is encouraged at the seats fronting the long open kitchen. If you find yourself waiting, there are Japanese snacks in the vending machine. Then add dumplings, and a raw bar menu that reviewer Larissa Dubecki described as ''a place of manifold pleasures''. Many will want to tick off the destination dishes - hello to that lobster roll and ''yes, please'' to peanut butter, caramel and chocolate parfait - but don't miss new classics such as the white-cut chicken with sesame and spring onion, or the easy-to-love fried custard with ginger syrup. More super than normal. Janne Apelgren
LA MAISON DU THÉ REGIONAL RESTAURANT OF THE YEAR
Great dining beyond the city limits.
Jim McDougall in Stefano's Cellar, Mildura
The slender, subterranean cellar beneath Mildura's Grand Hotel is one of Victoria's most interesting (and yes, romantic) restaurant spaces, and Jim McDougall's cooking more than does it justice. Stefano de Pieri remains an owner but has handed the restaurant on to McDougall. Yabbies, Murray cod and kangaroo feature in his modern six- or eight-course menu on which local produce stars, accounting for as much as 80 per cent of what's served. You may find yourself swiping yabby through luscious grape-crowned Murray cod liver parfait. The menu unfurls as a surprise, it's a generous procession with lots of little extras, from charcuterie of goat or venison to sublime tomato sorbet in gazpacho to fruit-jube petits fours. Service is smooth, it's luxuriously quiet apart from a just-right jazz soundtrack, and there's even a half-price degustation for junior gourmands. Chef McDougall previously worked alongside co-owner Stefano de Pieri, but apprentice is now conjurer in this alluring cave. Janne Apelgren
NEW REGIONAL RESTAURANT OF THE YEAR
For the best addition to the dining scene beyond Melbourne in the past 12 months.
Tulip, Geelong
This second bloom from Matt Dempsey, of Inverleigh's Gladioli, this time with friend and collaborator Graham Jefferies, pairs sharp, pared-back Scandinavian decor with contemporary food. The chefs tip their hats to fashion without over-thinking things. There's a shared-table chefs' menu if you choose, plus slick staff and an all-Victorian wine list as smart as Tulip itself. Kind pricing, too.
SUSTAINABILITY AWARD
For an individual or business that advances the cause of sustainability.
Lance Wiffen, Sea Bounty
Lance Wiffen has made sustainable seafood a delicious alternative for diners and cooks. Chefs become rhapsodic about Wiffen's blue mussels, and now his family-owned company, Sea Bounty, with 30 years in the fishing industry, has helped revive big, plump, native angasi oysters, farming them on leases deep among the sea grass at the bottom of Port Phillip Bay.
Wiffen is a seafood industry leader who has embraced technology to deliver high-quality mussels and angasi oysters to restaurant dining rooms and home kitchens in Victoria and across the nation. Twenty-five years ago he was dredging scallops in Port Phillip Bay, but moved across to the fledgling mussel aquaculture industry that saw native mussels bred in a hatchery then grown out on ropes suspended from floats off Portarlington. In 1990, he was selling 500 kilograms of mussels a week. Now that figure is 200 tonnes.
Two years ago he, along with colleagues, applied their experience in raising mussels to Port Phillip's indigenous oyster, the angasi. These large, flavoursome oysters were acclaimed by Melbourne's top chefs. Accredited by the WWF and ACF, his business is a sustainability success story. Richard Cornish
VITTORIA COFFEE LEGEND AWARD
For an outstanding long-term contribution to the hospitality industry, chosen by Les Schirato of Vittoria Coffee.
Anthony Lui
Flower Drum will be 40 years young in 2015, and for 33 of those years, Anthony Lui has cooked there.
He became head chef in 1985, and one of the owners in 2001. More recently, the Guangdong, China-born chef has the Drum's culinary heart beating afresh, bringing excitement back to Cantonese cuisine in the graceful grande dame of a dining room in Market Lane. As a chef, he delivers dishes that let luxury produce shine.
Anthony Lui began his Flower Drum career with founder Gilbert Lau. Now he's a co-owner with partners Patricia Fung and William Shek, while his son, Jason, is the restaurant's general manager. Their secret, Jason Lui has said, is having loyal customers and equally loyal staff and remaining ''faithful to what we originally set out to do; cooking traditional Cantonese food''.
Many of the staff, both front of house and in the kitchen, have notched up two decades of service; while regulars have long included the city's rich and powerful. But in this celebrity-friendly spot, Anthony Lui's food is the real star.
KITCHENAID YOUNG CHEFS OF THE YEAR
Awarded for talent and potential by a panel of leading chefs.
Timothy Martin
As a teenager growing up in the Gippsland area, Timothy Martin was understandably short on Melbourne restaurant contacts. After watching a profile of Michael Lambie on the DVD series Kings of the Kitchen, Martin rectified that by writing to the famed chef and asking for a job. Lambie said yes.
That was 10 years ago, in the early days of Taxi Dining Room, and Martin worked his way through every section to eventually reach junior sous chef. After stints at Maris in Malvern and Berardo's at Noosa, Queensland, the 28-year-old is now head chef at the European, the city stalwart that encourages Martin to continue to develop his interest in classic, traditional fare.
CHAMPAGNE POL ROGER SOMMELIER OF THE YEAR
Awarded for knowledge, service and the ability to assemble an appealing wine list.
Banjo Harris Plane
Having grown up around his parents' restaurants gives Attica's manager an ease that rubs off on guests, as well as his team. Despite being only 30 years of age, Harris Plane has managed to curate a wine list that celebrates his knowledge of European wines, while showing his fearlessness in embracing the new and daring (orange and natural wines).
DONLEVY FITZPATRICK AWARD
To honour that unbeatable combination of a great bar with great food.
Ombra, Melbourne
Jars of olives in golden oil, timber beams hung with ropes of garlic and chillies, and amber lighting give this salumiere a timeless quality. Carlo Grossi is the third generation of the Grossi family to offer hospitality on this stretch of Bourke Street. Sneaker-clad, he works the floor, ferrying snacks, freshly hewn salumi and blistered pizzas, and talking about the wines and menu like the food savant he is. Ombra has professionalism and smarts, but also the warmth that comes with being part of a family business.
The Age Good Food Guide 2015 can also be purchased in selected bookshops and online at theageshop.com.au for $24.99. #goodfoodguide
the hats
THREE HATS
Attica, Flower Drum, Vue de Monde
TWO HATS
Cafe Di Stasio, Cutler & Co, Ezard, Grossi Florentino, Matteo's, MoVida, Rockpool Bar & Grill, Rosetta, Saint Crispin, Spice Temple
ONE HAT
Bacash, Becco, Bistro Guillaume, Bistro Vue, Cecconi's Flinders Lane, Centonove, Circa, Coda, Cumulus Inc, Da Noi, Dandelion, Donovans, Easy Tiger, Epocha, Estelle, The European, The Grand, Hare & Grace, Huxtable, Il Bacaro, Kenzan, Longrain, Maha, Merricote, Moon Under Water, MoVida Aqui, No. 8 by John Lawson, Noir, 
Pei Modern, The Point Albert Park, The Press Club, Pure South, Sarti, Shoya, Stokehouse City, Supernormal, Tempura Hajime, Tonka, Town Hall Hotel, The Town Mouse, Union Dining, 
Woodland House, Yu-u
Regional
THREE HATS
Brae
TWO HATS
Gladioli, Jim McDougall in Stefano's Cellar, 
Lake House, Provenance, Royal Mail Hotel, 
Ten Minutes by Tractor
ONE HAT
A La Grecque, Annie Smithers Bistrot, The Argus Dining Room, Chris's Beacon Point, Du Fermier, Eleonore's, Healesville Hotel, Kazuki's, Montalto, Paringa Estate, Port Phillip Estate, Simone's Restaurant, Tani Eat & Drink, Terminus at Flinders Hotel, Terrace Restaurant, Tulip
❊ Web Links ❊
→
Good Food Guide 2015 | The Age
→
www.goodguides.com.au/melbourne
→
www.theageshop.com.au
❊ Also See... ❊
→
The Age
❊ COVID-19 Notice ❊
As the state takes action to stop the spread of coronavirus (COVID-19), please confirm details
before making plans
).
→
Disclaimer
: Check with the operator before making plans
...
Trending HOT

T2 Tea | 20% Off Storewide Sale
20% off storewide when you spend $80 or more. 2 day sale; 20 - 21 August 2020 We travel the earth to find the best quality tea to deliver a delicious cup moment ..

Things to see, hear & do this weekend
Make the most of your weekend in Melbourne with these fabulous events. No city does it better than Melbourne, so get out and discover the very best shows, festivals, ..
---
Update Page