Drive-In Cinema | Melbourne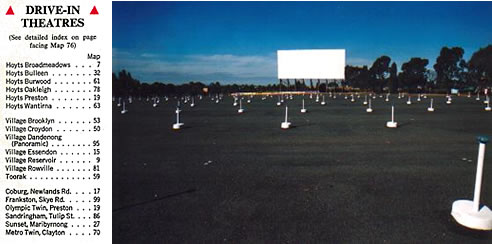 On February 18 1954, an advertisement appeared in the Melbourne Sun: "Opening tonight at 6:30 Australia's first drive-in theater". The Skyline in Burwood became the first of more than 330 drive-ins that were built across Australia and changed the way Australians saw movies forever.
In 1966, there were 19 drive-ins cinemas in Greater Melbourne to a peak of 60 throughout Victoria. Not that they were everyone's cup of tea, but for thousands of Melburnian's they remain a fond nostalgia memory.
For more information on drive-ins, you wont find a better web site than
Drive-ins Downunder
, a tribute to the drive-in theaters of Australia and the world.
OUTDOOR CINEMA
Drive-Ins have been replaced by roof top cinemas and open air cinemas operating in the summer months including the Moonlight Cinema at the Botanical Gardens.
Melbourne Outdoor Cinema Guide