Cruden Farm Garden Diaries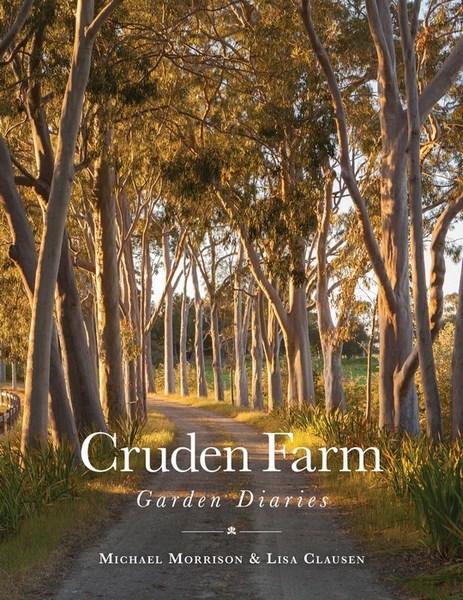 The Cruden Farm Garden Diaries
by Lisa Clausen and Michael Morrison
Hardback
Publication Date: 18/04/2017
Buy Online:

Booktopia
|
Fishpond
This beautiful book was written by gardener Michael Morrison who alongside Dame Elisabeth Murdoch for over 40 years to create the amazing gardens we know today as Cruden Farm.
His garden diaries reveal how the garden was developed and maintained, but it's also the story of a wonderful friendship Dame Elisabeth and Michael Morrison worked together with great creativity, dedication and pleasure for four decades. Their energy, loyalty and selflessness will be inspirational to gardeners and non gardeners alike.
Cruden Farm
was given to the late Dame Elisabeth Murdoch in 1928 as a wedding present from her husband Sir Keith Murdoch. The farm at Langwarrin, about 50 kilometres south-east of Melbourne, was a place she cherished throughout her long life. The beautiful garden she created there with gardener Michael Morrison is one of Australia's finest.
In 1984 Michael began to keep garden diaries, a practice that endures to this day. He writes of the plants that have thrived and those they've lost, of terrible heat and freak storms, of escaped cows and memorable parties. The diaries recount the plans he and Dame Elisabeth hatched, the triumphs and tensions, the sheer fun of making a garden together.
In an age preoccupied with selfies and spotlight chasers, Michael Morrison's diaries remind us of a different way of living of more than forty years spent quietly but passionately dedicated to one special garden and its unique owner.
About the Author's
Gardens are
Michael Morrison's
passion. After horticulture studies and 10 years working with a local nursery, in 1971 he took on Sunday morning work for Dame Elisabeth, who had had little help in the large garden since making Cruden Farm her home after her husband's death in 1952. His involvement is now all but fulltime. The partnership was significant; he and 'the boss' thought alike. Their regular circumnavigations of the garden in Dame Elisabeth's electric buggy were times of great pleasure that inspired important decisions - immediate and longer-term - about design and planting, and kept them in touch with new developments.
Lisa Clausen
was born in Toronto and grew up in Wellington, Christchurch, Sydney and Adelaide. She has worked as a print journalist in newsrooms across Australia and spent 11 years an award-winning writer covering the region for the South Pacific edition of TIME magazine. She now lives in Melbourne and writes for publications such as The Monthly magazine and Fairfax's Good Weekend magazine. Her own garden is small but cherished. Cruden Farm Garden Diaries is her first book.
Review
Cruden Garden gardener co-authors book on his experiences
Therese Allaoui,
Herald Sun
April 20, 2017
Michael Morrison worked tirelessly with Dame Elisabeth Murdoch for more than four decades to help the magnificent gardens at Cruden Farm flourish.
As he toiled in the bucolic surrounds, the dedicated gardener quietly kept a diary of his experiences working as the farm's 'number two gardener' alongside Dame Elisabeth.
And now Victorian garden lovers have a chance to share his devotion to the property through a new book, Cruden Farm Garden Diaries, which he co-authored with writer Lisa Clausen.
Herald & Weekly Times chairman Penny Fowler, who is Dame Elisabeth's granddaughter, was the driving force behind the book, and said it was crucial to preserve Cruden Farm for the future.
'Granny's vision was for Cruden Farm to be enjoyed by all, today and forever more,' she said at Thursday's book launch.
Plans have been drawn up to sell a portion of the land at Langwarrin in Melbourne's southeast to ensure the much-loved farm remains open to the public, its gardens immaculately maintained.
The plans - which would see free public access to the property three days a week, and on weekends - will still have to be approved by Frankston council and the state government. A portion of the property will require rezoning to allow housing to be built on the block and fund the maintenance of the site.
'While there may be speculation of how this is achieved, the charitable trust set up to administer Cruden Farm is in the process of trying to secure it for future generations,' Mrs Fowler said.
'This will require that changes are made to the urban growth boundary - no easy task - and to sell off a small portion so we can add to our existing corpus and survive and thrive into the future.'
The new book shares stories of how the gardens blossomed due to green-thumbed Dame Elisabeth, who took a hands-on approach.
Morrison details how she once waded into a pond - wearing a dress and stockings - to help catch the fish so the pond could be repaired.
'She kicked off her shoes and got in. Previously to that, she'd said, 'It's not fair; I always have to leave when the fun's being had',' he said.
The book also reveals how Morrison's own green thumb earned him the title of 'Magic Michael'. He said: 'If you wake up looking forward to coming to work, you're very fortunate, and that's what it's been for me. It's a very special place; Cruden Farm's magic does affect most people.'
Co-author Clausen said she fell in love with Cruden Farm the first time she arrived.
'I feel like my connection with Cruden will go on ... it's an addictive place, and that's because of Dame Elisabeth and Michael,' she said.
'It's such a compelling story, not just for people who like gardening, but for anyone who's interested in the very basic questions of friendships and creative partnerships.'
Buy Online
Purchase Cruden Farm Garden Diaries online now from these recommended Australian sellers.

Booktopia

Fishpond
❊ Address & Contact ❊
⊜ 60 Cranbourne Road Langwarrin |
Map
❊ Web Links ❊
→
Cruden Farm Garden Diaries
→
www.crudenfarm.com.au
❊ Also See... ❊
→
Cruden Farm
→
Disclaimer
: Check with the venue before making plans
...
Trending HOT

Drive-In Movie Club
Drive-In Immersive Cinema Nights Are Coming to Melbourne Put together by our friends at Hot Tub Cinema, a string of family-friendly, social distancing-safe, drive-in ..

Things to see, hear & do this weekend
Make the most of your weekend in Melbourne with these fabulous events. No city does it better than Melbourne, so get out and discover the very best shows, festivals, ..
---
Update Page