Circus in Melbourne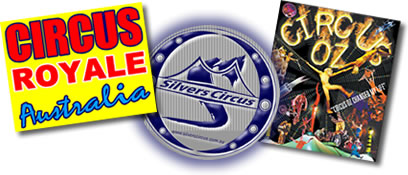 Everyone loves a circus and Melbourne is spoilt with great circus shows reguarly performing throughout Melbourne and Victoria.
The circus shows below are regular visitors to Melbourne..
Silvers Grand Magic Circus
Established in 1976, Silvers Circus has grown from strength to strength and was voted "One of the best Ten Circuses in the world"in 1992.
Circus Royale
Circus Royale presents an unforgettable two hour circus experience, packed with unique thrills, wonderful animals, humour and sheer enjoyment.
Circus Oz
Circus Oz was born in Melbourne, Australia in 1978. Formed by a group of Australians with an interest in defying the laws of theatre and physics and has gone on to be a major innovator in the field of physical theatre.
Circus Sunrise Spectacular
Circus Sunrise encompasses all of the traditional circus skills with a programme that includes fantastic aerial acts, graceful hand balancing, juggling, wild west cowboys, daring trapeze and the funniest clowns that you will ever see.
Perry Bros Circus
Perry Bros Circus is owned and operated by one of Australia's oldest circus families. We provide quality entertainment that is sure to please the entire family. Parents, grandparents and children of all ages will enjoy Perry Bros Circus.
Cirque Du Soleil
Cirque Du Soleil returns with a new show reguarly..
Women's Circus
The Women's Circus is a dynamic, contemporary arts and community company that presents innovative, circus performances to a large, diverse audience.
Now Perofrming
→
Circus in Melbourne
❊ Also See... ❊
→
Circus Royale
---
Update Page