Box Hill | Asian Food Mecca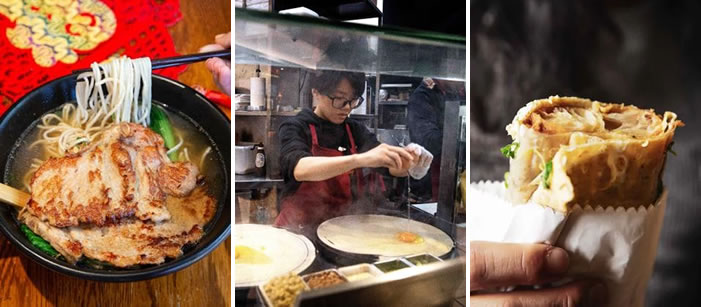 MasterChef 2018 contestant Khanh Ong says Box Hill is Melbourne's Asian food mecca.
Shoppers go to Chaddy, foodies go to Box Hill. The suburb is now Melbourne's Asian food mecca with more than 50 restaurants and 14 different types of cuisine. Here's your guide on the best places to eat.
With about 29 million visitors a year, Box Hill Central is busier than the shopping behemoth that is Chadstone.
And just as fashionistas head to Chaddy for the latest looks, foodies in the know know Box Hill is where some of the best food court feeding can be done.
With more than 50 Asian eateries serving upwards of 14 cuisines, Box Hill Central is a mecca for Asian food, but with such a vast array of tastes on offer it can be daunting for the first-time diner.
MasterChef 2018 contestant Khanh Ong has been visiting Box Hill Central for years and knows just where the best congee and dumplings and bun bo hue can be found.
Box Hill | Asian Food Mecca
Here are his favourite dishes to seek out.
INDOCHINE
51 Carrington Rd
"I've been coming here for years with my parents," Khanh says of Indochine just outside the centre on Carrington Rd. This Vietnamese restaurant has been drawing families from around Melbourne for decades, who come for pho and rice paper rolls and the kitchen's specialty of bo la lot - grilled beef wrapped in betel leaves.
But for Khanh it's their version of Bun bo Hue that he loves.
"I prefer it over pho," he says of the spicy soup dish made with rice vermicelli and beef.
"I like the spiciness of it, the depth of the broth made from pork and beef bones with lemongrass and anise and cinnamon. It's a really complex dish."
ROAST DUCK INN
29-31 Carrington Rd
Roast duck did you say? There's only one way to go and that's to Roast Duck Inn which does what it says on the tin.
Sure, there's a huge menu that tempts with its fried quails and prawn dumpling soups, its pipis in XO sauce and scallop eggplant claypots, but really it's all about the ducks hanging in the window.
A whole duck will set you back $42.80, a half is $22.80, and for pure gnaw-the-bone pleasure it's money well spent. Quickly cleavered into bite sized chunks, the plump meat under a crackling-crisp skin is rich and succulent and very, very moreish. Some might say it's finger licking good.
Box Hill Central
KITCHEN REPUBLIK
"I usually come here for congee in the morning", Khanh says of Kitchen Republik, a restaurant that's set up like a hawker centre with stalls serving different Taiwanese and Malaysian dishes.
"But I also get my dumplings here. There's a lot of variety, loads of dishes, they're all delicious. But you can't go past the xiao long bao."
The famous soup dumplings of Shanghai are made by hand in the window here, the delicate pleated pastry pork parcels steamed in wicker baskets and delivered to the table for slurping and scoffing.
"They're really good versions here," Khanh says, naming the XO clams as another dish he regularly beelines for.
But it's the congee that has Khanh scooting across town in the morning when the craving hits.
"It's a build-your-own breakfast," he says.
The bowl of soupy rice porridge comes with your selection of sides from pork floss and pickled cucumber to fermented bean curd and salty duck egg.
"That's my favourite, they soak an egg in brine for 28 days, which makes it very salty but great to season the congee."
To go with, Khanh always orders the warmed sweet soy milk. "It's so comforting, it reminds me of my childhood."
Box Hill Central
GRAIN ASIAN CAFE / GRAIN ASIAN DESSERT
Just across from Kitchen Republik is Grain Asian Cafe, which serves a large range of noodle dishes - wontons with BBQ pork, fish head vermicelli in curry laksa - and familiar rice plates including sweet and sour pork and beef and black bean sauce.
"These guys are famous for their steamed rice roll with either Chinese doughnut, prawn or barbecued pork," Khanh says. "They also do good ranges of congees, including century egg with chicken."
Just across from the cafe is Grain Asian Dessert, which serves a range of sweet and savoury pastries.
Little chicken pies, football-shaped pork crullers (char siu pork in a sweet doughnut batter) and BBQ pork triangles are joined by bright yellow egg tarts that are more eggy and savoury than their Portuguese counterparts, red bean sesame balls and custard pastries, all at $2.50 a pop.
A colourful line-up of teas, juice and fruity sago drinks complete the picture.
Box Hill Central
PANCAKE VILLAGE
Jianbing is a traditional Chinese street food that's similar to a French crepe and usually eaten for breakfast. Khanh heads to Pancake Village for his fix.
Cooked to order on a cast-iron hotplate, the crepe is topped with egg and chives and spread with sweet hoisin sauce sprinkled with pork floss and sesame seeds. Finally, a Chinese doughnut is added before the pancake is wrapped and rolled and cut in half.
"It's the best way to start the day, but great at any time," Khanh says.
Box Hill Central
RAINBOW CHICKEN
"Asian food is all about texture and I get gizzards and intestines and things on skewers that I love here. And they do the best fried chicken here as well."
At Rainbow Chicken, every chewy, gnarly, squishy and squashy bit of the animal is fried or roasted and skewered.
From chicken gizzards to beef tendon and pork intestine there's adventurous snacking for the bold, while fried chicken drumsticks and roasted wings take care of more Western tastes.
"Mum wouldn't let me eat the tripe skewers when I used to come here with her. She'd say, if I can't eat it you can't either. But I love them now."
Box Hill Central
MAGIC CUISINE
This is a great spot to pick up food for home, Khanh says of Magic Cuisine on the edge of the fresh food hall at the centre.
The display counters are piled high with containers of proteins. Needing duck livers or chicken gizzards or braised pork knuckles? This is your place.
"I usually grab some pig's ear that comes finely sliced which is great for texture, also the deep fried fish that we usually get to eat with rice."
Box Hill Central
LITTLE SICHUAN
Little Sichuan, a hot pot restaurant that's part of the Dainty Sichuan group, opened earlier this year in the centre. It's a choose-your-own adventure of build-a-bowl fun, the fridge shelves laden with an array of various exotic mushrooms and varieties of tofu and sliced veg alongside seafood - prawns and fish and even abalone - and meat including beef tripe, fried pork and garlic chicken wings.
Pay by weight, choose your broth - from mild through to Sichuan spicy - and slurp contentedly.
Box Hill Central
Article source: Box Hill is Melbourne's Asian food mecca
Dan Stock,
Herald Sun
- September 10, 2019
Box Hill | Asian Food Mecca
Box Hill Central Shopping Centre
Box Hill Central Shopping Centre is easy to get to and has a great range of stores including one Melbourne's best Asian food markets! Box Hill Central houses over 210 stores inc ..
Indochine Vietnamese Restaurant
At first glance a plate of Vietnamese food might look a lot like Chinese food, but that impression will disappear after the first taste. In fact, the essence of Vietnamese cui ..
Roast Duck Inn
You'll be unsurprised to hear that we're specialists in damn good roast duck. We do it right and it's crispy and perfect every single time. Of course, being a Melbourne Chin ..
Katori Japanese Yakiniku Restaurant Bar & Grill
Located in luxury boutique hotel The Chen in Box Hill, Melbourne, Katóri is a new Japanese restaurant and bar serving up a sophisticated take on classic yakiniku. Our notable ..
→
Box Hill | Asian Food Mecca
❊ Also See... ❊
→
Box Hill Central Shopping Centre
→
Indochine Vietnamese Restaurant
→
Roast Duck Inn
→
Katori Japanese Yakiniku Restaurant Bar & Grill
---
Update Page