50 Magic Years in Melbourne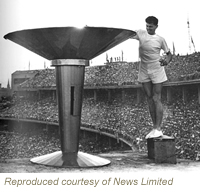 Taking place in November 2006, a number of exhibitions and events combined to celebrate 50 magic years in Melbourne since the opening ceremony of the Olympic Games.
The weekend (18th & 19th) featured events at the MCG including a re-enactment of the opening and closing ceremonies of the 1956 Melbourne Olympic Games.
50th bash for Melbourne Olympics
Some of the biggest names in Australian sport will return to the MCG on Sunday to celebrate the 50th anniversary of the 1956 Melbourne Olympics.
More than 35 gold medallists from the Melbourne Games including Australians Dawn Fraser, Murray Rose and Betty Cuthbert are expected to attend the celebration which will recreate elements of both the 1956 opening and closing ceremonies.
View Picture Gallery - 50th Anniversary Melbourne Olympics MCG
Melbourne - 50 Years On
Melbourne - 50 Years On - The Exhibition will be a public event, which should draw enormous crowds of Melburnians ranging from those who attended the 1956 Olympics and have lived and contributed to the change in Melbourne to the school children who have seen a recent Olympics in Sydney but are keen to understand how the monumental impact of this world event changed the place that they live forever.
Melbourne - 50 Years On - The Exhibition will provide the unique opportunity to demonstrate the contribution and development that has taken place since the world spotlight shone so brightly on Melbourne 50 years ago and recognise the wonderful impact that has been made upon so many through this constant change.
Melbourne Exhibition Centre
2 Clarendon Street
Southbank, Melbourne
November 16th - 19th
Virtually Edna - Ednaville
THE cosy upholstered comfort of 1950s suburbia has been recreated in an exhibition based on Dame Edna's fictitious Moonee Ponds home.
Hoarders and collectors answered the call to supply the kitsch and colourful pieces that epitomised the time and place in the "Ednaville"exhibition at the Arts Centre.
Virtually Edna opens new avenues for the housewife superstar to mark the golden anniversary year of Dame Edna Everage, the Arts Centre has launched a unique website which explores the career of one of Melbourne's most internationally acclaimed women.
Virtually Edna is an online mini-documentary that showcases a witty compilation of commentaries by and to Dame Edna, dating from 1950s to the present, with particular emphasis on her Melbourne roots and connections.
The free exhibition is open daily in the George Adams Gallery until February 18.
George Adams Gallery - The Melbourne Arts Centre
100 St Kilda Road
Victorian Arts Centre
Melbourne VIC 3004
Australia
---------------------------------------
50 magic years in Melbourne
IN 1956, Melbourne was an Olympic city taking itself to the world. Beginning its second post-war decade, it was charging into modern times with a vengeance.
ABV-2 had just started transmitting to whoever could afford a TV, which cost a third of the average year's wage.
ABV-2 had just started transmitting to whoever could afford a TV, which cost a third of the average year's wage.
FE Holdens were gleaming in showrooms, water was gushing from the new Eildon Dam and Moomba was barely a year old.
But as much as concrete, steel, wires and wheels point to the future, hands, minds and voices shape it.
The past half-century has produced big names who left a big mark.
Some, though, are so familiar one name's enough: Kylie, Lillian, Jeff and Bart. Gra-Gra and Bert were name enough for the two entertainers who dominated the years after the Games.
Graham Kennedy was the King of TV, while Bert Newton (and wife Patti) are unquestioned royalty.
The Graham and Bert team in the ground-breaking In Melbourne Tonight remains a television landmark.
Later, Daryl Somers would continue the variety tradition, a natural in the kids show for adults, Hey! Hey! It's Saturday!
He made his mark just by being himself but others got there being entirely someone else.
The year before the '56 Games, Mrs Norm Everage first inflicted herself on an unsuspecting public.
Barry Humphries' housewife superstar grew to a hell of a dame, housewife megastar and creator of the World Prostate Olympics.
In half a century, Dame Edna has become as famous as any woman we have produced, despite not really being one.
She came a long way from Moonee Ponds, breaking ground for other acts poking holes in Melbourne's suburban psyche.
Jane Turner and Gina Riley's alter egos Kath Day-Knight and Kim Craig screamed ``look at moi'' from the moment they hit the TV.
They put Fountain Lakes on the map and cheap cask wine - cardonnay - into the language.
On the big screen, Cate Blanchett won an Oscar last year for playing Katharine Hepburn in The Aviator.
Geoffrey Rush was given his for becoming David Helfgott in 1997's Shine.
Behind the camera, David Williamson went from engineer at General Motors to playwright.
Don's Party, Phar Lap and The Club spoke to ordinary Victorians in a way uncommon in art.
And our artistic tradition had other expressions, few more revolutionary than the so-called Angry Penguins school of artists.
Arthur Boyd was central to the movement seeking to modernise painting and poetry.
But there were as many ways to shape Victoria as there were Victorians. Graeme Clark, nicknamed the Bunsen Burner Kid, did it by bringing hearing to more than 55,000 people in over 120 countries with his bionic ear.
Sir Gus Nossal helped build Melbourne's medical centre into a world-beating research facility.
And our musicians, hidden away by the tyranny of distance, put us on the map by taking on the world.
In 1964, a P&O cruise ship took the Seekers to the UK in decidedly low-rent style.
The four, led by singer Judith Durham, played for passengers straight after the shipboard bingo.
Within three years songs like Georgie Girl and The Carnival is Over were shoving the Beatles and Stones down the charts.
In 1967, when they played the Myer Music Bowl for Moomba, the crowd of 200,000 was the biggest Australia had seen.
That year also saw the emergence of a clean-cut pop poppet - Johnny Farnham.
Sadie the Cleaning Lady didn't hint at the 30 years of hits that would lead to his show-stopping set at the 2006 Commonwealth Games closing ceremony.
In the '70s, in her Surrey Hills bedroom, a tiny budgie of a girl was singing Abba hits into a broom handle.
In 2000, billions would see her reprise the performance at the Sydney Olympics, Kylie Minogue doing Dancing Queen.
Skyways, The Sullivans, The Henderson Kids and Neighbours put her into the spotlight.
A string of hits, and a celebrated pair of gold op-shop hot pants, have kept her there.
The most memorable Aussie bands of the era didn't try to be English or American.
Daddy Cool lasted just three years but Eagle Rock is as iconic as any Australian song.
It held top spot on the Melbourne charts for a record-breaking 17 weeks.
With Graeme "Shirley'' Strachan giving cheek out front and Red Symons leering in the rear, Skyhooks were brash, rude and decidedly Melbourne.
Living in the '70s, their first album, had songs about Balwyn, Carlton and Toorak.
They clicked, helped in no small way by TV's Countdown.
Ian "Molly'' Meldrum has bumbled his way through five decades of rock, arguably the most influential man in Australian music.
As talent co-ordinator and host of Countdown, he had a nation fixed to its TV screens.
Power usage hit its week's high during the show.
More than anything, probably, sport makes Melbourne tick.
John Bertrand sailed into immortality on Australia II, snatching the America's Cup from the Yanks.
Pat Cash earned his stripes at Wimbledon, beating Ivan Lendl and giving headline writers a gift with "Cash bounces Czech''.
Peter Thomson was the ``hole package'' with his five British Open golf titles, and Bart Cummings' 11 Melbourne Cup wins speak for themselves.
Ron Barassi won games off his boot for Melbourne and flags at two other clubs with a revolutionary coaching mind.
As an ambassador for football and a media commentator, he is a household name.
So, too, former Mentone lad Rex Hunt, who became a fish-kissing, footy-calling juggernaut.
His 202 VFL games and two flags at Richmond began a career that spawned 27 years behind a microphone - and the fat lady hasn't sung on it yet.
Spinner Shane Warne produced the ball of the century, scuttling Mike Gatting in 1993, and more headlines than any other player of his era.
Chosen by Wisden as one of the five cricketers of the century, his record haul continues to grow.
In racing, Damien Oliver's Melbourne Cup ride on Media Puzzle was remarkable, more so for the emotion on passing the post.
His brother, Jason, had died days earlier in a track fall.
Oliver looked to the heavens, dedicating the win to his lost brother, as millions watched, transfixed.
On a different track, Cathy Freeman's finest moment, her 400m Sydney Olympics win, remains one of our greatest sporting memories.
But the willowy Aboriginal girl only grew to world beater after adopting Melbourne as her base.
Ron Clarke, a champion runner of an earlier generation, first made his mark off the track.
In 1956, aged 19 and a talent barely tapped, he carried the Olympic flame into the MCG. He would go on to 17 world records but it was one of his worst runs that would become the stuff of legend.
Runner John Landy became Governor but is remembered more for a gesture that forever links him with Clarke.
In the 1956 National Championships, Clarke fell to the track after another runner clipped his heel.
Landy stopped, ran back and helped Clarke, before making up lost ground to win the event.
The sportsmanship was unsurpassed, but we've never lacked sporting heroes.
When Peter Brock drove, millions of Australians went along for the ride.
His 10 Bathurst wins at Bathurst merited his moniker Peter Perfect, and the grief at his death confirmed the legend.
As it did for another champion, Teddy Whitten.
Whitten is considered by some the greatest player Aussie Rules has produced.
His record speaks volumes: 321 games, five times club champion, 14 years captain, 13 as coach, and Victorian representative 29 times.
Fans spoke louder though when, blind and close to the end, Whitten was driven on a lap of the MCG to Mariah Carey's Hero.
For emotion, the sad moment is unmatched.
For pride, though, Lionel Rose's welcome home to Melbourne in 1968 takes some beating.
From a sleepy Gippsland community, one of nine children, he'd fought his way to world champion.
About 250,000 packed Melbourne streets for his return.
A year later John Famechon claimed his world crown in a purple patch for pugilism.
The pair had sparred together, but three other sparring partners were even more the face of sport. Jack Dyer, Lou Richards and Bob Davis became footy's three wise monkeys.
Dyer mangled words. Richards gave lip. Davis did his best to get a word in. World of Sport was a Sunday tradition, but there were other stages too.
In the post-Games years, Victoria was a political powerhouse.
Jeparit-born Sir Robert Menzies was twice Prime Minister, at first for the United Australia Party and then for the newly formed Liberal Party.
Menzies' time as PM is unmatched and he inspired successive generations.
Nareen grazier Malcolm Fraser continued Victoria's grip on the Lodge, after the Whitlam government sacking put him there in a defining moment in Australian politics.
It took Bob Hawke, a one-time beer-drinking Rhodes scholar, to unseat the dour Fraser.
As ACTU chief, Hawke had admirers on both sides of politics for his larrikin side and ability to negotiate ends to bitter disputes.
He was colourful, quotable, but no more so than Sir Henry Bolte, farmer and publican's son.
In 1955 the tough-talking, Turf-smoking, Corio whisky-drinking Bolte became premier - a post he would hold until 1972.
He was a formidable man. The West Gate Bridge, Tullamarine airport and Monash and LaTrobe universities were born in his reign.
The hanging of Ronald Ryan - which he refused to quash - remains the last execution on Australian soil.
Later, Jeff Kennett took on the style of his political idol.
His landslide win over our first female premier, the hapless and polka-dotted Joan Kirner, gave a mandate for sweeping change. ``Jeff's Shed'', the new Melbourne Museum and Crown casino came in his time.
Kennett's tough stand against unions saw more than 100,000 workers rally in the city, a show of strength that left him unfazed.
His defeat by Steve Bracks was one of our state's greatest political upsets. Bracks' legacy remains to be seen but one notable milestone was the appointment of our first female police chief commissioner, Christine Nixon.
Federally, Victoria's political clout has waned, but Peter Costello still holds the Commonwealth purse strings as PM in waiting ... and waiting.
In business, Reg Ansett trained as a sewing machine repairman but became a TV and transport mogul.
Lillian Frank (only the first name necessary) was born in Rangoon but bloomed in Melbourne.
The social butterfly remains visible and hugely audible.
Dame Elisabeth Murdoch, widow of newspaperman Sir Keith Murdoch, is one of Victoria's most community-spirited women.
Cardboard king Richard Pratt built a business empire and a fortune, and gave plenty back through charity work.
Ron Walker has had a finger in most pies - as Liberal treasurer, Grand Prix boss, major events supremo and Commonwealth Games chairman.
Bruce Ruxton ran Victoria's RSL from 1979 to 2002, and was a voice for Diggers and a critic of immigration.
And half a century after we welcomed the world to the MCG, Chinese-born John So is our first popularly elected, and longest-serving, lord mayor.
The lesson in 50 years? It takes all kinds to build a great city.
50 magic years in Melbourne - Herald Sun
Terry Brown
November 14, 2006 12:00am
---------------------------------------
50 people who shaped modern Melbourne
IT'S been 50 years since the Melbourne Olympic Games and the Herald Sun marks the milestone with a celebration of the 50 major newsmakers.
Bob Davis
Jack Dyer
Lou Richards
Rino Grollo
Bruno Grollo
Gina Riley
Jane Turner
David Williamson
Dame Elisabeth Murdoch
Olivia Newton-John
Sir Robert Menzies
Peter Costello
John So
The Seekers
Kylie Minogue
John Farnham
Molly Meldrum
Jeff Kennett
Joan Kirner
Graham Kennedy
Patti & Bert Newton
Dame Edna Everidge
Lillian Frank
Ted Whitten
Cathy Freeman
John Landy
Shane Warne
Ron Clarke
Cate Blanchett
Geoffrey Rush
Peter Thomson
Arthur Boyd
Rex Hunt
Ron Walker
Johnny Famechon
Lionel Rose
Bob Hawke
John Bertrand
Daddy Cool
Daryl Somers
Bruce Ruxton
Pat Cash
Sir Gustav Nossal
Sir Reg Ansett
Damien Oliver
Steve Bracks
Malcolm Fraser
Skyhooks
Graeme Clark
Bart Cummings
Richard Pratt
Peter Brock
Christine Nixon
Sir Henry Bolte
Ron Barassi
50 people who shaped modern Melbourne
---------------------------------------
Virtually Edna - Ednaville
THE cosy upholstered comfort of 1950s suburbia has been recreated in an exhibition based on Dame Edna's fictitious Moonee Ponds home.
Hoarders and collectors answered the call to supply the kitsch and colourful pieces that epitomised the time and place in the "Ednaville"exhibition at the Arts Centre.
Curator Tim Fisher worked with Barry Humphries, Edna's alter ego, on a wish-list for everything from the lyrebird screen door to the duck-egg blue and blondwood veneer boudoir for the exhibition, which celebrates the golden jubilee of Melbourne's most famous housewife.
"What I've tried to achieve is a combination of current nostalgia and the suffocating conservatism of the times,"Mr Fisher said at yesterday's opening.
"I've discovered just how much manufacturing was going on in Melbourne in the 1950s, as nearly everything was Australian-made, from the whitegoods to the ceramics."
Mary McCrorie, 71, of Broadmeadows was one of the donors nibbling lamingtons at yesterday's launch. Her hoarding instincts proved fruitful for the curators.
The Harlequin dinner set she received as a 21st birthday present took pride of place in the laminex kitchen. She also supplied an electric jug, crocheted coat-hangers and a ballerina raffia toilet-roll holder.
Although Humphries was unable to attend, Mrs McCrorie fondly recalled her own Edna encounter at the Palais Theatre in 1985.
"I am a mini-star because I got called up on stage by Dame Edna for an interview and everyone called me the Broad from Broadmeadows for the rest of that day in St Kilda,"she recalled. "Dame Edna gives me a laugh, but I can't say I'm fond of that Les Patterson. But you can't like everyone, can you?"
A website of everything Edna has been created to celebrate the character's 50-year milestone.
In one documentary on the website, playwright Ray Lawler recalls touring Victoria for a production of Twelfth Night with a young Barry Humphries
Dame Edna Everage's character was conceived in the back of a bus, taken from Humphries' observations of women who saw his show.
The free exhibition is open daily in the George Adams Gallery until February 18.
50 people who shaped modern Melbourne
November 14, 2006 12:00am
The Age
❊ Notice ❊
Many locations have gone into lockdown as the state takes action to stop the spread of the deadly coronavirus (COVID-19).
→
Disclaimer
: Check with the venue before making plans
...
❊ Web Links ❊
→
50 Magic Years in Melbourne
→
Virtually Edna
→
50 magic years in Melbourne - Herald Sun
→
50 people who shaped modern Melbourne - Herald Sun
→
Through keyhole of an international megastar - The Age
→
Arts Centre
→
www.dameednalive.com - Back With a Vengeance
→
www.dame-edna.com - Dame Edna - the offocial web site
→
Dame Edna Everage - Wikipedia, the free encyclopedia
→
Barry Humphries - Wikipedia, the free encyclopedia
→
Melburnian - Dame Edna Everage - Barry Humphries
→
50th bash for Melbourne Olympics - The Age
→
Melbourne Exhibition and Convention Centre
→
Melbourne - 50 Years On
→
Melbourne Olympic Games 50 Years On - Pictures
Trending HOT

Drive-In Movie Club
Drive-In Immersive Cinema Nights Are Coming to Melbourne Put together by our friends at Hot Tub Cinema, a string of family-friendly, social distancing-safe, drive-in ..

Things to see, hear & do this weekend
Make the most of your weekend in Melbourne with these fabulous events. No city does it better than Melbourne, so get out and discover the very best shows, festivals, ..
---
Update Page