3AW | 693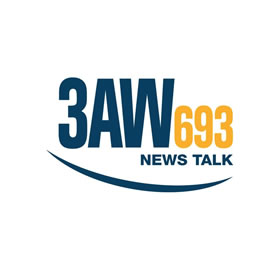 Radio 3AW is a Melbourne institution because it breaks and makes the news.
Stories from 3AW programs often become front-page news for the morning newspapers and footage for the evening television news.
Our program philosophy at 3AW is to be topical, informative, authoritative, interesting and entertaining. In order to achieve this, all of our presenters are encouraged to express their opinion on a variety of issues.
In fact, market research clearly indicates that listeners expect our personalities to say what they think: furthermore, many listeners have commented that this is one of the real strengths of 3AW.
Mornings with Ross and John - 5:30am - 8:30am [weekdays]
Ross Stevenson and John Burns* entertain listeners with razor sharp wit and oddball humour including Rumour file, Sly Of The Underworld and Lazy Susan.
Highly recommended!
John Burns is hanging up his 3AW microphone mid-2020.
Mornings with Neil Mitchell - 8:30am - 12noon [weekdays]
|
Talkback
Neil Mitchell's 3AW Morning program has dominated the airwaves and set Melbourne's news agenda for over twenty years. The 3AW Mornings audience are Neil's roving reporters, regularly calling in with breaking news and important tip-offs. Neil Mitchell celebrated his 30th anniversary as a 3AW host in 2017.
Afternoons with Dee Dee - 12pm - 3pm [weekdays]
Dee Dee Dunleavy is a mainstay of Melbourne radio, with over three decades on air with longtime co-host Peter "Grubby" Stubbs. Now, she's out on her own, hosting 3AW Afternoons! Join Dee Dee weekdays from midday to 3pm, for a live, local show that's as Melbourne as a hook turn.
Dee Dee will tackle the stories everyone is talking about, cover breaking news as it unfolds, and chat crime, entertainment, television, movies and more.
Drive with Tom Elliot 4pm - 6pm [weekdays]
3AW Drive with Tom Elliott, keeping you informed and entertained on your way home 3-6pm, weekdays.
Sports Today with Gerard Healy - 6pm - 7pm [Monday to Thursday]
In the sporting capital of the world, Gerard Healy breaks down the daily sports news.
Money News with Ross Greenwood - 7pm - 8pm [weekdays]
Ross Greenwood has covered finance and business matters in Australia and around the world for almost 30 years.
Nights with Denis Walter - 8pm - Midnight [weekdays]
Nights with Denis Walter reviews the day's news and current affairs and follows the breaking news of the night.
The Fishing Show - 7-8pm Fridays
For five weeks during summer, join Rex Hunt for the return of The Fishing Show! It has been a decade since the program last aired, but it's back for a limited time on Friday nights.
Australia Overnight with Michael McLaren - Midnight to 5.30am [weekdays]
Michael McLaren hosts Australia Overnight across Sydney's 2GB, Melbourne's 3AW, and Brisbane's 4BC.
Weekends - Saturday and Sunday
Join Luke Grant for Australia Overnight: Join Luke Grant for Australia Overnight - Midnight to 6am [weekends]
Buy Swap and Sell: Each weekend join Darren James in the Big Backyard tackling all the latest gardening topics, from plant selection to pest control.
Weekend Breakfast with Darren James: Nobody does lifestyle radio like Melbourne's No.1 station, tune in to hear from all of your favourite experts for gardening tips, talkback and more. SATURDAY - SUNDAY / FROM 7AM
Sunday Special with Darren James: Darren James introduces someone special for a chat. One of our favourite hours discovering the stories of some of Melbourne's best known celebs. SUNDAY / 9am - 10am
The Weekend Break: Peter Stubbs hosts the Weekend Break in the afternoons for a summer of fun. On air from midday each Saturday and Sunday until footy returns next year.
A Moveable Feast: Join 3AW Breakfast's Ross Stevenson and Kate Stevenson (some may know her better as Ela Carte!) as they explore highlights from near and afar every Saturday from 11am. SATURDAY / 11:00AM - 12:00PM
Weekend Sport: Shane McInnes re-caps a huge weekend in sport on 3AW - 5:00PM - 6:00PM / SATURDAY AND SUNDAY
Saturday Night with Dr Sally Cockburn: Dr Sally Cockburn is already well-known to radio audiences around Australia, with 30 years experience talking health and discussing relationships using her pseudonym, Dr Feelgood. Now, each Saturday night, she brings you an evening of uplifting entertainment and a chance to learn something new. SATURDAY / 6PM - 10PM
Simon Owens: Join Simon Owens from 10pm to midnight every Saturday. SATURDAY / 10PM - MIDNIGHT
The House of Wellness: Welcome to The House of Wellness- our weekly one hour program designed to help Australia "Get Well, Stay Well, Live Well and Look Fabulous". SUNDAY / 8AM - 9AM
Sunday Morning: Forget the strong cup of coffee, if you need a morning wake up call, Darren James, Nick McCallum and Heidi Murphy are all you need. You can rely on the Sunday Morning program to give you the news you need to know, lively debate, agenda-setting interviews, and somewhere for you to have YOUR say. SUNDAY / 10:00AM - 12:00PM
Macquarie Weekly: Macquarie Weekly is a look at the news of the week gone-by and the week to come, through the eyes and ears of the Macquarie Media Network. Hosted by Justin Smith, Macquarie Weekly talks with the newsmakers and takes live calls from right across the country. SUNDAY / 6:00PM - 9:00PM
Mindful: Proudly supported by Tobin Brothers, Mindful is a program about mental health and general well-being, with a positive outlook and answers to help feel and live better. It is hosted by Justin Smith, with experts Major Brendan Nottle and Jacqui Louder alongside. SUNDAY / 8PM - 9PM
Great Australian Lives with Laura Turner: With her love of human interest stories, awarded journalist Laura Turner will celebrate the lives of some of Australia's most influential and prolific personalities from a diverse range of backgrounds - entertainers, humanitarians and those with untold stories. Join her from 9pm on Sunday for Great Australian Lives, an hour-long chat program partnered by Tobin Brothers. SUNDAY / 9:00PM - 10:00PM
3AW | 693
Australia's most trusted radio network, Nine Radio - formerly Macquarie Media continues to deliver credible, adult and specialist news coverage around the clock.
Nine Radio offers you the unique combination of premier talk stations - 2GB, 3AW, 4BC & 6PR -
Talking Lifestyle
, reaching 2.2+million people each week across Australia.
3AW
frequency changed from 1278* to
693
on the AM dial.
*
Talking Lifestyle | AM1278
CALL 96 900 693
❊ Address & Contact ❊
⊜ Level 7, 655 Collins Street Docklands |
Map
✆
(03) 8667 3600 | Outside Melbourne Open Line: 1313
❊ Web Links ❊
→
3AW | 693
→
www.3aw.com.au
→
Talkback Radio on OnlyMelbourne
→
twitter.com/rossandjohn
→
www.mytalk.com.au
❊ Also See... ❊
→
655 Collins Street | Media House
→
A Moveable Feast
→
Neil Mitchell
→
Nightline 3AW
→
Observer Overnighters 3AW
→
Ross Stevenson
→
Father's Day Alfred Appeal 2020
→
Talking Lifestyle | 1278AM
Trending HOT

Things to see, hear & do this weekend
Make the most of your weekend in Melbourne with these fabulous events. No city does it better than Melbourne, so get out and discover the very best shows, festivals, ..

Australian Open 2020
Melbourne in January means only one thing - the Australian Open. With the world's top tennis players fighting it out for the first Grand Slam title of the year, there's ..
---
Update Page Request