Violet Town 3669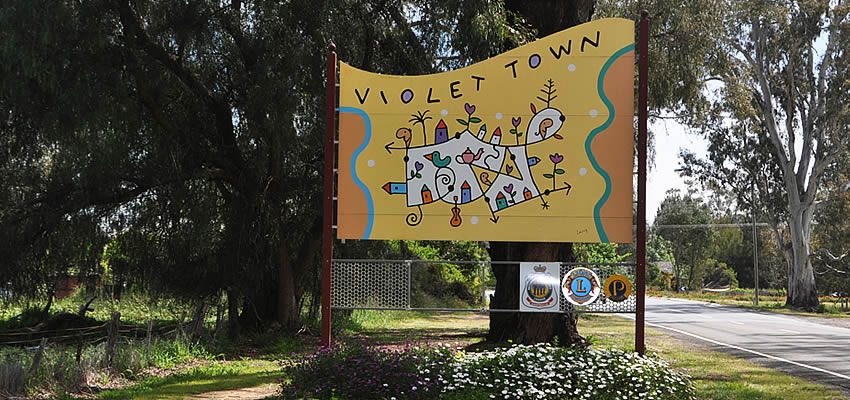 Violet Town is a small community of approx 950 people nestled at the foot of the Strathbogie Ranges in North East Victoria.
Violet Town is well known for it's thriving monthly
market
, renowned for a friendly atmosphere. There are up to 250 stalls each month where you will find fresh produce, arts, crafts, jewellery, wine tastings, plants, tools, furniture and more!
Well worth the drive.
Violet Town History
Major Thomas Mitchell, Surveyor-General of New South Wales, passed through the Violet Town area in Spring, 1836, on his Australia Felix expedition. He noted in his account of the expedition that several streams and chains of ponds were crossed and one, from which flowers were growing, was called Violet Ponds. That site was one of two (the other being Mitchelltown) which were surveyed in 1838 as sites for townships. Violet Ponds was chosen as a site for policing the overland route to Melbourne, particularly after the Faithfull massacre in 1838. (The police post, though, was placed at Benalla.)
Notwithstanding Violet Ponds' official township status, pastoral entrepreneurs were soon acknowledged as being competent to choose settlement places, and Violet Town became only one among many along the Sydney road. However, the surveyed site was flood prone, and a more suitable location to the south-east was settled in 1852 for the township, by when the area was being crossed by travellers to the north-eastern gold fields. It was also known as Honeysuckle, adopting the name of Honeysuckle Creek (formerly Violet Ponds, but being noted for Banksia/honeysuckle rather than violets) and the name of the Honeysuckle pastoral run.
Violet Town was at the conjunction of the Sydney road, the overland telegraph and the tracks to Bendigo and north-eastern gold fields. By the 1860s it had three hotels, a Wesleyan school, bakery, several tradesmen and numerous selectors on the former Honeysuckle run. When the railway line was opened in 1873 the commercial area moved northwards from the old High Street to a few blocks away.
By then the gold fields traffic was less, and towns such as Euroa and Benalla overtook Violet Town. Until Violet Town achieved its own local government in 1895 it was part of Benalla shire (1869) and part of Euroa shire (1879).
Violet Town's street names maintain a floral tradition: Cowslip and Tulip Streets are the main ones, crossed by Orchid, Rose, Lily and Hyacinth Streets.
When Violet Town shire was created on 11 April, 1895, it was in the midst of moderate growth. Rainfall encouraged dairying, but too much rain caused impassable roads, which the Euroa shire was hard pressed to maintain.
At the turn of the century Violet Town was probably at a population pinnacle. Wood cutting augmented dairying, but the wood was gradually cut out and rabbit infestation worsened, particularly after the years of good rainfall when rabbits were drowned in the warrens. Between 1911 and 1961 the populations of the town and the shire declined, but after then the town grew. Dwellings in the town grew from 459 (170) to 700 (1994), and the town's population increased proportionately.
To travellers using either the Hume Highway or Hume Freeway Violet Town has been unrevealed. The town's streets are attractively tree-lined and uncongested by through traffic: the only through vehicles are the trains. The town has generous public reserves, with a training track, golf course, bowling green tennis courts and a caravan park near Honeysuckle Creek. There are also a memorial hall, swimming pool, bush-nursing home and a library. Away to the south are the Strathbogie Ranges.
The Violet Town shire had 155,000 head of sheep and lambs and 12,000 head of cattle in 1994.
On 18 November, 1994, most of Violet Town shire was united with most of Euroa and Goulburn shires and parts of McIvor shire and Seymour rural city to form Strathbogie shire. The balance of Violet Town shire was incorporated in Delatite shire. Violet Town shire was six months short of its century.
Southern Aurora train crash
THE sickening impact of the Southern Aurora ploughing into a goods train alerted the people of Violet Town to disaster before any CFA alarm could sound.
Like the passengers aboard the Southern Aurora, people in Violet Town were just beginning to greet the already hot morning on 7 February 1969, when the trains collided at a level crossing on the edge of town.
The quick actions of emergency workers, many of them volunteers, and residents who flocked to help saved many lives amid the Southern Aurora's twisted, smouldering carriages.
The driver of the passenger express had had a heart attack and died and the Southern Aurora, carrying its crew and about 190 passengers, shot through the Violet Town crossing loop, where it should have stopped to allow an Albury-bound goods service to pass. Nine people were killed, including the two drivers, a conductor, a railway electrician and five passengers, and 117 people were injured in the horrific tangle of wreckage. The Southern Aurora's power van burst into flames on impact and set fire to several mangled carriages but, within minutes, rescuers doused the flames.
The people of Violet Town, population 600, rallied along with emergency workers and passing motorists who stopped to help at the scene. Others fed and comforted shocked passengers at a local hall, or assisted at a makeshift emergency depot and triage centre at a pub.
A plaque, erected in 1994, now marks the spot where the Southern Aurora tragedy occurred, at the McDiarmids Road level crossing on Violet Town's western edge.
Michael Leunig
Michael Leunig is Violet Town's best known local resident.
Michael Leunig is an extremely well known cartoonist, philosopher, poet and artist.
He has explored political, cultural and emotional issues for over thirty-five years. He was made one of Australia's Living Treasures by the National Trust of Australia in 1999. He was also a major contributor to the opening ceremony of the 2006 Commonwealth Games and there is even a Leunig-painted Melbourne Tram.
Michael's final comments were that Violet Town is a 'good natured, light hearted humorous town. A community making its own sign tells a story about Violet Town - it's a town that encourages creativity and this leads to prosperity.'
In 2009 Violet Town landed a huge coup when local resident and renowned artist Michael Leunig agreed to create entry signs for the town. The signs appear at four of the town's entrances - each end of Cowslip St, Nalinga Road and the south end of High Street.
Violet Town is on the route between Melbourne and Albury and is 150 km, north-north-east of Melbourne. It is between Euroa and Benalla and is bypassed by the Hume Freeway (and former Hume Highway) which are to the south.
❊ Web Links ❊
→
Violet Town 3669
→
www.strathbogie.vic.gov.au
→
www.violettown.org.au
❊ Also See... ❊
→
Violet Town Market
❊ COVID-19 Notice ❊
Many locations have gone into lockdown as the state takes action to stop the spread of the deadly coronavirus (COVID-19).
→
Disclaimer
: Check with the operator before making plans
...
Trending HOT

Drive-In Movie Club
Drive-In Immersive Cinema Nights Are Coming to Melbourne Put together by our friends at Hot Tub Cinema, a string of family-friendly, social distancing-safe, drive-in ..

Things to see, hear & do this weekend
Make the most of your weekend in Melbourne with these fabulous events. No city does it better than Melbourne, so get out and discover the very best shows, festivals, ..
---
Update Page