Tigerland salute | Jack [Captain Blood] Dyer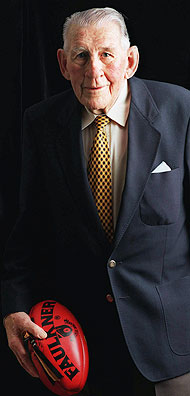 28 August 2003 - FOOTBALL greats and diehard fans yesterday farewelled the greatest Tiger of them all: Jack "Captain Blood"Dyer.
More than 1000 people packed St Ignatius Catholic Church in Richmond, the battlers' suburb Dyer made his own. It was exactly 54 years to the day since he played the last of his 312 VFL games.
A Tiger pelt was draped across the coffin as past and present Richmond players rubbed shoulders with former foes, fans, friends, family and AFL dignitaries.
In the front row were Dyer's ageing mates Lou Richards, Bob Davis and Bobby Skilton.
Joining them were his only living sister, Aileen, five grandchildren and three great-grandchildren.
Davis and Kevin Bartlett, the only Richmond player to play more games than Dyer, delivered stirring eulogies.
The entire Richmond playing list formed a guard of honour as the six-time best and fairest winner was carried from the church to his favourite tune, Tigerland.
Hundreds lined Church and Swan streets to pay their respects, most donning the famous yellow and black worn by Dyer between 1931 and 1949.
The funeral cortege wound its way slowly and quietly past Punt Road Oval just after 11.30am.
Dyer, nicknamed Captain Blood for his fearless attack on the ball, was later laid to rest at Springvale alongside wife Sybil, who died in 1967.
At Punt Road, 312 yellow and black balloons were released from the Jack Dyer Stand - one for each game he played for the club.
A giant No. 17, the number he wore, was painted on to the Punt Road turf, a gesture that will be repeated for the Tigers' clash with Hawthorn at the MCG on Sunday.
Bartlett told the church service how Dyer almost single-handedly saved the club from extinction during the Save Our Skins crisis in the early 1990s.
"We needed to raise $1.5 million - I had my doubts that we could do it,"Bartlett said.
"But Jack Dyer strode out onto the ground and spoke about everything the club meant to him and to them. He saved the club with one speech."
In remembering Dyer, Kevin Bartlett recalled the first time he met Jack after he had been injured during an under-19s game at the MCG in 1963.
The match had started early in the morning and Bartlett's parents hadn't arrived at the ground in time to see him carried off.
Dyer made his way to the changerooms to console the youngster, telling him he'd soon be feeling "as good as gold"and would be out of hospital the following day.
Years later, Bartlett told Dyer he had spent more than two weeks in hospital. "And he said to me: `I didn't know much about hips - I only knew about collarbones',"Bartlett said. Dyer was reputed to have broken the collarbones of 64 opponents.
Bob Davis, a former World of Sport co-host, said his old mate embodied AFL football.
"Without Jack Dyer AFL football would have struggled,"Davis said.
Triple Brownlow medallist Bob Skilton said Dyer's fearsome on-field reputation only told half the story.
"Jack himself was just a beautiful person. He'd do anything for you. He was a wonderful friend and it was a privilege to be considered that by Jack,"Skilton said.
Former Tiger coach Tommy Hafey said Dyer was the hero of all Richmond people.
"He was our greatest player, arguably the best player of all time,"Hafey said at the Punt Road wake. "As the years get going you probably forget who the really great players were, but I don't think anybody would be as big as Jack Dyer."
Former Richmond president and champion player Neville Crowe said Dyer embraced everyone who crossed his path, from the grassroots supporter to the game's elite.
"Jack was a very humble man, you always felt comfortable in his presence. He was warm and sincere, he wasn't one of those guys who spoke to you for the sake of getting rid of you."
Granddaughter Georgia Devine recalled how Dyer would bribe her with lollies to help him memorise the numbers of opposition players during his days as a commentator.
"He'd sit me down a few days before a game with his list of players and rattle off the names and numbers,"Ms Devine said.
Former Richmond president Leon Daphne recounted a day in the mid-1990s when Dyer was mobbed by Tiger players during a visit to Punt Road headquarters.
"None of them had seen him play, they'd only heard the stories, but they all wanted to associate with him,"Daphne said. Tiger star Andrew Kellaway said the players were determined to do it for Jack during their final game for the season at the MCG on Saturday.
"Everyone is aware of what he's done for the football club,"he said.
John Raymond Dyer was born in Oakleigh on November 13, 1923 - playing his first game for the Tigers aged 17 in 1931.
He retired from football in 1949, winning a record six best and fairests and playing in two premierships, in 1934 and 1943.
He captained Victoria twice and kicked 443 career goals, including nine in a final and one with his last kick in VFL football.
Of the 11,000 to have played at the highest level - Dyer was selected in the best 21 in the AFL's Team of the Century.
After hanging up the boots, he became an even bigger star as a football commentator and television host and was part of Channel 7's World of Sport from 1956 to 1986.
After a long illness he died on Saturday, aged 89.
Source |
Tigerland salute
By MICHAEL WARNER
---
The heart of Tigerland
TIGER great Kevin Bartlett gave the eulogy at Jack Dyer's funeral yesterday.
Here is an edited extract.
MUCH has been said about Jack Dyer over the past few days. Most of it has been true, although there have been a few stories I think have been embellished.
But what is true is that he is the greatest player in the history of the Richmond Football Club, arguably the greatest player of all time.
He has been an icon of the club, he has been the symbol of the Richmond Football Club. He's been the inspiration, the motivator, the force behind the club. He's been the spirit of the yellow and black.
To that famous catch-cry: "Eat Em Alive". Carrying what has got to be the most famous nickname in the history of the game: Captain Blood.
He lifted the spirits through a depression and a world war, he gave the masses something to cheer about, something to smile about, something to talk about. He even gave them something to boo about.
Jack had wonderful timing: 54 years ago on this very day, Jack Dyer played his last game for the RFC against Geelong. Round 19, 1949, August 27. In his last game he kicked six goals on the state fullback and kicked a goal with his last kick.
We are gathered here at this famous Richmond landmark where Jack went to school next door, St Ignatius.
We are in the heart of Richmond to reminisce about the heart of the RFC.
Jack was more than a footballer: in fact, he was a tennis champion of the district. He was also a snooker champion, which didn't please his dad.
At one stage, he made 200 not out as an opening batsman against a NSW side.
The family moved to Richmond when Jack was just 14. He played football with his brother Peter, who came from a rugby background and instilled in Jack the skills of tackling and hard hitting.
At 17 years of age, Jack Dyer made his debut versus North Melbourne and we should have realised then that we were in for something special.
The Tigers that day kicked a record score - that was the start of a legend.
I first met Jack in 1963. It was quite strange circumstances. I was playing in the under 19s and we were playing against Geelong at the MCG. In those days we started about 8.30am and it was cold and miserable. But I was excited: 16 years of age playing in my first game on the MCG.
The very first bounce of the ball . . . it was a crooked bounce. I went with the flight of the ball and was smashed from behind and went down.
I lasted three seconds: that was my entire contribution to the game.
I was carried up the race and they called an ambulance. I was lying on a bench; it was cold, miserable and dark, and I was feeling sorry for myself.
I looked up and who should be there but Jack Dyer. I'd never met Jack Dyer, I only knew him by watching him on television. He looked at me and said: "How you feeling, son?"
I think I called him Mr Dyer. I said: "I'm pretty sore. I don't feel very well."
B UT he said: "You'll be OK."And he sat there for about 15 minutes talking to me.
Now I've often wondered: "Why was Jack Dyer there?"
What a boost it was for me.
I think maybe he saw a young player go down, maybe he thought I needed some consoling, maybe he realised my parents weren't at the ground. Maybe he just wanted to come around and give me some confidence. What a fantastic thing for a bloke to do.
When the ambulance came, Jack was with me and he patted me on the head and he said "You'll be right, son, tomorrow you will be as good as gold; you'll be up and running."
When I was in hospital for two weeks, lying on my back with a 30cm scar on my side, I thought: "I don't think Jack Dyer was telling the truth."
Years later, when I broke Jack's record number of games, he was the first person to congratulate me and tell me how proud he was. We sat and we laughed. I reminded him of that time when he helped me into the ambulance.
I said: "Jack, I was in hospital for two weeks lying on my back". And he said to me: "I don't know much about hips. I know a lot about collarbones."
Jack played a huge role in the renaissance of the RFC.
I N 1943, he captain-coached a premiership. In 1944, we were runners-up to Fitzroy. We didn't play in another final until 1967. They were tough times.
Graeme Richmond came on the scene recruiting the best young players. He took a brown-paper bag full of dollars and a TV set with rabbit ears. He'd go around and chase the best young players. But the ace in the pack was that travelling with him in the car was Jack Dyer. How could you refuse?
I remember in the mid-1980s there was a story in the Sun saying Richmond was going to Brisbane. A group of us were very disappointed to read that . . . among us was Jack himself.
He had fire in his eyes, a bit like Mike Brady when he said: "Infamous Jack Dyer, breathing smoke and fire."
He was ready for a fight . . . Richmond supporters becoming armchair TV barrackers - that wasn't going to happen.
Jack went down to the club . . . every word coming from his heart, the stories of struggletown - he turned the tide. The subject was dropped and Richmond stayed in Melbourne.
Most of us can also recall 1990 when Save Our Skins was so important to the RFC. A lot of money had to be raised by the club - $1.5 million.
A lot of people didn't think it could be done. The Bulldogs had struggled to survive, South Melbourne had been shipped off to Sydney, Fitzroy were struggling and here was Richmond asking its supporters to put money into tins.
I wasn't quite certain myself . . . most people didn't think it could be done.
Jack spoke, he talked about his time at Richmond, what it meant to the people, to struggletown, to the masses. I knew then that the RFC was going to be saved by Jack Dyer.
What a pleasure it would have been to have seen him play. I can only assume it must have been a mixture of Wayne Carey and James Hird.
J ACK was an apprentice panel beater; well, the beating part was true. He was a police officer for 10 years, ran a milk bar, a flower shop and was also a publican.
He played 312 games for the Tigers, kicked 443 goals and broke 64 collarbones. He won six best-and-fairest awards - the greatest effort by any Richmond player. Those who saw him say he was unbelievably quick.
At the end of his career he kicked eight goals against the black-and-white enemy at Punt Rd, He would have loved that . . . he loathed Collingwood. The stories about not watching black-and-white television were true.
Jack played at a time when players played for the love of the game. And the game loved Jack Dyer.
Source:
heraldsun.news.com.au
---
No. 17 may be worn again
RICHMOND yesterday hinted that Tiger young gun Mark Coughlan could be honoured with Jack Dyer's famous No. 17.
Coughlan is just three seasons into his AFL career but has already earned a reputation as a leader and fearless winner of the ball.
Tigers president Clinton Casey said the club was still deciding whether to retire the jumper or hand it on to a player in the Dyer mould.
"We're looking at a number of options . . . we could put it in mothballs or give it to someone coming through the ranks,"Casey said.
He said Coughlan, 21, showed the kind of spirit and courage made famous by Dyer.
"That's the brand of footy our supporters just love to see."
Richmond websites have been bombarded with calls from fans to give the number to Coughlan.
Source:
heraldsun.news.com.au
by MICHAEL WARNER
---
Church on the hill hosts a fitting farewell
FOR more than 100 years, St Ignatius Church has watched over Richmond, guiding it through wars, the Great Depression and the good times.
And yesterday the imposing bluestone building at the top of Richmond Hill said goodbye to its greatest son, Jack Dyer.
Dyer was Richmond -- a football club legend who grew up, fought and spilled blood for his suburb in the shadows of St Ignatius Church.
Dyer, Richmond and St Ignatius have always been inseparable. The trinity began in the 1920s when young Jack was an altar boy at St Ignatius and a pupil at the primary school next door.
In the same church he would become a husband, marrying Sybil in 1939, and later would proudly look on as his children were married there.
Yesterday at 10am, on a crisp winter morning some 54 years after his last game for the Richmond Football Club, Jack Dyer's final milestone was also marked at the church on the hill. More than 800 people crowded into St Ignatius, filling the pews and lining the walls with their yellow-and-black scarfs, tiger print tops, Richmond badges and tiger striped ties.
Fans, club presidents and high-powered businessmen sat shoulder to shoulder with Tigers of old such as Sid Dockendorff and today's champions, including Wayne Campbell and Ben Holland.
For over an hour, tales of a bygone era bounced around the old church as the feats, dramas and laughs of Jack Dyer's life were retold.
The stories recalled the father, grandfather, footballer, police officer and World of Sport star.
There were laughs at memories of Captain Blood's legendary dislike of Collingwood -- "The enemy just up the road and over the hill"-- and immense pride in the man who fought to keep his club alive.
For much of his life, Dyer had carried the hopes and dreams of a struggling suburb on his broad shoulders and strong back.
Yesterday they said thank you.
After more than an hour of recollections, it was time for the church to say goodbye to its favourite son. As incense surrounded Dyer's casket, covered by a tiger pelt, the final act was over.
At 11.30, the spirit of Dyer alive in their hearts, the crowd made their way down the hill to Richmond's heartland at Punt Rd.
In front of the stand that bears the Dyer name and within sight of the St Ignatius spire, they gathered and remembered for one last time.
On a day that would have filled Jack Dyer's heart with pride and hope, one of Richmond's faithful summarised just what the legend meant.
"He was inspirational,"Ron Reiffel said. "He is Richmond."
Source:
heraldsun.news.com.au
By NICK PAPPS
---
A final roar for a fallen Tiger
Football is full of myths, legends, misconceptions and half-truths - and one of them is that Jack Dyer, or "Captain Blood"to the masses, was more hard-man than great player.
So when his old mate Bob Davis stood up to deliver his part of the eulogy to Dyer at St Ignatius in Richmond yesterday, he set the record straight immediately.
Davis pointed out that of about 11,000 men to have played league football, Dyer made the 21 who were chosen in the AFL's team of the century a couple of years ago, perhaps as one of the first picked.
Kevin Bartlett, Richmond's other most famous son, also spoke at the requiem mass yesterday, and made the same point.
"What is true is that Dyer is the greatest player in the history of the Richmond Football Club, arguably the greatest player of all time,"said Bartlett. "He has been the icon of the club, he has been the symbol of the Richmond Football Club, he has been the inspiration of the club, he's been the motivator of the club, the force behind the club. He's been the spirit of the yellow and black."
It was an emotional day for the Tigers and, indeed, for all the football community. Dyer's death last Saturday at age 89 gave Richmond people no time to prepare a proper tribute to its greatest son by the time its players ran on to the ground on Sunday.
But about 1000 people attended yesterday's requiem mass, held at the church where Dyer was an altar boy, where he was married in 1939, and where his own two children, Jack and Jill, were married. Yesterday his grandchildren led the prayers. The Richmond players and students from St Ignatius school, where he was a pupil, formed the guard of honour as the club theme song was played over the loudspeakers.
Later, back at Punt Road Oval beneath the Jack Dyer Stand, the Tiger faithful gathered around an emblem of his No. 17 guernsey etched into the turf as his family released 312 yellow and black balloons, one for each game he played for the club. Together they gave another rousing version of The Yellow and Black.
The tributes will continue when Richmond meets Hawthorn in its final game of the season on Sunday.
Bartlett said Dyer "played 312 games for the Tigers, kicked 443 goals and broke 364 collarbones". He said Dyer inspired people throughout the Great Depression and a world war.
"He gave the masses something to cheer about, he gave the masses something to smile about, something to talk about. He even gave them something to boo about,"he said.
Bartlett recalled his first meeting with Dyer, as a 16-year-old Richmond under-19s player in 1963. He had been seriously injured at the first bounce of a final and was awaiting an ambulance in the dressing rooms when the legendary figure appeared at his side. Dyer stayed 15 minutes talking to a lad he had never met, not to know that a couple of decades on the boy would overtake his club games record.
Bartlett said he had ribbed Dyer years later about his assurance that day that the pain would be gone by the next day. Bartlett was to spend the next fortnight in hospital with a hip injury. "He (Dyer) said: 'I didn't know much about hips. I only know about collarbones."
Davis, the straight man to Dyer and Lou Richards on League Teams and World of Sport, recalled their time on TV. "Dyer specialised in mangling of the English language and droll humour,"Davis reminisced. "The more serious he was, the funnier he was."
Once, said Davis, he and Richards hoodwinked Dyer into believing that his interview subject, a new Hawthorn player by the name of Bohdan Jaworskyj, spoke little English.
"He patted him on the chest and said: 'Me Jack Dyer. What your name?' The kid said: 'Bohdan Jaworskyj, Jack. What are you on about?' "
Bartlett did not attend the supporters' function at Punt Road yesterday, maintaining his estrangement from the club that sacked him as coach more than a decade ago. But his voice was breaking as he closed his tribute at St Ignatius. "Jack played at a time when the players played for the love of the game. And the game loved Jack Dyer."
Source:
Martin Blake | TheAge
❊ Web Links ❊
→
Tigerland salute | Jack [Captain Blood] Dyer
→
Jack Dyer Tribute
→
DYER, Jack - 07/07/2003
❊ Also See... ❊
→
Richmond Football Club | Tigers
❊ COVID-19 Notice ❊
Many locations have gone into lockdown as the state takes action to stop the spread of the deadly coronavirus (COVID-19).
→
Disclaimer
: Check with the operator before making plans
...
Trending HOT

Drive-In Movie Club
Drive-In Immersive Cinema Nights Are Coming to Melbourne Put together by our friends at Hot Tub Cinema, a string of family-friendly, social distancing-safe, drive-in ..

Things to see, hear & do this weekend
Make the most of your weekend in Melbourne with these fabulous events. No city does it better than Melbourne, so get out and discover the very best shows, festivals, ..
---
Update Page