The Rosie Project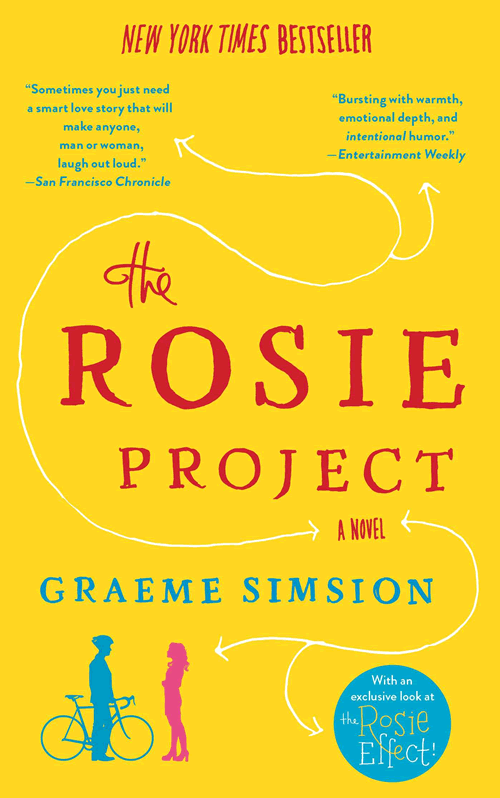 The Rosie Project is an international bestselling romantic comedy 'bursting with warmth, emotional depth, and..humor,' (EntertainmentWeekly) featuring the oddly charming, socially challenged genetics professor, Don, as he seeks true love.
The art of love is never a science: Meet Don Tillman, a brilliant yet socially inept professor of genetics, who's decided it's time he found a wife. In the orderly, evidence-based manner with which Don approaches all things, he designs the Wife Project to find his perfect partner: a sixteen-page, scientifically valid survey to filter out the drinkers, the smokers, the late arrivers.
Rosie Jarman possesses all these qualities. Don easily disqualifies her as a candidate for The Wife Project (even if she is 'quite intelligent for a barmaid'). But Don is intrigued by Rosie's own quest to identify her biological father. When an unlikely relationship develops as they collaborate on The Father Project, Don is forced to confront the spontaneous whirlwind that is Rosie―and the realization that, despite your best scientific efforts, you don't find love, it finds you.
Arrestingly endearing and entirely unconventional, Graeme Simsion's distinctive debut 'navigates the choppy waters of adult relationships, both romantic and platonic, with a fresh take (USA TODAY). 'Filled with humor and plenty of heart, The Rosie Project is a delightful reminder that all of us, no matter how we're wired, just want to fit in' (Chicago Tribune).
The Rosie Project is set in Melbourne.
Publisher: Simon & Schuster | 320 pages
ISBN 9781476729091

Buy Online
- fishpond

Buy Online
- Booktopia
❊ Web Links ❊
→
The Rosie Project
→
www.wikipedia.org/wiki/The_Rosie_Project
Trending HOT

Things to see, hear & do this weekend
Weekends are precious. Two days to do what we please. All day Saturday and Sunday to chill, fill and party to our hearts content. No city does it better than ..

Australian Open 2019
Melbourne in January means only one thing - the Australian Open. With the world's top tennis players fighting it out for the first Grand Slam title of the year, there's ..
---
→
Page Editor