The COST to unChain St Kilda!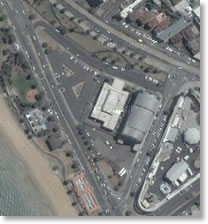 The developer of the St Kilda Triangle site has applied to have costs at VCAT awarded against unChain St Kilda Inc.. July 2009!
This action should be of immense concern to all Victorians. If successful, it will undermine one of the key pillars of VCAT - to be accessible to all citizens without fear that orders might be made against them for costs. To have costs awarded at the Tribunal would be a devastating blow to environmentalists, residents and Councils. The precedent would become a powerful deterrent to ordinary people pursuing their legal rights and participating in decisions about their future, particularly against well-resourced adversaries. Read more about the escalating threats to public interest groups.
unChain St Kilda is mounting a legal defence to ensure these fundamental citizens' rights are not eroded by vexatious developers. This time the legal fight is not just about the Triangle; it is about the democratic rights of all Victorians to participate vigorously in planning decisions.
Nonetheless, the outcome could have serious implications for the Triangle. There is no doubt that unChain St Kilda, struggling to meet its own legal costs, will not be able to bear the additional burden of the developer's costs. The entity, unChain St Kilda Inc, could be forced to liquidate, depriving the community of a strong voice, down the track, when planning permits for the Triangle are lodged. Of course, this would be to the developer's advantage.
* Please continue to support our fundraising efforts to cover these new legal costs, through direct donations or purchase limited edition prints by Mirka Mora and/or Greg Irvine. on www.unchainstkilda.org

* Write to your local MP to protest the direction planning is taking in Victoria - with more power and support for developers and the marginalisation, if not outright destruction, of the community's voice.
❊ Address & Contact ❊
⊜ Lower Esplanade and Cavell Street St Kilda |
Map
❊ Web Links ❊
→
The COST to unChain St Kilda!
→
www.unchainstkilda.org
→
unChain St Kilda - Save St Kilda Triangle
Trending HOT

The Playground Pop-Up At Fed Square
Popping up at Fed Square this summer, the Playground is the perfect pit stop on a family day out over the school holidays. The Playground is decked out with ..

Things to see, hear & do this weekend
Weekends are precious. Two days to do what we please. All day Saturday and Sunday to chill, fill and party to our hearts content. No city does it better than ..
---
→
Page Editor