Salaam Namaste - Bollywood in Melbourne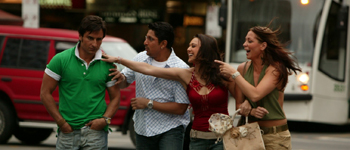 Bollywood in Melbourne
Cosmopolitan and stylish Melbourne has provided the backdrop for India's latest blockbuster Bollywood film Salaam Namaste.
Salaam Namaste is the first Indian movie filmed entirely in Australia using various locations in Melbourne and regional Victoria, including the magnificent Great Ocean Road and Rye Beach on the Mornington Peninsula.
Various Melbourne landmarks, including Federation Square and the grand General Post Office building appear in the film which features Indian superstars Preity Zinta and Saif Ali Khan.
Salaam Namaste is a $2.5 million film by India's largest production company, Yash Raj Films. Filming began in Melbourne in April and the film is expected to be released in August.
The film is about two Indians who have left their homes to make a life on their own. It's about a year in their lives and how they meet and tackle their own relationships and overcome problems without their families.
Director Siddharth Anand had been planning to shoot the film in San Francisco, but after a visit to Melbourne in 2004 was impressed by the city's architecture, variety of settings and clear light for filming.
Source:
Visit Melbourne
Reviews
Review by Jake Wilson:
I write this review as a proud Melburnian, so readers from elsewhere may take it with a grain of salt. Still, for locals who enjoy seeing their city on film, Salaam Namaste is the most unmissable event since Jackie Chan came to visit in the mid-1990s: three hours of synchronised dance numbers, farce, melodrama and general Bollywood craziness against a background featuring all our most photogenic tourist landmarks from the Fitzroy ...
Source:
Urban Cinefile
9MSN
- Join us as we say 'Salaam Namaste' down under in the city of Melbourne. He's a Chef; she's a Radio Jockey. They're young, they're cool, they're independent - and together they make the BEST pair!
==============
India flocks to Down Under movie
By Marc Moncrief
October 14, 2005
AUSSIE fever has swept the world's second most populous country since Salaam Namaste, the first Bollywood film produced completely in Australia, hit Indian screens.
The movie, based and filmed on location in Melbourne with a budget of $US2.5 million ($A3.3 million), had grossed $US7.5 million worldwide in its first three weeks.
"It's now the top-grossing Indian film in the world this year,"said Film Victoria spokeswoman Shae Quabba. Ms Quabba said that since the film had been released, Indian producers had shown great interest in coming to Australia.
Mitu Lange, the film's line producer, said it featured recognisable Melbourne and Victorian images, including the Great Ocean Road, central Melbourne and Chapel Street. "For a lot of Indians, Melbourne is very special because the MCG is here,"Ms Lange said.
Describing the film, which features Australia's Tania Zaetta, Ms Lange said: "It's about two young people who are away from India who are staying in Melbourne. One is a chef, one is a radio jockey and every time she comes on air, she says, 'Good morning, Melbourne'."
Or, as a reader on a Hindi film website wrote: "A dishy look at mores, sexual or otherwise, in the extremely urban setting of mouth-watering Melbourne, Salaam Namaste bends the rules of mainstream Hindi cinema."
Salaam Namaste is showing on 500 screens, including 300 in India. Production company Yash Raj expects 300 million people will see the film.
"It's the best promotion Melbourne and Victoria could ever have done,"said Andrew Bailey, South Asian marketing officer for La Trobe University, which features prominently in the movie.
Interest in Australia's future as a Bollywood production house was confirmed last month when media conglomerate Swish Group acquired 51 per cent of Black Cat Films, the Melbourne company that brought Salaam Namaste to Australia. Black Cat managing director Marcus Georgiades said Salaam Namaste had grossed $450,000 on nine screens in Australia. "In its opening two weeks it had the highest or second highest screen average in the country - higher than Charlie and the Chocolate Factory,"he said.
A spokeswoman for Tourism Victoria said it had contributed $10,000 to the production. "It's unheard of to have that level of exposure from that kind of investment,"she said.
Tourism to Victoria from India has risen an average 14 per cent a year over the past decade.
Source:
The Age
=====================
Bollywood on Bourke Street
By Mark Phillips
May 13, 2005
The first Indian movie filmed entirely in Australia is taking shape in Melbourne and regional Victoria.
The news has spread like wildfire, and by midnight there are several hundred onlookers lining the street, craning their necks for a view of their idols.
Old ladies, young children, teenagers and working men, many dressed in salwar kameez or turbans, pass around samosas, pakoras and other snacks. Across the road, the director has a long conversation in Hindi with his two star actors, while the crew busies itself setting up lights and camera angles for the next scene.
The meeting between the director and cast breaks up, and everyone takes their positions.
"Sound!"yells director Siddharth Anand as he crouches over a monitor, and the syncopated rhythm of a Hindi-English pop song, What's Going On blares from the temporary speakers.
The camera rolls for a few seconds before he yells, "Cut!".
It's early on another long night of filming of Salaam Namaste, the latest blockbuster by India's largest production company, Yash Raj Films. But this is downtown Melbourne, not Mumbai.
Advertisement
AdvertisementSalaam Namaste is a $2.5 million production the Bracks Government is hoping will make Melbourne an outpost of India's Bollywood, one of the world's largest film-making centres.
Salaam Namaste is the first Indian film to be fully shot in Australia, using various locations in Melbourne and regional Victoria, including the Great Ocean Road. Starring India's equivalents of Julia Roberts (Preity Zinta) and Brad Pitt (Saif Ali Khan), it is expected to reach a global audience of about 300 million when it's released on the big screen in August.
Shooting began at the start of April, and will continue until next month. "It's about two Indians who have left their houses to make a life on their own, and how they meet and how they tackle their own relationships and problems and overcome them themselves without their families,"says 26-year-old Anand, who also wrote the script for his debut feature as director.
"It's a slice of that couple's life in that one year they spend together."
Not that the plot is that important in a Bollywood film, which aspires to do little more than provide a few hours of escapism for India's teeming masses with comedy, romance and a sprinkling of over-the-top musical numbers.
Anand had been preparing to film Salaam Namaste in San Francisco when he visited Melbourne last year on the recommendation of a friend who had been one of eight up-and-coming directors invited to the Victorian capital for a Bollywood festival.
Anand was blown away by the city's architecture, variety of settings and clear light for filming.
"They wanted a place that was very multicultural and cosmopolitan,"says Mitu Bhowmick Lange, an expatriate Indian who is the film's line producer."But they also wanted a quaintness and charm to it (just like) Melbourne."
Film Victoria provided financial incentives through its regional film assistance fund, along with practical help to scout locations and assemble a production crew.
Film Victoria's chief executive, Sandra Sdraulig, says the volume of films made in Bollywood presents an opportunity too good to pass up. "One of the reasons why Indian crews are sometimes attracted to other locations is because they have an incredibly healthy production industry where they're often making up to 1000 films a year,"she says.
"No doubt Salaam Namaste will be a catalyst for Indian producers to consider Victoria when filming in the future, because word of mouth is critical."
About 3.2 billion people see Bollywood films each year, compared with 2.6 billion who watch Hollywood productions.
When this writer visited the set on a balmy autumn night in the Bourke Street Mall, the crew was filming the movie's final song sequence. After editing, the scene will show Zinta and Khan in front of various Melbourne landmarks, including Federation Square and the grand General Post Office building.
Salaam Namaste will contain five songs, including the title sequence. The biggest scene so far involved 60 dancers on Rye beach, on the Mornington Peninsula.
After working together since the start of March, the 70-strong crew - split 60 per cent Indian, 40 per cent local - has developed a quiet rapport. The Australians have learnt a few words of Hindi, while the Indians mock their broad ocker accents.
"The working style is very different but we're adjusting to each other,"Anand says. "In India you're spontaneous, you're ready for anything. We're used to chaos, but the Australian crew is coping with us."
It will be another long night for the Salaam Namaste crew, with filming expected to finish not long before dawn.
Well after midnight, the crowd of hundreds of expatriates watching from the other side of the tram tracks show no signs of leaving.
"Everywhere we go, it starts with one, and soon grows to 10,"says Lange.
"Tonight we parked in front of a 7-Eleven and the Indian guy inside got on the phone straight away, and that's how they all get here. "Will they ever go home?"
- AAP
Source:
The Age
======
Trivia
: The role of the woman and her baby that Nick meets in the bookshop was played by Maria Goretti, Arshad Warsi's wife and Zeke, his son as they happened to be in Melbourne while the crew was filming.
More sources:
www.yashrajfilms.com
Movie Trailers
Salaam Namaste
- From Wikipedia, the free encyclopedia.
Salaam Namaste (Urdu and Hindi greetings, respectively) is an Indian Bollywood movie released on September 9, 2005, directed by Siddharth Raj Anand and produced by Aditya Chopra and Yash Chopra. It is about two Indians living in Australia and follows one year of their lives, dealing with their problems and relationships.
❊ Web Links ❊
→
Salaam Namaste - Bollywood in Melbourne
❊ COVID-19 Notice ❊
Many locations have gone into lockdown as the state takes action to stop the spread of the deadly coronavirus (COVID-19).
→
Disclaimer
: Check with the operator before making plans
...
Trending HOT

Drive-In Movie Club
Drive-In Immersive Cinema Nights Are Coming to Melbourne Put together by our friends at Hot Tub Cinema, a string of family-friendly, social distancing-safe, drive-in ..

Things to see, hear & do this weekend
Make the most of your weekend in Melbourne with these fabulous events. No city does it better than Melbourne, so get out and discover the very best shows, festivals, ..
---
Update Page