Street Name Origins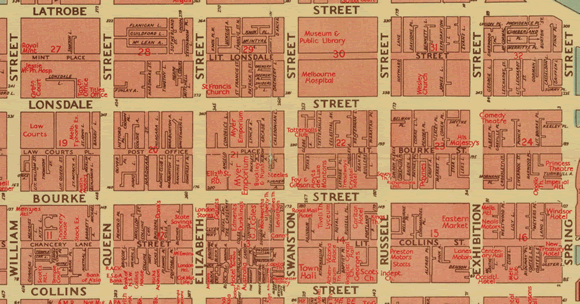 The debate over who actually named Melbourne's streets, and to whom those names indeed refer, is less important than their evolving role as socio-cultural signifiers.
It was a Richard Bourke not Sir Richard Bourke who named many of Melbourne's streets, but as street names were initially chaulked on blackboards, names were often changed by fancy.
Here are some of the origins...
STREET NAMES
A'Beckett Street

William A'Beckett - Chief Justice of Victoria 1852.
Bourke Street

|
Sir Richard Bourke
, Governor of New South Wales.
Collins Street

|
Lieutenant Colonel David Collins
Elizabeth Street

The wife of Governor Bourke, although there is a difference of opinion. It was stated in a Melbourne publication that it was a compliment paid by Sir Richard Bourke to one of his daughters; but I am assured, on the authority of Mr. Hoddle, that it was meant for Elizabeth, the Virgin Queen of English history. Source: Whitehat.
Exhibition Street
(previously Stephen Street)

Named after the world-listed Royal Exhibition Building and its 1880 exhibition.
Flinders Street

Mathew Flinders - Explorer
Hoddle Street

(not in CBD) Robert Hoddle - Surveyor General of Victoria responsible for the Melbourne street grid |
Hoddle Street
.
King Street

Phillip Gidley King - Govenor of N.S.W
La Trobe Street

|
Charles Joseph La Trobe
- First Governor of Victoria.
Interestingly, the suburb of Jolimont got its name from a remark by La Trobe's wife on first seeing what later became
Jolimont
.. "joli mon"meaning beautiful little hill. Subsequently, the first Government House was erected in Agnes Street (first child), Jolimont.
Little Bourke Street

Started as Synagogue Lane, then Little Queen Street, then Bourke Lane. See above for Bourke Street
Lonsdale Street

Captain William Lonsdale - 4th Regiment Infantry
Queen Street

Queen Adelaide - Wife of William 4th.
Russell Street

Lord John Russell - British Prime Minister.
Stephen Street
(now Exhibition Street)

W.J. Stephens - Under Secretary of the Colonial Office.
Spencer Street

Lord John Spencer - British Prime Minister 1834-1837
Spring Street

Thomas Spring Rice Chancellor of the Exchecquer.
Swanston Street Walk

Captain Charles Swanston, a Tasmanian banker and prominent member of the Port Phillip Association.
William Street

King William 4th.
OTHER NAMES
A
ACDC Lane (formerly Corporation Lane) after the rock group
AC/DC
whose career commenced in Melbourne.
Amphlett Lane after late Divinyls singer
Chrissy Amphlet
B
Banana Alley, Melbourne
C
City Square, Melbourne
D
Dame Edna Place (formerly Browns Alley) after the character played by Melburnian
Barry Humphries
.
E
F
Franklin Street celebrates the Governor of Van Diemen's Land and Arctic explorer, Sir John Franklin.
G
H
Hardware Lane, Melbourne
J
Jacobys Lane, North Melbourne: Louis Jacobe, arrived in Melbourne from Darmstadt, Germany on December 26 1853, aboard the 'Countess of Yarborough; aged 27.
Louis was a master butcher and settled in North Melbourne.
On February 12, 1861 Louis Jacobe married Dorothea and they lived at 10 Arden Street, Hotham Hill (now known as North Melbourne) and later, in 1882, Louis and Dorothea lived at the butcher's shop at 256 King Street Melbourne.
Henry Jacobe, was their first born on December 21, 1861. Henry took over his father's flourishing butcher shop in North Melbourne. Henry married Elizabeth and they lived at 18 Chetwynd Street and 256 Franklin Street West Melbourne.
Deliveries of bulk meats were carried out by horses and carts through the laneway, where the shop existed. The laneway became known locally as 'Jacobys Lane'; a street name that still exists in North Melbourne today. The name Jacobe had origins from France/Germany and had originally been spelt with an 'e' acute. It is pronounced 'Jacobay' and is often misspelt; ending in 'y' or 'i', and we think that the Laneway was named after the family.
K
Kitz Lane
, Melbourne is named after Swiss-born Louis Kitz, who arrived in Melbourne with his family aboard the ship Barrackpoore in February 1853. He settled in Geelong and became a watchmaker, jeweller and silversmith. Later he moved back to Melbourne and became a well-known wine merchant, promoting the fledgling Victorian colonial wine industry. Kitz was an innovator - he was one of only 12 subscribers to the first Melbourne telephone directory and it is claimed that he established the cider industry in Australia.
L
M
N
Q
R
S
V
W
THE NAMING OF THE STREETS
The way we look at the Melbourne of today, with its broad, crowded, well-paved Streets, its fine buildings, its river, wide, navigable, full of shipping, it seems incredible that this is identical with the Melbourne of 150+ years ago.
Then the Yarra or the Burarrung, as the natives called it, was a rather shallow stream, fringed to the water's edge with titree scrub, and rendered most dangerous for navigation by sunken trees and roots. On its banks was a small hamlet containing in 1837 less than 500 people, whose dwellings covered so small a proportion of our Melbourne that people who lived as far out as Lonsdale Street were said literally to "live in the bush."
Such was the state of things when Governor Sir Richard Bourke landed here in March, 1837. The settlement, whose unpronouncable native name of Narrn had been discarded for Captain Sturt's barbarism of Bearbrass, though it was more simply and generally called "the settlement"or "the township,"was laid out and surveyed under Governor Bourke. The Governor landed from the Rattlesnake in March, 1837, and almost at once set to work to plan what he considered a model town.
Sir Richard had ideas on Streets, but Mr.Hoddle, who did all the work in the matter, had other ideas, and it is really through his obstinate courage in opposing his theories to those of his chief that Melbourne has such a sufficiency of Street room today. Bourke made the town of a partly rectangular shape, with a frontage of about a mile to the river, and a depth of three quarters of a mile. His chief hobby in regard to Streets was that each wide Street should have a narrow one behind it, as a sort of personal attendant, like knight and esquire, or gentleman and valet. He also considered that big Streets should not exceed 66ft. in width. Hoddle by dint of much persuasion induced Bourke to agree to a width of 99ft. for big Streets, while he withdrew his opposition to the Governor's affection for "lanes,"and made the satellite Streets, 33ft. wide.
In Hoddle's journal appears this entry: -"In 1837, after marking out the Streets, Sir Richard Bouike came early one morning into my tent, and gaive me a list of the names ot the Streets."The old town is that portion now enclosed by the river, Spring, Latrobe, and Spencer Streets. It was small, but for years no one dreamed of extension.
The Street that ran along the river front was called after Captain Flinders, who had entered Port Phillip on 6th April, 1802, and navigated the harbour. Collins Street was named in honour of Colonel Collins, commandant of the convict settlement of 1803. Bourke Street took its name from the Governor, and Lonsdale Street from the first legal functionary-Captain Lonsdale, P.M. -the settlement possessed. Lord Spencer, a member of Lord Melbourne's Administration, was honoured in Spencer Street, Governor King (of New South Wales) in King Street, while William Street was called after the then reigning monarch, William IV., and Queen Street after his consort, Queen Adelaide. Elizabeth Street, as has been pretty well proved by recent correspondence in "The Argus"was named by Sir Richard Bourke after his wife, who died at Parramatta five years prior to the plotting out of Melbourne. Mr. Finn, in his "Chronicles of Early Melbourne"hints that the Street might have been called after one of Bourke's daughters - Lady Deas Thomson, as an old colonist has suggested.
But none of Bourke's daughters bore the name Elizabeth. Mr. Hoddle's idea, adopted by Finn, that Queen Elizabeth was meant to be commemorated, is not supported by any evidence. Councillor William Levers, as his son has shown, was specifically told by Bourke, in England, that he named Elizabeth Street after his wife. Swanston Street was named after the chairman of the Batman Association, Russell Street after Earl Russell, Stephen Street (now Exhibition Street) after the then Permanent UnderSecretary of State for the Colonies.
There are two explanations in Mr. Finn's work for the naming of Spring Street. One is that the gay vernal appearance the white and black wattles gave to the hill on which Parliamenthouse and the Treasury now stand suggested it to the Governor. The other, and one that looks far more probable, is that it was named in honour of Thomas Spring Rice, afterwards Lord Mounteagle, a great British statesman, who was the private friend and political patron of Sir Richard Bourke.
When Mr. Latrobe arrived in 1839 he named the northern boundary road after himself. In the original plan Market Street was not provided for. It was made and named on the suggestion of Mr. Russell, the first head of the Survey department.
A few years later Therry, A'Beckett, and Jeffcott Streets were formed, and named after three of the early judges. Franklin Street celebrates the Governor of Van Diemen's Land and Arctic explorer, Sir John Franklin. These Streets, though in places partly macadamised, were merely decent bush tracks. Great gum tree stumps rose like monuments both in the Streets and on the allotments. Swanston Street was specially noted for the number and variety of its stumps, while one which adorned the edge of Collins Street, where the Criterion Hotel was built in after years (now the site of the Union Bank) was of such magnitude that the front wall of the first wooden building had to be deviated to avoid the obstacle.
All the Streets were bad, especially in winter, but the worst was reached by Elizabeth Street. A creek called "the Williams"which had its source in the hollows of what is now the Royalpark, had torn a course right down Elizabeth Street, to the river. It was deep and miry-deep enough and miry enough to entomb a waggon and horses. The Street was the horror of the citizens, and when the corporation was formed in 1842 its in maintenance proved the greatest drain on the city funds.
Wide planks were laid across the creek at the chief crossing places, but after heavy rain the Street was quite impassible. In such circumstances we can appreciate the humour of the wag who advertised for 1,000 pairs of stilts for the use of the townsfolk.
Another humourist, who must surely rank as the earliest of our "poets,"ironically expressed his sentiments thus :- "A beautiful town is Melbourne, All by the Yarra side; Its Streets are wide, its Streets are deep; They are both deep and wide. "Escaping from one quagmire There's room enough for more, Such a beautiful town as Melbourne Was never seen before."
WHAT'S IN A STREET NAME
"Name dropper"That's what Melbourne historian Weston Bate calls Sir Richard Bourke, the visiting NSW governor who in 1837 labelled Melbourne's central thoroughfares.
Royalty, aristocracy, judiciary and explorers were Sir Richard's forte. He left behind an Anglocentric, gridiron snapshot of the early 19th century's great and good.
But Melbourne's lanes and alleys offer a more down-to-earth record of the city's evolution. "The lanes really grew their own names,"Professor Bate, president of the Royal Historical Society of Victoria, said.
With some 115 entries, the society yesterday launched its first handy reference guide to the names of Melbourne's streets and lanes.
Aimed at visitors and Melburnians, the pocket brochure explains the origin of most of the city's streets, lanes and alleys. According to Professor Bate, the early lanes sprang up as Melbourne's settlers subdivided the big blocks between Sir Richard's grand streets into more manageable units.
Many lanes were filled with workers' cottages. "People often named them after pubs and hotels on corners,"Professor Bate said.
No fewer than 21 entries can be traced back to gold-rush Melbourne's affection for alcohol.
Professor Bate's favourite, the cobbled Niagara Lane, lies nestled between well-preserved, red-brick warehouses off Lonsdale Street where the Niagara Hotel plied its trade.
Later, as Marvellous Melbourne boomed, lane names recorded the city's burgeoning specialist trade areas and long-vanished businesses - Hosier Lane off Flinders; Kirks Lane, once home to Kirk's Horse Bazaar between Swanston and Queen Street; biscuit baker TB Guest and Co in William Street is remembered by the eponymous lane between Lonsdale and Little Bourke.
However, some memories have all but been erased. Romeo Lane and Juliet Terrace near the Princess Theatre were once infamous dens of love of a commercial, rather than star-crossed nature. According to Professor Bate, Melbourne councillors reacted by attempting a futile rebranding exercise.
"The good city council decided they would have to change the names and so they became Liverpool and Crossley Streets,"he said. "But of course the brothels remained."
Melbourne's Streets and Lanes is available free from the society's offices in A'Beckett Street (named after Victoria's first chief justice Sir William A'Beckett) and at the visitor centre at Federation Square.
Source :
Whats in a street name?
- The Age : Andrew Webster : February 19, 2004
CITY OF MELBOURNE
In 1837, Governor Bourke on his promotion to lieutenant-general, named the town of Melbourne after Viscount Melbourne the U.K. Prime Minister.
View Larger Map
MISSED?
If you know of a street name or laneway we do not have here, please let us know using the contact us button below.
Contact Us
❊ Notice ❊
Many locations have gone into lockdown as the state takes action to stop the spread of the deadly coronavirus (COVID-19).
→
Disclaimer
: Check with the venue before making plans
...
❊ Web Links ❊
→
Street Name Origins
❊ Also See... ❊
→
Funny Melbourne Street Names
Trending HOT

Drive-In Movie Club
Drive-In Immersive Cinema Nights Are Coming to Melbourne Put together by our friends at Hot Tub Cinema, a string of family-friendly, social distancing-safe, drive-in ..

Things to see, hear & do this weekend
Make the most of your weekend in Melbourne with these fabulous events. No city does it better than Melbourne, so get out and discover the very best shows, festivals, ..
---
Update Page