Pet Medical Crisis Fund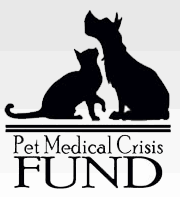 The Pet Medical Crisis Fund has been opened in association with the treating veterinary surgeons such as the Pet Emergency and Specialist Centre in Malvern, to provide financial assistance to pet owners who cannot afford emergency surgery or treatment for their pets.
Founding member, Jed Hunt, whose medical costs over a year for 3 bouts of ruptured spinal discs came to $30,000 highlighted the need for a fund to help owners and uninsured pets in crisis.
When paying the first $11,000 bill Jed's owner, Jennifer Hunt asked how most people can afford this, to be told that most people would not have gone ahead with surgery and would have had to have their pet euthanized.
The thought of having to give up on your pet often for the sake of $1,000-$2,000 - particularly for pensioners, families and people whose life-line is so often their pet - would be horrific, heartbreaking and creates an emotional demoralization. And so the idea of the Pet Medical Crisis Fund was formed.
Jennifer Hunt is a registered nurse who will act as the independent administrator of the fund. Owners are primarily encouraged to get pet insurance to avoid unexpected emergency costs.
The Fund relies on community donations and income from the sale of 'Dog-A-Long' Walking Harnesses for dogs with mobility problems.
Donations
Tax deductible donations can be made at any Westpac Bank; or online using BSB 033047 A/C 486125.
Individuals or groups using or joining Aussie Farmers Direct can also contact them on 1300MILKMAN to nominate Pet Medical Crisis Fund to receive a 2% contribution of all purchases to the fund.
Funds collected into the Pet Medical Crisis Fund will be strictly not-for-profit. Funds ONLY go to the benefit of pets whose owners can't afford their emergency care.
No funds benefit either the fund administrators or the Pet Emergency & Specialist Centre. No salaries are drawn from the Pet Medical Crisis Fund donations - all committee and fund-raising participation is voluntary. No parties involved have any vested interest in creating the fund other than as a community support project.
Appropriate cases for assistance will generally meet a criterion established by the Pet Medical Crisis Fund and veterinary staff:
- a genuine person or family (i.e. not a person attempting to take advantage of the services provided or the PMC Fund)
- a person or family who cannot afford to undertake necessary treatment of their pet
- a pet that would otherwise be salvageable and go on to live a happy, healthy and supported life
If, following offers of a reduced fee (e.g. for a registrar-supervised surgery etc), the owner is still unable to afford the pet's treatment, the administrator of funds, Jennifer Hunt, will be contacted to determine what monies are available to assist.
If owners are able to proceed with available assistance then the money from the PMCF will be made payable to the treating veterinary practice for that pet's bill. This is done directly (i.e. no funds go directly to owners).
The Fund has attracted much media attention reflecting strong public empathy since it started in 2010 - including local papers, the Victorian Herald-Sun, Chanel 9's Today Show and National 9 News.
We welcome support, donations and purchases of the 'Dog-A-Long' Walking Harnesses through our website www.petmedicalcrisisfund.com.au to benefit the Pet Medical Crisis Fund and to save the lives of pets whose owners desperately want to get them home.
Telephone enquiries: Jennifer 0401 133 991
❊ Web Links ❊
→
Pet Medical Crisis Fund
→
www.petmedicalcrisisfund.com.au
→
www.ninemsn.com.au
→
Aussie Farmers Direct @ OnlyMelbourne
→
www.aussiefarmers.com.au
Trending HOT

Things to see, hear & do this weekend
Weekends are precious. Two days to do what we please. All day Saturday and Sunday to chill, fill and party to our hearts content. No city does it better than ..

Melbourne International Flower & Garden Show 2019
Presented by Lawn Solutions Australia Returning for it's 24th year, the Southern Hemisphere's leading floral & landscape design event is set to delight guests. ..
---
Update Page Request