Midnight Oil 1984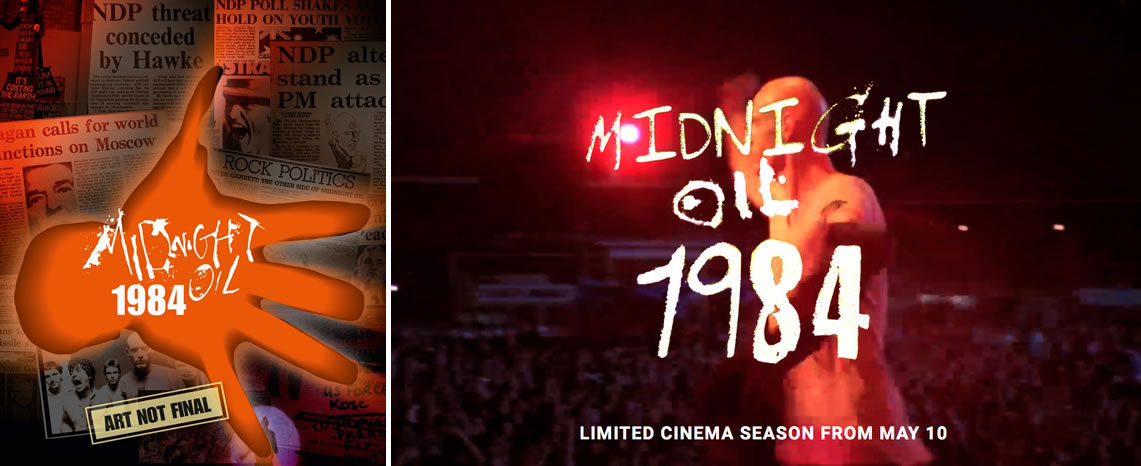 A vivid portrait of the era and the songs that embodied it.
MIDNIGHT OIL 1984 is the story of the sweat-soaked, hardworking rock and roll band whose music galvanised a generation of young Australians and inspired them to believe in the power of music to change the world.
Featuring the biggest hits from some of their most legendary shows, the movie gives you an Access All Areas pass to see the band behind the scenes and where the action is. Feel the electric energy on stage and witness the personal struggles of the band members as they try to balance the equally compelling demands of both music and politics when lead singer Peter Garrett decides to join the race for an Australian Government Senate seat.
MIDNIGHT OIL 1984 is an up close and personal look at the iconic rock band, seen on the big screen for the first time.
Midnight Oil 1984 - Official Trailer
Review: Midnight Oil 1984
The new Australian documentary Midnight Oil 1984 follows the groundbreaking rock band on a national tour where their popularity not only vaulted to a new level, but their lead singer, Peter Garrett ran for the Senate in a federal election.
If you were at one of those ferocious outdoor gigs that year, chances are there's a trace element of your voice in the finished film .
'' Often with a lot of live concert material that you see filmed the point of mixing it is to get the audience out, but with this film it felt wrong that when you see an active audience you can't hear them. We spent a long time making the audience a part of the film ,'' says the movie's director, Ray Argall. '' There's a really strong story to it, but when the music is up there you had to feel it.''
Rock documentaries that look back are too often either coronations after the fact or are driven by nostalgic longing, but Midnight Oil 1984 has such a palpable energy - as sound and as a shared experience - that it exists as more than a period piece. Promoting their fifth studio album, and the first to top the Australian charts, Red Sails in the Sunset, the group perform as one, from Garrett's electric current limbs to drummer Rob Hirst's charging backbeat.
'' It wasn't about the lead singer being up front, commanding the audience, it was about how every person on stage worked together and communicated,'' Argall notes. '' The communication between them is incredible. It's still a rock and roll concert, but the way they communicated was really important.''
Despite this, the documentary was in a state of limbo for 25 years. Then in his mid-20 s, Argall had already made several film clips with the group and shot live shows, so when Midnight Oil expressed an interest in filming a show on the tour he tagged along from the start to capture footage. But the sound from what was to be the source gigs, at Sydney's Hordern Pavilion, never satisfied the band, and the project was put on hold.
Periodically Argall, who went on to direct the features Return Home and Eight Ball as well as episodic television, would check in with the band's long-time manager, Gary Morris Vasicek, about working on the material. Argall had more than 8500 metres of footage, a substantial archive that he transported from Melbourne to Sydney, where he now lives, but even while he kept it safe his memory of it became clouded by time's uncertainty.
'' It's a feeling where you have something ingrained in your mind, like these beautiful gum trees that were a backdrop in the Adelaide Gardens,'' Argall says. '' Then there are things that I have no memory of that we obviously shot, because we have the proof.''
Eight years ago he began to work with the footage, assiduously matching footage Argall shot by himself on a 16mm camera with existing concert recordings. It was a giant jigsaw - because film stock was so expensive, there were few song-length takes. When he had enough sequences to reassure himself that he had more than an '' expensive home movie'' , Argall visited the band members, who had put Midnight Oil aside in 2002 after a storied career.
Hirst and guitarists Jim Moginie and Martin Rotsey were still creatively involved (bassist Peter Gifford had departed in 1987), and their first question was '' have you spoken to Pete?'' . Garrett, then a Labor party MP and federal minister as part of his second political tilt, asked what '' the boys thought?'' . With their eventual joint blessing Argall got to work, although advanced plans to counterpoint the 1984 material with their contemporary careers was put aside after Midnight Oil reunited 2017's world tour.
'' As I started to build the songs up the audience's participation became more and more apparent,'' Argall says. '' The [Red Sails] album had only just come out, but they were singing every single word. If you went to any of the recent concerts, you saw the same thing. It was great music, but it also genuinely meant something to the audience.''
The connection between Midnight Oil's political views and their often rapturous audience's beliefs outside the music has long been debated, and in his contemporary interview Garrett positions the events of 1984 as evidence of a genuine influence . His lastminute decision to stand for the Senate in NSW as a candidate with the fledgling Nuclear Disarmament Party (NDP) gave focus to the band's fears about the Cold War between the United States and Soviet Union ending in nuclear obliteration.
Labor, fearful of losing the youth vote, attacked the NDP as a one-policy party, and despite receiving an impressive 9.6 per cent of the primary vote, Garrett fell short of a quota. But another way of looking at Midnight Oil 1984 politically is in the footage of a burgeoning Australia leaving behind a stalled Commonwealth economy for a new commercial order. While they were attacking the NDP, Prime Minister Bob Hawke and his treasurer, Paul Keating, were also laying the groundwork for globalisation.
'' The integrity is still there,'' says Argall of Garrett and his bandmates, and the connection between the 1984 seen in the film and the Australia of today is the ongoing separation of the generations coming of age and the ones that hold the reins of power.
'' What you're seeing,'' Argall notes, '' is another group of people who were in their 20s and trying to deal with the world.''
Midnight Oil 1984 is in cinemas until Wednesday, May 16.
CRAIG MATHIESON | This article is from the May 11, 2018 issue of The Age Digital Edition.
To subscribe, visit https://theage.digitaleditions.com.au/
DVD: Midnight Oil 1984
DVD from DVDLand
Note: All our DVDs are new Australian region 4 DVDs made for Australian DVD players.
❊ Web Links ❊
→
Midnight Oil 1984
❊ COVID-19 Notice ❊
Many locations have gone into lockdown as the state takes action to stop the spread of the deadly coronavirus (COVID-19).
→
Disclaimer
: Check with the operator before making plans
...
Trending HOT

Drive-In Movie Club
Drive-In Immersive Cinema Nights Are Coming to Melbourne Put together by our friends at Hot Tub Cinema, a string of family-friendly, social distancing-safe, drive-in ..

Things to see, hear & do this weekend
Make the most of your weekend in Melbourne with these fabulous events. No city does it better than Melbourne, so get out and discover the very best shows, festivals, ..
---
Update Page