Melburnian of the Year | Susan Alberti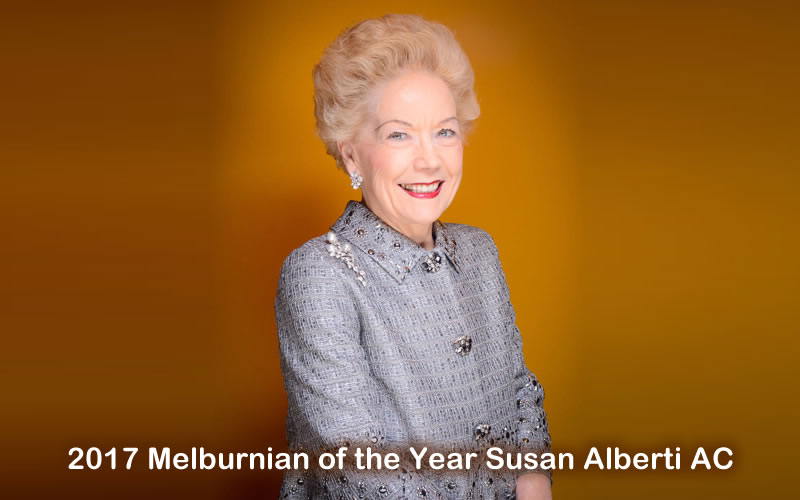 Susan Alberti named 2017 Melburnian of the Year
The inspirational businesswoman, fundraiser, philanthropist and footy fanatic was honoured for her lifelong work to help find a cure for diabetes.
Melburnian of the Year
2017: Susan Alberti AC
Lord Mayor Robert Doyle AC has announced Susan Alberti AC as the 2017 Melburnian of the Year at the annual Melbourne Awards Gala Ceremony at Town Hall.
The Lord Mayor congratulated Susan on receiving the city's highest accolade.
"It gives me great pleasure to name Susan the 2017 Melburnian of the Year after a lifetime of tireless work in service to our community," the Lord Mayor said.
"Not only has Susan raised millions of dollars for diabetes research but she has given generations of young diabetes sufferers hope that a cure may one day be found.
"Her commitment to her community and greater Melbourne has made her an inspiration and her legacy will be felt for many decades to come."
Mrs Alberti co-founded the DANSU group with her late husband Angelo 45 years ago, with the pair quickly becoming devoted fundraisers. She founded the "Walk for the Cure" around Albert Park Lake, which to date has raised more than $40 million towards diabetes research.
In 1997, Mrs Alberti received her AM (Member of the Order of Australia) for her contribution towards the cause of diabetes research.
In 2004 she became a Board member of the Western Bulldogs Football Club, becoming Vice President in 2012 and twice being named a finalist for the Australian of the Year Award.
Mrs Alberti was awarded her AO (Officer of the Order of Australia) on Australia Day in 2007 in recognition of her long and outstanding contribution to major medical research institutions. In 2016, Mrs Alberti was made a Companion of the Order of Australia (AC): Australia's highest award.
Mrs Alberti said she was honoured to be recognised by the Melbourne Awards committee.
"It is a great honour to be recognised as Melburnian of the Year," Mrs Alberti said.
"My commitment to drive better treatment, prevention and a cure for Type 1 diabetes is in memory of my daughter Danielle who died a premature death to the chronic disease, as well as the 140,000 other Australians who suffer from it."
"I intend to use the next 12 months as Melburnian of the Year as a platform to raise awareness and support for Type 1 diabetes, including our wonderful, world-class research community located in Melbourne who are working hard toward a cure."
The 2017 Melbourne Awards also celebrated the contribution of eight corporations and community organisations that have had an impact on Melbourne's success.
The independent judging panel for the 2017 Melbourne Awards included 40 business and community leaders across a range of industry sectors.
Melburnian of the Year
A Melbourne Award is our city's highest accolade. The award provides the City of Melbourne with a platform to celebrate the inspirational achievements of people and organisations whose passion and commitment have helped make Melbourne one of the most liveable cities in the world.
The awards celebrate significant contributions in the areas of environmental sustainability, community, multiculturalism and strengthening Melbourne's profile.
All winners will be announced at a gala ceremony at Melbourne Town Hall on Saturday 17 November 2018.
Previous Melburnian of The Year
2016: Neale Daniher AM
Neale Daniher AM is the Patron and Vice President for the Cure for MND Foundation.
2015: Bryan Lipmann AM
Chief Executive Officer and founder of Wintringham Specialist Aged Care.
2014: Professor Sharon Lewin
Professor Lewin is an internationally renowned researcher in HIV cure and the inaugural Director of the Doherty Institute for Infection and Immunity.
2013: Major Brendan Nottle
He has become the face of our beloved Salvos, given them a higher profile and selflessly committed his life to help the downtrodden, especially Melbourne's homeless people.
2012: Michael Gudinski
Born and raised in Melbourne, Michael Gudinski built his empire, including the Mushroom Group and Frontier Touring Company, in his hometown.
2011: Harold Mitchell
Prominent businessman and media buyer, for his contribution to Melbourne's arts, health and education sectors.
2010: Jim Stynes
Melbourne Football Club president, for his tireless dedication to the welfare of Victoria's youth through his work with the Reach Foundation.
2009: Susan Barton
A founder of the Lighthouse Foundation, for supporting the youth of Melbourne.
2008: John Bertrand
A former America's Cup winning skipper, for his charity work.
2007: Lyn Swinburne
Breast cancer crusader and creator of the pink field of women events.
2006: Ron Barassi
AFL great, for inspiring others and his overall contribution to Melbourne.
2005: Andrew Gaze
A champion basketballer, inaugural Melburnian of the Year for his "outstanding contribution" and for "tirelessly giving back to both his sport and the wider community".
❊ Web Links ❊
→
Melburnian of the Year | Susan Alberti
→
www.melbourneday.com.au
→
www.melbourne.vic.gov.au
❊ Also See... ❊
→
Melbourne Day 2019
→
Wintringham
Trending HOT..
---
→
Page Editor