Melbourne | Wikipedia | Page 2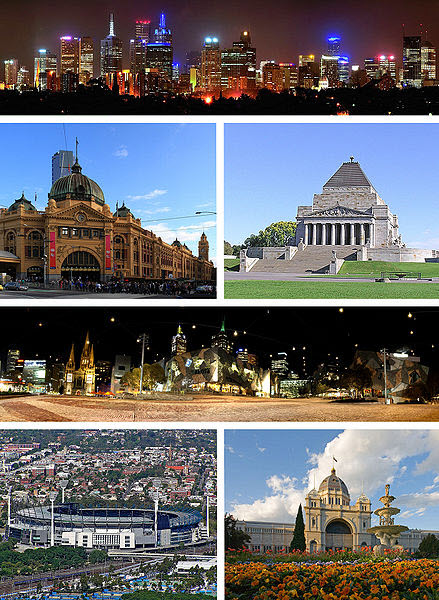 Continued from
Melbourne | Wikipedia
Housing
Melbourne
has minimal public housing and high demand for rental housing, which is becoming unaffordable for some.222 Public housing is usually provided by the Housing Commission of Victoria, and operates within the framework of the Commonwealth-State Housing Agreement, by which federal and state governments provide housing funding.
Melbourne
is experiencing high population growth, generating high demand for housing. This housing boom has increased house prices and rents, as well as the availability of all types of housing. Subdivision regularly occurs in the outer areas of
Melbourne
, with numerous developers offering house and land packages. However, after the release of
Melbourne
2030 in 2002, planning policies have encouraged medium-density and high-density development in existing areas with greater access to public transport and other services,
Melbourne
's middle and outer-ring suburbs have seen significant brownfields redevelopment.
Architecture
The city is recognised for its mix of modern architecture which intersects with an extensive range of nineteenth and early twentieth century buildings.3 Some of the most architecturally noteworthy historic buildings include the World Heritage Site-listed Royal Exhibition Building, constructed over a two-year period for the
Melbourne
International Exhibition in 1880, A.C. Goode House, a Neo Gothic building located on Collins Street designed by Wright, Reed & Beaver (1891), William Pitt's Venetian Gothic style Old Stock Exchange (1888), William Wardell's Gothic Bank (1883) which features some of
Melbourne
's finest interiors, the incomplete Parliament House, St Paul's Cathedral (1891) and Ivan Lazarus (architect)'s Flinders Street station (1909), which was the busiest commuter railway station in the world in the mid-1920s.
The city also features the Shrine of Remembrance, which was built as a memorial to the men and women of Victoria who served in World War I and is now a memorial to all Australians who have served in war. The now demolished Queen Anne style APA Australian Building (1889), the world's 3rd tallest building at the time of completion,3 is said to have anticipated the skyscraper race in New York City and Chicago.1 It was demolished in 1980 and replaced by a smaller, four-storey structure.3 A similar fate met other grand pre-war boom-era buildings in the city, notably the elaborate Victorian Federal Coffee Palace (also known as The Federal Hotel), located on Collins Street until its demolition in 1971.
In 2019, the city contained a total of 750 high-rise buildings,3 43 of which are skyscrapers (buildings which reach a height of at least 150 metres) - with another 24 under construction;3 as such, the city skyline is the tallest in Australia. The CBD is dominated by modern office buildings including the Rialto Towers (1986), built on the site of several grand classical Victorian buildings, two of which - the Rialto Building (1889) designed by William Pitt and the Winfield Building (1890) designed by Charles D'Ebro and Richard Speight - still remain today and more recently high-rise apartment buildings including Eureka Tower (2006), which is listed as the 13th tallest residential building in the world in January 2014.
Residential architecture is not defined by a single architectural style, but rather an eclectic mix of houses, townhouses, condominiums, and apartment buildings in the metropolitan area (particularly in areas of urban sprawl). Freestanding dwellings with relatively large gardens are perhaps the most common type of housing outside inner city
Melbourne
. Victorian terrace housing, townhouses and historic Italianate, Tudor revival and Neo-Georgian mansions are all common in inner-city neighbourhoods such as Carlton, Fitzroy and further into suburban enclaves like Toorak.
Culture
Melbourne
is an international cultural centre and the city serves as Australia's cultural capital, with prominent offerings in the form of major events and festivals, drama, musicals, comedy, music, art, architecture, literature, film and television.3 The climate, waterfront location and nightlife make it one of the most vibrant destinations in Australia. For seven years in a row (from 2011 to 2017) it held the top position in a survey by The Economist Intelligence Unit of the world's most liveable cities, partly due to its broad cultural offerings. The city celebrates a wide variety of annual cultural events and festivals of all types, including Australia's largest free community festival-Moomba, the
Melbourne
International Arts Festival,
Melbourne
International Film Festival,
Melbourne
International Comedy Festival and the
Melbourne
Fringe Festival. The culture of the city is an important drawcard for tourists, of which 2.7 million international and 8.9 million domestic travellers arrived in 2017.
Melbourne
's rich and diverse literary history was recognised in 2008 when
Melbourne
City of Literature became the second UNESCO City of Literature. The State Library of Victoria is one of Australia's oldest cultural institutions and one of many public and university libraries across the city.
Melbourne
also has Australia's widest range of bookstores, as well the nation's largest publishing sector.4 The city is home to significant writers' festivals, most notably the
Melbourne
Writers Festival. Several major literary prizes are open to local writers including the
Melbourne
Prize for Literature and the Victorian Premier's Literary Awards. Significant novels set in
Melbourne
include Fergus Hume's The Mystery of a Hansom Cab (1886), Helen Garner's Monkey Grip (1977) and Christos Tsiolkas' The Slap (2008). Notable writers and poets from
Melbourne
include Thomas Alexander Browne, C. J. Dennis, Germaine Greer and Peter Carey.
Melbourne
's first theatre, the Pavilion, opened several years after the city's founding, in 1841. The East End Theatre District is home to a number of heritage-listed theatres dating from the Victorian era, including the Athenaeum Theatre, Her Majesty's Theatre, Princess Theatre and the Regent Theatre, as well as
Melbourne
's Comedy Theatre. The
Melbourne
Arts Precinct in Southbank is home to Arts Centre
Melbourne
, which includes the State Theatre, Hamer Hall, the Playhouse and the Fairfax Studio. The
Melbourne
Recital Centre and Southbank Theatre (principal home of the MTC, which includes the Sumner and Lawler performance spaces)4 are also located in Southbank. The art deco Palais Theatre, a landmark of the St Kilda foreshore, is Australia's largest seated theatre with a capacity of up to 3,000 people.4 Built in 1955 in Kings Domain, the Sidney Myer Music Bowl hosted the largest crowd ever for a music concert in Australia when an estimated 200,000 attendees saw
Melbourne
band The Seekers in 1967.
Established in 1861, the National Gallery of Victoria is Australia's oldest and largest public art museum, and the most visited museum in the Southern Hemisphere (19th globally).4 The Heidelberg School art movement, also known as Australian Impressionism, grew out of
Melbourne
's rural suburbs in the 1880s. The Heide Museum of Modern Art is devoted largely to the Angry Penguins, a
Melbourne
art collective that pioneered Australian modernism in the 1940s. The city is also home to the Australian Centre for Contemporary Art.
Melbourne
is regarded as one of the world's major street art centres and4 readers of Lonely Planet voted the city's street art and laneways as Australia's most popular cultural attraction.
The national ballet company, the Australian Ballet is based in
Melbourne
, as are the state based companies, the
Melbourne
Symphony Orchestra, the
Melbourne
Theatre Company (MTC), and the Victorian Opera.
Melbourne
is also the second home of the national Opera Australia after it merged with the defunct Victoria State Opera in 1996.
The Story of the Kelly Gang, the world's first feature film, was shot in
Melbourne
in 1906.4
Melbourne
filmmakers continued to produce bushranger films until they were banned by Victorian politicians in 1912 for the perceived promotion of crime, thus contributing to the decline of one of the silent film era's most productive industries.4 A notable film shot and set in
Melbourne
during Australia's cinematic lull is On the Beach (1959). The 1970s saw the rise of the Australian New Wave and its Ozploitation offshoot, instigated by
Melbourne
-based productions Stork and Alvin Purple. Picnic at Hanging Rock and Mad Max, both shot in and around
Melbourne
, achieved worldwide acclaim. 2004 saw the construction of
Melbourne
's largest film and television studio complex, Docklands Studios
Melbourne
, which has hosted many domestic productions, as well as international features.4
Melbourne
is also home to the headquarters of Village Roadshow Pictures, Australia's largest film production company. Famous modern day actors from
Melbourne
include Cate Blanchett, Rachel Griffiths, Chris Hemsworth,5 Guy Pearce, Geoffrey Rush and Eric Bana.
Melbourne
has a vibrant live music scene, and has been described as "the live music capital of the world".5 One study found
Melbourne
has more music venues per capita than any other world city sampled, with 17.5 million patron visits to 553 live music venues across the city in 2016.
Sports
Melbourne
has long been regarded as Australia's sporting capital due to the role it has played in the development of Australian sport, the range and quality of its sporting events and venues, and its high rates of spectatorship and participation.5
Melbourne
's sporting reputation was recognised in 2016 when, after being ranked as the world's top sports city three times biennially, the Ultimate Sports City Awards in Switzerland named it 'Sports City of the Decade'.
The city has hosted a number of significant international sporting events, most notably the 1956 Summer Olympic Games, the first Olympic Games held outside Europe and the United States.5
Melbourne
also hosted the 2006 Commonwealth Games, and is home to several major annual international events, including the Australian Open, the first of the four Grand Slam tennis tournaments. First held in 1861 and declared a public holiday for all Melburnians in 1873, the
Melbourne
Cup is the world's richest handicap horse race and is known as "the race that stops a nation". The Formula One Australian Grand Prix has been held at Albert Park's
Melbourne
Grand Prix Circuit since 1996.
Cricket is one of the longest established sports in
Melbourne
with the
Melbourne
Cricket Club forming within three years of settlement. The club is responsible for the management of the
Melbourne
Cricket Ground (MCG). The largest cricket stadium in the world, the MCG is notable for hosting the first Test match and the first One Day International, played between Australia and England in 1877 and 1971 respectively. It is also the home of the National Sports Museum.
Australian rules football, the nation's most popular spectator sport, traces its origins to matches played in parklands next to the MCG in 1858. The
Melbourne
Football Club codified the first laws of the game the following year, making it the world's oldest major football code. The sport's pre-eminent professional competition, the Australian Football League (AFL), is headquartered at Docklands Stadium. Nine of the league's teams are based in the
Melbourne
metropolitan area: Carlton, Collingwood, Essendon, Hawthorn,
Melbourne
, North
Melbourne
, Richmond, St Kilda, and Western Bulldogs.
Melbourne
hosts up to five AFL matches per round during the home and away season, attracting an average of 40,000 spectators per game.5 The AFL Grand Final, traditionally held at the 100,000 capacity MCG, is the highest attended club championship event in the world.
The city is home to many professional franchises/teams in national competitions including: Twenty20 cricket clubs
Melbourne
Stars and
Melbourne
Renegades, who play in the Big Bash League; Victoria Bushrangers cricket team, which compete in the domestic competitions Sheffield Shield and Matador BBQs One-Day Cup; soccer clubs
Melbourne
Victory and
Melbourne
City FC, which play in the A-League competition. Rugby league club
Melbourne
Storm5 which plays in the NRL competition; rugby union clubs
Melbourne
Rebels and
Melbourne
Rising, which play in the Super Rugby and National Rugby Championship competitions respectively; netball clubs
Melbourne
Vixens and Collingwood Magpies Netball, of whom both play in the newly formed (as of 2017) Suncorp Super Netball; basketball club
Melbourne
United, which plays in the NBL competition; Bulleen Boomers and Dandenong Rangers, which play in the WNBL; Ice hockey teams
Melbourne
Ice and
Melbourne
Mustangs, who play in the Australian Ice Hockey League; and baseball club
Melbourne
Aces, which plays in the Australian Baseball League. Rowing is also a large part of
Melbourne
's sporting identity, with a number of clubs located on the Yarra River, out of which many Australian Olympians trained. The city previously held the nation's premier long distance swimming event the annual Race to Prince's Bridge, in the Yarra River. Notable amateur sports clubs include the country's top ranked women's (VRDL) and men's (VMRD) roller derby teams.
Melbourne
has twice hosted the Presidents Cup golf tournament, in 1998 becoming the first country to hold the tournament outside of the USA. The event was first held in
Melbourne
in 1998 and then again in 2011, both times at the Royal
Melbourne
Golf Club. The biannual event is again scheduled for 2019 at the same venue.
Economy
Melbourne
has a highly diversified economy with particular strengths in finance, manufacturing, research, IT, education, logistics, transportation and tourism.
Melbourne
houses the headquarters of many of Australia's largest corporations, including five of the ten largest in the country (based on revenue), and five of the largest seven in the country (based on market capitalisation)5 (ANZ, BHP Billiton (the world's largest mining company), the National Australia Bank, CSL and Telstra, as well as such representative bodies and think tanks as the Business Council of Australia and the Australian Council of Trade Unions.
Melbourne
's suburbs also have the head offices of Coles Group (owner of Coles Supermarkets) and Wesfarmers companies Bunnings, Target, K-Mart and Officeworks. The city is home to Australia's second busiest seaport, after Port Botany in Sydney.6
Melbourne
Airport provides an entry point for national and international visitors, and is Australia's second busiest airport.
Melbourne
is also an important financial centre. In the 2018 Global Financial Centres Index,
Melbourne
was ranked as having the 15th most competitive financial centre in the world.6 Two of the big four banks, NAB and ANZ, are headquartered in
Melbourne
. The city has carved out a niche as Australia's leading centre for superannuation (pension) funds, with 40% of the total, and 65% of industry super-funds including the AU$109 billion-dollar Federal Government Future Fund. The city was rated 41st within the top 50 financial cities as surveyed by the MasterCard Worldwide Centers of Commerce Index (2008),6 second only to Sydney (12th) in Australia.
Melbourne
is Australia's second-largest industrial centre.6 It is the Australian base for a number of significant manufacturers including Boeing, truck-makers Kenworth and Iveco, Cadbury as well as Bombardier Transportation and Jayco, among many others. It is also home to a wide variety of other manufacturers, ranging from petrochemicals and pharmaceuticals to fashion garments, paper manufacturing and food processing.6 The south-eastern suburb of Scoresby is home to Nintendo's Australian headquarters. The city also boasts a research and development hub for Ford Australia, as well as a global design studio and technical centre for General Motors and Toyota respectively.
CSL, one of the world's top five biotech companies, and Sigma Pharmaceuticals have their headquarters in
Melbourne
. The two are the largest listed Australian pharmaceutical companies.6
Melbourne
has an important ICT industry that employs over 60,000 people (one third of Australia's ICT workforce), with a turnover of AU$19.8 billion and export revenues of AU615 million. In addition, tourism also plays an important role in
Melbourne
's economy, with about 7.6 million domestic visitors and 1.88 million international visitors in 2004.6
Melbourne
has been attracting an increasing share of domestic and international conference markets. Construction began in February 2006 of an AU$1 billion 5000-seat international convention centre, Hilton Hotel and commercial precinct adjacent to the
Melbourne
Exhibition and Convention Centre to link development along the Yarra River with the Southbank precinct and multibillion-dollar Docklands redevelopment.6
The Economist Intelligence Unit ranks
Melbourne
as the fourth most expensive city in the world to live in according to its worldwide cost of living index in 2013.7 The most visited attractions are: Federation Square, Queen Victoria Market, Crown Casino, Southbank,
Melbourne
Zoo,
Melbourne
Aquarium, Docklands, National Gallery of Victoria,
Melbourne
Museum,
Melbourne
Observation Deck, Arts Centre
Melbourne
, and the
Melbourne
Cricket Ground.
The Economist Intelligence Unit also has ranked
Melbourne
as the most liveable city in the world for seven consecutive years (2011-2017).
Demographics
n 2018, the population of the
Melbourne
metropolitan area was 4,963,349.
Although Victoria's net interstate migration has fluctuated, the population of the
Melbourne
statistical division has grown by about 70,000 people a year since 2005.
Melbourne
has now attracted the largest proportion of international overseas immigrants (48,000) finding it outpacing Sydney's international migrant intake on percentage, along with having strong interstate migration from Sydney and other capitals due to more affordable housing and cost of living.
In recent years, Melton, Wyndham and Casey, part of the
Melbourne
statistical division, have recorded the highest growth rate of all local government areas in Australia.
Melbourne
could overtake Sydney in population by 2028.7 The ABS has projected in two scenarios that Sydney will remain larger than
Melbourne
beyond 2056, albeit by a margin of less than 3% compared to a margin of 12% today.
Melbourne
's population could overtake that of Sydney by 20377 or 2039, according to the first scenario projected by the ABS, primarily due to greater internal migration losses assumed for Sydney.7 Another study claims that
Melbourne
will surpass Sydney in population by 2040.
After a trend of declining population density since World War II, the city has seen increased density in the inner and western suburbs, aided in part by Victorian Government planning, such as Postcode 3000 and
Melbourne
2030, which have aimed to curtail urban sprawl.77 As of 2018, the CBD is the most densely populated area in Australia with more than 19,000 residents per square kilometre, and the inner city suburbs of Carlton, South Yarra, Fitzroy and Collingwood make up Victoria's top five.
Ancestry and immigration
Country of Birth (2016)
Birthplace Population
Australia 2,684,072
India 161,078
Mainland China 155,998
England 133,300
Vietnam 79,054
New Zealand 78,906
Italy 63,332
Sri Lanka 54,030
Malaysia 47,642
Greece 45,618
Philippines 45,157
South Africa 24,168
Hong Kong 20,840
At the 2016 census, the most commonly nominated ancestries were:
English (28%)
Australian (26%)
Irish (9.7%)
Chinese (8.5%)
Scottish (7.8%)
Italian (7.1%)
Indian (4.7%)
Greek (3.9%)
German (3.2%)
Vietnamese (2.4%)
Dutch (1.6%)
Maltese (1.6%)
Filipino (1.4%)
Sri Lankan (1.3%)
Polish (1.1%)
Lebanese (1.1%)
0.5% of the population, or 24,062 people, identified as Indigenous Australians (Aboriginal Australians and Torres Strait Islanders) in 2016.
Melbourne
has the 10th largest immigrant population among world metropolitan areas. In Greater
Melbourne
at the 2016 census, 63.3% of residents were born in Australia. The other most common countries of birth were India (3.6%), Mainland China (3.5%), England (3%), Vietnam (1.8%) and New Zealand (1.8%).
Language
As of the 2016 census, 62% of Melburnians speak only English at home.8 Mandarin (4.1%), Greek (2.4%), Italian (2.3%), Vietnamese (2.3%), and Cantonese (1.7%) are the most common foreign languages spoken at home by residents of
Melbourne
.
Religion
Melbourne
has a wide range of religious faiths, the most widely held of which is Christianity. This is signified by the city's two large cathedrals-St Patrick's (Roman Catholic), and St Paul's (Anglican). Both were built in the Victorian era and are of considerable heritage significance as major landmarks of the city.8 In recent years, Greater
Melbourne
's irreligious community has grown to be one of the largest in Australia.
According to the 2016 Census, the largest responses on religious belief in
Melbourne
were no religion (31.9%), Catholic (23.4%), none stated (9.1%), Anglican (7.6%), Eastern Orthodox (4.3%), Islam (4.2%), Buddhism (3.8%), Hinduism (2.9%), Uniting Church (2.3%), Presbyterian and Reformed (1.6%), Baptist (1.3%), Sikhism (1.2%) and Judaism (0.9%).
Over 180,000 Muslims live in
Melbourne
.8 Muslim religious life in
Melbourne
is centred on more than 25 mosques and a large number of prayer rooms at university campuses, workplaces and other venues.
As of 2000,
Melbourne
had the largest population of Polish Jews in Australia. The city was also home to the largest number of Holocaust survivors of any Australian city,8 indeed the highest per capita outside Israel itself.8 Reflecting this vibrant community,
Melbourne
has a plethora of Jewish cultural, religious and educational institutions, including over 40 synagogues and 7 full-time parochial day schools,9 along with a local Jewish newspaper.
Education
Some of Australia's most prominent and well known schools are based in
Melbourne
. Of the top twenty high schools in Australia according to the Better Education ranking, six are in
Melbourne
.9 There has also been a rapid increase in the number of International students studying in the city. Furthermore,
Melbourne
was ranked the world's fourth top university city in 2008 after London, Boston and Tokyo in a poll commissioned by the Royal
Melbourne
Institute of Technology.9
Melbourne
is the home of seven public universities: the University of
Melbourne
, Monash University, Swinburne University of Technology, Deakin University, Royal
Melbourne
Institute of Technology (RMIT University), La Trobe University, and Victoria University.
Melbourne
universities have campuses all over Australia and some internationally. Swinburne University has campuses in Malaysia, while Monash has a research centre based in Prato, Italy. The University of
Melbourne
, the second oldest university in Australia,9 was ranked first among Australian universities in the 2016 THES international rankings. In 2018 Times Higher Education Supplement ranked the University of
Melbourne
the 32rd best university in the world which is higher than the rankings in 2016 and 2017,9 Monash University was ranked 80th best.9 Both are members of the Group of Eight, a coalition of leading Australian tertiary institutions offering comprehensive and leading education.
As of 2017 RMIT University is ranked 17th in the world in art & design, and 28th in architecture. The Swinburne University of Technology, based in the inner-city
Melbourne
suburb of Hawthorn, is ranked 76th-100th in the world for physics by the Academic Ranking of World Universities, making Swinburne the only Australian university outside the Group of Eight to achieve a top 100 rating in a science discipline.Deakin University maintains two major campuses in
Melbourne
and Geelong, and is the third largest university in Victoria. In recent years, the number of international students at
Melbourne
's universities has risen rapidly, a result of an increasing number of places being made available to full fee paying students. Education in
Melbourne
is overseen by the Victorian Department of Education and Early Childhood Development (DEECD), whose role is to 'provide policy and planning advice for the delivery of education'.0
Melbourne
is also home to a number of theological colleges, including the Presbyterian Theological College, the Reformed Theological College, Ridley College and the
Melbourne
School of Theology.
Media
Melbourne
is served by thirty digital free-to-air television channels:
ABC
ABC HD (ABC broadcast in HD)
ABC Comedy/KIDS
ABC ME
ABC News
SBS
SBS HD (SBS broadcast in HD)
SBS Viceland
SBS Viceland HD (SBS Viceland broadcast in HD)
Food Network
NITV
Seven
7HD (Seven broadcast in HD)
7Two
7mate
7flix
Racing.com
Nine
9HD (Nine broadcast in HD)
9Gem
9Go!
9Life
Extra
Ten
Ten HD (Ten broadcast in HD)
10 Bold
10 Peach
TVSN
Spree TV
C31
Melbourne
(
Melbourne
's community TV station)
SBS
ABC
Southern Cross Nine, 9HD, 9Gem, 9Go!, 9Life (Affiliate of Nine Network)
Prime7, Prime7 HD, 7flix, 7mate, 7TWO (Affiliate of the Seven Network)
WIN, WIN HD, GOLD, TVSN (Affiliate of Network Ten)
Three daily newspapers serve
Melbourne
: the Herald Sun (tabloid), The Age (formerly broadsheet, now compact) and The Australian (national broadsheet). Six free-to-air television stations service Greater
Melbourne
and Geelong: ABC Victoria, (ABV), SBS Victoria (SBS), Seven
Melbourne
(HSV), Nine
Melbourne
(GTV), Ten
Melbourne
(ATV), C31
Melbourne
(MGV) - community television. Each station (excluding C31) broadcasts a primary channel and several multichannels. C31 is only broadcast from the transmitters at Mount Dandenong and South Yarra. Hybrid digital/print media companies such as Broadsheet and ThreeThousand are based in and primarily serve
Melbourne
.
Television shows are produced in
Melbourne
, most notably Neighbours, Kath & Kim, The Secret Life of Us, Winners and Losers, Offspring, Underbelly, House Husbands, Wentworth and Miss Fisher's Murder Mysteries, along with national news-based programs such as The Project, Insiders and ABC News Breakfast.
Melbourne
is also known as the game show capital of Australia; productions such as Million Dollar Minute, The Chase Australia, Millionaire Hot Seat and Family Feud are all based in
Melbourne
. Reality television productions such as Dancing with the Stars, MasterChef, The Block and The Real Housewives of
Melbourne
are all filmed in and around
Melbourne
.
Pay television in
Melbourne
is largely delivered through cable and satellite services. Foxtel, Optus and Fetch are the main pay television providers. Sky News and Fox Sports both have studio facilities based in
Melbourne
.
A long list of AM and FM radio stations broadcast to greater
Melbourne
. These include "public" (i.e., state-owned ABC and SBS) and community stations. Many commercial stations are networked-owned: DMG has Nova 100 and Smooth; ARN controls Gold 104.3 and KIIS 101.1; and Southern Cross Austereo runs both Fox and Triple M. Stations from towns in regional Victoria may also be heard (e.g. 93.9 Bay FM, Geelong). Youth alternatives include ABC Triple J and youth run SYN. Triple J, and similarly PBS and Triple R, strive to play under represented music. JOY 94.9 caters for gay, lesbian, bisexual and transgender audiences. For fans of classical music there are 3MBS and ABC Classic FM. Light FM is a contemporary Christian station. AM stations include ABC: 774, Radio National, and News Radio; also Fairfax affiliates 3AW (talk) and Magic (easy listening). For sport fans and enthusiasts there is SEN 1116.
Melbourne
has many community run stations that serve alternative interests, such as 3CR and 3KND (Indigenous). Many suburbs have low powered community run stations serving local audiences.0
Governance
The governance of
Melbourne
is split between the government of Victoria and the 27 cities and four shires that make up the metropolitan area. There is no ceremonial or political head of
Melbourne
, but the Lord Mayor of the City of
Melbourne
often fulfils such a role as a first among equals,0 particularly when interstate or overseas.
The local councils are responsible for providing the functions set out in the Local Government Act 19890 such as urban planning and waste management. Most other government services are provided or regulated by the Victorian state government, which governs from Parliament House in Spring Street. These include services associated with local government in other countries and include public transport, main roads, traffic control, policing, education above preschool level, health and planning of major infrastructure projects. The state government retains the right to override certain local government decisions, including urban planning, and Melburnian issues often feature prominently in state election.
Infrastructure
In 2012, Mercer Consulting ranked
Melbourne
's infrastructure 17th in the world, behind only one other Australian city, Sydney, which ranked 10th in the world.0
Health
The Government of Victoria's Department of Health and Human Services oversees about 30 public hospitals in the
Melbourne
metropolitan region, and 13 health services organisations.0
There are many major medical, neuroscience and biotechnology research institutions located in
Melbourne
: St. Vincent's Institute of Medical Research, Australian Stem Cell Centre, the Burnet Institute, Australian Regenerative Medicine Institute, Victorian Institute of Chemical Sciences, Brain Research Institute, Peter MacCallum Cancer Centre, the Walter and Eliza Hall Institute of Medical Research, and the
Melbourne
Neuropsychiatry Centre.
Other institutions include the Howard Florey Institute, the Murdoch Childrens Research Institute, Baker Heart and Diabetes Institute and the Australian Synchrotron.0 Many of these institutions are associated with and are located near universities.
Melbourne
also is the home of the Royal Children's Hospital and the Monash Children's Hospital.
Among Australian capital cities,
Melbourne
ties with Canberra in first place for the highest male life expectancy (80.0 years) and ranks second behind Perth in female life expectancy (84.1 years).0
Transport
Like many Australian cities,
Melbourne
has a high dependency on the automobile for transport,0 particularly in the outer suburban areas where the largest number of cars are bought,1 with a total of 3.6 million private vehicles using 22,320 km (13,870 mi) of road, and one of the highest lengths of road per capita in the world.0 The early 20th century saw an increase in popularity of automobiles, resulting in large-scale suburban expansion and a tendency towards the development of urban sprawl.1 By the mid 1950s there was just under 200 passenger vehicles per 1000 people, by 2013 there was 600 passenger vehicles per 1000 people.1 Today it has an extensive network of freeways and arterial roadways used by private vehicles including freight as well as public transport systems including buses and taxis. Major highways feeding into the city include the Eastern Freeway, Monash Freeway and West Gate Freeway (which spans the large West Gate Bridge), whilst other freeways circumnavigate the city or lead to other major cities, including CityLink (which spans the large Bolte Bridge), Eastlink, the Western Ring Road, Calder Freeway, Tullamarine Freeway (main airport link) and the Hume Freeway which links
Melbourne
and Sydney.1
Melbourne
has an integrated public transport system based around extensive train, tram, bus and taxi systems. Flinders Street station was the world's busiest passenger station in 1927 and
Melbourne
's tram network overtook Sydney's to become the world's largest in the 1940s. Since the 1940s, public transport usage in
Melbourne
declined due to a rapid expansion of the road and freeway network, with the largest declines in tram and bus usage.1 This decline quickened in the early 1990s due to large public transport service cuts.1 The operations of
Melbourne
's public transport system was privatised in 1999 through a franchising model, with operational responsibilities for the train, tram and bus networks licensed to private companies.1 After 1996 there was a rapid increase in public transport patronage due to growth in employment in central
Melbourne
, with the mode share for commuters increasing to 14.8% and 8.4% of all trips.11 A target of 20% public transport mode share for
Melbourne
by 2020 was set by the state government in 2006.1 Since 2006 public transport patronage has grown by over 20%.1
The
Melbourne
rail network dates back to the 1850s gold rush era, and today consists of 218 suburban stations on 16 lines which radiate from the City Loop, a mostly-underground subway system around the CBD. Flinders Street station, Australia's busiest rail hub, serves the entire network, and remains a prominent
Melbourne
landmark and meeting place.3 The city has rail connections with regional Victorian cities, as well as direct interstate rail services which depart from
Melbourne
's other major rail terminus, Southern Cross station, in Docklands. The Overland to Adelaide departs twice a week, while the XPT to Sydney departs twice daily. In the 2017-2018 financial year, the
Melbourne
rail network recorded 240.9 million passenger trips, the highest ridership in its history.1 Many rail lines, along with dedicated lines and rail yards, are also used for freight.
Melbourne
's tram network dates from the 1880s land boom and, as of 2019, consists of 250 km (155.3 mi) of double track, 475 trams, 25 routes, and 1,763 tram stops,1 making it the largest in the world.2 In 2017-2018, 206.3 million passenger trips were made by tram.1 Around 75 per cent of
Melbourne
's tram network shares road space with other vehicles, while the rest of the network is separated or are light rail routes.1
Melbourne
's trams are recognised as iconic cultural assets and a tourist attraction. Heritage trams operate on the free City Circle route, intended for visitors to
Melbourne
, and heritage restaurant trams travel through the city and surrounding areas during the evening.2
Melbourne
is currently building 50 new E Class trams with some already in service in 2014. The E Class trams are about 30 metres long and are superior to the C2 class tram of similar length.
Melbourne
's bus network consists of almost 300 routes which mainly service the outer suburbs and fill the gaps in the network between rail and tram services.22 127.6 million passenger trips were recorded on
Melbourne
's buses in 2013-2014, an increase of 10.2 percent on the previous year.2
Ship transport is an important component of
Melbourne
's transport system. The Port of
Melbourne
is Australia's largest container and general cargo port and also its busiest. The port handled two million shipping containers in a 12-month period during 2007, making it one of the top five ports in the Southern Hemisphere.2 Station Pier on Port Phillip Bay is the main passenger ship terminal with cruise ships and the Spirit of Tasmania ferries which cross Bass Strait to Tasmania docking there.2 Ferries and water taxis run from berths along the Yarra River as far upstream as South Yarra and across Port Phillip Bay.
Melbourne
has four airports.
Melbourne
Airport, at Tullamarine, is the city's main international and domestic gateway and second busiest in Australia. The airport is home base for passenger airlines Jetstar Airways and Tiger Airways Australia and cargo airlines Australian air Express and Toll Priority; and is a major hub for Qantas and Virgin Australia. Avalon Airport, located between
Melbourne
and Geelong, is a secondary hub of Jetstar. It is also used as a freight and maintenance facility. Buses and taxis are the only forms of public transport to and from the city's main airports. Air Ambulance facilities are available for domestic and international transportation of patients.2
Melbourne
also has a significant general aviation airport, Moorabbin Airport in the city's south east that also handles a small number of passenger flights. Essendon Airport, which was once the city's main airport also handles passenger flights, general aviation and some cargo flights.2
The city also has a bicycle sharing system. It was established in 20102 and uses a network of marked road lanes and segregated cycle facilities.
Utilities
Water storage and supply for
Melbourne
is managed by
Melbourne
Water, which is owned by the Victorian Government. The organisation is also responsible for management of sewerage and the major water catchments in the region as well as the Wonthaggi desalination plant and North-South Pipeline. Water is stored in a series of reservoirs located within and outside the Greater
Melbourne
area. The largest dam, the Thomson River Dam, located in the Victorian Alps, is capable of holding around 60% of
Melbourne
's water capacity,2 while smaller dams such as the Upper Yarra Dam, Yan Yean Reservoir, and the Cardinia Reservoir carry secondary supplies.
Gas is provided by three distribution companies:
AusNet Services, which provides gas from
Melbourne
's inner western suburbs to southwestern Victoria.
Multinet Gas, which provides gas from
Melbourne
's inner eastern suburbs to eastern Victoria. (owned by SP AusNet after acquisition, but continuing to trade under the brand name Multinet Gas)
Australian Gas Networks, which provides gas from
Melbourne
's inner northern suburbs to northern Victoria, as well as the majority of southeastern Victoria.
Electricity is provided by five distribution companies:
Citipower, which provides power to
Melbourne
's CBD, and some inner suburbs
Powercor, which provides power to the outer western suburbs, as well as all of western Victoria (Citipower and Powercor are owned by the same entity)
Jemena, which provides power to the northern and inner western suburbs
United Energy, which provides power to the inner eastern and southeastern suburbs, and the Mornington Peninsula
AusNet Services, which provides power to the outer eastern suburbs and all of the north and east of Victoria.
Numerous telecommunications companies provide
Melbourne
with terrestrial and mobile telecommunications services and wireless internet services and at least since 2016
Melbourne
offers a free public WiFi which allows for up to 250 MB per device in some areas of the city.
Crime
Main article: Crime in
Melbourne
Melbourne
has one of the lowest crime rates globally, it was ranked the 5th safest city in the world in The Economist's Safe Cities Index 2017.3 Reports of crime in Victoria fell by 7.8 per cent in 2018 to its lowest in three years, with 5,922 cases per 100,000 people.3
Melbourne
's city centre (CBD) reported the highest incident rate of local government areas in Victoria.
Continued from
Melbourne | Wikipedia
Text is available under the Creative Commons Attribution
This page was last edited on 2 February 2020, at 10:12 (UTC).
❊ Web Links ❊
→
Melbourne | Wikipedia | Page 2
→
wikipedia.org/wiki/Melbourne
→
List of schools in Victoria
→
Timeline of Melbourne history
→
Melbourne travel guide from Wikitravel
→
Trams in Melbourne | Wikipedia
❊ Also See... ❊
→
Melbourne | Wikipedia
→
Disclaimer
: Check with the venue before making plans
...
Trending HOT

Drive-In Movie Club
Drive-In Immersive Cinema Nights Are Coming to Melbourne Put together by our friends at Hot Tub Cinema, a string of family-friendly, social distancing-safe, drive-in ..

Things to see, hear & do this weekend
Make the most of your weekend in Melbourne with these fabulous events. No city does it better than Melbourne, so get out and discover the very best shows, festivals, ..
---
Update Page