Melbourne: festival city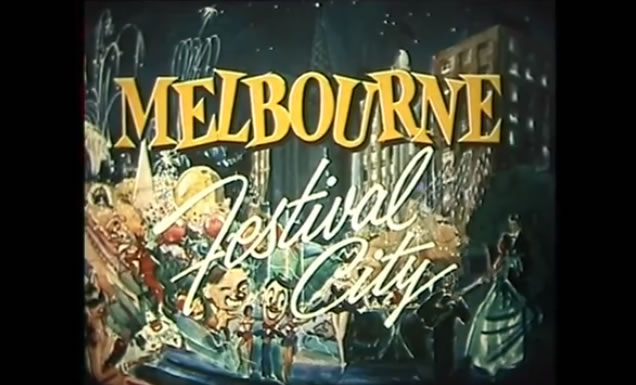 Melbourne: festival city is a film presentation by Culture Victoria
Culture Victoria is a gateway to Victoria's cultural collections and organisations.
View Melbourne: festival city
This is Victoria Australia
Victorian Tourist Development Authrority
Melbourne: festival city
Direction & Photography: Gordon Lloyd
ACMI Collections
Melbourne's Moomba festival - the city comes alive with processions, regattas, the Herald open air art show, music under the stars at the Myer Music Bowl, and the crowning of the Moomba Queen.
The film also shows some of the Melbourne landscape and the background of daily life; Melbourne's economic expansion; the Melbourne Cup, the race for which the nation stands still; Australian rules football, drawing crowds of over 50,000; fine golf courses; hunting; night life. It closes with a coverage of the Moomba procession, with all its varied floats, including the Bunyip and the Chinese dragon.
TRANSCRIPT
[MUSIC PLAYING]
NARRATOR: Melbourne-- Festival City, a modern, prosperous city, a national centre of trade and commerce, an impressive city with its tall buildings and wide streets. And Melbourne has grown so rapidly that today, not much more than a century after its foundation, its population is approaching two million, a busy city intent on its business and its tremendous industrial development.
And its people, hard-working as they are and proud of their city's progress, are always ready for fun. There are festivals all the year round, but the gayest carnival of all is Moomba, when formality is forgotten and The Big Dipper holds no fears. So hang on tight and come with us on a tour of Moomba. It's one of the biggest organised carnivals in the world.
Up in the Ferris wheel, circling slowly around the fun-packed air below. It's a week-long round of gaiety. Each year, they have a queen of the carnival, too-- lovely lasses, all of them, coveting the title of queen and the honor that goes with it. Here is Moomba queen Freger, whose family left Germany a year or two ago for the opportunities Melbourne offered.
In Melbourne lives much of the history of Australia. Brought from England was the home in which the discoverer of Australia, Captain James Cook, was born. One of the earliest Victorian pioneer's homes, Como, was built in the 1840s, a lovely old home which provides the perfect setting for an Australian Wool Bureau display with some of Victoria's finest marinos and lovely mannequins modeling fashions created from Australia's golden fleece.
Come now have a look at the lovely Yarra Valley, where at the time it was erected, Aborigines still had their hunting grounds. In the spacious grounds, the descendants of Australia's pioneer sheep now show the world's finest wool. Wool can be fashioned into styles to delight women everywhere.
Fashion has achieved a new look, and Melbourne is changing its appearance, too. The solid buildings of last century are now rubbing shoulders with towering young giants, but Melbourne is sacrificing none of its beauty. And there are lawns and gardens to give grace and charm to the huge blocks of offices, which are rising to keep pace with the state's tremendous economic expansion.
The government tourist bureau is busy, as visitors see information and bookings. It's one of the world's biggest travel information centers. By air and road and rail they come, swelling the city's population as they fall in to join the week of festivities. But Moomba's not all merry-go-rounds and clowns, for Melbourne is proud of its tradition, and the recently completed Sidney Myer Music Bowl caters for outdoor performances by world celebrities and Australian artists.
Opera, drama, and ballet are featured. And for those whose fancy turns to art, there's an annual outdoor art show with paintings and sculpture. Some of the artists are known throughout the world. Others are struggling to make themselves known. Watercolors and oils, landscapes and surrealism-- a show as wide in its scope as the Moomba Festival itself.
It's difficult work trying to understand some of the modernists, but you can sit awhile and then move on to the exhibition of sculpture, nearby. The people of Melbourne love beauty. In their city, their home is their garden, so they have a ready and enthusiastic appreciation of the arts in every form.
A little bewildering to the layman, perhaps, but to the sculptor, it's the expression of an idea. Melbourne is a gracious city, and the huge, Olympic swimming stadium below is a reminder of the year it was host for the Olympics Games, the world's biggest sporting event, in a city with a long and colorful sporting tradition. And that tradition's not forgotten at Moomba time, when the city's river, Yarra, is churned with the wakes of speedboats and crisscrossed by water-skiers.
Along the banks of this lovely river are shady spots where you can have a picnic lunch as you watch the crews go out to the start of the regatta. Racing on the Yarra or racing at Flemington, the scene of the Melbourne Cup, which brings all Australia to a halt for three minutes each November. The cheers at Flemington can't compare with the barracking at a Melbourne football match, for this is the headquarters of Australian rules. And even at home matches, crowds of over 50,000 are not unusual.
[CROWD CHEERING]
The people of Melbourne work hard, but when it's time to relax, they play hard, too. For those who prefer less noisy sports, there are, in and around Melbourne, the finest, most beautiful golf courses in the world. Now to the cry of yoiks and tally-ho and a-hunting we will go, the fox is way, and the hounds and huntsmen are off in pursuit, across the fields and over the fences and creeks of the delightful, undulating country surrounding Melbourne.
This is perhaps the most picturesque sport of all, a challenge to horses and their scarlet-coated riders. But we must leave the huntsmen as they sail over the brush and fences, for in the city itself there's the climax of Moomba, the long procession of floats and girls and clowns moving slowly through a sea of queuing people.
Here is a gay, lively pageantry of Melbourne past, present, and future, with floats from industry and commerce. There are clowns to amuse the youngsters, the tens of thousands of youngsters. When the spirit of Moomba's aboard, everyone feels suddenly young. Floats with masses and masses of flowers, floats with lovely lasses waving at the crowd, floats that turn the city into a fairy land.
[MUSIC PLAYING]
It's a time to wave and cheer, a week for fun in a city where nearly two million people are pleasure-bent. Moomba is not an ancient festival in the manner of those in other cities throughout the world. It is, in fact, but a few years old. And yet, each year it has grown, become brighter, gayer, more colorful, more representative, because behind it stands a city with a tradition of more than a century's pride in itself and determination to do everything well.
The Chinese community does have an ancient tradition for carnival occasions like this, and the dragon weaves its way through Melbourne streets in the accompaniment of firecrackers and smoke. So the long procession of floats passes, and the final day of Moomba is ended, but the festivities of Moomba are not over yet. And at night, the city is gay with colored lights and signs. This is Melbourne after dark, with its nightclubs and theaters, a year-round playground for people in search of pleasure. Films of artists from all over the world, entertainment to meet every taste.
And so as the week of Moomba draws to a close, let's dance the rest of the hours away in one of Melbourne's nightclubs.
[MUSIC PLAYING]
This, then, is Melbourne at festival time, a city relaxing from its labors, taking time out for pleasure. These are the people of one of the great cities of the world, one of the most progressive and prosperous-- a city old enough to have a solid foundation and still to be reaching out towards its future.
Moomba, to the people of Melbourne, is more than a carnival. Its gay and carefree atmosphere and its spirit of fun are expressions of their faith in their future. They are proud of their past and confident that tomorrow will be even more prosperous than today in this festival city of Australia.
[MUSIC PLAYING]
View Melbourne: festival city
STORY CREDITS
Melbourne: festival city
Gordon Lloyd
ACMI Collections
Terms of use
Not for Download
Copyright
Gordon Lloyd
Year: not known
❊ Web Links ❊
→
Melbourne: festival city
❊ Also See... ❊
→
State Film Centre | Video's
→
Disclaimer
: Check with the venue before making plans
...
Trending HOT

Drive-In Movie Club
Drive-In Immersive Cinema Nights Are Coming to Melbourne Put together by our friends at Hot Tub Cinema, a string of family-friendly, social distancing-safe, drive-in ..

Things to see, hear & do this weekend
Make the most of your weekend in Melbourne with these fabulous events. No city does it better than Melbourne, so get out and discover the very best shows, festivals, ..
---
Update Page