Melbourne Boathouses | Boat Sheds

Melbourne's historic rowing boathouses on the banks of the Yarra River in Alexandra Gardens are home to following Melbourne rowing clubs.
- Banks Rowing Club [1865]
- Mercantile Rowing Club [1880]
- La Trobe University Rowing Club [1969]
- Melbourne Rowing Club [1862]
- Melbourne University Boat Club [1859]
- Yarra Yarra Rowing Club [1871]
- Richmond Rowing Club [1863]
see web links at bottom of page...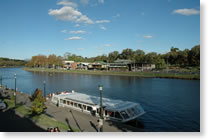 The boat sheds started appearing at the turn of the 19th century and in 1904 the first Henley-on-Yarra regatta was held, becoming one of the most popular events in Melbourne and drawing huge crowds to both banks of the river.
The Oarsmen's Memorial Judges Box just down from the sheds near the finish line of the regatta and was built in 1930 to commemorate the oarsmen who served in World War One.
Activities
- Melbourne Moomba Waterfest in March each year.
- Bicycle hire and bike path - part of the Yarra River Trail and Capital City Trails.
- Riverslide Skate Park.
The area is the start of the Capital City Trail great for walking and cycling. You can rent a bike and cycle west down to Port Melbourne or east along the river.
Alexandra Gardens
The Alexandra Gardens sit on the edge of the Yarra River at the foot of Princes Bridge, just across from the CBD. These beautiful and historic gardens are part of the Domain parklands and were first laid out in 1904.
Henley-on-Yarra regatta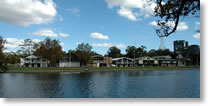 Melbourne's high points of colour and activity from 1904 until after World War 2 were the annual Henley-on-Yarra regattas.
They were held each year during spring, between the Caulfield and Melbourne Cups. Melburnians flocked to the Yarra for one day and night to celebrate their river. Attendances peaked at over 300,000 in 1925.
Those with social aspirations claimed the south bank between Princes and Morel Bridges, while the working classes preferred the north bank as their vantage point.
It was a major competition for rowing clubs from across the city. Lining the banks were the so called 'houseboats'; temporary structures elaborately decorated with flowers, flags and pennants. They were built on pontoons to accommodate spectators from the leading families and institutions of the then national capital.
Over the years, Henley-on-Yarra became as much about fashion as it did rowing. Young women used the occasion to display new spring dresses and hats.
After the races the river would become a sea of slowly drifting, beautifully festooned craft: motor launches, ferries, pleasure boats and canoes. Canada canoes quickly became synonymous with Henley. Their brightly coloured fabrics and cushions usually encapsulated a 'canoe girl'.
The celebrations continued into the night, when each 'houseboat' would have a band for dancing, and the river was illuminated by fireworks, tree and garden lights.
The regattas rarely made a profit after the Depression years and quickly waned after 1945. Melbourne's new river festival 'Moomba' began on the Yarra in 1955.
❊Venue | Location ❊
Alexandra Gardens
[
show
]
⊜ Boathouse Drive Melbourne |
Map
→ Venue Calendar:
View 3 Events
❊ Web Links ❊
→
Melbourne Boathouses | Boat Sheds
→
www.yarrariver.info
→
www.rowingvictoria.asn.au
→
Banks Rowing Club
→
Mercantile Rowing Club
→
www.caulfieldgs.vic.edu.au
→
La Trobe University Rowing Club
→
Melbourne Rowing Club
→
Melbourne University Boat Club
→
Yarra Yarra Rowing Club
→
Richmond Rowing Club
→
www.rowinglinks.com
→
List of Victorian Rowing Clubs @ Rowing Victoria
→
Canoe | Kayak & Row Boat Hire
→
Tags
: boathouses boat house boat sheds
Trending HOT
---
Update Page Request