What's Showing | Latest Films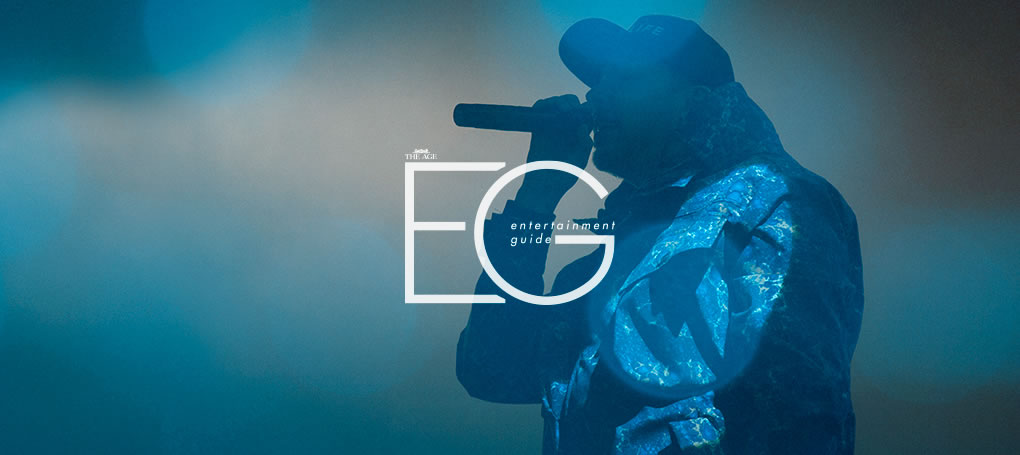 The latest films showing in Melbourne cinema's reviewed from EG in Friday's The Age
Last updated: June 15, 2018
Latest Films Showing This Week
THE AVENGERS: INFINITY WAR
J II
(149 minutes) M
This is the 19th film in the pretentiously named Marvel Cinematic Universe. There is plenty of warfare and a deadly neo-paganism where one or two Norse gods fight duels in the heavens, destroying planets and crushing various forms of life, while the human and non-human powers duke it out on the ground. What is not plentiful is drama. PB
DEADPOOL 2
J II
(119 minutes) MA
The Deadpool movies are among the strangest examples of mainstream Hollywood entertainment. Deadpool's big gimmick is that he knows he's a character in a movie: he chats to the camera, cracking wise about narrative foreshadowing or digital effects. Played by the ever-smarmy Ryan Reynolds, he kills frequently and gleefully, but hates himself after and has an endless repertoire of snide putdowns. JW
GAUGUIN
III
(101 minutes) M
Gauguin has relatively little to say about the paintings of Paul Gauguin, or even about the man himself, played by Vincent Cassel. Gauguin abandoned his family in Paris and took off for Tahiti, in search of fresh subject matter. Much screen time is devoted to his everyday activities, painting, fishing, and shrugging off the warnings of a doctor (Malik Zidi) who warns him to return home to seek medical attention. JW
HEREDITARY
J I
(128 minutes) MA
Hereditary is genuinely creepy and one of the best first features I've seen in a while. Centred on a troubled family in an old, dark house, the film draws from the same well of occult mumbojumbo as The Conjuring and Insidious, but it invests this hokey material with a pained, personal intensity. Gruesome things happen, but the film is a slow burn, using the conventions of horror as a route to evoking a mood that's defined in large part by the house itself. JW
NEW INCREDIBLES 2
I
(118 minutes) PG
In the sequel to Pixar's 2004 film Mr. Incredible (Craig T. Nelson) is left to play house husband while his wife Elastigirl (Holly Hunter) is in greater demand due to her lighter touch. As the film opens, the superhero family are again up against the Underminer, whose brief display of destructive urges ended the first film. But there's a more wily opponent waiting in the wings too. The charm of Brad Bird's films lies in the way they combine farce with highly tuned stunts and a delicate way with characterisation once seen only in hand-drawn animation. SH
KODACHROME
II
(105 minutes, M)
Set in 2009, when Kodak stopped producing its colour film, this uses that moment as the starting point for a road trip by macho photographer Ben (Ed Harris) and the son he has always bullied or ignored (Jason Sudeikis). The only real pleasure lies in watching Harris unleash the malice that powers Ben's remaining energy. He's so mean and self-regarding it's impossible to buy the soppy ending you see coming from the start. SH
NEW THE LEISURE SEEKER
J I
(108 minutes) M The main attraction of this mournful take on ageing lies in watching its two leads. Helen Mirren plays the rebellious Ella Spencer, who decides that she and her husband John (Donald Sutherland) should take off for one last holiday in their vintage campervan (the Leisure Seeker). She doesn't tell their son and daughter, who would do everything possible to stop them because John has dementia and Ella, we gradually discover, has cancer. It's a predictable scenario but these two great talents invest it with humanity and courage. SH
OCEAN'S 8
J I
(110 minutes) M
Debbie Ocean (Sandra Bullock) has spent five years (in jail) plotting a robbery to rival her brother Danny's work, and as soon as she's out she recruits an all-female crew to pull off the jewel heist at New York's Met gala. In keeping with its setting, this is a film high on fashion, some of it satirical. Helena Bonham Carter is cast as Rose Weil, a dress designer who desperately needs a cash infusion. It's a durable formula, and adaptable. The whole film may be a con trick, but it's a good one. SH
SOLO: A STAR WARS STORY
I
(135 minutes) M
Solo gives us the stand-alone back-story on Harrison Ford's swashbuckling smuggler and his first mate Chewbacca. Alden Ehrenreich steps in and does a fine young Han. He has the same chiselled jaw, the lopsided grin, the bravado, the greed and the charm that made Solo the most attractive character George Lucas created. PB
NEW TAG
III
(100 minutes) M
From first-time feature director Jeff Tomsic, Tag is based on a real-life story about a bunch of guys who have been playing the same game of tag ever since their schooldays. It's an appealingly abstract starting-point , but despite the occasional mockery of action-movie cliches, Tag contains more tame, ad-libbed banter than inventively staged chase sequences. JW
NEW UPGRADE
J I
(95 minutes) MA15+
If we can foresee the development of Artificial Intelligence, we can also foresee the day superintelligent machines realise they don't need us anymore. Upgrade sits right on this fault line. It's a clever, low-budget Aussie movie by horrormeister Leigh Whannell, who co-created the Saw and Insidious series with James Wan. Here, he has crafted a sci-fi action horror hybrid. Its best attributes are excellent cyber-fighting sequences, in which remobilised quadriplegic Grey Trace (Logan Marshall-Green ) moves like a robot Jackie Chan, and its inventive use of poverty. Whannell's script is fairly tongue-incheek but there's not enough humanity here to lift the material to the next level, where we are not just engaged by the ideas, but moved by the characters. PB
Source:
EG: TheAge
PAUL BYRNES (PB), SANDRA HALL (SH) & JAKE WILSON (JW)
This article is from the June 15 issue of The Age Digital Edition.
To subscribe, visit
digitaleditions.com.au
EG
For more than 25 years EG in Friday's The Age has been synonymous with entertainment in Melbourne.
Aimed at a broad audience; from fans of local and international music to movie lovers looking for the biggest Hollywood blockbuster or locally made independent film.
EG is the entertainment guide to plan your weekend and beyond.
Melbourne Cinema's
When & Where
Happens: Monday, Tuesday, Wednesday, Thursday, Friday, Saturday, Sunday
What's Showing | Latest Films
→
Disclaimer
: Advertising details can change at any time. Check with the advertiser (contact information above) before making plans, booking or proceeding.
→
Viagogo
: is NOT an official Australian ticket reseller.
Trending HOT..
---
Advertising
Page Editor
Upgrade Advertising