Summerhill Bridge | Darebin Creek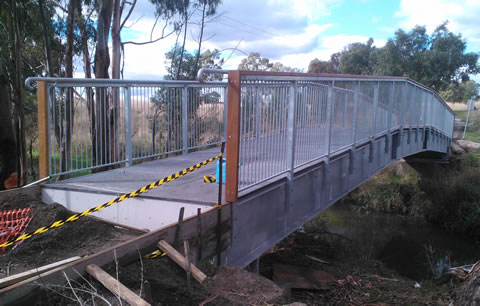 La Trobe Uni Lakes Bridge | Darebin Creek
Fantastic news, we have a new bridge. A better way of saying it, we have a brand new replacement bridge with it's own name. Summerhill Bridge is a new steel structured bridge announced in the August/September 2014 - Darebin Community News.
The bridge over Darebin Creek between Reservoir and La Trobe University is now open after vandals set fire to the previous wooden bridge.
Official opening was in May 2014.
the story
Fix The Bridge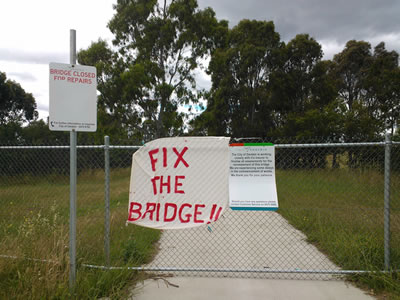 Poor residents along Darebin Creek do not fare well when it comes to its bridges.
As we have written for well over 10 years, the protracted fight to build
Darebin Bridge
continues. When finally built, Darebin Bridge will connect the Darebin Creek Trail to Melbourne's eastern cycling network, the Main Yarra Trail.
La Trobe Uni Lakes Bridge
Now another bridge has become an issue, the La Trobe Uni Lakes bridge. It is a pedestrian/cycling bridge that connects the Darebin Creek Trail (Reservoir) with La Trobe University (Bundoora). [
map
]
Sometime in 2013 vandals set fire to various objects including part of the bridge. The bridge was subsequently deemed unsafe and closed. Fences and hoardings have been erected with signage saying Bridge Closed For Repairs.
Its now 2014 and the bridge is still closed. Darebin Council and Darebin Creek Management Committee both confirm that studies have been ordered and given there are two councils involved it would be a long process. DCMC believed a new bridge would have to be built requiring funding from 2 councils.
Fix The Bridge
As the sign by a disgruntled resident says, Fix The Bridge.
Who uses the bridge? Mostly residents walking or cycling but we discovered many people use it to get to La Trobe University on the way to and from work/study.
With the bridge being closed, the two nearest options are the Plenty Road Bridge (1.5km) and the Darebin Creek Trail Bridge near Dougharty Road, Heidelberg (1.5km).
Reopens
(weather permitting)
❊ Web Links ❊
→
Summerhill Bridge | Darebin Creek
→
www.wikipedia.org/wiki/Darebin_Creek
→
www.friendsofdarebincreek.org.au
→
Darebin Creek Management Committee | www.dcmc.org.au
→
www.bicyclenetwork.com.au
→
Darebin Parklands Association | www.dpa.org.au
→
Parks Victoria
→
www.darebin.vic.gov.au
→
www.banyule.vic.gov.au
→
Pictures
❊ Also See... ❊
→
Darebin Yarra Bridge & Trail
Trending HOT
---
Update Page Request