Ian [ MOLLY ] Meldrum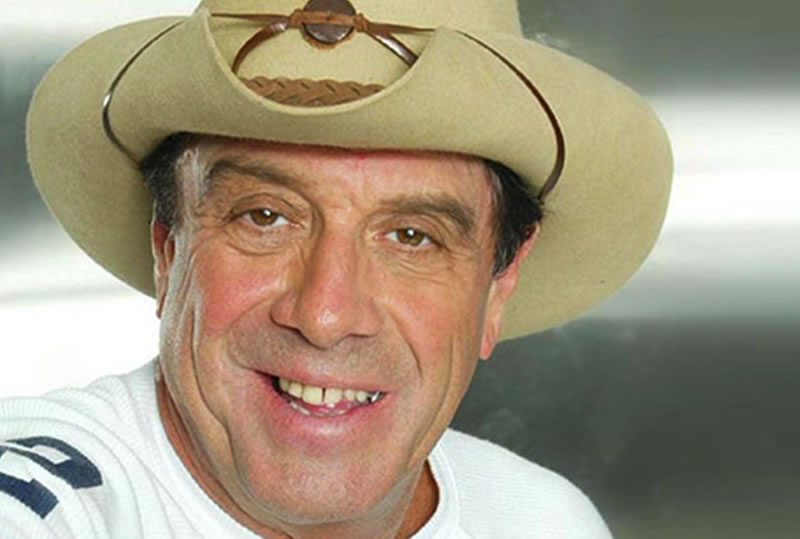 As it says on his fan club page: He's our home-grown legend, Molly the Music Guru.
Internationally, he is a friend of the famous, respected by the music industry - Ian "Molly"Meldrum "knows his stuff"! For four decades, Ian has helped place Australian music on the map.
Ian Alexander Meldrum was born in Orbost, Victoria, on 29 January 1943.
"Molly"is an Australian music critic, journalist, record producer and musical entrepreneur best known as the presenter and interviewer on TV shows including Hey Hey Its Saturday and Countdown.
During the Sixties, he worked as a journalist for Go Set mag and as a record producer. Ian worked with Russell Morris, John Paul Young, Ronnie Burns, Colleen Hewit, John Farnham, Zoot, Masters Apprentices and many others.
In 1968, on the eve of his departure for London , Ian learned that his first produced record "Hush"by Somebody's Image, had hit the number one spot on the Victorian charts.
nickname: Molly
Meldrum was given his nickname, Molly, by his friend and fellow Go-Set writer and radio DJ Stan Rofe.
Molly Meldrum Can't Live Without...
This cat in the hat has travelled far and wide on his magical, musical journey, ever since his chart-topping chats took him to the peak of the pop TV pyramid.
For more than 30 years Ian "Molly"Meldrum, AM, has been Australia's man in music, renowned for his A-list links and generation-defining TV shows. Today he produces reports for the Seven Network and recently launched Foxtel's 111 Hits channel with a one-off Countdown revival.
His Melbourne home, Luxor - complete with urns and ornaments from some 30 trips to Egypt, and a tropical courtyard - is Meldrum's sanctuary for reading, entertaining and following sport. He's a good sport himself in his current Whirlpool ad that sees him dressed in drag. He was taught you should never take yourself too seriously."
1. Barack Obama T-Shirt
I was lucky enough to meet Obama at a rally in New York last year. I do believe he has a chance to change America. There's a sense that it's a new beginning.
2. Washing Machine
Without this, the cleaning bill for my dress code of jeans and t-shirts would be huge. Believe it or not, I love ironing. It's my leveller.
3. 1960 MGA
I had my heart set on a new MG until I saw this classic MGA in the showroom. I'd dreamt of owning one way back, so I said, "Forget the new one. I'll have that."
4. The Beatles'Autographs
In the 1970's I was working at their label, Apple Records in London, and John Lennon and Yoko Ono said "Let's do an interview with the kangaroo". I was so nervous, I didn't realise till afterwards when my editor called, that Lennon had revealed The Beatles were breaking up.
5. Music
It's been my life. I love all genres, from classic to rock to Gilbert and Sullivan.
6. Boots
I started wearing RM Williams when I was 15 - they're so comfortable. People always ask where they're from. When Jermaine Jackson was here for the Countdown special, I took him shopping for some.
7. Hats
My original was a "Billy the Kid"Stetson which Lindsay Fox brought back for me from Texas. Now there's a place in Brisbane that makes them for me. I probably go through about 20 a year.
8. Garden
The doors of my living area concertina back so the garden becomes another room. The Egyptian feel and pool make it my private oasis.
9. My Mother
She passed away a long time ago, when I was overseas. She brought me up to believe no one is above you and no one is beneath you. Hopefully I've lived my life according to that.
10. Spice Rack
This has shelves intended for books, but I found a place for it in the kitchen and put spices in it. There's an incredible smell when you open it - an embodiment of the food I prepare.
$500,000 hat trick
MUSIC guru Molly Meldrum has made Australian TV history on Who Wants To Be A Millionaire.
Meldrum won $500,000 on 29th April 2003 entertainers' special, becoming only the fifth Australian contestant to win the half-million.
He is the first to reach the $250,000-mark with a lifeline intact.
Meldrum clinched the $500,000 with help from his "phone a friend"Red Symons, who ironically blew $218,000 on a celebrity special three years ago.
Meldrum's $500,000 question was: "Chevon is the meat of which animal?"The options were A: horse; B: camel; C: dog; and D: goat.
He called Symons who steered him towards the correct answer -- goat.
But the former Hey! Hey! It's Saturday! and Countdown star bailed out of the $1 million question, choosing to take the money and run.
The prize money will be split between Meldrum's two nominated charities -- Kids Under Cover and Jim Stynes' Reach Foundation.
Kids Under Cover builds houses for children who are victims of sexual and physical abuse.
Chairman Ken Morgan said the windfall was the equivalent of a year's fundraising for the charity.
"I can tell you, the next house we build will be called Meldrum House,"an elated Mr Morgan said.
Meldrum was first in the hotseat in the celebrity special, which featured Dame Edna Everage, Toni Pearen of Australia's Funniest Home Videos, Wogboy Nick Giannopoulos and red Wiggle Murray Cook.
Cook won $32,000 and Pearen and Giannopoulos each won $8000, but Dame Edna could only manage $1000.
Meldrum was shaken, but thrilled.
"It was the most nerve-racking thing I have ever done in my life,"he said. "I don't remember any of it. I remember Eddie hugging me -- that's it."
❊ Web Links ❊
→
Ian [ MOLLY ] Meldrum
→
Ian Meldrum - Wikipedia, the free encyclopedia
❊ Also See... ❊
→
COUNTDOWN
→
Molly
→
Statue: Molly Meldrum
→
World's Best Known Melburnian
❊ COVID-19 Notice ❊
Many locations have gone into lockdown as the state takes action to stop the spread of the deadly coronavirus (COVID-19).
→
Disclaimer
: Check with the operator before making plans
...
Trending HOT

Drive-In Movie Club
Drive-In Immersive Cinema Nights Are Coming to Melbourne Put together by our friends at Hot Tub Cinema, a string of family-friendly, social distancing-safe, drive-in ..

Things to see, hear & do this weekend
Make the most of your weekend in Melbourne with these fabulous events. No city does it better than Melbourne, so get out and discover the very best shows, festivals, ..
---
Update Page