Fletcher Jones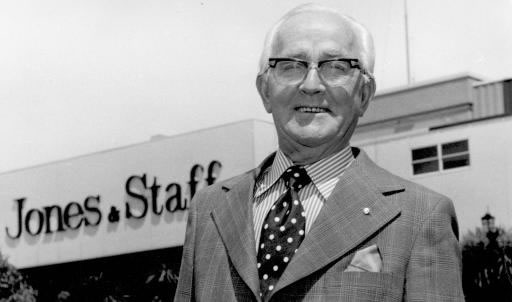 Sir David Fletcher Jones OBE was an Australian clothing manufacturer and retailer.
At the time of his death in 1977, David Fletcher Jones (Senior) together with his staff was one of the largest clothing manufacturers in the world, with almost three thousand staff employed in four factories and thirty-three stores in every Australian state.
Born in 1895 in Bendigo, David Fletcher Jones left school just before his thirteenth birthday and started work in an auction rooms before moving on to grow tomatoes on a small plot of land on the outskirts of Bendigo.
He joined the Australian army in 1915 and served in Egypt and then on to the Western front in France. A shell burst just meter's away left him with severe injuries and he was invalided home with a C3 (Totally and Permanently Incapacitated) classification, and never expected to work again. He refused to accept the pension and started to look for work. His doctor suggested that a sales job might be good for him and it may also help with his severe stammer, and he eventually found work selling soap door to door.
After some success he then decided to set up his own business selling drapery and manchester door to door and purchased a small horse drawn hawkers van and set off around the Western district of Victoria. This proved to be even more successful and despite his severe stutter, his honesty and integrity shone through and he quickly built the business to a point where he had several trucks and a staff of six.
To boost sales he began renting temporary premises and held one and two days sales in towns around the countryside and in 1924 he rented the Oddfellows hall in Warrnambool and held a sale that proved to be so successful he was persuaded to settle in Warrnambool and lease three shops in the main street.
The next few years the business struggled as the shops were at the wrong end of the street and FJ was severely under capitalised, however in 1928 he moved to a shop near the corner of Liebig and Koroit St and the business became know as "The Mans Shop"and at this time he commenced making men's suits and trousers. The next change occurred in 1931 when the Methodist church on the corner of Liebig and Koroit St was demolished to make way a new shop and FJ agreed to take the lease.
The new shop was built to FJ's specifications with a modern retail shop at the cities busiest intersection at street level and large upstairs area for his growing workforce of tailors.
During the next decade, despite the financial hardships of the depression years the business continued to prosper, and It was at this stage FJ began to question the distribution of wealth between the rich and the poor and he looked for a way to address the imbalance.
His reading and research eventually led him to the writings of Dr Toyohiro Kagawa ( who had often been described as Japan's Ghandi ) and his work with setting up cooperative projects in Japan. In 1935 Kagawa visited Melbourne and after numerous letters, FJ managed to convince Kagawa to visit Warrnambool and speak at the local town hall and then in 1936 FJ visited Japan to study Kagawa's social innovations first hand, and he returned convinced to set up a similar structure in Warrnambool.
The Second World War intervened before FJ could put his plan into action and it was at this stage that another major expansion occurred in the business. Under direction from the Federal Government, FJ was directed to make army trousers, which they were not set up to do, but in typical FJ style he managed to convince the Government Clothing Dept. that it would be better to make quality trousers for primary producers.
Thus was born the famous FJ plus 8 trousers, which came in four different colours and one style . At the end of W.W.II the increase in demand put a huge strain on resources and the lack of any suitable premises to relocate to, prompted Fletcher Jones to build a purpose built factory, and in early 1947 he agreed to buy a large block of land on the highway, part of which included a disused quarry which had been used as a rubbish dump.
Work began immediately , with the site being cleared and ex army huts erected to accommodate machinists cutters etc. and by 1948 production of men's trousers commenced on the newly named "Pleasant Hill "site. This new factory was more than just expansion to Fletcher Jones but was the opportunity to realise his dream of allowing his employee's to become part owners in the company and to share in the profits. He also wanted to create a pleasurable working environment for everyone who worked in the factory - something that had never been attempted before.
He then approached Neil Symons, a local solicitor to help in setting up the business structure for this new company, and Neil promptly told FJ that "he didn't need a business advisor, he needed a psychiatrist", but FJ's dream was so infectious than not only did Neil Symons set up the new business but he left his job and went to work for FJ, eventually becoming Managing Director and continued in that capacity until his retirement some twenty five years later.
When the new company, "Fletcher Jones and Staff.was finally put in place ( 1951) the staff owned 51% of the shares and Fletcher Jones had become a minority shareholder in the company he had created and by the mid 1970's staff ownership had grown to over 75%. Not only did the staff benefit financially from the FJ's vision, they were also taking part in a workplace revolution as employees were given more control over their jobs and sections within the factory were run on a team cooperative basis while outside the factory site the rubbish tip was being transformed into landscaped gardens.
The next 20 years were the Golden years for the FJ organisation with a rapid expansion in the company, starting with just 140 employees in the Warrnambool factory in 1948, to well 1100 in 1960's, plus another 900 employed in factories in Brunswick and Mt Gambier.
Apart from expanding his manufacturing facilities Fletcher Jones also opened a chain of retail stores right across Australia with stores in nearly even major town across the country.
In 1970, following the death of Fletchers beloved wife, Rena, Fletcher's scaled back his involvement with the running of the company. Fletcher was honoured in the 1974 New Years honours list with a Knighthood and in 1976 and autobiography entitled "Not by Myself"was published.
David Fletcher Jones (Snr) passed away in February 1977, ending an extraordinary life
The Epilogue
Arguably, no single person or firm had done more to transform the clothing sector and, to change Australian dress standards, particularly among men, than Fletcher Jones and his staff.
It took another 20 years after FJ's death for the company to succumb to the same fate. The abolition of tariffs and cheap imports are often cited as reason for the failure of the company and although the factories have been closed for the past decade, the chain of retail stores, brand name and label still live on, although under new ownership.
In an age where accolades are handed out like lollies and sportsmen and actors are lauded as heroes, it is easy to overlook this genuinely modest man who overcame a scant education, serious war injuries and a profound stammer to build an world class organisation that set standards in manufacturing that even today are not duplicated, at the same time doing it with honesty and great integrity
David Fletcher Jones (jnr)
BUSINESSMAN, PHILANTHROPIST 4-2-1935 - 6-12-2011
David Jones (Junior) was a restless, clever, difficult man; never still, seldom comfortable, rarely satisfied. His world was full of things that needed to be done and done well - and if you weren't there to help get them done his way, you'd best get out of his way while he did them himself. Simple as that.
Summing him up, one longtime friend said: 'David would always say 'sorry' , as in 'sorry - you're wrong!"
Another man remembers arranging a first meeting with Jones, who said he'd meet him a certain country town. 'How will I know you?' asked the man. 'You will know,' replied Jones.
Yet another, a lady, described him as '' a Renaissance man living in country Victoria, highly intelligent, able to turn his hand to anything'' .
Pedant. Plain speaker. Perfectionist . Polymath. Who was this multi-faceted man who has died of cancer in the Port Fairy hospital at age 76, only 10 weeks after losing Isobel, his wife, phil anthropic partner, and patient companion for 55 years?
Firstly, and most tellingly, he was the son of Sir (David) Fletcher Jones, the legendary clothing designer, manufacturer and retailer who flew in the face of capitalist convention by handing three-quarters of his business to his workers.
Influenced by Japanese reformer Toyohiko Kagawa, Jones snr was one of the most remarkable social activists in Australian history. And junior was every inch his father's son. A sense of fair play was in his DNA.
Born in Warrnambool he was educated at the local primary school and then at Geelong Grammar.
He went on to study textile technology at the Gordon Technical College in Geelong, and soon joined Fletcher Jones and Staff, where he would stay for 39 years, the last 12 years as managing director.
In addition to his '' day job'' , for several decades he served as: deputy chancellor of Deakin University; commissioner for the City of Warrnambool; member of the State Training Board; member of South-West TAFE Council; director of the International Fibre Centre; director of the Australian Wool Corporation ; member of the International Wool Secretariat; chairman of both the AWC and IWS textile research committees ; and member of the Wool Research & Development Council.
Former Warrnambool City chief commissioner Carole Reid said working with Jones had been '' interesting'' . As commissioners together, their proudest achievement had been the support they gave the embattled Midfield Meats as the tiny company strove to become an export abattoir. Today, 15 years later, the Midfield group is a major employer in the city.
As a member of the Warrnambool Art Gallery advisory committee from 1992, he helped revolutionise the gallery's collection by liberating art-buying funds that had lain dormant and untouchable in council coffers for years. Then he and his family added to this considerable kitty by donating even more money for acquisition.
He was the driving force behind the formation of the Warrnambool Art Gallery Foundation in 2008, to raise funds and encourage donations to help the gallery acquire works of art.
Earlier, from 1978, he managed his parents' philanthropic FJ Foundation then in 2007 he created his own - the Isobel & David Jones Foundation. Lawyer James Tait said both foundations were set up with '' to improve the lot of the people of the district'' . They continue to fund activities and organisations as disparate as the YMCA, Toc H, the life-saving club, and a children's concert at the Port Fairy Spring Music Festival.
Meanwhile, back at the office, Jones was one of the very early businessmen to adopt new technology. He recruited systems man Bill Hewitt to computerise FJ's manufacturing. 'He could see how systems used in completely unrelated industries might be applied to the clothing industry,'' Hewitt recalled. '' His ability to focus was amazing. And that was where he got his reputation as a 'difficult' man. He was just so totally focused on what he was doing.'
Jones dedicated an enormous amount of his time to the South-West Institute of TAFE, where he served as president from 2000 to 2003. Fellow SWIT member Patricia Varley said he travelled thousands of kilometres and devoted thousands of hours to the cause of rural and regional education.
'He was a successful advocate at local, state and federal levels,' Varley said. 'And he took a roguish delight in winning a contest with the bureaucracy - or with anybody else for that matter.'
But there was one bureaucracy he couldn't beat. When the Hawke government dropped protective tariffs in the early '90s, the world changed. FJ's business manager, Wayne Kraus, headhunted by Jones from the Portland smelter in 1989, said the writing was on the wall in those tough '' recession years'' .
'David was feeling the pressure as he watched the dismantling of his father's legacy. He saw himself as the steward of assets that were being sold off, bit by bit, for a pittance. We were in 'cash recognition' mode - and David, a corporate warrior to the end, fought every inch of the way, always trying to do his best for his company. The inevitable retrenchments were especially hard on him.'
But it wasn't all-work-andno-play for the Renaissance man. Into his superhuman schedule he managed to shoehorn some relaxation. He travelled . He skied. He sailed. He cooked. He read. He researched. He drank wine. And he built himself a beautiful two-storey house by the beach at Port Fairy. Literally. He built the house himself. Then he built another one for his children.
A member of the Australian Lancia Register since 1979, he lovingly restored four classic cars - a 1928 long-chassis Lancia Lambda, a 1970 Lancia Fulvia, a 1928 Packard and a 1951 MGTD - with a meticulous , almost-microscopic attention to detail, right down to sewing the upholstery.
Once, returning from a European business trip, he carried a cylinder head in his hand luggage for fellow Lancia enthusiast Bill Jamieson. Since 1977, Jones had rarely missed the biennial Lancia Rally in Castlemaine . Even this year, ill, frail and only seven weeks from the end, he drove his friend Ron Hampson to the event after cautioning him not to slam the door of his beloved Alfa.
The grim irony is that a far greater slam was coming. A mere 36 hours after his death, the company that he and his father before him had built into an Australian byword, passed into the hands of the administrators and ceased to be. Vale David Jones. Vale Fletcher Jones and Staff.
He is survived by his children Anne, Susan and David, and five grandchildren.
By JOHN BOX | John Box is a Melbourne writer and friend of the Jones family.
Fletcher Jones Today
Fletcher Jones Australia has now been re-launched online in Australia.
The new Australian owned company proudly offers a comprehensive range of men's business and casual wear clothing. The online range has been developed with a strong emphasis on the traditional values of the original Fletcher Jones, with a variety of styles, quality of manufacture, fit and comfort and an extensive range of colours and sizes.
The online site provides customers the opportunity of purchasing Fletcher Jones clothing at extremely competitive prices and supported by great customer service.

Fletcher Jones
|
www.fletcherjones.com.au
Fletcher Jones
❊ Address & Contact ❊
⊜ Flaxman Street Warrnambool |
Map
❊ Web Links ❊
→
Fletcher Jones
→
www.fletcherjones.com.au
→
www.warrnamboolcam.com
→
Fletcher Jones Gardens - adonline.id.au
→
www..wikipedia.org/wiki/Fletcher_Jones
→
www.adb.anu.edu.au
❊ Also See... ❊
→
Fletcher Jones Australia
→
Disclaimer
: Check with the venue before making plans
...
Trending HOT

Drive-In Movie Club
Drive-In Immersive Cinema Nights Are Coming to Melbourne Put together by our friends at Hot Tub Cinema, a string of family-friendly, social distancing-safe, drive-in ..

Things to see, hear & do this weekend
Make the most of your weekend in Melbourne with these fabulous events. No city does it better than Melbourne, so get out and discover the very best shows, festivals, ..
---
Update Page