Burnham Beeches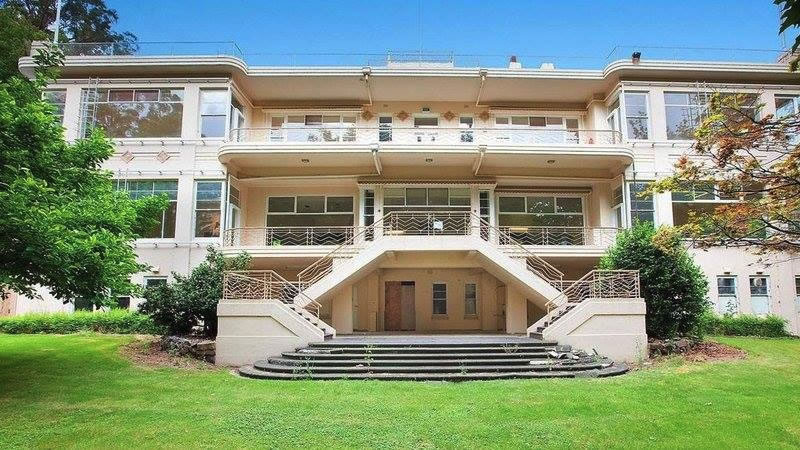 Burnham Beeches is an iconic Art Moderne mansion and estate located on Sherbrooke Road, Sherbrooke, 45 minutes from the city of Melbourne.
Aside from the exquisite mansion the estate contains extensive established gardens and a rolling rural landscape totaling 22.72 hectares (56.142 acres).
The original mansion was built in 1933 and has two newer buildings (1980's) adjoining it - these two wings incorporate 58 hotel rooms/suites. These rooms/suites are currently stripped of fittings and fixtures but work has begun on transforming the space into Australia's first 6-star luxury retreat deliverable by 2018. In addition, there are numerous outbuildings, greenhouses, an old piggery, a mill and four cottages, streams, natural springs and an adjacent rainforest.
The greenhouses now grow our vegetables, the piggery has been morphed into a state-of-the-art bakery and cafe with the mill becoming the Moo Brew-affiliated microbrewery and bar.
In time, Australia's longest chicken run will be built at Burnham Beeches plus a 16-cow automated dairy, along with the steakhouse. Outside a slew of tables lay under heating strobes looking out to lawn bowls, croquet and bocce pitches.
Look even further across the 23-hectare estate and into the distance and you'll spot the 500-tree trufferie, extensive vegetable gardens (now providing organic produce for the cafe plus Vue de monde and assorted Vue Group restaurants) and an emu enclosure, with the eggs used in various
The Piggery Cafe
dishes.
Burnham Beeches
The Burnham Beeches mansion was built for Aspro-brand sales magnate Alfred Nicholas.
The 1930's Art Deco mansion and surrounding gardens [
Alfred Nicholas Memorial Gardens
] was owned by Alfred Nicholas, a philanthropist who, along with his brother George (1884-1960), a pharmacist, made the first Australian aspirin and named it 'Aspro'.
In 1929 Mr Nicholas hired 60 workers to clear the land and set off to Chelsea flower show in search of plants to fill his garden. There he met Percival, the man who went on to become his head gardener. 150 trees were shipped from England to Burnham Beeches.
The property was named after the English National Forest of Beech trees in the county of Buckinghamshire.
After Alfred passed away the mansion was used as a children's hospital during World War 2. In 1954 the house and property were handed over to their company and converted into a research lab. In 1965 the Nicholas Institute donated the
gardens
to the public whilst Burnham Beeches remained privately owned. For a time it became a small luxury hotel before new owners Shannon Bennett and Adam Garrison, hope to turn Burnham Beeches into a premier food and accommodation destination.
Historic-mansion plan gets nod
September 28, 2018 - The Age Digital Edition
Locals have given a cautious thumbs-up to state government approval of redevelopment plans for the crumbling Burnham Beeches estate in the Dandenongs.
The once graceful 1930s mansion has been vacant and decaying for decades, but now the current owners, including celebrity chef Shannon Bennett, can start converting it into a 55-room hotel, restaurant and retail complex.
But activists who have lobbied hard to save Burnham Beeches' historic beech trees, and the sprawling Art Moderne-style mansion, want to know what, exactly, has been approved.
The member for Monbulk, James Merlino, posted on his Facebook page that the '' stunning, heritage-listed Burnham Beeches is now set to be restored to its former glory'' , with a permit granted by Planning Minister Richard Wynne.
The post said all beech trees '' on the Sherbrooke Road access to the estate' ' would be preserved.
Kathryn Nauta, secretary of the Burnham Beeches Preservation Group, said that while locals were '' ecstatic about the trees'' , they wanted it spelled out that the specific 35 trees listed as '' significant' ' by the National Trust would be saved.
A media release from Mr Merlino's office gave few other details, saying only that the permit '' allows for the development of a 55-room hotel, function centre, shop, brewery and two food and drink premises'' .
Ms Nauta called for more information. She also said the mansion's renovation needed to start before it fell into worse disrepair.
Tecoma resident Peta Freeman said locals had learnt to be cautious as promises had changed over the years.
Betty Marsden, president of the Save the Dandenongs League, said she was pleased the beech trees would apparently be saved. But the Kallista resident of 47 years had reservations about a micro-brewery to be built near the Piggery Cafe.
Felicity Watson, the National Trust's Victorian advocacy manager, said: '' The National Trust welcomes news that the historic beech trees at the entrance of Burnham Beeches will be retained, an outcome which we have long advocated for.''
Comment was also sought from Shannon Bennett.
This article is from the September 28 issue of The Age Digital Edition.
The Age Digital Edition: Historic-mansion plan gets nod
Carolyn Webb |
digitaleditions.com.au
❊Venue | Location ❊
Alfred Nicholas Memorial Gardens
[
show
]
⊜ 1 Sherbrooke Road Sherbrooke |
Map
✆
Call Parks Victoria on 13 1963
→ Venue Calendar:
View 2 Events
❊ Web Links ❊
→
Burnham Beeches
→
www.wikipedia.org/wiki/Burnham_Beeches
→
Burnham Beeches reborn
→
www.burnhambeeches.com.au
❊ Also See... ❊
→
The Piggery Cafe
→
Vue de Monde
Trending HOT

Things to see, hear & do this weekend
Weekends are precious. Two days to do what we please. All day Saturday and Sunday to chill, fill and party to our hearts content. No city does it better than ..

Mad March Melbourne 2019
If there was any dispute as to Australia's leading events city, one only has to look at Melbourne in March to see how many first-class, world events are on. Melbourne ..
---
→
Page Editor