test
Bastille Day 2019 | Melbourne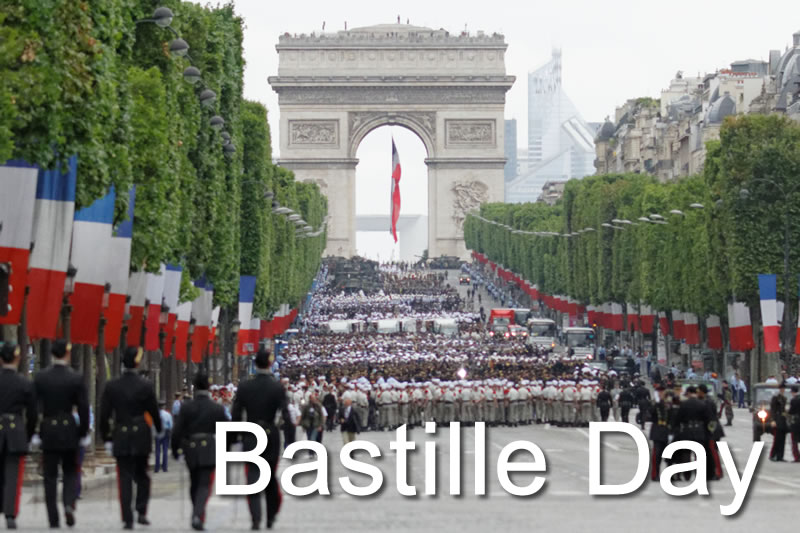 Bastille Day is the French National Day celebrated on the 14th of July each year.
In France, it is called La Fete Nationale and commemorates the 1790 Fete de la Federation, held on the first anniversary of the storming of the Bastille on 14 July 1789; the event was seen as a symbol of the uprising of the modern nation, and of the reconciliation of all the French inside the constitutional monarchy which preceded the First Republic, during the French Revolution.
With a growing French community, the most liveable city in the world, Melbourne showcases its French influence and the French people who contribute to making Melbourne the multicultural, food and entertainment hub it is today.
Bastille Day
---
When & Where
Date: Sunday 14th July 2019
---
Web Links
→
Bastille Day 2019 | Melbourne

→ www.bastille-day.com

→ www.timeanddate.com

→ www.afmelbourne.com.au

→ www.bastilledaymelbourne.com

→ Disclaimer: Event details can change at any time. Check with the event advertiser before making travel plans, buying tickets or proceeding ...


---
Trending HOT

Things to see, hear & do this weekend
Weekends are precious. Two days to do what we please. All day Saturday and Sunday to chill, fill and party to our hearts content. No city does it better than ..

Melbourne International Flower & Garden Show 2019
Presented by Lawn Solutions Australia Returning for it's 24th year, the Southern Hemisphere's leading floral & landscape design event is set to delight guests. ..
Stay in TOUCH
A free weekly wrap of what's on |
More..
tetsingArray
(
    [0] => 38556
    [CatID] => 38556
    [1] => 4789
    [CatParent] => 4789
    [2] => 0
    [CatParent2] => 0
    [3] => Bastille Day 2019 | Melbourne
    [CatName] => Bastille Day 2019 | Melbourne
    [4] => bastille-day-melbourne
    [slug] => bastille-day-melbourne
    [5] => 
    [CatDescription] => 
    [6] => 
    [description_short] => 
    [7] => Bastille Day is the French National Day celebrated on the 14th of July each year. 

In France, it is called La Fete Nationale and commemorates the 1790 Fete de la Federation, held on the first anniversary of the storming of the Bastille on 14 July 1789; the event was seen as a symbol of the uprising of the modern nation, and of the reconciliation of all the French inside the constitutional monarchy which preceded the First Republic, during the French Revolution.

With a growing French community, the most liveable city in the world, Melbourne showcases  its French influence and the French people who contribute to making Melbourne the multicultural, food and entertainment hub it is today. 



Bastille Day


    [Info] => Bastille Day is the French National Day celebrated on the 14th of July each year. 

In France, it is called La Fete Nationale and commemorates the 1790 Fete de la Federation, held on the first anniversary of the storming of the Bastille on 14 July 1789; the event was seen as a symbol of the uprising of the modern nation, and of the reconciliation of all the French inside the constitutional monarchy which preceded the First Republic, during the French Revolution.

With a growing French community, the most liveable city in the world, Melbourne showcases  its French influence and the French people who contribute to making Melbourne the multicultural, food and entertainment hub it is today. 



Bastille Day


    [8] => http://www.bastilledaymelbourne.com
    [url] => http://www.bastilledaymelbourne.com
    [9] => 
    [email] => 
    [10] => 0
    [use_email_form] => 0
    [11] => 
    [address] => 
    [12] => Melbourne
    [suburb] => Melbourne
    [13] => 
    [state] => 
    [14] => 3001
    [post_code] => 3001
    [15] => 
    [phone] => 
    [16] => 
    [picture] => 
    [17] => /image/ico-bastilledaymelbourne.jpg
    [picture_remote] => /image/ico-bastilledaymelbourne.jpg
    [18] => 
    [target_pic] => 
    [19] => 
    [map_ref] => 
    [20] => 
    [map_pic_detail] => 
    [21] => yes
    [active] => yes
    [22] => N
    [pref] => N
    [23] => nil
    [confirm_cat] => nil
    [24] => 
    [rating_good] => 
    [25] => 
    [rating_ok] => 
    [26] => 
    [rating_poor] => 
    [27] => 
    [rating_total] => 
    [28] => 
    [rating_average] => 
    [29] => 
    [featured] => 
    [30] => no
    [featured_2] => no
    [31] => no
    [featured_3] => no
    [32] => no
    [featured_4] => no
    [33] => 
    [featured_5] => 
    [34] => 
    [featured_6] => 
    [35] => 
    [featured_7] => 
    [36] => 
    [featured_8] => 
    [37] => 
    [featured_9] => 
    [38] => 
    [listsid] => 
    [39] => 
    [featured_coming_soon] => 
    [40] => no
    [calendar] => no
    [41] => /image/ico-bastilleday.jpg
    [thumb] => /image/ico-bastilleday.jpg
    [42] => 
    [admin_notes] => 
    [43] => 0
    [related_owner] => 0
    [44] => 0
    [related_owner2] => 0
    [45] => 
    [related_1] => 
    [46] => 
    [related_2] => 
    [47] => 
    [related_3] => 
    [48] => 0
    [submitted_by] => 0
    [49] => 0
    [thread] => 0
    [50] => 
    [article_cat] => 
    [51] => 2018-07-16 12:13:03
    [date_updated] => 2018-07-16 12:13:03
    [52] => 7
    [author_id] => 7
    [53] => 
    [ip] => 
    [54] => 
    [hostname] => 
    [55] => 2012-07-12
    [date_submitted] => 2012-07-12
    [56] => 2019-07-14
    [start_date] => 2019-07-14
    [57] => 2019-07-14
    [date_end] => 2019-07-14
    [58] => **
    [times] => **
    [59] => no
    [Expired] => no
    [60] => 
    [ip_address] => 
    [61] => 
    [frequency] => 
    [62] => 
    [display_ad_profile] => 
    [63] => 
    [Days] => 
    [64] => 0000-00-00
    [dateend_daily] => 0000-00-00
    [65] => 0
    [rss] => 0
    [66] =>  
    [rssaddress] =>  
    [67] => 1
    [annual] => 1
    [68] => 0
    [calwk] => 0
    [69] => 
    [isComment] => 
    [70] => no
    [confirmNextYear] => no
    [71] => 
    [url-booking] => 
    [72] => E
    [cat-type] => E
    [73] => 
    [type_edu] => 
    [74] => 
    [event_times] => 
    [75] => 
    [tags] => 
    [76] => 
    [venue-id] => 
    [77] => 1
    [cityID] => 1
    [78] => 0
    [mail_sent] => 0
    [79] => 
    [advfeathomepage] => 
    [80] => 
    [advfeatsidepage] => 
    [81] => 
    [advnewsletter] => 
    [82] => 
    [advcategorytop] => 
    [83] => 
    [advsocialmedia] => 
    [84] => 
    [advpayment] => 
    [85] => 45
    [like_count] => 45
    [86] => 0
    [isrun] => 0
)

---
Update Page Request
Upgrade Page