Baby Pig On Wheels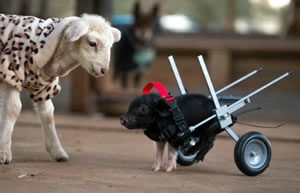 Introducing Leon Trotsky, the once broken piglet now breaking hearts.
He was a regular farm pig until an accident involving his mum killed two of his siblings and crushed Leon's little body.
His right-hind femur was both broken and dislocated, and he also injured his hock and suffered ligament damage.
Some might have given up on Leon, but he was lucky enough to find himself in the care of
Edgar's Mission Farm Sanctuary
at Kilmore, where he's been able to beat the odds.