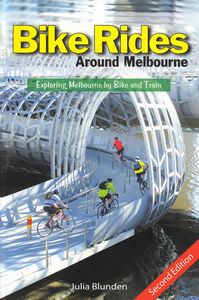 Walking/Bike Trails
Widely regarded as THE classic Melbourne cycling guide, Julia Blunden provides 37 detailed rides with descriptions and 21 elevation profiles.
Each ride starts and ends at a railway station.
We have ridden many of the rides which Julia has thoroughly ridden, researched and written.
REVIEWERS NOTE
In December 2008 we chose the Moonee Ponds Creel ride (Ride 13) commencing from our car in Broadmeadows Valley Park. Finding the bike path was the first obstacle (it took us quite sometime) given some new fences but we eventually found it in the south western corner of the park. We had our 6 year boy with us, so we had decided to do the relatively short ride along this path, turning right towards Westmeadows, and heading to the Westmeadows Tavern as detailed in the book.
Sadly, where we went wrong was turning off towards Westmeadows BEFORE Johnstone Street, instead of after it as detailed in the map. In our defence, there are signs at this turn-off pointing towards Westmeadows. All we could see in front off us was a wall of steep hills that appeared insurmountable. It was so steep, that once we got to Raleigh Street our son could not walk and push his bike up the two steep hills to get to the top. To add to our woes, it was a warm sunny day so it really took its toll having to walk my bike to the top and then go back and do the same for my sons.
Once at the top, its a long downhill ride to the tavern (almost a straight line) and when it comes into view its a very welcome sight. We ate a hearty lunch in the bistro and then I caught a taxi back ot the car and then collected my tired and weary riders from outside the tavern.
The key to all of this, is to take the SECOND turn-off (after Johnstone St) along the Moonee Ponds Creek Trail. Having not ridden it, we can only assume it is a flatter less demanding ride than the one we chose. If I can ever talk the other two into it, maybe we will give it another try. Stay tuned!
Dewey
796.64099451
Format
Softcover
Edition
2nd ed.
Nr of Pages
204
Height x Width
210 mm
Previously published: 2002.