tixatsix | $30 Arts Centre Tickets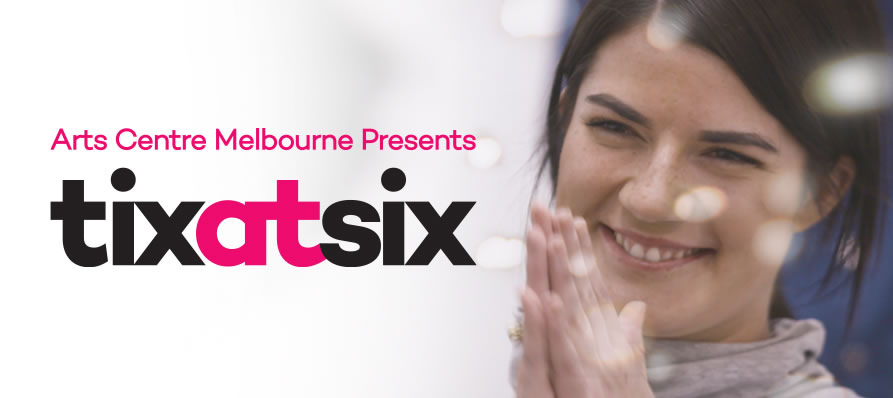 Magnificent, memorable, 'Together Experiences' for just $30
When was the last time you did something completely off the cuff?
What happened to good ole spontaneity?!
Doesn't it seem sometimes that life has been redefined as a series of pre-planned calendar invites from friends, family and colleagues?
Well, Arts Centre Melbourne has decided to revive the spontaneous night out with tixatsix.
So, instead of standing on a crowded train platform or feeling a little road rage on the rise as you sit in traffic, shake off the peak hour blues and come by Arts Centre Melbourne for magnificent experiences from 6pm each night*..for just $30!
You read it right, $30!
Here's what you need to know..

How many tickets are available and for which shows?

A minimum of 20 tickets are available every night* from 6pm for $30 each, with a limit of 2 per person per night, for select performances across all Arts Centre Melbourne venues, including the Theatres Building under the Spire (housing the State Theatre, Playhouse and Fairfax Studio), Hamer Hall and the Sidney Myer Music Bowl.

tixatsix is offered across all genres of performance at Arts Centre Melbourne, including popular and classical music, classical and contemporary dance, musical theatre, theatre, circus, opera and more.

Information on which shows will be part of tixatsix for each night is released at 5pm to give you a bit of a heads up about what you might get to see. Until then, though, it's a mystery-it's all about spontaneity, remember?!

How can I purchase a tixatsix ticket?

Drop by our Box Office on Level 5 of the Theatres Building (under the spire) from 6pm each day (even for shows at Hamer Hall or the Bowl) and jump into the tixatsix line to purchase your tickets, it's that simple!

Good luck-we hope you enjoy whatever performance you see at Arts Centre Melbourne.

*Please note: On rare nights our venues may be dark (without any performances on any of our stages), which means there won't be a tixatsix offering. So, be sure to check the What's On calendar for the most up-to-date list of upcoming events. For more information about tixatsix, please download our Terms and Conditions.

Tixatsix tickets are only available at the Arts Centre Melbourne Theatres Building Box Office (under the spire on Level 5) from 6pm Melbourne local time each evening. This is the only place you can purchase tixatsix tickets, even if the show on offer is at Hamer Hall or the Sidney Myer Music Bowl.