The Beatles in Melbourne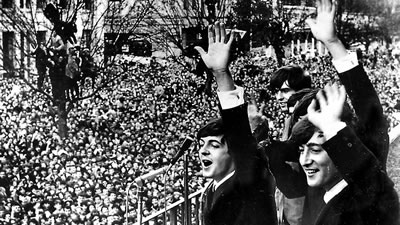 On Sunday June 14th 1964 the Beatles arrived in Melbourne for a 3 night concert engagement at
Festival Hall
with 2 shows each night.
About 45,000 people saw the six performances, and the last show was taped for television by Channel 9 and broadcast in Australia on 1st July from 7:30 to 8:30. Brian Epstein had originally agreed to 10 minutes being broadcast, but after he had seen a preview he was so pleased with it he allowed 22 minutes (the rest of the broadcast was made up with Australian music acts).
The performances included, "I Saw Her Standing There", "You Can't Do That", "All My Loving", "She Loves You", "Till There Was You", Roll Over Beethoven", Can't Buy Me Love", Twist And Shout" and "Long Tall Sally".
There were chaotic scenes outside the
Southern Cross Hotel
(on the corner of Bourke and Exhibition Streets) when the Beatles appeared on the balcony just above street level. Exhibition Street was blocked by an estimated 20,000 screaming fans. John allegedly gave Nazi salutes to the crowd.
Inside the hotel the Beatles were reunited with Ringo who had flown in with Brian Epstein that morning. Jimmy Nicol packed his bag and left the next day.
The Southern Cross then, is the ONLY hotel to play host to
FIVE Beatles
.... so it plays an interesting part in their history.
Also, an E.M.I. reception was held at the Southern Cross Hotel the following day and John Lennon flew into a rage when he saw the altered Australian cover for the "With The Beatles" album.
Story and pictures by Chris Jarvis of Ballarat, Victoria, Australia
Beatlemania : The Beatles in Melbourne 1964
On Sunday 14 June 1964, 30,000 'screaming, chanting, struggling' teenagers massed outside Melbourne's Southern Cross Hotel to glimpse the Beatles. Clearly distressed, television reporter, Tony Charlton, stated: 'Mothers, if your child is out there, you should be ashamed'. With mounted police carrying collapsed teenagers from the mayhem and about 150 injuries, the spectacle had frightened many observers.
Several days later, at the reception inside the Melbourne Town Hall, the 'cream of Melbourne society' gathered to respectfully welcome the Beatles to the city. As Sun columnist, Keith Dunstan related:
At first, there was a hush and respectful clapping. .. Suddenly it was on. All around, girls were screaming, pushing forward, trying to stroke their jackets. .. Young ladies who five minutes before had looked very correct .. were screaming: 'WE LOVE YOU BEATLES'.
Outside 20,000 teenagers had gathered to obtain a glimpse of the pop idols. Again, frenzied and hysterical cheering and uncontrollable screaming erupted when the Beatles emerged.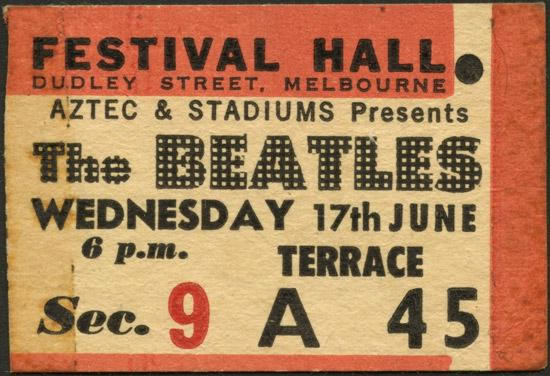 The Beatles: Ticket
The Beatles: Ticket for Melbourne Festival hall Wednesday 17th June; programme
❊ Web Links ❊
→
The Beatles in Melbourne
→
www.jpgr.co.uk
❊ Also See... ❊
→
But there were 5 Beatles!
→
Tags
>
Beatlemania
,
The Beatles
,
Melbourne
,
1964
,
Reader Interest
---
→
Page Editor