test
Steam & Cuisine Luncheon | Puffing Billy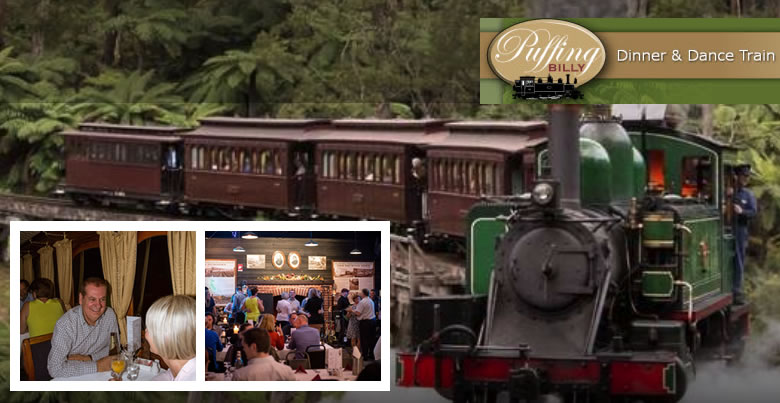 We invite you to Puffing Billy for a different experience - travelling First Class!
Relax and unwind with a majestic three-hour steam train journey as you take in the scenic vista of the Dandenong Ranges.
WHAT'S INCLUDED
Indulge in a delicious seasonal three-course menu or Natter Platter filled with a selection of cured meats, fine cheeses and Devonshire Tea.
All tickets include your selected meal, 2-hour train journey and 1-hour spare time at Emerald Lake Park.
TICKET PRICES
Three-course Meal
Adult: $115 pp
Concession: $105 pp
Child (5-16 years): $105 pp
Natter Platter
Adult: $90 pp
Concession: $80 pp
Child (5-16 years): $80 pp
ON THE MENU
Enjoy our quality Three-course Meal or Natter Platter with meals served on board Puffing Billy.
View the current Three-course menu here
View the current Natter Platter menu here
DRINKS AT BAR PRICES
A range of beverages, including internationally acclaimed wines from the Yarra Valley Region, are available for purchase on board the train.
BOOK YOUR EXPERIENCE
Please check availability by selecting your preferred event date in the booking widget below. Bookings essential.
SPECIAL OFFER
Receive 25% off Steam & Cuisine Luncheon three-course menu or Natter Platter when you dine with us Monday - Friday.
Offer available until 5th April 2019.
Use promo code LUNCH25OFF to redeem the special discount online.
*Terms & Conditions apply.
---
When & Where
Date/s: Sunday 24th March 2019 - Wednesday 27th March 2019
Times: 12.30pm
Venue || Location
Puffing Billy Railway
Events

6
Events
⊜ 1 Old Monbulk Road Belgrave |
Map
✆ Event: 03 9757 0700 | Venue: (03) 9757 0700
Book Online Here
---
Web Links
→
Steam & Cuisine Luncheon | Puffing Billy

→ www.puffingbilly.com.au

→ Disclaimer: Event details can change at any time. Check with the event advertiser before making travel plans, buying tickets or proceeding ...


---
Trending HOT

Things to see, hear & do this weekend
Weekends are precious. Two days to do what we please. All day Saturday and Sunday to chill, fill and party to our hearts content. No city does it better than ..

Melbourne International Flower & Garden Show 2019
Presented by Lawn Solutions Australia Returning for it's 24th year, the Southern Hemisphere's leading floral & landscape design event is set to delight guests. ..
Stay in TOUCH
A free weekly wrap of what's on |
More..
tetsingArray
(
    [0] => 648805
    [CatID] => 648805
    [1] => 6387
    [CatParent] => 6387
    [2] => 0
    [CatParent2] => 0
    [3] => Steam & Cuisine Luncheon | Puffing Billy
    [CatName] => Steam & Cuisine Luncheon | Puffing Billy
    [4] => steam-cuisine-luncheon
    [slug] => steam-cuisine-luncheon
    [5] => 
    [CatDescription] => 
    [6] => 
    [description_short] => 
    [7] => We invite you to Puffing Billy for a different experience - travelling First Class!

Relax and unwind with a majestic three-hour steam train journey as you take in the scenic vista of the Dandenong Ranges.

WHAT'S INCLUDED

Indulge in a delicious seasonal three-course menu or Natter Platter filled with a selection of cured meats, fine cheeses and Devonshire Tea.
All tickets include your selected meal, 2-hour train journey and 1-hour spare time at Emerald Lake Park.

TICKET PRICES

Three-course Meal

Adult: $115 pp
Concession: $105 pp
Child (5-16 years): $105 pp

Natter Platter

Adult: $90 pp
Concession: $80 pp
Child (5-16 years): $80 pp

ON THE MENU

Enjoy our quality Three-course Meal or Natter Platter with meals served on board Puffing Billy.

View the current Three-course menu here

View the current Natter Platter menu here

DRINKS AT BAR PRICES

A range of beverages, including internationally acclaimed wines from the Yarra Valley Region, are available for purchase on board the train.

BOOK YOUR EXPERIENCE

Please check availability by selecting your preferred event date in the booking widget below. Bookings essential.

SPECIAL OFFER

Receive 25% off Steam & Cuisine Luncheon three-course menu or Natter Platter when you dine with us Monday - Friday.
Offer available until 5th April 2019.

Use promo code LUNCH25OFF to redeem the special discount online.
*Terms & Conditions apply.
    [Info] => We invite you to Puffing Billy for a different experience - travelling First Class!

Relax and unwind with a majestic three-hour steam train journey as you take in the scenic vista of the Dandenong Ranges.

WHAT'S INCLUDED

Indulge in a delicious seasonal three-course menu or Natter Platter filled with a selection of cured meats, fine cheeses and Devonshire Tea.
All tickets include your selected meal, 2-hour train journey and 1-hour spare time at Emerald Lake Park.

TICKET PRICES

Three-course Meal

Adult: $115 pp
Concession: $105 pp
Child (5-16 years): $105 pp

Natter Platter

Adult: $90 pp
Concession: $80 pp
Child (5-16 years): $80 pp

ON THE MENU

Enjoy our quality Three-course Meal or Natter Platter with meals served on board Puffing Billy.

View the current Three-course menu here

View the current Natter Platter menu here

DRINKS AT BAR PRICES

A range of beverages, including internationally acclaimed wines from the Yarra Valley Region, are available for purchase on board the train.

BOOK YOUR EXPERIENCE

Please check availability by selecting your preferred event date in the booking widget below. Bookings essential.

SPECIAL OFFER

Receive 25% off Steam & Cuisine Luncheon three-course menu or Natter Platter when you dine with us Monday - Friday.
Offer available until 5th April 2019.

Use promo code LUNCH25OFF to redeem the special discount online.
*Terms & Conditions apply.
    [8] => https://puffingbilly.com.au/experiences/dining/sc-luncheon/
    [url] => https://puffingbilly.com.au/experiences/dining/sc-luncheon/
    [9] => kine.haugland@pbr.org.au
    [email] => kine.haugland@pbr.org.au
    [10] => 0
    [use_email_form] => 0
    [11] => 1 Old Monbulk Road
    [address] => 1 Old Monbulk Road
    [12] => Belgrave
    [suburb] => Belgrave
    [13] => 
    [state] => 
    [14] => 3160
    [post_code] => 3160
    [15] => 03 9757 0700
    [phone] => 03 9757 0700
    [16] => 
    [picture] => 
    [17] => /image/ico-pbdancetrain.jpg
    [picture_remote] => /image/ico-pbdancetrain.jpg
    [18] => 
    [target_pic] => 
    [19] => 
    [map_ref] => 
    [20] => 
    [map_pic_detail] => 
    [21] => yes
    [active] => yes
    [22] => N
    [pref] => N
    [23] => nil
    [confirm_cat] => nil
    [24] => 0
    [rating_good] => 0
    [25] => 0
    [rating_ok] => 0
    [26] => 0
    [rating_poor] => 0
    [27] => 0
    [rating_total] => 0
    [28] => 0
    [rating_average] => 0
    [29] => 
    [featured] => 
    [30] => 
    [featured_2] => 
    [31] => 
    [featured_3] => 
    [32] => 
    [featured_4] => 
    [33] => 
    [featured_5] => 
    [34] => 
    [featured_6] => 
    [35] => 
    [featured_7] => 
    [36] => 
    [featured_8] => 
    [37] => 
    [featured_9] => 
    [38] => 
    [listsid] => 
    [39] => 
    [featured_coming_soon] => 
    [40] => no
    [calendar] => no
    [41] => /image/ico-pbdancetrains.jpg
    [thumb] => /image/ico-pbdancetrains.jpg
    [42] => 
    [admin_notes] => 
    [43] => 648804
    [related_owner] => 648804
    [44] => 0
    [related_owner2] => 0
    [45] => 
    [related_1] => 
    [46] => 
    [related_2] => 
    [47] => 
    [related_3] => 
    [48] => 0
    [submitted_by] => 0
    [49] => 0
    [thread] => 0
    [50] => 
    [article_cat] => 
    [51] => 2019-03-23 12:31:09
    [date_updated] => 2019-03-23 12:31:09
    [52] => 7
    [author_id] => 7
    [53] => 
    [ip] => 
    [54] => 
    [hostname] => 
    [55] => 2012-03-15
    [date_submitted] => 2012-03-15
    [56] => 2019-03-24
    [start_date] => 2019-03-24
    [57] => 2019-03-27
    [date_end] => 2019-03-27
    [58] => **
    [times] => **
    [59] => no
    [Expired] => no
    [60] => 124.246.28.53
    [ip_address] => 124.246.28.53
    [61] => 
    [frequency] => 
    [62] => 
    [display_ad_profile] => 
    [63] => 
    [Days] => 
    [64] => 0000-00-00
    [dateend_daily] => 0000-00-00
    [65] => 0
    [rss] => 0
    [66] =>  
    [rssaddress] =>  
    [67] => 0
    [annual] => 0
    [68] => 1
    [calwk] => 1
    [69] => 
    [isComment] => 
    [70] => no
    [confirmNextYear] => no
    [71] => https://puffingbilly.com.au/experiences/dining/sc-luncheon/
    [url-booking] => https://puffingbilly.com.au/experiences/dining/sc-luncheon/
    [72] => E
    [cat-type] => E
    [73] => 
    [type_edu] => 
    [74] => 12.30pm
    [event_times] => 12.30pm
    [75] => 
    [tags] => 
    [76] => 2246
    [venue-id] => 2246
    [77] => 1
    [cityID] => 1
    [78] => 0
    [mail_sent] => 0
    [79] => 
    [advfeathomepage] => 
    [80] => 
    [advfeatsidepage] => 
    [81] => 
    [advnewsletter] => 
    [82] => 
    [advcategorytop] => 
    [83] => 
    [advsocialmedia] => 
    [84] => 
    [advpayment] => 
    [85] => 144
    [like_count] => 144
    [86] => 0
    [isrun] => 0
)

---
Update Page Request
Upgrade Page