Old Melbourne Gaol
Crime & Justice Experience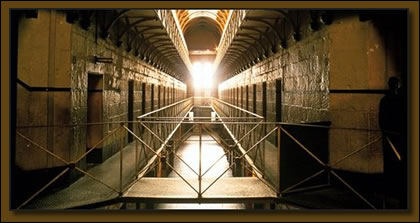 Old Melbourne Gaol was established in 1841 and remains a fabulous insight into Melbourne's historical past. The jail was the setting for 133 hangings, most famously that of Ned Kelly in 1880.
377 Russell Street (map) Melbourne.
Transport: Train to Melbourne Central Station & City Circle Tram
---
Home to Melbourne's oldest prison, historic Magistrate's Court and former Police City Watch House, Russell Street has been the heart of crime, law and order in Melbourne since the 1840's.
The chilling environment of the Old Melbourne Gaol exhibits a unique collection of death masks, and exhibition on the 'Art of Hanging', a unique display not to be missed.
The Old Melbourne Gaol, Crime & Justice Experience is operated by the National Trust of Australia (Victoria). The National Trust is Australia's largest community conservation organisation: its aim to conserve Australia's heritage for future generations.
Old Melbourne Gaol Day Open Hours

The Old Melbourne Gaol is open 9.30am to 5.00pm daily, (closed Christmas Day and Good Friday). Visitors should allow between 45 minutes and one hour for their self-guided tour of the Old Melbourne Gaol. Watch House arresting experiences run regularly throughout the day, allow an additional 30 minutes for a self-guided tour.

Entrance Fees

Day Visit *

Adults $25.00
Concession $20.00
Children $13.50 (5-15 years)
Family $55.00 (2 Adults + 4 Children)
$40.00 Single Family (1 Adult plus 2 children under the age of 15 years)
$5.00 + Additional Child
National Trust Members $FOC
Night tours:
Various prices & tours
View full details & prices online

Two Attraction Combo Pass
Visit two of Melbourne's best attractions - the Polly Woodside Tall ship and the Old Melbourne Gaol - and save $21
(see nationaltrust.org.au for details)

Bookings – call (03) 8663 7228
* Free Entry with Melbourne Smartvisit™ Card
A private performance can be arranged for school, social or corporate groups. Contact omg@nattrust.com.au for further details.

Transport - Yarra Trams
Tram - Catch any St Kilda Road and Swanston Walk tram on routes 01, 03, 05, 06, 08, 16, 22, 64, 67 and 72 and walk to Russell Street between Victoria and La Trobe or catch La Trobe Street services route 30 or the free City Circle tourist tram.
Location Map :: Picture Gallery :: Short History of Gaol

Old Melbourne Gaol Night Tours


Experience the Gaol after dark

Ghosts? What Ghosts?! Night Tour

This Gaol is a grim place. It has a dark history. Stories abound of an unexplainable presence. Over many years, these stories come from visitors and staff alike. None have been proved. Many are compelling...'GHOSTS...WHAT GHOSTS?' Join this night tour at the Old Melbourne Gaol—if you dare!

7:30pm - Tuesdays.

6:15pm (Family Tour) and 7:45pm on Thursdays during School Holidays..

Bookings essential. Book online or contact the Bookings Team on +61 3 8663 7228.
Hangman's Night Tours

What stories would a hangman tell you if he was guiding you around the Gaol, where he was the master of the rope? What other stories from the dark side will find their way into this performance? Book the Hangman's Night Tour and find out..... if you're game?

Generally held 4 times a week, Monday, Wednesday, Friday and Saturday nights
Tours commence at 8:30pm in Summer and 7:30pm in winter.

Book early to avoid disappointment.

Tickets are $35 for Adults, $30 for concession.
uch a Life | The Ned Kelly Story
Performances every Saturday 12.30 pm and 2 pm.

---
Web Resources
www.oldmelbournegaol.com.au

The Old Melbourne Gaol strives to support the vision of the National Trust of Australia through the preservation of the site for the community at large. We strive to position the OMG as an important historic site for all visitors to Melbourne. The Old Melbourne Gaol seeks to offer an imaginative blend of interpretive methods to present a unique, authentic, educational and entertaining interpretation of Victoria's penal history and other areas of the Old Melbourne Gaol from 1842-1972.

Collection
Suit of Kelly Gang armour
Ned Kelly's colt revolver
Ned Kelly's death mask
Some death masks of executed criminals
Prison associated artifacts

---
Melbourne Gaol from Wikipedia

Melbourne Gaol (more commonly known as The Old Melbourne Gaol) is located in Russell Street, Melbourne, Victoria, Australia. It consists of a bluestone building and courtyard and is located next to the old City Police Station and City Courts buildings (both now occupied by the RMIT University).

Built in 1864 the gaol was the setting for 135 hangings, the most infamous being that of bushranger Ned Kelly in 1880. The jail was closed in 1926.

The building is currently a museum; it is rich in history and atmosphere, drawing thousands of tourists annually. The Gaol is open every day except Good Friday and Christmas, 9:30am-5:00pm. Special candlelight night tours can also be arranged and enhance the already spooky environment of the Gaol - reports of strange sights and sounds occur more often at night.

Melbourne Gaol is Victoria's oldest surviving penal establishment. It currently exhibits 19th century gaol life, including the death masks and memorabilia of some of Melbourne's most notorious criminals.

Thieves stole the head of Ned Kelly in 1978. It has never been recovered.

---
accessibility.com.au - the disability information resource

There is level access to reception. There are 3 levels, of which only the ground floor is accessible. Stairs access all levels. There is no wheelchair access to the cells.

---
Hang 'em high

Old Melbourne Gaol is a bleak setting but an interesting attraction nonetheless. It was the scene of 135 hangings, including that of Australia's most famous outlaw, Ned Kelly (Kelly's armour and death mask are on display.)

---
Ghost Seekers

This is not an ghost tour for the faint hearted!. In small groups, you will be placed in a number of cells in the old Melbourne Goal where you will be left to your own devices to use the ghost hunting equipment and conduct your own paranormal investigations. Cell doors will be closed and the lights will be turned off while you try and the answer that mysterious question 'Are Ghosts Real?' (don't worry we are only a scream away if you get too scared).

---
Old Melbourne Gaol - VisitVictoria

The Old Melbourne Gaol is Victoria's oldest surviving prison and until it closed in 1929, housed Victoria's most hardened criminals. It's also where Victoria's infamous bushranger Ned Kelly finally met his match.

---
City of Melbourne - The Old Melbourne Gaol

The Old Melbourne Gaol is a chilling environment for studies of 19th century prison life. As Victoria's oldest surviving remand prison, the Gaol has links with some of Australia's most significant historical moments, including the Gold Rush, the Eureka Stockade Rebellion and the Second World War.

---
Australian Heritage Database

The Old Melbourne Gaol, built in stages between 1852 and 1864 by the Public Works Department, is of outstanding national historical significance. The Old Melbourne Gaol complex is historically and architecturally significant as one of the early gaols in Australia built using up-to-date gaol principles, and is the oldest surviving penal establishment in Victoria.

---
The Age home > 150th > snapshot of the age

This Life. Author: Shane Maloney. Source: The Age. Date: 26 Feb 2001
One of Melbourne's best-concealed 19th century tunnels was dug by inmates of the Old Melbourne Gaol in the 1870s. Using only lead spoons and the handle from a cat-o'-nine-tails, a gang of convicts spent almost a decade excavating beneath the gaol walls, under Eastern Hill and down into Collingwood.

---
AUS-VIC-L Archives: RootsWeb: AUS-VIC-L Archives (January 2005)

Prisoners Old Melbourne Gaol 1 - 5 by Elaine Murphy.

---
Ned Kelly - Melbourne Gaol's most famous inmate.
Melbourne Gaol - ...a place in the Kelly Gang story

Importance of Melbourne Gaol Ned Kelly was hung in the Melbourne Gaol, his mother was a prisoner in the same gaol at the time.

---
Anniversary service to spotlight Ned's neglected gravesite

Today marks the 125th anniversary of the execution of Ned Kelly at the Old Melbourne Gaol, and former prison chaplain Fr Peter Norden has organised a commemorative service that is taking place at 9:00 am this morning in the Old Melbourne Gaol.

---
After 125 years, Ned Kelly's gravesite remains unrecognized and neglected

"They need to ensure that the commercial property developers of the former Pentridge Prison site fulfill one of the conditions of sale and build a memorial recognizing the burial ground of those executed at Pentridge and those executed at the Melbourne Gaol, whose remains were moved to that site back in 1929", said Father Peter Norden.

---
Ned Kelly Touring Route

Ned Kelly was executed at the Gaol on 11 November 1880, aged 25. Shortly before his death, Kelly reportedly uttered the famous words "Such is life".

---
Old Melbourne Gaol's most famous inmate - Ned Kelly
Ned was brought to the Melbourne Gaol on June 29 1880 from Benalla, where he had spent a night in the cells after capture at Glenrowan.

---
Ghosts at the Old Melbourne Gaol

Tuesday, 8 February 2005. Reporter: Florenz Ronn
The old gaol would be an incredibly suggestive and evocative place, so that just by going through the door you'd feel as if surrounded by ghosts.

---
Castle of Spirits.com

One of Australia's Most Haunted Sites - OLD MELBOURNE GAOL. Visited briefly by the Australian Ghost Hunters Society (AGHS) November 2001. Ghost pics

---
Australian Sound Design Project

Gaol Piece: The Architecture of Silence (19 November 1994)
Location: Old Melbourne Gaol, Victoria, Australia
Performance devised and directed by Simon Crosbie.

A sound performance involving 104 participants (the same number as executed at the gaol) acting as "sound makers" who generate sounds on the metal stairs, cells and doors. These "mass" sounds combine with musical elements that explore the gaol's connection to the Irish prisoners it once housed, referencing keening (Irish ritual mourning) and Irish musical strains. Silence plays an important role as the Old Melbourne Gaol was based largely on the Pentonville system in England which recognized silence as a suitable means of rehabilitating the criminal mind.

---
Ghosts act up at the Old Melbourne Gaol

Presenter: Helena Webb Wednesday, 19 May 2004. Not only Ned Kelly's ghost roams these corridors. Dead women crying for help and footsteps at the door are part of the atmosphere at the old goal where Ned Kelly was hanged.

---
Old Melbourne Gaol to house new RMIT Spiritual Centre

December 03, 2002 - The RMIT Spiritual Centre provides RMIT students and staff and the wider community with a dedicated area where they can explore their sense of spirituality through religion, art, music or self-reflection. The centre will also be the venue for a range of spiritual and cultural events.

The new centre is housed in the building that contained the Old Chapel of the Old Melbourne Gaol on Russell Street in the city.

---
The Haunted Melbourne Ghost

Old Melbourne Gaol. Ned Kelly The place where the famous bushranger Ned Kelly
was hanged in 1888, this place is one of sorrow and misery. ...

---
Paranormal Events

Old Melbourne Gaol Performances Presented by National Trust Victoria Old Melbourne Gaol Performances. This is a unique opportunity to explore the imposing.

---
Australia uses British spelling for most common terms like the word gaol.
From Middle English jaiole (from Old French) and from Middle English gaiol, gaol (from Old North French gaiole), both from Vulgar Latin *gaviola, from Latin *caveola, diminutive of cavea, cage, hollow.
'Jail' is not an American spelling. Both spellings existed in Middle English and reflect different entry points for the same word. 'Gaol' is, in all cases, everywhere' in the world, relegated to proper names only.
---
Free Entry with Melbourne Smartvisit™ Card
Top of Page :: Location Map :: Picture Gallery :: Short History of Gaol