Ned Kelly | Old Melbourne Gaol's Most Famous Inmate

Ned Kelly's life and armour are firmly embedded in Australian folklore.
Ned Kelly and his gang are Australia's most famous bushrangers, pursued
by police for robbery and murder, his capture was finally made
after a gun fight with police at Glenrowan.
Edward "Ned" Kelly was born near Melbourne in January 1855 and hanged
at the Melbourne gaol on 11 November 1880.
Police description of Edward Kelly
5'10" tall, weight 11st 4lbs, medium build, sallow complexion, dark brown hair, hazel eyes, scar on top of head, two scars on crown, scar on front of head.

Eyebrows meeting, two natural marks between shoulder blades.

Two freckles lower left arm, scar on ball of left thumb, scar on back of right hand and three scars on left thumb.
---

The Old Melbourne Gaol is operated by the National Trust of Australia (Victoria). The National Trust is Australia's largest community conservation organisation: its aim to conserve Australia's heritage for future generations.

The chilling environment of the Old Melbourne Gaol exhibits a unique collection of death masks, and exhibition on the 'Art of Hanging', a unique display not to be missed.

Opening Hours

The Old Melbourne Gaol is open 7 days a week from 9.30am to 5.00pm, except Christmas Day and Good Friday. Visitors should allow between 45 minutes and one hour for their self-guided tour.

Night Tour Performances at the Gaol

A dramatic tour where you will not want to be left alone.....

The Night Performances at the gaol are generally held on Wednesday, Friday, and Saturday evenings are a theatrical interpretation of the building and its famous inmates. Recommended for mature audiences (Age 12+)

This is a unique opportunity to explore the Old Melbourne Gaol at night, when it would normally be left to the restless souls inside. The performance is a creative blend of live theatre and historical information.

The Real Ned Kelly Story - Such a Life

Performances every Saturday 12.30 pm and 2 pm.

Entrance Fees
Day Visit *
Adults $12.50
Concession $9.50
Children $7.50
Family $33.50 (2 Adults + 4 Children)
National Trust Members $FOC
Night tours:
Adults $25.00
Junior $16.50 (under 15 years)
National Trust Member (adult) $20.00
National Trust Members (junior) $13.50

Tickets available from Ticketek 13 28 49 or www.ticketek.com.au
* Free Entry with Melbourne Smartvisit™ Card
A private performance can be arranged for school, social or corporate groups. Contact t omg@nattrust.com.au for further details.

Transport - Yarra Trams
Tram - Catch any St Kilda Road and Swanston Walk tram on routes 01, 03, 05, 06, 08, 16, 22, 64, 67 and 72 and walk to Russell Street between Victoria and La Trobe or catch La Trobe Street services route 30 or the free City Circle tourist tram.
Location Map :: Picture Gallery :: Short History of Gaol

---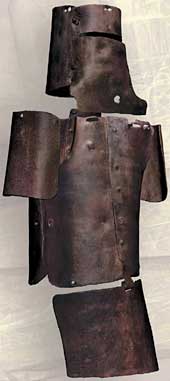 Ned Kelly's armour
[Suit of armour made by the Kelly Gang] [1880]
Hart, Steve 1859-1880. creator
Kelly, Ned 1854-1880. creator

Ned Kelly's life and armour are firmly embedded in Australian folklore. Ned Kelly and his Gang are Australia's most famous bushrangers. Pursued by police for robbery and murder, Ned Kelly's capture was finally made after a gun fight with police at Glenrowan. Ned Kelly's Gang members died during the siege and Kelly himself was hanged at the Melbourne gaol on 11 November 1880.
Independent research has identified that Kelly Gang armour held by the State Library of Victoria includes the helmet and breastplate worn by Ned Kelly, during his last stand with police. The State Library of Victoria holds the suit of armour which includes: Ned Kelly's helmet and breastplate, Steve Hart's breastplate (hung as a back plate) and an unidentified lappet (or apron). The research ends 120 years of confusion and uncertainty about the identity and make-up of the four suits of armour used by the Kelly Gang.

Made of forged iron from ploughshares, leather, iron bolts, in three pieces with separate helmet and visor. Total weight of armour and helmet: 41.4 kg. approx.

Ned Kelly - Inmate of the Old Melbourne Gaol
Ned was brought to the Melbourne Gaol on June 29 1880 from Benalla, where he had spent a night in the cells after capture at Glenrowan. Ned was put in the Gaol hospital to recover. He had been badly injured at the so-called "Last Stand" shoot-out with police at Glenrowan. He was the only member of the gang of four to survive the battle.
Ned was brought to the Melbourne Gaol on June 29 1880 from Benalla, where he had spent a night in the cells after capture at Glenrowan. Ned was put in the hospital to recover. He had been badly injured at the so-called 'Last Stand' shoot-out with police at Glenrowan. He was the only member of the gang of four to survive the battle. This picture of Ned was taken at his request the day before his execution. He is wearing gaol leg irons.

Ned (seated) being questioned in the kitchen of the Gaol hospital while on remand. The only member of the police to survive the gun fight at Stringybark Creek, Constable McIntyre, stands behind Ned. After Ned had recovered from most of his wounds he was kept in solitary confinement and refused visitors, except for his mother Ellen. She was serving three years hard labour in the female wing of the Gaol for the supposed attempted murder of Constable Fitzpatrick in 1878.

Letter from Ned Kelly
This letter dictated by Ned in gaol dated July 19th 1880, is signed with a 'X'.
It reads:
The Honourable Chief Secretary, I beg most respectfully to request you permission to send for my sister Mrs Skillion to visit me at the hospital at the above Gaol to enable me to confer with her respecting the provision of a solicitor to prepare my defence at my forthcoming trial and likewise for her to forward me the necessary clothing to appear there. I would also ask you to allow me to see my mother. I have only seen her once.

Letter to Ned Kelly
Ned had letters sent to him but it is not clear if they were given to him. One letter still exists, written anonymously by a 'friend'. It was dated 8th July 1880 and the postmark was Ballarat. The original is held by the Australian Manuscripts Collection at the State Library of Victoria. It reads as follows:

Dear Ned,

I write a few lines to you hoping that you are not suffering pain now. I would like to see you dear Ned very much but it is no good in asking because they would not let your sisters see you. Even I do not give my name because the police would take me up for a sympathiser and I would not like that because I was never in Gaol before in my life. It is a nasty thing of Mr Berry not to let your sisters see you it is him that is doing it. I will say goodbye to you dear Ned and may god bless you. I hope if the police open this that they will give it to you. They might let me see you because I could do no harm. From a friend.

Ned was due to have his committal hearing at the City Police Court in Melbourne but this was moved to Beechworth. The magistrate there decided that there was a case to answer and Ned was sent to Melbourne to stand on trial for murder. The trial was began at the old Supreme Court building on the corner of Russell Street and Latrobe Street on 28 October 1880.

Trial of Ned Kelly
After being found guilty by the jury and sentenced to death by Sir Redmond Barry, Ned was returned to the Melbourne Gaol where he was kept in the condemned cell in the old cell block (completed in the 1840's).
The Executive Council reviewed all cases where a sentence of death was passed and set dates for the executions. They received several deputations and petitions on behalf of Ned but decided that the sentence must be passed. There were several meetings and demonstrations in Melbourne to protest at the verdict.
Hanging
At nine o'clock on the morning of execution Ned was led out from the old cell block across the hospital gardens and into the second cell block (which had been completed in 1857).
He received the last sacraments from the priest who had baptised him as a baby. Twenty-seven official witnesses were present at the execution.

Ned being led out onto the gallows. Elijah Upjohn, executioner.

Such Is Life
The Argus newspaper claimed Ned said "Ah well I suppose it has come to this" and the Herald claimed he spoke "Such is life" but there is some doubt.
The executioner was Elijah Upjohn, a prisoner of the Gaol. At ten o'clock Upjohn pulled the gallows lever that sent Ned to an instantaneous death. There was some involuntary contraction of the muscles which caused the legs to be drawn up. The body was removed to the hospital where the head was removed and a death mask was made. Ned's body was then buried in the Gaol grounds.
He was the first Victorian born person of European descent to be hanged in the State. Along with other executed prisoners, Ned's bones were exhumed and removed to Pentridge Prison when the Melbourne Gaol closed and the Police Garage was built in 1929.

After the Melbourne Gaol closed the female wing and outbuildings and walls were demolished. The old cell block where Ned spent most of his time did not survive. However the second cell block survives and with the scaffold where Ned was executed.
The third block housed female prisoners and this is where Ned's mother Ellen Kelly was imprisoned between 1878 and 1881. This too is now gone. The Chapel and bath-house and the main entrance constructed in Franklin Street in the 1860's all survive but are not open to the public. Ned would have been taken in and out of the Gaol through that main entrance.

On display in the Gaol are Ned's death mask, one of his pistols and a suit of one of the gang's armour.

---
Jerilderie Letter a treasure of the State Library of Victoria
Only two original documents by Ned Kelly are known to have survived. The most significant of these is the Jerilderie Letter, dictated by Ned Kelly to Joe Byrne in February 1879. It is the only document providing a direct link to the Kelly Gang and the events with which they were associated.

Approximately 8000 words long, this letter has been described as Ned Kelly's 'manifesto'. It passionately articulates his pleas of innocence and desire for justice for both his family and the poor Irish selectors of Victoria's north-east.

Donated to the State Library in 2000, the Jerilderie Letter brings Ned Kelly's distinctive voice to life, and offers readers a unique insight into the man behind the legend.

What's in the letter?
The Jerilderie Letter provides a detailed account of Ned Kelly's troubled relations with the police and offers his version of the events at Stringybark Creek where three policemen were killed in October 1878. The letter also clearly reveals the intensity of his antagonism towards the police, and his sense of injustice about the police's treatment of his family.

When was it written?
The Jerilderie Letter was written some time before the Kelly Gang's raid on the Riverina town of Jerilderie in February 1879. Kelly took the letter to Jerilderie with the intention of having it published as a pamphlet for public distribution.

After holding up the Bank of New South Wales and stealing more than 2000 pounds, the gang took over the town for several days. During that time Kelly sought out Samuel Gill, the editor of the Jerilderie Gazette, with the specific demand that the letter be published.

Gill could not be found but the bank's accountant, Edwin Living, offered to accept the letter and pass it on to Gill. Kelly gave it to him saying 'mind you get it printed, or you'll have me to reckon with next time we meet'. Undeterred, Living did not have the document printed.

What happened to the letter?
Once the Kelly Gang had left Jerilderie, Living and the Bank Manager travelled to Melbourne where they delivered the letter to the office of the Bank of New South Wales. It was then temporarily loaned to the police in July 1880 and copied for use in Kelly's trial.
This copy was lodged at the Public Record Office and the original was returned to Living after Kelly's execution. The letter remained in private hands until it was generously donated to the State Library of Victoria.

---
Ned Kelly - Iron Outlaw
Iron Outlaw is a web site devoted to Ned Kelly, the history, hero, legend and beyond. From stamps to movies to the opening of the 2000 Sydney Olympics, Edward Kelly has become one with the Australian psyche. He's had more written about him than anyone else in Australian history.
As our greatest folk hero he has become one of the unsuspecting fathers of Australian nationalism, and with each passing year his myth grows stronger. But was Ned just another crazed bushranger or a victim of the system – a desperate young man forced to shoot and steal to protect his own? Come with us on a journey as we delve into stories from the past 126 years and on the way discover for yourself the true history of the Kelly Gang. Visit Iron Outlaw

---
Ned Kelly - From Wikipedia, the free encyclopedia
Edward "Ned" Kelly (c. January 1855 – 11 November 1880) is Australia's most famous bushranger, and, to many, a folk hero for his defiance of the colonial authorities. He was born near Melbourne to Irish parents.
---
The Ned Kelly Centre at Glenrowan
A building to embrace all aspects of the Siege.
---
Ned Kelly
Australian Government Department of Communications, Information Technology and the Arts

The bushranger Ned Kelly is one of Australia's greatest folk heroes. He has been memorialised by painters, writers, musicians, and film makers alike. More books, songs and websites have been written about Ned Kelly and the Kelly Gang than any other group of Australian historical figures.

When people are asked what they think of Ned Kelly, the answers are usually fairly extreme. They either see him as a hero who fought for his family and friends, or a bushranger who robbed banks, stole livestock and murdered policemen.
---
Ned Kelly's Last Stand at Glenrowan
The Glenrowan1880 site is an educational resource for those who wish to learn the truth about the siege at Glenrowan in June of 1880.
---
Free Entry with Melbourne Smartvisit™ Card
Top of Page :: Location Map :: Picture Gallery :: Short History of Gaol