Flinders Street Railway Station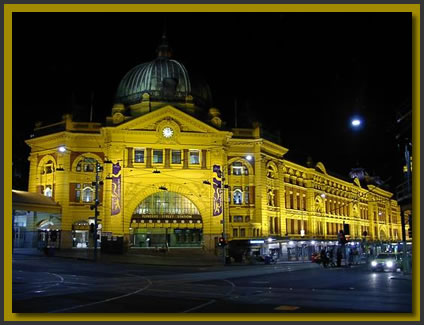 Flinders Street Railway Station stands at the corner of Flinders and Swanston Streets Melbourne and is the oldest city station in Australia, built in 1854.
Corner of Flinders and Swanston Street Melbourne
---
Flinders Street Station is the busiest suburban railway Station in the southern hemisphere even after the completion of the city loop railway subway with three stations in a subway and linking Spencer street to suburban train trips.

Flinders Street Station built early this century recently underwent restoration works and refurbishment. Adjacent to Flinders Street Station is "Federation Square" one of two Melbourne city squares
Its 700 metre main platform is the longest in the country, and the heart of Melbourne's extensive suburban rail system.
It is serviced by Connex's suburban and city loop services, and V/Line's regional services.
Under the Clocks...
The Melburnian idiom "I'll meet you under the clocks" refers to the row of clocks above the main entrance, which indicate the departure time of the next train on each line (though some of the clocks refer to discontinued lines).
This is a popular meeting place, at the corner of two of the city's busiest thoroughfares. The original analogue clocks were replaced for a short time with digital ones, but due to a public outcry analogue ones were quickly returned.
Location Map :: Picture Gallery :: Short History
Flinders Street Station's platforms are numbered from north to south, with Platform No. 1 being the furthest north, and generally serve specific lines as follows.

Platform 1: Epping and Hurstbridge

Platforms 2 & 3: Belgrave, Glen Waverley and Lilydale

Platforms 4 & 5: Alamein, Blackburn trains on the Belgrave and Lilydale lines (both platform 4 only), Broadmeadows, Sydenham, Upfield and Werribee

Platforms 6 & 7: Cranbourne, Frankston and Pakenham

Platforms 8 & 9: Sandringham and Williamstown (Peak Only)

Platforms 10 & 12–14: Various services, depending on day and time.

Note that the eastern end of Platform No. 1 is designated as Platform No. 14, past the Platform 1 escalators. Platform 11 is out of use and trackless.

---
Web Resources
Connex Melbourne Station Facilities

Flinders Street station is a "Premium Station", and is staffed from the first train until the last train.

Flinders Street has become far more than a place of transit, it is now one of Melbourne's principle landmarks, and is the busiest station in Australia with more the 100,000 people going in and out of the station each weekday.

Enclosed waiting areas, closed circuit TV, customer intercoms and toilet facilities are all located at Flinders Street .

Facilities available at Flinders Street

Stairs Lift Escalator Lockers Bus Stop close by Restaurants / Food Tram Stop close by Hearing Loop Taxi Rank close by Ramp Toilets Available Wheelchair Accessible
Parking Wheelchair Access Toilets Telephone Wheelchair Access Telephone Tactile Paths Wheelchair Access Parking

---
Flinders Street Station - Department of Infrastructure, State Government of Victoria
Flinders Street Station is among Melbourne's most recognisable landmarks. It is the best-known railway station in Australia.
While Flinders Street Station remains in the ownership of the State Government (and therefore the Victorian community), the day-to-day management of the station is the responsibility of train operator Connex under its franchise contract with the Government.
Each week, more than 10,300 passenger-carrying suburban train services operate to and from Flinders Street Station.

On an average weekday, more than 110,000 people pass through the station and its ten platforms.

At 708 metres long, platform 1 is the fourth longest railway platform in the world.

---
Flinders Street Station - From Wikipedia, the free encyclopedia
The first railway station to occupy the Flinders Street site was called Melbourne or City Terminus, and was a collection of weatherboard train sheds. It was completed in 1854 and was officially opened on 12 September by the Lieutenant-Governor, Sir Charles Hotham. The terminus was the first city railway station in Australia, and the opening day saw the first steam train trip in the country. It travelled to Sandridge (now Port Melbourne), over the Sandridge Bridge (which has now been redeveloped in 2006 as a pedestrian and cycle bridge across the Yarra River), travelling along the now light rail Port Melbourne line.

The Swanston Street Extension frontage of the pre-1910 station Melbourne's two other early central-city stations, Spencer Street Station (now Southern Cross Station) and Princes Bridge, opened in 1859. Princes Bridge was originally separated from Flinders Street, even though it was only on the opposite side of Swanston Street. Once the railway line was extended under the street to join the two, Princes Bridge slowly became amalgamated into Flinders Street. Federation Square now occupies its site.

In 1882 the government decided to build a new central passenger station to replace the existing ad-hoc construction. A world-wide design competition was held in 1899, with 17 entries received. The £500 first prize went to railway employees J. W. Fawcett and H. P. C. Ashworth, whose design included a giant dome and clock tower. Work began in 1901 and ended in 1910.

---
Architecture — Flinders Street Station - Museum Victoria Australia

For more than a century the grand Edwardian baroque building of Flinders Street Station has dominated Melbourne's southern boundary. The design was selected by an architectural competition held in 1902, and the red brick and golden cream stucco building was constructed between 1905 and 1910.

---
Flinders Street Station Panorama

The intersection of Flinders Street and Swanston Street, complete with trams including the free City Circle tram (the brown one on Flinders Street), and both old and new trams. Federation Square is still under construction (Feb, 2000).
---
www.flindersstreetstation.com.au
Unique leasing opportunities within a landmark site offering prime retail space with extremely high exposure, providing access to unparalleled pedestrian traffic.
---
FLINDERS STREET STATION - www.melbourne.com.au
Flinders Street Station, apart from being the hub of Melbourne's transport system, is one of the city's great landmarks and icons. Opened in 1884, the station dominates the intersection of Flinders and Swanston Streets. The steps under the station's famous domed clock tower has long been the most popular meeting place for Melburnians coming into the city.
---
www.meltrip.com | Unofficial Public Transport Guide to Melbourne, Australia

The most misunderstood part of the Melbourne train system is undoubtedly the City Loop. Services operate in one or both directions, depending on the day of the week, time of day and line. Some trains avoid the loop altogether so you may need to transfer to a connecting service.

The loop comprises four underground railway lines beneath the centre of Melbourne. Loop services serve the three underground stations (Parliament, Melbourne Central and Flagstaff) plus Southern Cross (formerly Spencer Street) and Flinders Street stations. Each underground loop station has four platforms.
---
Flinders Street Station - BUILDING PROFILE - Walking Melbourne
An intriguingly unique eclectic mix of early Art Noveau and Queen Anne, with classical references and a striking ensemble of domes and arches. Featuring Diocletian windows and Arts and Crafts themes. The domes and clock tower give the building a dominant civic presence.
---
Free Entry with See Melbourne & Beyond Smartvisit™ Card
Top of Page :: Location Map :: Picture Gallery :: Short History