shop4toys.com.au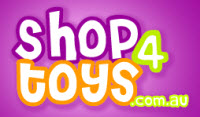 shop4toys.com.au is an Australian online toyshop offering a huge range of quirky, fun and educational toys for children of all ages.
Near to Heart but Far Apart? Send a Toy!
We help you choose and send age appropriate toys to the children you love but might live far away.Not just any old toys, either. We only like the interesting ones.
We wrap your chosen toy with love and include your personal message for free.
toys toys toys..
Toy Story Activity Books Art and Craft Crafts for Kids Drawing Activities Play-Doh Stamp Sets Educational Baby Toys Construction Toys Dinosaur Toys Dinosauria - Wild Republic Geoworld Dinosaurs Toy Dolls DVD's Eco Toys Green Toys Educational Toys Melissa and Doug Wooden Educational Toys Educational Games Educational Kits Games and puzzles Tinned and Travel Games Kids Board Games Puzzles - Licensed Characters Licensed Characters Ben 10 Strawberry Shortcake Doll Other Outdoor Toys Outdoor Fun Pretend Play Toys Kitchen and other sets Magic Kits Fairies and Princesses Science and Nature Toys Science Toys Wild Science CSIRO Science Kits Nature Toys Dinosaur Kits Toy Cars and Vehicles Toy Cars Toy Trains Toy Tractor & Toy Trucks Toy Boats Toy Planes & Toy Helicopters Travel Toys Playsets Magnetic Books Travel Games Sticker Books Wooden Toys Wooden Toy Kits Baby and Toddler Toys Kites for Kids
Visit
www.shop4toys.com.au
.
❊ Web Links ❊
→
shop4toys.com.au
→
www.shop4toys.com.au
Trending HOT..
---
→
Page Editor