RetroStar Warehouse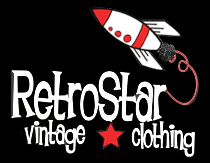 RetroStar; Melbourne's best kept secret and Australia's largest vintage clothing store.
Home to over 10,000 vintage pieces and accessories, it is not always an easy task keeping up with our store demands. We pick, we sort, we bag, we clean and we steam to make sure all vintage lovers this side of the Pacific are spoilt for choice when hunting for that next pre-loved piece.
What happened next, which we did not quite expect, was the birth of something special, a milestone event. After eventually running out of space in our city shop, we wanted, we needed to do something to keep moving our stock. Too good to throw away or send by mail, we thought we'd be all 'HEY GUYS, LET'S HAVE A WAREHOUSE SALE'. We can make it an event, you know just once in a while, from our warehouse in Brunswick, easy as pie.
And in 2008 a legend was born. We filled our warehouse's rails and tooted our horns 'HEY EVERYBODY, COME TO OUR SALE! NOTHING OVER $10, WE SWEAR THIS IS FOR REAL'. And whilst many questioned if we could pull it off, just like magic all of our clothes flew out the door for no more than $10 a pop. Five years later and we are still going strong, so check out our next sale date and be sure to come along!
Also see
RetroStar Vintage Clothing
| Melbourne CBD
Time:
8am-5pm
❊ Address ❊
⊜
33-37 Stewart St
Brunswick
3056
|
Map
✆
9663 1223
❊ Web Links ❊
→
RetroStar Warehouse
→
www.retrostar.com.au
❊ Also See... ❊
→
RetroStar Vintage Clothing
Reader Interest

Magic Show - Make Your Parents Disappear
After blowing away the nation in the grand final of Australia's Got Talent, Alex and Luke are back with a truckload of brand new trickery to fool your parents! Would |
Read On..
---
→
Page Editor