test
Phillip Island: Penguins, Koalas & Kangaroos Tour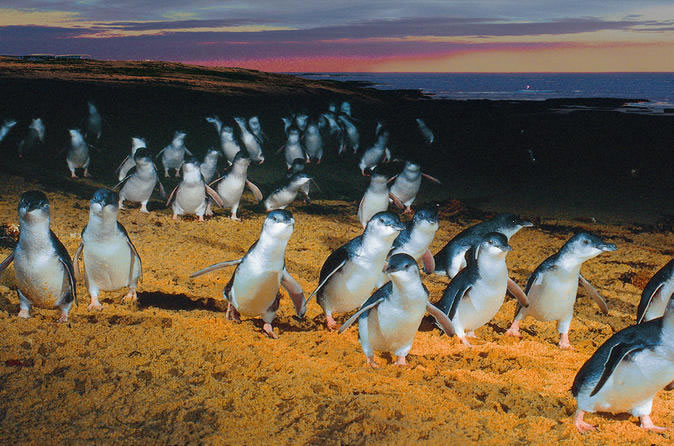 Phillip Island Tour from Melbourne
See penguins, koalas and kangaroos on a day trip to Phillip Island, Melbourne's wildlife wonderland and holiday island.
Visit a wildlife park to get up close with koalas and kangaroos, then watch sea birds and fur seals in the rocky formation known as the Nobbies.
At sunset, take your place at Summerland Beach to enjoy the nightly Penguin Parade, as cute little penguins waddle up the beach to their burrows after a day spent fishing at sea.
To enhance your Penguin Parade experience, choose from a range of upgrade options: view the penguins from an exclusive viewing platform with Penguin Plus, interact with rangers and watch the parade from the exclusive Skybox, or choose the Ultimate Penguin Parade and enjoy a specially guided small-group tour at a secluded beach location.
Note: Nobbies viewing is seasonal and dependent on daylight hours
Highlights
Day trip (destination A to B)
Enjoy a day away from the hustle and bustle of the city
Get up-close to native wildlife
Led by a local guide
Free hotel pickup and drop-off included
Be picked up from your Melbourne hotel, then enjoy a scenic trip through the tree-lined streets of Melbourne's southeastern suburbs and around the harbor of Westernport Bay.
Your first stop is a wildlife encounter at Maru Koala and Animal Park, to interact with koalas, kangaroos, Tasmanian devils and other native Australian animals.
Continue to the beach resort of San Remo and cross the bridge to Phillip Island. Travel around the island's surf coast to admire the rock formations of the Nobbies, home to penguins, fur seals and sea birds.
Your next stop is the Penguin Parade at Summerland Beach, where you can visit the information center to learn more about the cute little penguins. Then take your seat to watch the nightly Penguin Parade as the little penguins come home to their burrows after a day spent fishing at sea. Watch as part of the world's largest colony of smallest penguin species leave the water and waddle up the beach to their homes.
Optional Penguin Parade upgrades:
Penguin Plus Viewing Platform
Watch the parade from an exclusive viewing platform next to the main route from the sea followed by the penguins. Limited to 300 people.
The Penguin Skybox
View the Penguin Parade from the exclusive vantage point of an elevated viewing tower located at the main viewing stands. Limited to just ten people, the Skybox is warm and dry, and gives you the best view of the penguins' burrows on Summerland Beach. Interact with the ranger and join in the nightly penguin count, assisting in the ongoing research to help protect Phillip Island's little penguins. The Skybox experience includes canapes and non-alcoholic drinks.
Ranger Guided Tour
The ultimate penguin experience is limited to a maximum of 10 people. Visit a secluded beach location for a special guided tour that allows you to get even closer to the little penguins.
Underground Viewing Experience
Get an eye level view of the little p/enguins in this brand new underground viewing area. Enjoy the closest possible view of the penguins in their natural habitat with the comfort and convenience of being undercover and out of the elements. Limited to 70 people.
Price Availability & Booking
---
Web Links
→
Phillip Island: Penguins, Koalas & Kangaroos Tour

→ Phillip Island: Penguins, Koalas and Kangaroos Day Tour from Melbourne

→ also see Phillip Island Penguin Small Group Eco Tour from Melbourne

→ also see Warrook Cattle Farm, Koalas and Penguin Parade Day Tour from Melbourne

→ Phillip Island Penguin Parade & Flight Tour

→ Phillip Island | Nature Parks

→ Melbourne Tour Company


→ Disclaimer: Event details can change at any time. Check with the event advertiser before making travel plans, buying tickets or proceeding ...


---
Trending HOT

Things to see, hear & do this weekend
Weekends are precious. Two days to do what we please. All day Saturday and Sunday to chill, fill and party to our hearts content. No city does it better than ..

Melbourne International Flower & Garden Show 2019
Presented by Lawn Solutions Australia Returning for it's 24th year, the Southern Hemisphere's leading floral & landscape design event is set to delight guests. ..
Stay in TOUCH
A free weekly wrap of what's on |
More..
tetsingArray
(
    [0] => 1133
    [CatID] => 1133
    [1] => 564
    [CatParent] => 564
    [2] => 651186
    [CatParent2] => 651186
    [3] => Phillip Island: Penguins, Koalas & Kangaroos Tour
    [CatName] => Phillip Island: Penguins, Koalas & Kangaroos Tour
    [4] => phillip-island-penguins-koalas-kangaroos-tour
    [slug] => phillip-island-penguins-koalas-kangaroos-tour
    [5] => 
    [CatDescription] => 
    [6] => 
    [description_short] => 
    [7] => Phillip Island Tour from Melbourne 

See penguins, koalas and kangaroos on a day trip to Phillip Island, Melbourne's wildlife wonderland and holiday island. 

Visit a wildlife park to get up close with koalas and kangaroos, then watch sea birds and fur seals in the rocky formation known as the Nobbies. 

At sunset, take your place at Summerland Beach to enjoy the nightly Penguin Parade, as cute little penguins waddle up the beach to their burrows after a day spent fishing at sea.

 To enhance your Penguin Parade experience, choose from a range of upgrade options: view the penguins from an exclusive viewing platform with Penguin Plus, interact with rangers and watch the parade from the exclusive Skybox, or choose the Ultimate Penguin Parade and enjoy a specially guided small-group tour at a secluded beach location. 

Note: Nobbies viewing is seasonal and dependent on daylight hours

Highlights
Day trip (destination A to B)
Enjoy a day away from the hustle and bustle of the city
Get up-close to native wildlife
Led by a local guide
Free hotel pickup and drop-off included
Be picked up from your Melbourne hotel, then enjoy a scenic trip through the tree-lined streets of Melbourne's southeastern suburbs and around the harbor of Westernport Bay. 

Your first stop is a wildlife encounter at Maru Koala and Animal Park, to interact with koalas, kangaroos, Tasmanian devils and other native Australian animals. 

Continue to the beach resort of San Remo and cross the bridge to Phillip Island. Travel around the island's surf coast to admire the rock formations of the Nobbies, home to penguins, fur seals and sea birds. 

Your next stop is the Penguin Parade at Summerland Beach, where you can visit the information center to learn more about the cute little penguins. Then take your seat to watch the nightly Penguin Parade as the little penguins come home to their burrows after a day spent fishing at sea. Watch as part of the world's largest colony of smallest penguin species leave the water and waddle up the beach to their homes. 

Optional Penguin Parade upgrades: 

Penguin Plus Viewing Platform 
Watch the parade from an exclusive viewing platform next to the main route from the sea followed by the penguins. Limited to 300 people. 

The Penguin Skybox 
View the Penguin Parade from the exclusive vantage point of an elevated viewing tower located at the main viewing stands. Limited to just ten people, the Skybox is warm and dry, and gives you the best view of the penguins' burrows on Summerland Beach. Interact with the ranger and join in the nightly penguin count, assisting in the ongoing research to help protect Phillip Island's little penguins. The Skybox experience includes canapes and non-alcoholic drinks. 

Ranger Guided Tour 
The ultimate penguin experience is limited to a maximum of 10 people. Visit a secluded beach location for a special guided tour that allows you to get even closer to the little penguins. 

Underground Viewing Experience 
Get an eye level view of the little p/enguins in this brand new underground viewing area. Enjoy the closest possible view of the penguins in their natural habitat with the comfort and convenience of being undercover and out of the elements. Limited to 70 people.

Price Availability & Booking
    [Info] => Phillip Island Tour from Melbourne 

See penguins, koalas and kangaroos on a day trip to Phillip Island, Melbourne's wildlife wonderland and holiday island. 

Visit a wildlife park to get up close with koalas and kangaroos, then watch sea birds and fur seals in the rocky formation known as the Nobbies. 

At sunset, take your place at Summerland Beach to enjoy the nightly Penguin Parade, as cute little penguins waddle up the beach to their burrows after a day spent fishing at sea.

 To enhance your Penguin Parade experience, choose from a range of upgrade options: view the penguins from an exclusive viewing platform with Penguin Plus, interact with rangers and watch the parade from the exclusive Skybox, or choose the Ultimate Penguin Parade and enjoy a specially guided small-group tour at a secluded beach location. 

Note: Nobbies viewing is seasonal and dependent on daylight hours

Highlights
Day trip (destination A to B)
Enjoy a day away from the hustle and bustle of the city
Get up-close to native wildlife
Led by a local guide
Free hotel pickup and drop-off included
Be picked up from your Melbourne hotel, then enjoy a scenic trip through the tree-lined streets of Melbourne's southeastern suburbs and around the harbor of Westernport Bay. 

Your first stop is a wildlife encounter at Maru Koala and Animal Park, to interact with koalas, kangaroos, Tasmanian devils and other native Australian animals. 

Continue to the beach resort of San Remo and cross the bridge to Phillip Island. Travel around the island's surf coast to admire the rock formations of the Nobbies, home to penguins, fur seals and sea birds. 

Your next stop is the Penguin Parade at Summerland Beach, where you can visit the information center to learn more about the cute little penguins. Then take your seat to watch the nightly Penguin Parade as the little penguins come home to their burrows after a day spent fishing at sea. Watch as part of the world's largest colony of smallest penguin species leave the water and waddle up the beach to their homes. 

Optional Penguin Parade upgrades: 

Penguin Plus Viewing Platform 
Watch the parade from an exclusive viewing platform next to the main route from the sea followed by the penguins. Limited to 300 people. 

The Penguin Skybox 
View the Penguin Parade from the exclusive vantage point of an elevated viewing tower located at the main viewing stands. Limited to just ten people, the Skybox is warm and dry, and gives you the best view of the penguins' burrows on Summerland Beach. Interact with the ranger and join in the nightly penguin count, assisting in the ongoing research to help protect Phillip Island's little penguins. The Skybox experience includes canapes and non-alcoholic drinks. 

Ranger Guided Tour 
The ultimate penguin experience is limited to a maximum of 10 people. Visit a secluded beach location for a special guided tour that allows you to get even closer to the little penguins. 

Underground Viewing Experience 
Get an eye level view of the little p/enguins in this brand new underground viewing area. Enjoy the closest possible view of the penguins in their natural habitat with the comfort and convenience of being undercover and out of the elements. Limited to 70 people.

Price Availability & Booking
    [8] => http://www.partner.viator.com/en/1744/tours/Melbourne/Phillip-Island-Penguins-Koalas-and-Kangaroos-Day-Tour-from-Melbourne/d384-2230M10
    [url] => http://www.partner.viator.com/en/1744/tours/Melbourne/Phillip-Island-Penguins-Koalas-and-Kangaroos-Day-Tour-from-Melbourne/d384-2230M10
    [9] => 
    [email] => 
    [10] => 0
    [use_email_form] => 0
    [11] => 
    [address] => 
    [12] => Cowes
    [suburb] => Cowes
    [13] => Vic
    [state] => Vic
    [14] => 3000
    [post_code] => 3000
    [15] => 
    [phone] => 
    [16] => 
    [picture] => 
    [17] => /image/ico-piptour.jpg
    [picture_remote] => /image/ico-piptour.jpg
    [18] => 
    [target_pic] => 
    [19] => 
    [map_ref] => 
    [20] => 
    [map_pic_detail] => 
    [21] => yes
    [active] => yes
    [22] => N
    [pref] => N
    [23] => nil
    [confirm_cat] => nil
    [24] => 
    [rating_good] => 
    [25] => 
    [rating_ok] => 
    [26] => 
    [rating_poor] => 
    [27] => 
    [rating_total] => 
    [28] => 
    [rating_average] => 
    [29] => 
    [featured] => 
    [30] => 
    [featured_2] => 
    [31] => 
    [featured_3] => 
    [32] => 
    [featured_4] => 
    [33] => 
    [featured_5] => 
    [34] => 
    [featured_6] => 
    [35] => 
    [featured_7] => 
    [36] => 
    [featured_8] => 
    [37] => 
    [featured_9] => 
    [38] => 
    [listsid] => 
    [39] => 
    [featured_coming_soon] => 
    [40] => 
    [calendar] => 
    [41] => /image/ico-piptours.jpg
    [thumb] => /image/ico-piptours.jpg
    [42] => 
    [admin_notes] => 
    [43] => 39040
    [related_owner] => 39040
    [44] => 4043
    [related_owner2] => 4043
    [45] => 
    [related_1] => 
    [46] => 
    [related_2] => 
    [47] => 
    [related_3] => 
    [48] => 0
    [submitted_by] => 0
    [49] => 0
    [thread] => 0
    [50] => 
    [article_cat] => 
    [51] => 2019-02-21 14:52:21
    [date_updated] => 2019-02-21 14:52:21
    [52] => 0
    [author_id] => 0
    [53] => 
    [ip] => 
    [54] => 
    [hostname] => 
    [55] => 0000-00-00
    [date_submitted] => 0000-00-00
    [56] => 0000-00-00
    [start_date] => 0000-00-00
    [57] => 0000-00-00
    [date_end] => 0000-00-00
    [58] => 
    [times] => 
    [59] => no
    [Expired] => no
    [60] => 
    [ip_address] => 
    [61] => 
    [frequency] => 
    [62] => 
    [display_ad_profile] => 
    [63] => 
    [Days] => 
    [64] => 0000-00-00
    [dateend_daily] => 0000-00-00
    [65] => 0
    [rss] => 0
    [66] =>  
    [rssaddress] =>  
    [67] => 0
    [annual] => 0
    [68] => 0
    [calwk] => 0
    [69] => 
    [isComment] => 
    [70] => no
    [confirmNextYear] => no
    [71] => 
    [url-booking] => 
    [72] => E
    [cat-type] => E
    [73] => 
    [type_edu] => 
    [74] => 
    [event_times] => 
    [75] => 
    [tags] => 
    [76] => 
    [venue-id] => 
    [77] => 1
    [cityID] => 1
    [78] => 0
    [mail_sent] => 0
    [79] => 
    [advfeathomepage] => 
    [80] => 
    [advfeatsidepage] => 
    [81] => 
    [advnewsletter] => 
    [82] => 
    [advcategorytop] => 
    [83] => 
    [advsocialmedia] => 
    [84] => 
    [advpayment] => 
    [85] => 0
    [like_count] => 0
    [86] => 1
    [isrun] => 1
)

---
Update Page Request
Upgrade Page