Melbourne's best hole-in-the-wall hotspots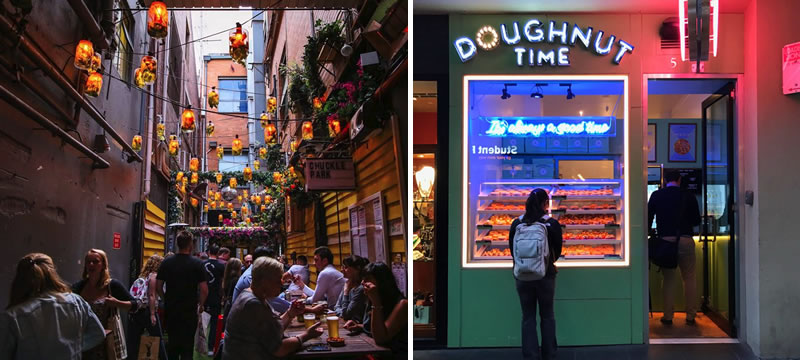 You absolutely must check out the City of Melbourne's hole-in-the-wall hotspots.
Melbourne cafes, patisseries and coffee shops have a particular knack for turning tiny spaces into endearing homes.
If you haven't explored some of Melbourne's best hole-in-the-wall hotspots, here's a list to get you started.
Melbourn Hole-in-the-wall Hotspots
Chuckle Park Bar & Cafe
322 Little Collins St, Melbourne |
chucklepark.com.au
A few strides will take you past Chuckle Park Bar & Cafe. A charming, laneway space, expect a no-fuss outdoor design and a tiny caravan dishing out simple bar food. Alongside wine, beer and classic cocktails, you can nibble through toasted sandwiches and antipasto boards.
A group of people sitting and drinking at tables in a laneway which has been turned into a bar
Chuckle Park
Agathe Pātisserie Petite
Shop 49A Royal Arcade, 3000 CBD, 335 Bourke St, Melbourne |
agathe.com.au
The South Melbourne Market institution, Agathe Pātisserie has quietly opened a second store in the Royal Arcade. Nestled underneath a stairwell, the tiny shop has treats delivered by bike from their South Melbourne bakehouse. Sweet goodies on any day may include matcha croissants, custard hearts and escargot. Good luck choosing just one.
Patricia Coffee
Little Bourke St & Little William St, Melbourne |
patriciacoffee.com.au
On the corporate end of Melbourne's bustling city, Patricia doesn't do much besides coffee. Luckily that's all most bleary-eyed workers are after. The menu has just three options: white, black or filter coffee. It saves having to put your thinking cap on until later in the morning.
Doughnut Time
5 Degraves Street, Melbourne |
doughnuttime.com.au
QV Melbourne (POP-UP) Cnr Swanston St & Lonsdale Street, Melbourne
377 Brunswick Street, Fitzroy
178 Chapel Street, Windsor
The Brisbane cult-favourite that has won Melbourne hearts, look out for the neon-lit sign at this hole-in-the-wall along Degraves Street. Bright, sugar-crammed doughnut flavours regularly rotate (the chocolate-coated Flinders Treat was a hit), with specials during events throughout the year. The 'Veruca Salt' with salted caramel filling and cinnamon sugar is a 3pm winner at Doughnut Time.
A girl looking in a doughnut show window while a man is inside buying doughnuts
Doughnut Time in Degraves Street
Roller Door Cafe
13 Stawell St, West Melbourne |
rollerdoorcafe.com
Tucked into an inner pocket of West Melbourne, Roller Door Cafe isn't the tiniest hole-in-the-wall. As the name suggests, the entire cafe is a converted old shed with the roller door in perfect use. A sun-soaked spot in summer, the simple menu includes smashed avocado and hot lunch rolls
Bar Americano
20 Presgrave Pl, Melbourne |
baramericano.com
A compact bar in Presgrave Place, Bar Americano is a standing room-only spot. Sleek dark wood complements white-tiled walls, while bartenders serve top-quality cocktails alongside steaming espressos. It's the ideal no-frills post-work drink spot, or a good one to drop by early Saturday evening.
Cup of Truth
12 Campbell Arcade Degraves St Subway Melbourne |
Wedged into a corner of Campbell Arcade, Cup of Truth truthfully has some of the finest takeaway coffee in Melbourne. A small pastry-lined glass cabinet and coffee machine encompasses the majority of the space. A no-frills venue below Flinders Street Station, there's just a handful of bar stools facing the cafe. Expect a smile with your morning latte.
Jungle Juice Juice Bar
20 Centre Pl, Melbourne |
facebook.com/Jungle-Juice-Bar
It's difficult to miss Jungle Juice, despite the cafe's slim entrance and cosy interior. Follow the trail of juice-wielding office workers, and you'll find a spot that blends some of the best. Stop by for lunch and you'll also be rewarded with some of the best bagels in the city.
La Petite Creperie
Corner Little Collins & Swanston st, ( opposite Melbourne Town Hall ) Melbourne |
lapetitecreperie.com.au
32 Hardware Lane, Melbourne
Gallaghers Place, Melbourne
It's impossible to get much smaller than La Creperie on Swanston Street. The tiny, renovated old newsstand barely accommodates two employees. Dishing out some of the best crepes in Melbourne, order a homemade salted-caramel crepe and be forever pleased.
Article Source
Melbourne's favourite hole-in-the-wall hotspots
Posted 29 May 2017 in Bars, Food |
whatsonblog.melbourne.vic.gov.au
❊ Web Links ❊
→
Melbourne's best hole-in-the-wall hotspots
Reader Interest
---
→
Page Editor