Melbourne Buildings Guide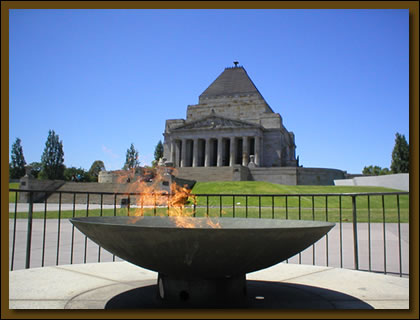 In it's relatively short history, the City of Melbourne boasts some of the finest examples of building architecture found anywhere in the world. This is a guide to past and present buildings located in the city of Melbourne Victoria Australia.
---
Buildings of Melbourne Victoria Australia
Collins Street Baptist Church 1845 John Gill, Joseph Reed
Como House 1846 A.E. Johnson
John Smith House 1848 Charles Laing
Toorak House 1849 unknown
Bishopscourt 1849 Newson & Blackburn
Young and Jacksons Hotel 1853 John Flannagan
Royal Terrace 1853 John Gill
State Library of Victoria 1854 Joseph Reed
Law School Building (Melbourne University) 1854 F.M White
Parliament House 1856 Peter Kerr & J.G.Knight
Clarendon Terrace 1856 Osgood Pritchard
Melbourne Grammar School Main Quadrangle 1856 Webb & Taylor
Government Printing Office 1856 J.J Clark
The Treasury Building 1857 J.J. Clark
St James Old Church 1857 Robert Russell
East Melbourne Terrace 1857 unknown
Wesley Church 1857 Joseph Reed
Glenfern 1857 Charles Laing
St Patricks Roman Catholic Cathedral 1858 William Wardell
The Melbourne Club 1858 Leonard Terry
Royal Society Building 1858 Reed & Barnes
St Marys Cathedral 1858 Lloyd Tayler
Seabrook House 1858 Leonard Terry
D Estaville 1858 Knight & Kerr
Holyman House 1858 John Gill
Lazar Restaurant 1858 Leonard Terry
General Post Office 1859 A.E. Johnson
Baptist Church House 1859 Thomas Watts
St Marys Church 1859 William Wardell
Num Pon Soon 1860 Peter Kerr
Masonic Hall 1860~ unknown
Old Colonial Mutual Life Building 1860~ unknown
East Melbourne Residence 1861 Joseph Reed
Prahran Town Hall 1861 Crouch & Wilson
Goldsborough Mort Building 1862 John Gill
Commercial Banking Company of Sydney 1862 Joseph Reed
Church of Christ 1863 Charles Webb
Willsmere 1864 Public Works Department
Braemar 1865 Leonard Terry
Victorian College for the Deaf 1866 Crouch & Wilson
St Michaels Uniting Church 1866 Reed & Barnes
Elizabeth House 1866 unknown
Commercial Bank of Australia 1867 unknown
The Menzies Hotel 1867 Reed & Barnes
Cyprus Terrace 1867 unknown
Rippon Lea 1868 Reed & Barnes, Lloyd Tayler
Bendigonia 1868 John Beswicke
Melbourne Town Hall 1869 Joseph Reed
Former Royal Mint 1869 J.J. Clark
Royal Arcade 1869 Charles Webb
St Augustines Catholic Church 1869 T.A Kelly
Former Christian Brothers College 1869 William Wardell
James Service & Co 1870~ unknown
Chartres 1870~ unknown
Macarthur Sheppard and Copeland Warehouse 1870~ unknown
Government House 1871 William Wardell
Former London Chartered Bank 1871 Leonard Terry
Portland House 1872 Lloyd Tayler
Kamesburgh 1872 Lloyd Tayler
Horticultural Hall 1872 William Ellerker
Trades Hall 1873 Reed & Barnes
Customs House 1873 J.J. Clark
ES&A Bank Hawthorn 1873 Leonard Terry
Cambridge Terrace 1873 unknown
Fitzroy Town Hall 1873 William J Ellis & G Johnson
Scots Church 1873 Reed & Barnes
Victorian Titles Office 1874 J.J. Clark
Law Courts 1874 Smith & Johnson
State Government Offices 1874 Michael Egan
Primary School No 1479 1874 Henry Bastow
Primary School No. 1181 1874 J Schnieder
Primary School No. 1467 1874 Crouch & Wilson
Former Campbell Residence 1875 Leonard Terry
Old ANZ on Collins 1875~ unknown
Savage Club 1875~ unknown
ANZ Bank 1876 Reed & Barnes
Faraday School 1876 Reed & Barnes
Royal Institute for the Blind 1876 Crouch & Wilson
Mandeville Hall 1876 Charles Webb
Library of the Supreme Court 1877 Smith & Johnson
East Melbourne Synagogue 1877 Crouch & Wilson
Emerald Hill Estate Residences 1877 unknown
St George Uniting Church 1877 Albert Purchas
Eastern Market 1877 Reed & Barnes
Wilson Hall (Melbourne University) 1878 Reed & Barnes
Tasma Terrace 1878 Charles Webb
The Royal Exhibition Building 1879 Reed & Barnes
The Australia Club 1879 J. Charlesworth
Melbourne Coffee Palace 1879 William Pitt
South Melbourne Town Hall 1879 Charles Webb
Metropolitan Meat Market 1879 G R Johnson
Primary School No. 1253 1880 Charles Webb
Yorkshire Brewery 1880 James Wood
Burke and Wills Hotel 1880~ unknown
Clyde House 1880~ unknown
Melbourne Permanent Building Society 1880~ unknown
The Premier Building 1880~ unknown
Murray House 1880~ unknown
MLC Assurance Building 1880~ unknown
Watts Orient Hotel 1880~ unknown
Ormond College (Melbourne University) 1881 Joseph Reed
Melville House 1881 unknown
Primary School No. 2365 1881 Henry Bastow
Primary School No. 253 1881 unknown
Victoria Brewery 1882 William Pitt
Mosspennoch 1882 Charles Webb
Melbourne College of Printing 1882 Henry Bastow
Windsor Hotel (formerly the Grand Hotel) 1883 Charles Webb
Gothic Bank 1883 William Wardell
Marion Terrace 1883 unknown
New Zealand Loan and Mercantile Agency Company 1883 Lloyd Tayler
Primary School No.2605 1883 Henry Bastow
Gordon House 1884 William Pitt
J H Boyd Girls High School 1884 Henry Bastow
Old Pathology Building (Melbourne University) 1885 Reed, Henderson & Smart
Athenaeum 1885 Smith & Johnson
Francis Ormond building 1885
Robbs Buildings 1885 Thomas Watts & Sons
Collingwood Town Hall 1885 George R Johnson
5 Collins Street 1885 unknown
Princess Theatre 1886 William Pitt
Queens Bess Row 1886 Tappin, Gilbert & Dennehy
MMTB building 1886 Alexander Davidson
Halcyon 1886 Frederick De Garris
Prahran Court House 1886 C.R Gilchrist
Felton Building 1886 F.W Prell
Her Majestys Theatre 1886 Nahum Barnet
Primary School No. 2634 1886 S.E Brindley
Cromwell Building 1886~ unknown
Lombard Building 1887 Reed, Henderson & Smart
Baldwin Spencer Building (Melbourne University) 1887 Reed, Henderson & Smart
Hibernian Hall 1887 Tappin, Gilbert & Dennehy
Sum Kum Lee 1887 George De Lacy Evans
Record Chambers 1887 J.A.B Koch
Carlton Court House 1887 G.B.H Austin
Hotel Victoria 1887 Richard Speight
Grosvenor Chambers 1887 Oakden, Addison & Kemp
Olderfleet Building 1888 William Pitt
Former Stock Exchange 1888 William Pitt
City of Melbourne Buildings 1888 Ellerker And Kilburn
South Australian Insurance Building 1888 Oakden, Addison & Kemp
RESI Chambers 1888 Wight & Lucas
James Bond Store 1888 Lloyd Tayler
Former Teachers College (Melbourne University) 1888 G.B.H Austin
Old Physics Conference Room and Galler 1888 Reed, Henderson & Smart
Former Victorian Railway Headquarters 1888 unknown
Federal Hotel and Coffee Palace 1888 William Pitt
Lalor house 1888 William Wolf
Denton Hat Mills 1888 William Pitt
Old Bourke Street West Police Station 1888 S.E Bindley S.C Brittingham
Leicester House 1888 unknown
Forresters Hall 1888 Ravenscroft & Freeman
Dalmeny House 1888 Thomas Watts
Rechabite Hall 1888 Colin Campbell
Finks Building 1888 Twentyman & Askew
Old Police Headquarters Offices 1888 unknown
Queen Victoria Buildings 1888 unknown
Electric Light Station 1888 unknown
M A Alexander Building 1888~ unknown
Parkers Crystal Cafe 1888~ unknown
Patterson, Lang and Bruce Building 1888~ unknown
Grosvenor 1888~ Leonard Terry
Junction Hotel 1888~ unknown
City of Melbourne Bank 1888~ unknown
New York Permanent Building Society 1888~ unknown
APA Building (The Australian Building) 1889 Henry Kemp
Rialto building 1889 William Pitt
North Fitzroy ANZ Bank 1889 Oakden, Addison & Kemp
Carlton Club 1889 Inskip & Robertson
Parkville Post Office 1889 S.C Brittingham, S.E Brindley
Prahran Arcade 1889 George McMullen
Labassa 1889 J.A.B Koch
Charsfield 1889 Charles Webb
Colonial Mutual Chambers 1889 unknown
Coops Shot Tower 1889 unknown
Goods Shed No 2 1889 unknown
Ulimaroa 1889 unknown
Melbourne Fish Markets 1890 unknown
Old Safe Deposit Building 1890 William Pitt
The Block Arcade 1890 D.C. Askew
Salvation Army City Temple 1890 Billing & Son
Austral Buildings 1890 Nahum Barnet
Stalbridge Chambers 1890 D.C. Askew
Former Money Order Post Office and Savings Bank 1890 Peter Kerr
Melbourne Sun Insurance Building 1890 F.M White
Rathgael 1890 unknown
Town Hall Chambers 1890 unknown
RMIT Building 4 1890 unknown
Union Trustees Company Chambers 1890~ unknown
Alexandra Club 1890~ unknown
Mutual Store 1891 Reed, Smart and Tappin
A.C Goode House 1891 Wright, Reed & Beaver
St Pauls Anglican Cathedral 1891 William Butterfield
Winfield Building 1891 Charles DEbro & Richard Speight
Tower House 1891 William Pitt
Church Manse 1891 unknown
Tram & Omnibus Building 1891 Twentyman & Askew
Wool Broking Premises John Sanderson and company 1891 unknown
Collingwood Post Office 1891 John H Marsden
Netherby 1891 D.C. Askew
Mutual Store 1891 Reed, Smart and Tappin
A.C Goode House 1891 Wright, Reed & Beaver
St Pauls Anglican Cathedral 1891 William Butterfield
Winfield Building 1891 Charles DEbro & Richard Speight
Tower House 1891 William Pitt
Church Manse 1891 unknown
Tram & Omnibus Building 1891 Twentyman & Askew
Wool Broking Premises John Sanderson and company 1891 unknown
Collingwood Post Office 1891 John H Marsden
Netherby 1891 D.C. Askew
St Pauls Chapter House 1891 William Butterfield
Victorian Artists Society 1892 Richard Speight, Harry Tompkins
Metropolitan Fire Station 1892 Smith & Johnson, Lloyd Tayler
Medley Hall 1892 W.S. Law
Commercial Union Assurance Building 1892 William Pitt
Former South Yarra Post Office 1892 A.J Macdonald
Supreme Court Annexe 1892 S.E Brindley
Colonial Mutual Life Building 1893 Edward E. Raht
Church of England Mission 1894 unknown
Church of England Mission Hall 1894 Charles Webb
Doctor Barrett Residence 1895 Nahum Barnet
Perseverence Hotel 1895~ unknown
119-125 Little Bourke Street 1898 Nahum Barnet
Royston House 1898 Sulman & Power
Craig Williamsons Department Store 1898 unknown
Congregation Hall 1898 unknown
Former Records Office 1900 S.E Brindley
Salvation Army Training Garrison 1900 Edward Saunders
Mitre Tavern 1900 unknown
Flinders Street Station 1901 J.W. Fawcett & H.P.C. Ashworth
Former Gollin and Company Building 1901 Charles Debro
Milton House 1901 Sydney Smith & Ogg
Melbourne Sports Depot 1901 Nahum Barnet
Salvation Army Printing Works 1901 unknown
290-292 Bourke Street 1902 unknown
St Nicholas School 1902 Guyon Purchas and William H. Shields
City Baths 1903 J.J Clark
Mason Firth and McCutcheon 1903 Nahum Barnet
Adelaide Steamship Company 1904 Charles Debro
Conservatory of Music and Melba Hall 1905 Bates, Peebles & Smart
Paton Building 1905 Nahum Barnet
Empire Building 1905 Nahum Barnet
Champions Hotel 1905~ unknown
Agriculture Department buiding 1906 George Watson
City Watch house 1907 G.B.H.Austin, Public Works Department
Scottish House 1907 Charles Debro
Aberdeen Building 1907 Nahum Barnet
Professional Chambers 1908 Beverly Ussher
Town Hall administration building 1908 J.J & E.J Clark
Hoopers Store 1908 H.W & F.B Tompkins
Snider & Abrahams Building 1908 H R Crawford
Empire Works Factory 1909 William Pitt
Former New Zealand Mercantile building 1909 Oakden & Ballantyne
Centreway 1909 H.W & F.B Tompkins
Geological Museum 1909 John H Marsden
Church of Our Lady of the Sacred Heart 1910 Reed, Smart & Tappin
Scotts Hotel 1910 Arthur Henry Fisher
Victorian Racing Club 1910 William Pitt
James McEwan and Company 1910~ unknown
The Britannia 1910~ unknown
Tomasetti Warehouse 1910~ unknown
Huddart Parker Building 1910~ unknown
Ackmans Building 1910~ unknown
Annerly Terrace 1910~ unknown
Melbourne Mansions 1910~ Walter Butler and George Inskip
City Courts 1911 G.B.H.Austin, Public Works Department
Former Queen Victoria Hospital 1911 J.J Clark
The Auditorium 1912 Nahum Barnet
Queensland Building 1912 Walter Butler & Richard Norman Bradshaw
Commercial Travellers Association 1912 Harry Tompkins
Sir Charles Hotham Hotel 1912 William Pitt
Commonwealth Offices 1912 John Smith Murdoch
280-282 Bourke Street 1913 Nahum Barnet
Former Mail Exchange 1913 John Smith Murdoch
Georges Department Store 1913 Nahum Barnet
Alstons Corner 1913 Nahum Barnet
Assembly Hall 1914 Henry Kemp
Church of Our Lady of Victories Basilica 1914 A.A. Fritsch
Canterbuty Flats 1914 H.W & F.B Tompkins
Lewiss 1915~ unknown
Manchester House 1915~ unknown
National Bank of Queensland 1915~ unknown
Bunnings Store 1915~ unknown
Newman College (Melbourne University) 1916 Walter Burley Griffin
Braille Library and Hall 1918 A & K Henderson
Leviathan Building 1918~ unknown
Mission to Seamens Building 1919 unknown
National Home Purchase Society 1920~ unknown
Presbyterian Church 1920~ unknown
City Mutual Life Assurance Society 1920~ unknown
Chartres House 1920~ unknown
Yooralla 1920~ unknown
The Strand Hotel 1920~ Smith, Ogg and Serpell
Herald & Weekly Times Building 1921 H.W & F.B Tompkins
Old Arts Building (Melbourne University) 1921 S.C. Brittingham
Capitol House 1921 Walter Burley Griffin
McDonald and Company Building 1921 Robertson and Marks
Victor Horsley Chambers 1922 W A M Blackett, Porster
London Stores 1922 Harry Tompkins
Former Royal Automobile Club of Victoria 1923 J S Keagh
Public Benefit Bootery 1923 Grainger Little Barlow & Hawkins
Argus Building 1924 Godfrey & Spowers
Temple Court 1924 Graninger Little Barlow and Hawkings
Palais de danse 1925 Walter Burley Griffin
Nicholas Building 1925 Harry Norris
State Savings Bank 1925 Stephenson and Meldrum
Building corner Swanston and Little Collins 1925~ unknown
Glens Building 1925~ Marcus Barlow
Kurrajong House 1926 RM & MH King
Deva House 1926 Harry Norris
Former High Court 1926 John Smith Murdoch
The Shrine of Remembrance 1927 Hudson & Wardrop
Former AMP Building 1927 Bates, Smart & McCutcheon
APA tower 1927 unknown
Emily McPherson College (RMIT) 1927 Evan Smith
National Bank 1927 Kinglsey Henderson
Palais Theatre 1927 Henry White
Francis House 1927 Blackett & Forster
Comedy Theatre 1927 Walkley and Hollinshead
Forum Cinemas 1928 John Eberson, Bohringer, Taylor & Johnson
Former ES&A Bank (ANZ) 1928 unknown
T&G Building 1928 A & K Henderson
Melbourne High School 1928 Edwin Evan Smith
Majorca Building 1928 Harry Norris
Savoy Plaza Hotel 1928 Leslie M. Perott
Victoria Hotel (East wing) 1928 unknown
Westpac Bank 1929 Godfrey & Spowers
Howey House 1929 Marcus Barlow
Alcaston House 1929 A & K Henderson
Port Authority Building 1929 Sydney Smith, Ogg & serpell
Regent Theatre 1929 Cedric H Ballantyne
Former Coles Store No 2 1929 Harry Norris
Melbourne Synagogue 1929 Nahum Barnet
Mutual Life and Citizens Assurance Co (MLC) 1930 Kingsley Henderson
Equity Chambers 1930 Oakley & Parkes
Commonwealth Bank Building 1930 unknown
David Jones building 1930~ unknown
Former State Electricity Commission (SEC) Buildings 1930~ unknown
Kingsgate Hotel 1930~ unknown
Manchester Unity Building 1932 Marcus Barlow
Yule House 1932 Oakley & Parkes
The Royal Apartments 1932 Archibald Ikin
Newspaper House 1933 Stephenson & Meldrum. Waller, Mervyn Napier
Myer Department Store 1933 H.W & F.B Tompkins
Kodak House 1934 Oakley & Parkes
Patterson Ltd Building 1934 A. W. Parnell
Former Buckley & Nunn 1934 Bates, Smart & McCutcheon
McPherson Building 1934 Reid & Pearson
Royal Australian College of Surgeons 1934 Irwin & Stevenson
Beehive Building 1935 J. Plottel
Mandalay Flats 1935 unknown
Pheonix House 1935~ unknown
Lonsdale House 1935~ I G Anderson
Shell Corner 1935~ Kingsley Henderson
Alkira House 1936 James Wardrop
ACA Building 1936 Hennessey & Hennessy
Melbourne Theosophical Society 1936 Marsh and Michaelson
Mitchell House 1936 Harry Norris
Anzac House 1938 Oakley & Parkes
Former National Bank 1938 Meldrum and Noads
Century Building 1939 Marcus Barlow
National Trustees Executors Agency 1939 A & K Henderson
Commonwealth Bank 1939 W. Henderson
Australian Natives Association 1939 Marsh and Michaelson
Carlow House 1939 Harry Norris
Russell Street Police HQ 1940 Percy Everett
London and Lancashire Building 1940 A S and R A Eggleston
Royal Bank Branch E,S&A 1940~ unknown
Hotel Australia 1940~ unknown
Barlow Jensen House 1941 Marcus Barlow
FAI House 1941 Percy Everett
Stanhill Flats 1948 Frederick Romberg
Agriculture Annexe 1948 Percy Everett
No.2 Treasury Western Annexe 1949 Percy Everett
Allied Insurance Office Building 1952 A.C. Leith, Bartlett & Partners
Gilbert Court 1954 J. L. A. La Gerche
Town Hall Hotel 1954 Best Overand
ICI House 1955 Bates, Smart & McCutcheon
Hume House 1955 Bates, Smart & McCutcheon
Hosies Hotel 1955 Mussen, McKay and Potter
Coates Building 1957 J. L. A. La Gerche
Commonwealth Centre 1958 unknown
Canton Union Insurance Company 1958 Bates Smart & McCutcheon
Norwich Union Insurance 1958 Yuncken Freeman
National Mutual House 1960 unknown
60 Market Street 1960~ unknown
Southern Cross Hotel 1962 unknown
Victorian State Offices 1962 Yuncken Freeman
No.1 Treasury 1962 Barry Patten
Domain Park Towers 1962 Frederick Romberg and Robin Boyd
CRA building 1963 Bernard Evans
Royal Insurance Group Building 1964 Yuncken Freeman
Total Carpark 1964 Bogle Banfield and Associates
Scottish Amicable Building 1966 Yuncken Freeman
Victorian Arts Centre 1967 Roy Grounds
Gas and Fuel Corporation Towers 1967 Leslie M. Perrott and Partners
BHP House 1967 Yuncken Freeman, Skidmore Owings & Merril
Flagstaff House 1968 Yuncken Freeman
AMP Building 1969 Skidmore, Owings & Merrill, Bates, Smart & McCutcheon
Legal and General Building 1969 unknown
500 Collins Street 1970 unknown
Eagle House 1971 Yuncken Freeman
Nauru House 1972 Perrott Lyon Timlock and Kesa
Hospital Benefits Association Building 1972~ unknown
303 Collins 1973 unknown
Estates House 1974 Yuncken Freeman
Optus House 1975 unknown
Building 1975 unknown
National Australia Bank Headquarters 1978 unknown
Westpac Building 1978 unknown
Collins Place ANZ tower 1980 Pei Cobb Freed and Partners
ACI House 1980~ unknown
Collins Place Tower & Sofitel Hotel 1981 Pei Cobb Freed and Partners
Commonwealth Bank Tower 1983 Eggleston MacDonald and Secomb
1 Collins Street 1984 Denton Corker Marshall
Rialto Towers 1985 Gerard de Preu
Grand Hyatt Hotel 1986 Peddle Thorp and Walker
91-97 William Street 1987 Denton Corker Marshall
90 Collins Street 1987 Robert Peck von Hartel Trethowan
Melbourne Central 1988 Kisho Kurokawa, Bates, Smart & McCutcheon
Shell House 1988 Harry Seidler
New Customs House 1988~ Daryl Jackson
BHP Petroleum Plaza (120 Collins) 1989 Hassel Architects
TAC House 1989 Denton Corker Marshall
114-128 Flinders Street 1989 Denton Corker Marshall
Bourke Place 1990 Godfrey & Spowers
333 Collins 1990 Robert Peck von Hartel Trethowan
Stock Exchange 1990 Peddle Thorp and Walker
101 Collins 1991 Denton Corker Marshall
KPMG House 1991 Metier 3
The Argus Centre 1991 Nonda Katsalidis
171 Latrobe Street 1991 Nonda Katsalidis
Telstra Corporate Building 1992 unknown
Herald & Weekly Times Tower 1992 unknown
Casseldon Place 1992 unknown
Sheraton Towers Southgate 1992 unknown
ANZ World Headquarters 1993 Peddle Thorp
RMIT Building 8 1993 Edmund & Corrigan
IBM Tower 1993 unknown
The Green Building 1994 Ashton Raggatt McDougall
Melbourne Terrace Apartments 1994 Nonda Katsalidis
SECV Headquarters 1994 Metier 3
Esso Corporate Headquarters 1995 Peddle Thorp
Melbourne Convention & Exhibition Centre 1996 Denton Corker Marshall
St Leonards Apartments 1996 Nonda Katsalidis
1 Queensberry Street 1996~ unknown
Crown Towers 1997 Daryl Jackson
The Westin Hotel 1998 Desmond Brooks International
Ian Potter Museum of Art (University of Melbourne) 1998 Nonda Katsalidis
Park Hyatt Hotel 1999 Buchan Group
Republic Towers 1999 Nonda Katsalidis
Melbourne Museum 1999 Denton Corker Marshall
Commonwealth Law Courts 1999 Hassel Architects
Franklin Lofts 2000 Peddle Thorp
Philadelphia Building 2001 Robert Peck von Hartel Trethowan
Clarendon Towers 2001 unknown
The Melburnian Apartments 2001 Bates Smart, Roger Poole and Jeff Copolov
Liberty Tower 2001 Callum Fraser
Yarra Crest 2001 unknown
Marquise Apartments 2002 Brett Robertson
Centurion Apartments 2002 unknown
One Wallace Avenue 2002 Demaine Partnership
Australian Centre of Contemporary Art (Ngargee) 2002 Wood Marsh
Melbourne's Tallest Building (Walking Melbourne)
Melbourne's skyscraper record is impressive, by any standards. The city has a history of tall buildings, just as do other cities such as Chicago and New York. Despite a general 40 metre height limit enforced between 1916 and 1957, which precluded anything but decorative towers, the city has had a history of impressive skyscrapers, which included many of the world's first skyscrapers in the 1890s.

Melbourne has for many years laid claim to Australia's tallest building.

The city once had the world's 3rd tallest skyscraper in the Australian Building 1889 (sadly demolished in the 1980s). The building was Australia's and the southern hemisphere's very first true skyscraper (12 storeys or taller).

Today, Melbourne is home to 6 out of the 10 tallest buildings in Australia, and Australia's tallest since 1980 in the Rialto (as well as the title of tallest in the southern hemisphere). The skyline is one of the world's most admired. The Eureka Tower will retain that title for many years to come, and gain a new title as the world's tallest residential tower.
A list of the tallest city buildings in Melbourne's history:
1880
Yorkshire Brewery
8 storeys
status : heritage registered but in extremely derelict condition

1888
Fink's Building
43 metres & 10 storeys
status : demolished (c1960)

1889
The Australian Building
53 metres & 12 storeys
status : demolished (c1980)

1929
APA Tower
76 metres & 14 storeys
status : demolished (c1969)

1958
ICI House
81 metres & 20 storeys
status : heritage registered

1963
CRA Building
96 metres & 26 storeys
status : demolished (c1992)

1969
AMP Square
113 metres & 28 storeys
status : under threat

1972
BHP House
152 metres & 31 storeys
status : heritage registered

1975
Optus House
153 metres & 34 storeys

1977
Nauru House
182 metres & 52 storeys

1981
Collins Place
185 metres & 50 storeys

1985
Rialto Towers
251 metres & 63 storeys

2004
Eureka Tower
297 metres & 88 storeys
My personal belief is that no city should demolish a previously tallest building, as they are bound to be a landmark of their era and are more often than not a representation of the finest in architectural and engineering achievements of their time. I firmly believe that these things should be taken into strong consideration when registering buildings for heritage value. This is especially the case given that 4 out of 12 of these Melbourne skyscrapers no longer exist.

One such example is the AMP building, which, despite it's formidable size is touted for demolition for a new development - the taller Church Place development. The AMP building is a fine example of 1960s high-rise construction, and shows heavy influence from the CBS building in New York. I believe that the lower St James buildings that frame the tower could be demolished to make way for several towers, however the main tower and plaza should be preserved, as along with it's neighbour BHP House it is one of the best examples in Melbourne - if not Australia - of an early self referential modern skyscraper. It would be a tragedy if this once tallest landmark were demolished, and it would further blemish the city's poor performance in preserving it's talls for future generations.
Information supplied by Walking Melbourne.
Also see Melbourne Architecture Guide
---