Melbourne Dust Storm | 1983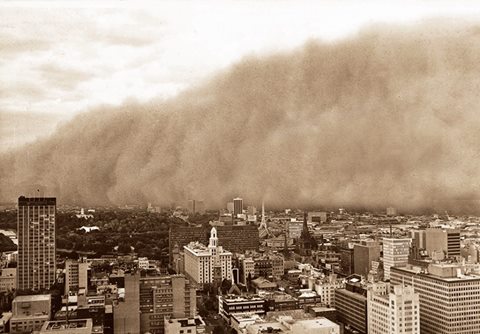 The dust storm that rolled over Melbourne on Tuesday afternoon, 8th February 1983, was a freak of nature and (hopefully) a one-in-a-lifetime experience.
The dust cloud was over 300 metres high and 500 kilometres long, composed of thousands of tonnes of topsoil from the drought-ravaged Wimmera and Mallee areas of north-west Victoria. The dust storm cut visibility to 100 metres, creating near darkness for almost an hour.
The dust storm was one of the most dramatic consequences of the 1982/83 drought and viewed as a precursor to the
Ash Wednesday
bushfires 8 days later.
On that day in 1983, I was working in a building in Doncaster [
map
], and was called into the managers office to view something odd on the western horizon. We had a clear view of Melbourne's western skyline and were astounded to witness the huge wall of dust rolling over the city of Melbourne heading towards us.
I would be lying if I did not admit to being scared. Initially looking at the huge wall of dust conjured up other possible scenarios of what the wall was made of.. dust, explosion, weather, something from outer space, anything seemed possible. Its easy to understand now that is was a wall of dust, but back in the 80's, it could have been anything.
atv-10 Eyewitness News
❊ Web Links ❊
→
Melbourne Dust Storm | 1983
→
www.wikipedia.org/Melbourne_dust_storm
→
Melbourne dust storm | ABC Footage
→
Melbourne dust storm | Pictures
→
Google Images
→
www.facebook.com
Trending HOT..
---
→
Page Editor